FT: Google to release a VR headset this year that won't be made of cardboard
2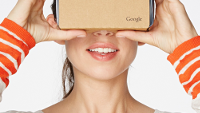 Google Cardboard is a cheap VR headset
that is about to be replaced by a product made of higher quality materials. According to the
Financial Times,
the new Google VR headset will be made using a sturdier plastic casing, and will feature higher quality lenses and improved sensors. The newspaper said that the new VR headset will be similar to the Samsung-Oculus manufactured Gear VR.
The new Google VR headset will require the use of a smartphone. Like with Cardboard, the handset would be placed inside the headset, and Google expects to add new VR features that will be native to the Android OS. The device will work with a wide range of Android devices.
Google is expected to copy the game plan it uses with smartphones, by producing a flagship line of VR Headsets similar to what it does with Nexus phones. Other manufacturers will be allowed to make their own version of the new Google VR device. This would follow in the footsteps of the open-source Cardboard, which any manufacture is allowed to produce.
Google has sold 5 million Google Cardboard units, but that product was only just the beginning according to its CEO Sundar Pichai. "Beyond these early efforts, you'll see a lot more from us and our partners in 2016," the executive said last week during Alphabet's conference call.
Common sense tells us to
expect the new Google VR headset to be unveiled during the company's Google I/O developer conference
. This year, Google I/O will take place from May 18th to May 20th. While the conference has usually been held in San Francisco, this year it will take place at Shoreline Amphitheater, located in Google's own home city of Mountain View.
source:
FinancialTimes
Recommended Stories