Google Cardboard turns any Android device into a DIY virtual reality headset
14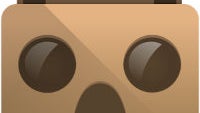 No, this isn't a late April Fools joke from Google, this is a completely real thing - Google engineers have developed a cardboard viewer that lets you hold your phone to your face and simulate a virtual reality headset. The app and companion viewer are called Google Cardboard; it was borne out of a 20% time project at Google; and, Sundar Pichai showed it off during the Google I/O keynote.
The idea is fairly simple: virtual reality headsets are usually very expensive and difficult to make, but maybe there's a simpler way. Much simpler in fact. The whole setup only requires five items, four of which are very easy to come by. Google has posted the instructions so you can take some cardboard, velcro, magnets, rubber bands, and lenses to make your own VR headset. The lenses are the most difficult part to get, and the whole setup would cost about $50 to build.
Once you have your headset built, you can download the Cardboard app which will display content split on the phone display so you see it as a single image through the headset. To start out, the app will be able to fly you around in Google Earth, take you on a tour of a famous place like Versailles, study art works from all angles, take a Street Vue trip, look at a photo sphere that you've shot, or experience the Windy Day story.
Any takers?