Do you think the Samsung Galaxy S6 edge is worth $100 more than the regular S6?
72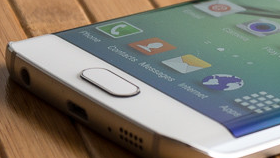 Now that US carriers have
revealed official prices
for Samsung's
Galaxy S6
and
S6 edge
, we know that the latter costs $100 more than the former (of course, we were expecting the S6 edge to be more expensive anyway).
Make no mistake, Samsung's new flagship phones are nearly identical, sharing most of their features: bodies made out of metal and glass, 5.1-inch Super AMOLED screens with 1440 x 2560 pixels, octa-core Exynos 7420 processors, 16 MP rear cameras, and so on. But the Galaxy S6 edge offers something that no other phone has: a display that's curved on its left and right sides, giving the device a unique look. The dual-curve display also brings a set of
extra software features
, though none of these are essential.
Another difference between the new Galaxies is that
the regular model has a 2550 mAh battery
, while
the S6 edge comes with a 2600 mAh one
.
We want to know if you think that these differences are enough to justify the higher price tag of the S6 edge, so feel free to vote in the poll below, and add your thoughts in the comments section. Also, check out our
Galaxy S6 edge review
and
Galaxy S6 review
for a detailed look at the two handsets.