Will the Xiaomi Mi 8 cannibalize Poco F1 sales in India?
3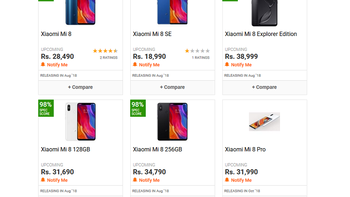 Xiaomi has done exceptionally well in India
where its well-spec'd devices at value prices are in demand. While India is the second largest market in the world for smartphones, consumers there are hindered by low per-capita income, which is why the Chinese manufacturer rules the smartphone market in the country. The company has even developed a sub-brand, Poco, that is about to launch its initial handset in India.
On August 22nd (next Wednesday), Xiaomi will unveil the Poco F1 in New Delhi
. The device will feature a Snapdragon 845 Mobile Platform, 6GB of RAM and 64GB of native storage. A dual camera setup adorns the back, and a 4000mAh battery will keep the lights on for at least 24 hours. While we don't have official pricing for the Poco F1, a premature listing on a Romanian etailer's website had the device priced at the equivalent of $489 USD after a $73 USD discount.
If you're thinking that the Poco F1 is the reason why Xiaomi hasn't launched its flagship
Mi 8
in India, that reasoning appears to be wrong. According to a report published today, three phone retailers in India say that the
Mi 8
could be just weeks away from touching down in the market.
According to 91 Mobiles, the Xiaomi Mi 8 will soon be released in India (see image at the top of this article). The phone, like the Poco F1, is powered by the Snapdragon 845 Mobile Platform and features 6GB/8GB RAM and 64GB/128GB/256GB of native storage, dual cameras on back, and a 3400mAh battery. The price range for the Mi 8 will reportedly start at the equivalent of $408 USD and run as high as $499 for the model with 256GB of storage. The Mi 8 Explorer Edition, with a transparent back and an in-display fingerprint scanner, is priced at the equivalent of $559 USD.

If this report is legit, and Xiaomi does release the Mi 8 in India soon, could the latter device cannibalize sales of the Poco F1? Launching a whole new brand is going to be difficult enough for Xiaomi without worrying about competing against itself.