IDC: Xiaomi tops Samsung in Q2 Indian smartphone deliveries; OnePlus is second in the premium segment
20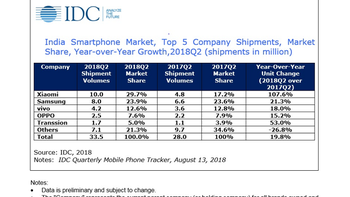 Just like scratching an itch, Chinese smartphone manufacturer Xiaomi hit the spot when it decided to launch its value priced smartphones in India. After all, the country is the second largest market in the world for smartphones. However, economic conditions being what they are in the region, lower priced and older model handsets are usually those at the top of the sales charts in the market.
However, Xiaomi has done extremely well selling new handsets in India. The company has a reputation of offering well-spec'd phones at a value price, which has helped it take over smartphone market share leadership in India from Samsung. During the second quarter of this year, researcher IDC says that Xiaomi shipped 10 million handsets in the country, an increase of 107.6% year-over-year. That was good enough for a 29.7% share. Samsung was second, having shipped 8 million units (up 21.3% year-over-year) to own 23.9% of the market from April through June. Oppo and Vivo were third and fourth with Q2 shares of 12.6% and 7.6% respectively. Transsion was fifth as the manufacturer of the Tecno brand owned 5% of the Indian market during the second quarter.
Xiaomi has been expanding its presence off-line in India, where it shipped one-third of its phones during Q2. 56% of the company's smartphone shipments were made on-line. When it comes to on-line shipments in India, Huawei was second to Xiaomi, thanks to its Honor brand. Overall, Huawei accounted for 8% of such deliveries in the country, a record for the company.
Overall, 33.5 million smartphones were shipped in India during the second quarter. That is a gain of 19.8% over the number of handsets delivered during last year's second quarter.