Check out this odd ad from Italy for the Nokia Lumia 735 "selfie" phone
13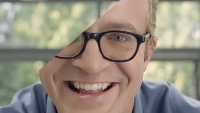 The
Nokia Lumia 735
will soon be launched in Europe, so of course Microsoft has taken to the airwaves to advertise the device. The handset comes with Windows Phone 8.1 out of the box. With its 5MP wide-angle front-facing camera, the Lumia 735 is already known as the Windows Phone "selfie" model. (We should point out that the
Nokia Lumia 730
is practically the same phone, except that it lacks the LTE connectivity on the Lumia 735, and offers dual SIM slots).
In Italy, Microsoft's ad team came up with a creative way to show off the "selfie" feature for a television commercial. The ad shows various individuals with parts of their face or body cut off. This represents the results from using the typical low MP front-facing camera found on most smartphones. A girl trying to blow out the candles on her birthday cake only has half a head, making her task impossible. A father playing peek-a-boo is also missing half of his head, scaring his kid. You get the idea.
"
Every day, thousands of people are victims of cut selfies,
" says the ad. "
Stop the violence.
" The Nokia Lumia 735 lets you share life uncut, according to the spot. Microsoft even devised a new hashtag name for the commercial, #allfie. You can view this strange but effective ad, by clicking on the video below.
source:
NokiaItaly
via
WPCentral