Microsoft Lumia 735 Review
15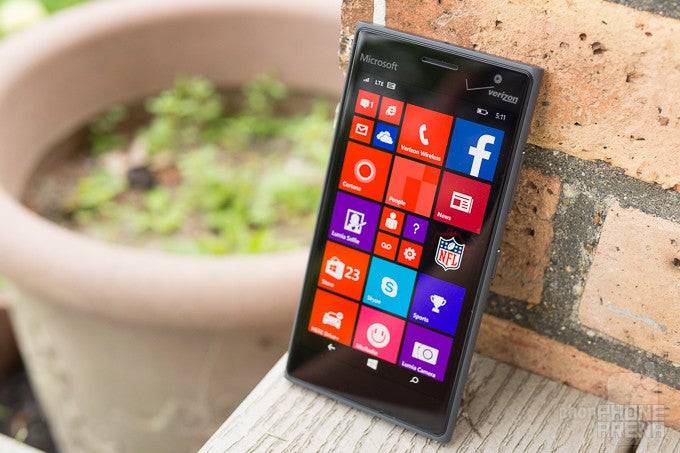 Introduction
This summer, thus far, has proven to be fruitful with popular mid-range smartphones from the Android side. Devices like the
Alcatel Onetouch Idol 3
,
Asus Zenfone 2
, and
Huawei P8 Lite
have shown us that you can snag a quality smartphone for around the $200 to $300 mark, something that's suitable for consumers who don't need rich, power packed things. As we've seen, though, the majority of these 'premium' mid-rangers are Android – with very few from the Windows Phone camp.
Nowadays, anything Windows Phone related comes from Microsoft, as the Nokia moniker has been put to the pasture. For Verizon customers, it seems as though they're getting a doozy of a phone in the
Microsoft Lumia 735
– a mildly spec'd $192 off-contract offering. Considering that there's been a lot of buzz around this price point, it'll be intriguing to see if the Lumia 735 has what it takes to pull people away from thоse polarizing Android mid-rangers.
The package contains:
Microsoft Lumia 735
microUSB cable
Wall charger
Quick start guide
Product and safety information
Design
Compact and stylish, there's a good balance with the Lumia 735's design.
After checking out the
Lumia 640
, we realize how drastically different looking it is from the usual crew of Lumia-branded smartphones that have come out. With the Microsoft Lumia 735, however, it favors the style we'd most say is typical Lumia – one that's available in an assortment of bright colors, and bears a resemblance to some of the high-end Lumias of the past.
Primarily consisting of plastic, our particular model has a matte finish that offers a pleasant grip in the hand – while also doing a good job of repelling dirt and debris. The left and right sides are rounded for comfort, but the top and bottom are uniformly flush to allow it to stand upright on its own. What's nice, though, is that the plastic casing can be removed relatively easy, allowing owners to interchange it with other colors.
So, it all boils down to a fun and refreshing design that we like. Better yet, it's compact to make it the perfect size for one-handed use.
While the usual ports and buttons are found around its sides, it's just missing a dedicated camera/shutter key for quick convenience to the camera. Rarely do phones in this price category offer built-in wireless charging out of the box, but this one does, which is a pleasant treat to find. Moreover, the battery is removable – while also offering us memory expansion via its microSD card slot.
Display
It might still be over-saturated, but this OLED can turn heads.
In keeping its compact size, the Lumia 735 is fashioned with a reasonable 4.7-inch 720 x 1280 OLED display with ClearBlack technology. Much like the other OLEDs employed by other Lumias, this one follows in true form with its iridescence and overblown colors. Even though it's not color accurate when looking at the sRGB color spectrum chart, the overly-saturated tone of the display helps to give it that polarizing glow to enamor us from afar.
And of course, it exhibits all of the characteristics that are typical of OLED technology – like its true to life black color reproduction, wide viewing angles, and punchy color tones. In terms of its brightness output, it maxes out at the luminance mark of 341 nit, a weak tally that makes it tough to view outdoors.
We can talk about how inaccurate it is, or how the display exudes a colder tone with its ~7000K color temperature, but we can't neglect to say that the entire package just looks surprisingly good – it's definitely more attractive than the Lumia 640's display, that's for sure!
Display measurements and quality
Recommended Stories