Check out the latest Apple iPhone 6s ad starring Bill Hader, Siri, and an email scam
15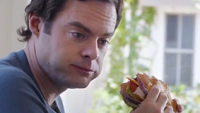 The new television ad for the iPhone, focuses on Siri's new ability to work hands-free on an unplugged
Apple iPhone 6s
(and
Apple iPhone 6s Plus
). Starting with iOS 8,
Siri could be activated by calling out "Hey Siri,"
but only if the iPhone used was plugged into an electrical outlet. With both the iPhone 6s and iPhone 6s Plus, this feature can be used at any time.
For example, the new ad features Bill Hader, chomping down on a sandwich while asking Siri to read his unread email. The first letter is from Prince Oseph, offering Hader a life-changing investment opportunity. Obviously one of those scams that will pop up in your email box every now and then, Hader has Siri reply to the message. "
Sign me up
!" is the enthusiastic response from Hader to Prince Oseph. Judging from the look of Hader's face, he really expects to make millions with this opportunity.
Of course, this is all make-believe, done to show off Siri's hands-free capabilities with the iPhone 6s and iPhone 6s Plus. In real life, we're sure that the comedian is smart enough to turn down such bogus opportunities.
We do have an opportunity for you, though. Click on the video below and you'll see the latest commercial for the iPhone 6s.
source:
Apple
via
CNET