Buy the second-generation Amazon Echo Dot for $39.99; 20% discount is good for today only
1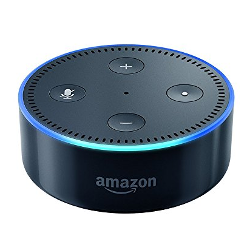 If you ask AI based personal assistant Alexa where you can get a great deal on the second generation Amazon Echo, she is likely to tell you that Amazon has a limited time deal on the hockey puck shaped device. For today only, you can purchase the Amazon Echo Dot for only $39.99. That is a $10 or 20% discount from the regular price of $49.99 for the smaller sized version of the Echo smart speaker.
The $39.99 price equals the lowest ever charged for the Amazon Echo Dot, matching a Black Friday sale from last year. At $39.99, the Dot is more than $100 cheaper than both the Google Home and the Amazon Echo. Even though it is much smaller than the Echo, the Dot is no less knowledgeable or powerful when it comes to Alexa. Anything that Alexa can do on the Echo can be done on its smaller sibling.
With its new features, Alexa can call or message anyone with an Echo, Echo Dot, or the Alexa App. With compatible home appliances, you can use the Dot to control lights, fans, switches, thermostats, garage doors, sprinklers, locks, and more. And with seven microphones spread out around the unit, Alexa will have no problem hearing you call her.
The smart speaker is one of the most popular new tech products to launch since Steve Jobs unveiled the
Apple iPad
in 2010. Currently,
Amazon has the biggest share of the U.S. market
with a 70.6% slice of the pie. Google is next with 23.8% of the stateside smart speaker market.
Microsoft recently entered the game
with its Harman Karmon Invoke, and
Apple is rumored to be introducing a Siri powered model
at WWDC next month.
source:
Amazon
via
CNET