BlackBerry PlayBook gets OS update to 2.0.1; enhanced browser tops at HTML5 test site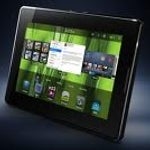 Even though the BlackBerry PlayBook hasn't exactly been flying out the door, RIM is continuing to tweak with the tablet, looking for something that will propel sales. For example, leaked photos that we showed to you recently featured
what appeared to be a 4G LTE model of the tablet
, with BBM. Additionally,
BlackBerry PlayBook OS 2.0.1.358 is now available as an OTA update
by clicking on the update notification, or manually by going to settings and then hitting "update software". Users activating a PlayBook after Tuesday will have their tablet automatically updated to the latest OS.
The new update includes optimizations to video chat, PIM and BlackBerry Bridge apps. It also enhances the BlackBerry Browser and fixes some issues that have made
difficult the use of some Android apps on the tablet
. Speaking of the browser, a benchmark test done at website HTML5 Test shows that the browser on the PlayBook 2.0 OS outscored all other tablet browsers (see chart below).
next month's BlackBerry 10 Jam in Orlando
from May 1st to May 3rd. In just one week, the promotion helped 600 new apps get added to RIM's online application store, and helped 6 developers get their name thrown in the hat to win the trip. The half-dozen apps are Donna's Premier Lodging by Kickinthe App, Joan Of Arc Comic by ZERO-SUM, LTD, RadDeg by Bartho, Free Molten Magic with OS7 Icons by InProgress™, Hank Aaron Brave in Every Way by Scrollmotion, Inc and LiquidCosts by Bwize ZA.
Saunders previously said that
2,000 special BlackBerry 10 powered handsets will be passed out to developers at the Jam
, which will run alongside of BlackBerry World Conference. These special units
will not have the same looks or navigation as the BlackBerry 10 phone
that will be sold to the public later this year. It is merely a way for RIM to get the OS into the hands of its developers in time for some new apps to be, uh, developed before the BB 10 launch whenever that will be.
source:
BlackBerryDevelopersBlog
,
HTML5Test
via
BlackBerryCool