BlackBerry Mobile studied the clickiness of the Bold 9900 for the KEY2's physical QWERTY
5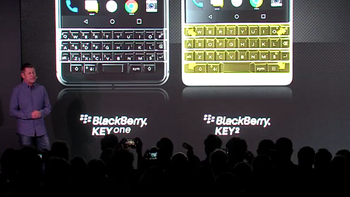 BlackBerry Mobile introduced the BlackBerry KEY2 today
, and the sequel includes a physical QWERTY keyboard that has keys 20% larger than the ones found on the
KEYone
. The TCL division payed close attention to detail when designing the phone, even taking the time to study the "clickiness" of the
BlackBerry Bold 9900
in order to enhance the sound created when typing. For many BlackBerry users, that clicking sound is feedback that allows the user to know that he/she is depressing just one key at a time. If something sounds amiss, it warns the user to check the screen for a typing miscue.
The BlackBerry Bold 9900 and the
Bold 9930
CDMA variant were both unveiled in 2011. The models combined a 2.8-inch touch screen display (480 x 640 resolution) with a trackpad. When it was announced at today's event that BlackBerryMobile studied the clickiness of the Bold 9900 in order to employ the same "feature" in the
KEY2
, a roar of approval went up from those in attendance.
In a way, the evolutionary timeline of the BlackBerry
KEY2
begins with the Bold 9000, took a giant leap forward with the touchscreen Bold 9900/9930, become an Android device with the
KEYone
, and is now a very refined handset with the KEY2. Kudos to BlackBerry Mobile for taking the things that made the KEYone so intriguing (battery life, physical QWERTY, design) and improving on it without losing the features that set the KEYone and KEY2 apart from other Android phones.
source: BlackBerry