They said what? Great quotes from Jim Balsillie and Mike Lazaridis
15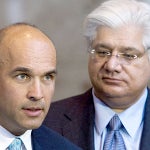 Former RIM co-CEOs Jim Balsllie and Mike Lazaridis were on top of the smartphone world on this date, 5 years ago. BlackBerry's were official equipment for the power businessman, as necessary as the pinstriped suit. RIM's stock was a big winner and the future seemed bright. Then, the Apple iPhone was launched and it wasn't so much the actual device that led to RIM's problems, but it was how the two executives responded to the threat that sent RIM's empire crashing to the ground. Here are some quotes attributed to the pair and when you rerad them, it will probably give you a greater understanding of how RIM finds itself in the position it now is in. Sit back, relax and get ready to travel through time with the hindsight included, of course.
We start in 2003.
"Cameraphones will be rejected by corporate users."
– Mike Lazaridis, 2003. While some handsets, mostly BlackBerry models, do offer a 'no camera' option, that is more for the security of a business. There is no indication whatsoever that businessmen have rejected cameras on phones.
After the Apple iPhone was introduced at WWDC in 2007 by Steve Jobs, the long nearly 6 month wait for the device gave the media plenty of time to get reactions from BlackBerry executives like Jim Balsillie.
"[Apple and the iPhone is] kind of one more entrant into an already very busy space with lots of choice for consumers … But in terms of a sort of a sea-change for BlackBerry, I would think that's overstating it."
– Jim Balsillie, February 2007.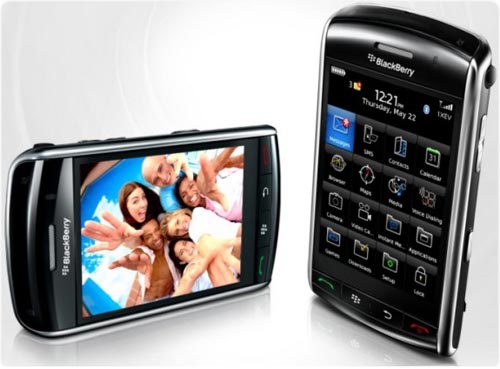 RIM's answer to the Apple iPhone, the BlackBerry Storm
Two months later, Balsillie is back for more comments on the Apple iPhone, which had not yet been released,
"Again, I have said this before and I will say it again; Apple has done the industry an enormous favour because they basically told the world to expect a media player [the iPod] as a software feature on a good smartphone. As the leading smartphone appliance company and platform company, we could not buy that kind of validation for $100m."
–Jim Balsillie, April 2007.
Because BlackBerry handsets had always had a very usable physical QWERTY keyboard, RIM executives were quite sensitive to the fact that the Apple iPhone did not offer one.
"As nice as the Apple iPhone is, it poses a real challenge to its users. Try typing a web key on a touchscreen on an Apple iPhone, that's a real challenge. You cannot see what you type."
– Jim Balsillie, November 2007. "
The most exciting mobile trend is full Qwerty keyboards. I'm sorry, it really is. I'm not making this up."
-Mike Lazaridis, May 2008. Six months after the latter comment, in response to the Apple iPhone, RIM would release the BlackBerry Storm with its SurePress typing system that was supposed to feel like you were typing on a physical keyboard. The phone launched with half-baked software leading Jim Balsillie to say that
smartphone buyers should expect future models to launch with bugs and glitches
. While RIM said
SurePress was here to stay
, as you know, it wasn't.
When it appeared as though a market was developing for tablets, you would have thought that Lazaridis and Balsillie would have learned their lesson from the iPhone.
"So the question you have to ask yourself is when it comes to tablet, what market or what opportunities, still, it's solving, what problem is it solving, and is it just a replacement laptop? I think that's a difficult one to judge."
Mike Lazaridis, April 2010. Six months later, RIM announced the BlackBerry PlayBook which was launched with no calendar and, incredibly enough for a company that prides itself on its messaging technology, no email client either.
RIM had also been characteristically late to the apps game. And if you want to know why, just read this comment.
"There may be 300,000 apps for the iPhone and iPad, but the only app you really need is the browser. You don't need an app for the web ... You don't need to go through some kind of SDK ... You can use your web tools ... And you can publish your apps to the BlackBerry without writing any native code."
-Jim Balsillie, November 2010.
In April 2011, Jim Balsillie actually predicted the demise of RIM, in a roundabout way. His comment about companies switching platforms getting ready to die would now apply to...RIM.
"No other technology company other than Apple has successfully transitioned their platform. It's almost never done, and it's way harder than you realize. This transition is where tech companies go to die."
-Jim Balsillie, April 2011.
BlackBerry 10 is delayed, RIM is awash in red ink
and the board is
considering a couple of tough options
. Going back through these quotes, can anyone really be surprised?
source:
TheGuardian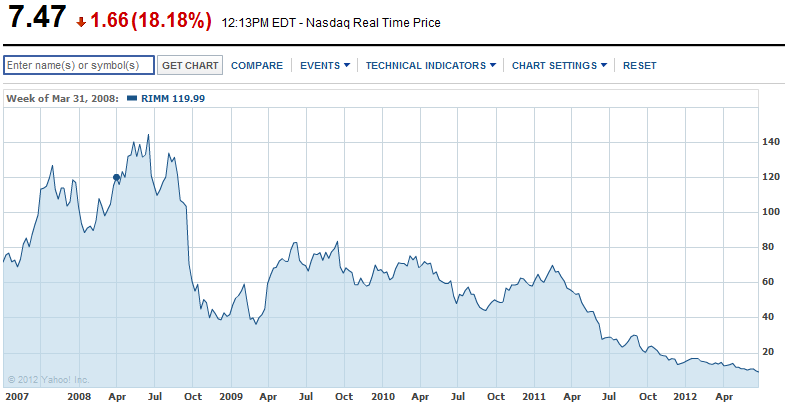 RIM's stock price for the last 5 years