BlackBerry CEO John Chen responds to Google and Samsung's plan to use KNOX on the Android platform
99+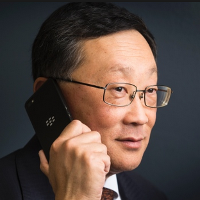 Samsung's decision to
allow secure container Samsung KNOX to be used throughout the entire Android platform
, is expected to help users in the enterprise feel confident with Android. The OS has been
the target of the vast majority of malware strikes
, according to data from security firms. KNOX is Samsung's sandbox, or container, that offers a secure browser, SMS app, contacts list, calendar and other business apps.
Samsung KNOX is going to be made part of Android L, so those receiving the update to the next build of Google's open source OS, will receive it. Those with older Android phones will be able to download a stand-alone app from the Google Play Store. With KNOX, users can turn the "container" off or on, depending on whether the phone is being used for business or play.
The news that KNOX is going to be used to protect all of Android, has BlackBerry CEO John Chen up in arms. Writing on the official BlackBerry blog, the executive says that while he applauds Google and Samsung's "efforts," people should look for companies that have spent 30 years working on security and productivity. Chen says that people should look to the company that "can walk the walk". Of course, we know that he is referring to BlackBerry.
"While we applaud Google and Samsung for their plans, we don't think it's enough for security-minded enterprises. Instead, look to companies that have literally invested three decades into advancing the twin causes of security and productivity. In other words, don't be dazzled by those who can talk the security talk. Instead, look to the company that has proven repeatedly it can walk the walk."-John Chen, CEO, BlackBerry
source:
BlackBerry
via
TheRegister