Android will separate work and personal data with the help of Samsung Knox
13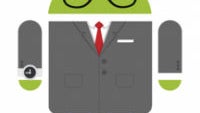 There have been rumors that the next version of Android would be making a push to address the needs of enterprise, and those rumors have proven to be true. Google just announced that Android L will offer new features to make it easier for people to use one device for both work and personal life. This includes keeping data separate, and getting help from a surprising source.
We've been seeing increased cooperation between Google and Samsung recently, but this is a big deal. Samsung has contributed part of its Knox security software to run as a core part of Android. It will keep work and personal data separate, and be standard in Android L. It will also allow Samsung Knox Independent Software Vendors (ISVs) and developers to reach a wider audience outside of Samsung branded devices. Injong Rhee, Senior Vice President of KNOX Business Group at Samsung Electronics, said on the partnership:
We are delighted with the opportunity to work with Google to help build Android's enterprise eco-system and establish Android device as the leading choice for businesses. This represents an amazing transformation in workforce mobility.
Beyond separate data, Google will also allow companies to purchase apps in bulk and deploy them to employees in bulk as well. These features will be built into Android L, but Sundar Pichai said that Google is working on a standalone app that will offer similar features for older versions of Android.