Report: Android the target of 97% of mobile malware last year
17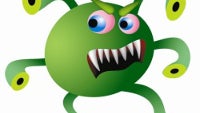 Android has been in the bullseye for mobile malware attacks more than ever. According to the latest report from F-Secure, last year Android was targeted in 97% of mobile malware attacks, up from 79% in 2012. The actual number of attacks aimed at Google's open source OS soared from 238 to 804. In case you're wondering, attacks on Symbian made up the remaining 3%, or 23 malware attempts.
The good news, if you live in the U.S., is that these attacks are mostly attempted overseas, with just 5% taking place in the states. Of the top ten countries reporting efforts to infect Android, 75% of the incidents came from Saudi Arabia and India. The top five European countries on the list made up only 15% of the discovered malware cases.The report also says that it would be wrong to say that Google isn't trying to beef up security on Android.
After testing apps from various third party app stores, one third of apps from Android159 were found to contain malware. The good news though, is that a puny .1% of apps from the Google Play Store were infected.
via:
TheNextWeb
via
WMPoweruser