Note 9 vs iPhone XS Max vs LG V40 vs OnePlus 6T best cellular reception tests produce surprise winners
14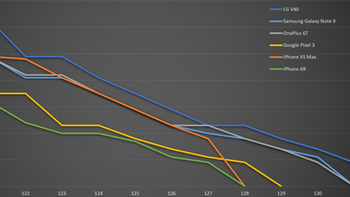 The
iPhone XS Max
with its large body and well-spaced antennae did best among in reception and download speeds among the phones with an Intel modem inside, but the Qualcomm side ended up with one surprise winner - the
LG V40
.
Armed with professional carrier equipment by Rohde & Schwarz - the type of gear that
RootMetrics
uses in its USA drive-by tests that
Verizon loves to cite
- the lab coats from
Cellular Insights
put six of the most popular 2018 phones to the test.
As you can easily deduce from the graphs below, there are pretty negligible differences in reception rates and download speeds, with the cheaper
OnePlus 6T
diving the lowest in the chart when the signal is good, but bouncing back in weak signal scenarios. For some reason, Google's new
Pixel 3
doesn't shine in download speeds when the signal is less than stellar.
The LG V40 takes the crown among phones with Snapdragon 845 chipsets and the respective
Qualcomm X20
modem which can reach up to 1.2Gbps download speeds. Among Intel-inside phones like this year's iPhone crop, the XS Max did best, while the
iPhone XR
which sports an older (up to 600Mbps) modem from Intel, did worst.
Last but not least, each newer modem version manages to eke out better download speeds compared to its predecessors in the same network conditions, as exemplified by the last, Note 5 to
Note 9
, chart.