Best Android phones with a sweet, clicky physical home key
32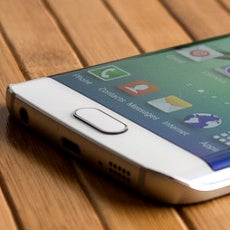 Oh, the joys of having a tangible, physical, tactile home key that you can press and feel a clicky sensation that indicates you are brought back to where you started - the home screen, ready for a new usage spree.
No amount of on-screen buttons can recreate this feeling, and there is no way you can go to home without looking on a big phone with virtual keys - a feat that is easy peasy on one with a physical button. You can also press and hold to evoke recent apps, or execute another action, like calling the voice-controlled personal digital assistant. That is the whole point of a virtual butler, for instance - you must be able to manage it with your voice without looking.
Moreover, having a physical home key means that it's flanked by either tactile or capacitive navigation buttons, so there are no pesky on-screen keys that eat up precious space from your display at all times, save for when you are browsing through pictures in the gallery, or watching movies. Last but not least, with the recent trend towards mobile payments, the home key often serves as a mobile fingerprint sensor, too, so that's another incentive to get such a handset. Long story short, some people prefer a physical home key, instead of a virtual one on their handsets, and the iPhones have had it from day one, that is why we are rounding up the best Android phones with a physical home key that you can currently get.
In many ways, the Samsung Galaxy S6 Active is a better phone than its ordinary, meekish sibling. It has a
much better battery life
, and is the rugged, waterproof phone that the
S6
can never be, if not placed inside a specialized bulky case. To top it all off, all navigational buttons on the handset are of the physical type, so you never have to look down on it while biking or sliding down that zipline.
How about a 5.5" Quad HD display, 20 MP camera, and a generous 3350 mAh battery, coupled with dedicated audio processing chips? Yep, the MX 4 Pro has all the makings of a flagship without breaking the bank, and the clicky home key with embedded fingerprint scanner of the touch variety only comes to reinforce this notion.
This handset is really edgy, and not only because of the unique side-sloping flexible AMOLED display, but also since it shares all the wonderful features of its namesake - QHD Super AMOLED display, 3 GB of RAM, 14nm Exynos chipset, and a 16 MP camera with OIS. Its place in the pantheon of physical buttons is earned by the elliptical home key with a fingerprint scanner built in.
The one and only original comes with the highest screen pixel density, all the hardware bells and whistles, and a premium metal-and-glass body to die for. An added touch of brilliance - the comfy and clicky home key that looks great, and serves as a fingerprint reader for Samsung Pay - the company's promising new mobile payment system.
The Galaxy Note 4 needs little introduction, as it has consistently been proving to be one of the best phablets out there, complete with a fast chipset, long battery life, wonderful display, and the venerable S Pen stylus. It does sport a physical home key, too, like the rest of the Samsung crew here, but the built-in finger scanner if is of the inferior swipe, instead of the newer touch variety.
Albeit not a flagship per se, the Meizu M2 Note wins our hearts not only with its clickable home key, but also with one of the best value-for-money ratios you can currently get. How about a 5.5" 1080p display, octa-core processor, 2 GB of RAM, 13 MP camera, and dual 4G SIM, dual-standby abilities? Not bad at all for around $170 only, and the phone also sports a hearty 3100 mAh battery to back it all up.