Auxillite allows you to charge your Apple iPhone 7 or iPhone 7 Plus while listening to music
32
It would be a shame if Auxillite doesn't meet its goal of raising $60,000 on Kickstarter. The product is an add-on accessory that allows owners of the
Apple iPhone 7
or
Apple iPhone 7 Plus
to charge their handset and listen to music at the same time. Thanks to Apple's removal of the 3.5mm headphone jack on the latest iPhone models, that combination is impossible with the accessories that come out of the box.
The Auxillite accessory is a small round cylinder with ports at both ends. On the left side is a lightning port for charging your iPhone. And yes, rapid charging is a feature. An LED light tells you if your phone is in the process of charging. On the right side is a 3.5mm port for earphones. The IP67 dust and water resistant Auxillite is available in Black and Silver. There is also a premium version called the Auxillite S which comes with an adjustable stand so that you can prop up your iPhone.
With 25 days to go, the campaign has raised $36,317 which means that it is short $23,683. You can pledge $9 to have an Auxillite shipped to you in December. Send the guys $13 and you can have an Auxillite S sent to you this coming January. If you pledge $28, you can get an Auxillite with a 24-bit DAC (Digital Audio Converter). This particular model is available for iOS and Android phones.
If you're interested in Auxillite, click on the sourcelink. And if you want this product to be funded, better bring your credit card with you when you check out the Kickstarter page.
The Auxillite accessory allows you to charge your iPhone 7 while listening to music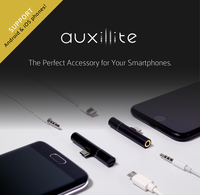 source:
Kickstarter