As Motorola finishes its ICS updates, the OEM reveals its Android 4.1 schedule
68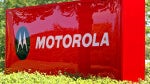 With the news that the
Motorola DROID BIONIC
is
receiving Android 4.0 on Friday
, the manufacturer has now completed all of the Ice Cream Sandwich updates
it has scheduled for its handsets
. This remains a sore point with owners of the
Motorola DROID 3
, the
Motorola ATRIX 4G
and the
Motorola PHOTON 4G
, all three of which will remain on Android 2.3 through their dying days. Whether it's because of a guilty conscience or merely a marketing promotion, those owners of a 2011 Motorola smartphone not eligible for Jelly Bean
can receive a $100 Motorola gift card
by trading their device in for a newer Motorola model.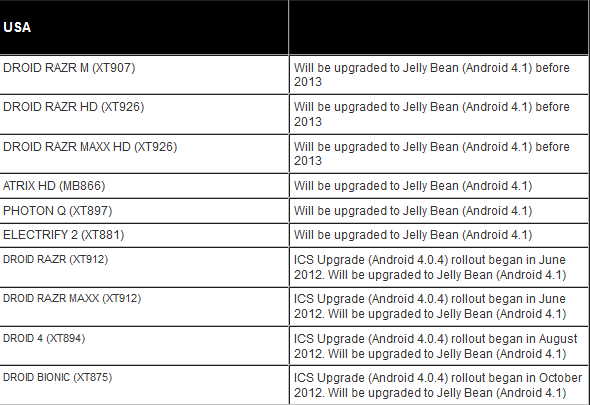 Motorola is listing which of its handsets will get Android 4.1
But we digress. Motorola has updated its scheduled list of scheduled updates and we can tell you that the manufacturer plans on delivering Jelly Bean to the
Motorola DROID RAZR M
,
Motorola DROID RAZR HD
and
Motorola DROID RAZR MAXX HD
before the ball drops in Times Square. The
Motorola ATRIX HD
,
Motorola PHOTON Q 4G LTE
,
Motorola DROID RAZR
,
Motorola DROID RAZR MAXX
,
Motorola DROID 4
and the
Motorola DROID BIONIC
will be updated to Android 4.1.
Turning to the tablets, the
Motorola XOOM Wi-Fi
only has already received Android 4.1, and the 3G/LTE version will receive the update sometime this quarter. Additionally, it should be noted that the Motorola XOOM Family Edition will be receiving Android 4.0 sometime this quarter.
It has been a nightmare for both Motorola and owners of its devices. The company does seem to be more determined to stay on the ball update wise with it's latest handset releases, but we will have to see if the manufacturer holds to its promises.
source:
Motorola
via
AndroidCentral