Apple's patent application for self-healing elastomer could lead to waterproof iPhones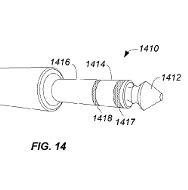 A patent filed by Apple back in June 2014 has been published by the USPTO, and could lead to the development of waterproof Apple iPhone handsets. Recently,
there has been talk that the Apple iPhone 7 would be offered with some waterproof capabilities
. The patent ties into this with its focus on a type of rubber, a "self-healing elastomer" that can lose and regain its shape.
As an example, consider an earphone jack covered by an elastomer seal. When a plug is pushed into the jack, the seal would open up to allow the plug to be inserted into the port. Once the plug is removed, the rubber reverts back to its original shape and protects the port by covering it. The rubber covering can be made to protect against water, dust, debris and gas.
The patent is called "
Electronic device with hidden connector
." Apple does own a patent for a waterproof logicboard which has been employed in the
Apple iPhone 6s
and
Apple iPhone 6s Plus
. This could explain
why the two phones stand up well to water
,
even though
they are not considered water resistant
.
Apple files patent for a self-healing elastomer which can lead to the production of a waterproof iPhone
source:
USPTO
via
AppleInsider