Water test shows Apple iPhone 6s and Apple iPhone 6s Plus both survivng a one-hour dunking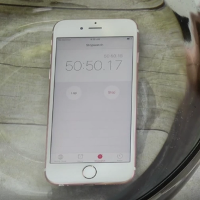 The other day, we showed you a video of the
Apple iPhone 6s Plus
and the
Samsung Galaxy S6 edge
totally submerged in water for 30 minutes
. Both were removed from the bowl totally unscathed. Today, we have both the
Apple iPhone 6s
and Apple
iPhone 6s
getting dunked inside a bowl of water. Keep in mind that neither device has publicly received an IP certification for being water resistant (neither has the Galaxy S6
edge
, for that matter).
After 60 minutes of soaking, both the iPhone 6s and
iPhone 6s Plus
appeared to work perfectly. Once the device was dried out, the 3.5mm headphone jack and the lightning port both were good to go. Which makes us wonder why Apple wouldn't promote this. Manufacturers with phones that stand up to water this well, usually scream about this feature from the rooftops.
The only conclusion is that the iPhone 6s and iPhone 6s Plus are not resistant to water officially. With that in mind, we wouldn't even want to use the new iPhone models in a light rain, without employing a waterproof case. After all, when returning a water damaged iPhone 6s back to Apple, it is not going to persuade them to replace a broken unit because you thought the phone was waterproof after viewing a video online.
source:
ZachStraley
via
RedmondPie