Apple iPhone XR was the top selling iPhone in the U.S. last month
47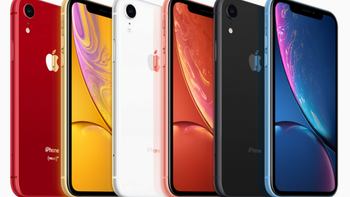 November was the first full month that the iPhone XR was available, starting at $749 for the 64GB model, $799 for the 128GB variant and $899 for the version with 256GB of internal storage. But Apple, seeking to rev up demand for its new handsets,
is now offering the iPhone XR for as low as $449
(and the iPhone XS for as low as $699) with the trade-in of an older iPhone model.
The data also shows that in the U.S., 82% of new iPhone purchases were made by someone upgrading from an older iPhone model. 16% switched from an Android device. Last year, the figures revealed that 86% of new iPhone units were bought in the states to upgrade an older model, and 11% switched from Android. That means that the 2018 iPhone lineup was a bit more successful in getting U.S. Android users to switch teams. Still,
sales of the iPhone XR have been disappointing
. In fact, the 2018 iPhones altogether have not enjoyed the consumer demand that Apple was hoping for.
"Based on the initial sales, iPhone XR took the same share of iPhone sales as earlier models in their first month on the market. Of course, comparisons are difficult, because of how Apple sequenced new model launches in the past two years. Last year, Apple launched the evolutionary iPhone 8 and 8 Plus first. This year, Apple launched the more expensive models earlier, presumably trying to catch early demand from the most loyal customers. The 32% share of iPhone sales for the XR model compares favorably to the 30% share for iPhone X in the similar timeframe last year, but lags the combined share of iPhone 8 and 8 Plus during that period last year. Then, the similarly-priced models accounted for 39% of units, and after they had been available for a month before the iPhone X was released."-Josh Lowitz, CIRP Partner and CoFounder
Keep in mind that while only 165 Apple customers took part in the survey, CIRP was able to look at past data to determine the significance of the results, seen below.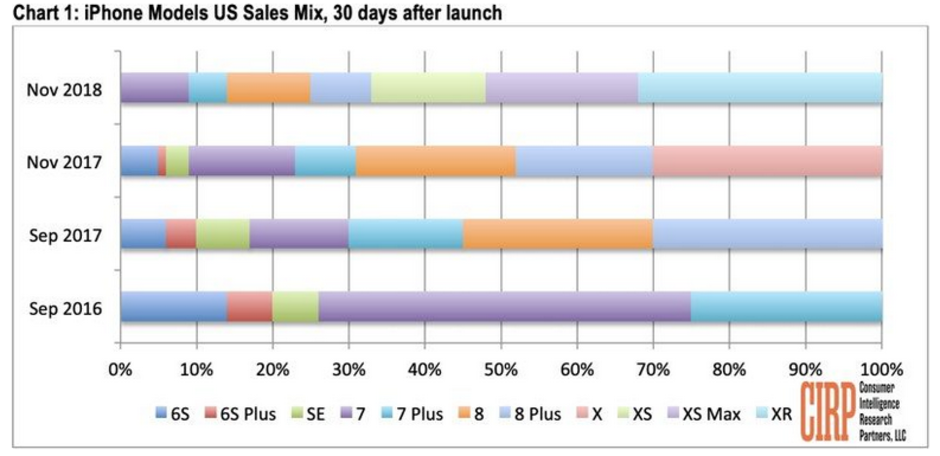 Data from CIRP shows that the iPhone XR led all iPhone models in U.S. sales during November