Apple iPhone 6 size comparison
28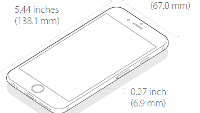 Apple finally soothed the anticipation and revealed what it's been secretly prepping over the past few months. The countless rumors, speculations, and teasing leaks successfully amplified the public's expectations, and although we were seemingly familiar with most of the aspects of the new Apple flagship, September 9, 2014, was eagerly expected both by Apple's fans and the vast competition alike. The latter, however, had previously prepped a crop of rivals which will surely give the new iPhone a hard time on the market.
The rivals in question, i.e. the finest and newest smartphones that came out straight from Samsung, LG, Sony, and HTC will most probably experience some hard times ahead of them now that the newest iPhone is larger and directly fares against them display-wise. We can't predict how the battle on the market will eventually pan out, but there's one thing we can do – put the iPhone 6 toe-to-toe against the competition in an improvised size comparison showdown.
Samsung, one of Apple's biggest rivals, brings it finest to the battle - the
Galaxy S5
flagman, the similarly-sized (4.7")
Galaxy Alpha
, and the recently-unveiled
Galaxy Note 4
and
Note Edge
, because why not? HTC, on the other hand, is accompanied by its One (M8) forerunner, whereas LG brings the
G3
behemoth to the boxing ring. Sony makes a notable entrée with its newest Xperia devices, the
Z3
and its mini version, the
Z3 Compact
. We've thrown in an
iPhone 5s
for a good measure as well.
It's going to be a rather heated battle, isn't it? As usual with such comparisons, you get to decide which one's the clear winner!