Apple iPhone 6 Review
99+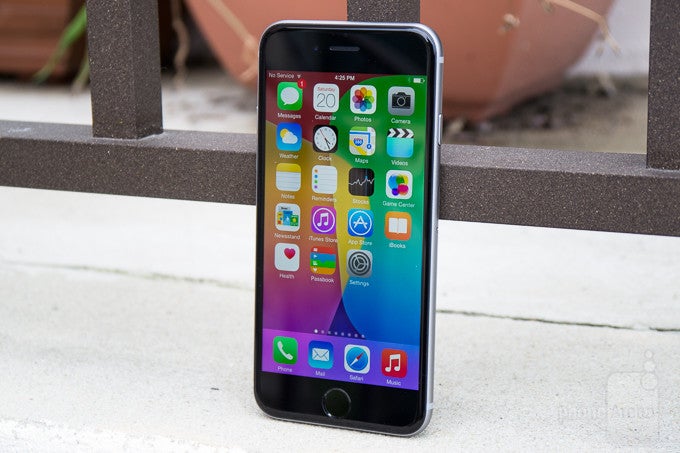 Introduction
Two years ago, Apple's venerable iPhone received one of the biggest design changes in its history. Previous to the unveiling of the
iPhone 5
, all other iPhones before it featured 3.5-inch screens – a large screen size for a phone back in 2007, but hardly the stuff that contended with the more spacious screen sizes of other modern, top-tiered smartphones. Still, for the many fans of the iPhone, they were ecstatic to see the increase.During Steve Jobs' reign, he rebuffed the idea of putting an even larger sized screen in the iPhone. As the phablet segment gained popularity in recent years, however, many owners of the iPhone urged the company to produce one with a BIG screen, but it never came to fruition. Well folks, the company that redefined the modern smartphone is making right with its latest model, the
iPhone 6
– one that bears a new design and larger, 4.7" screen to combat the onslaught of flagship phones from the Android side.
Naturally, there's a lot of buzz riding on this phone. Outfitted with several new upgrades, the iPhone 6 also receives an updated experience in the form of iOS 8 as well. Arguably the biggest launch for Apple to date, can the iPhone 6 continue Apple's dominance in the market?
The package contains:
Lightning cable
Wall charger
Apple sticker decals
Get Started Guide
Design
Exhibiting all of the hallmark qualities of an iPhone, like its premium choice of materials, solid construction, and iconic looks, this year's model is quite frankly a larger sized iPhone.
Sporting a totally new redesign, the iPhone 6 boasts all of the hallmark qualities of an iPhone to keep up with the line's prestige legacy – while still laying claim to its iconic looks. Naturally, there's the overall increase in its footprint, which is what's most profound with its design. Indeed, it's more spaced out, but it's still relatively easier to grasp than most of today's flagships. On top of that, Apple is able to shave off even more of its fame to an impressive thinness of 0.27-inches – besting its predecessor's mark of 0.3-inches.
Premium has always been something associated with the iPhone, so that's something intact here with the iPhone 6, since its unibody frame is constructed out of aluminum. And just like last year, the same color options are presents – space gray, silver, and gold. From afar, it's undeniably an iPhone, but upon closer inspection, there are several new changes that give it a different look. For starters, it follows the design language first introduced to us by the iPad mini – where it's more rounded on its sides. Due to this, we find it more comfortable to hold than the chamfered beveled edge of the iPhone 5s.Apple has been making a point about "continuity" with its design approach, where everything seems to follow a seamless pattern, but we're a little shocked because of how the camera lens in rear interrupts the design's continuity. Let's be honest folks. The iPhone 6 is one meticulously crafted, beautiful looking smartphone that's a cut above those plastic-bodied ones, but at the end of the day, even with the switch with its design language, it looks like an iPhone – a larger one than before to be exact.
Attributed to its larger size, the power button has moved away from its traditional location on the upper right corner of the phone, and is now placed along the right edge – a fitting change, since it's easier to access. As for the volume controls and silence switch, which are still in their same old spots on the left edge, they might not jut out as much as before, but they're still relatively easy to distinguish and operate. Notably different is the size of the volume buttons, which are elongated now, in order to accommodate the iPhone 6's skinnier frame. Meanwhile, other familiar items, like the Lightning docking power, 3.5mm headset jack, speaker, earpiece, and microphones are found in their usual locations.
Underneath the display, we have the phone's iconic home button, which has the Touch ID biometric touch sensor incorporated into it. Still rocking the same responsiveness and easy unlocking operation as before, it's still somewhat mind-boggling to know that it's the best implementation around.
Apple's iPhones have always been known to take spectacular photos, so it shouldn't surprise anyone to find that the iPhone 6 is packing some new gear. Even though its iSight camera doesn't increase in count, a decent 8-megapixel sensor with a two-toned dual-LED flash, Apple introduces a new technology called "Focus Pixel", which we'll expand more on later in the camera section of the review. Likewise, they've opted to stick the iPhone 6 with the same 1.2-megapixel front-facing camera.
Display
The iPhone 6's 4.7-inch 750 x 1334 Retina Display continues to deliver high-quality results, like its potent brightness and superb color accuracy, but we wish for something higher in resolution.
Playing into its main rivals, Apple has increased the size of the iPhone's display to a more contemporary mark of 4.7-inches. Combined with its resolution of 750 x 1334 pixels, it delivers a very Retina display pixel density figure of 326 ppi. Sure, the this doesn't turn heads as much as the quadHD resolution of the LG G3 for example, but at the end of the day, we're still able to make out fine details with very few issues. Still, a part of us wished for the iPhone 6 to come to the party with a resolution of more than 430ppi to match its rivals.Apple continues again to ensure that the panel is a high-quality one. Based on IPS LCD technology, which is protected by a layer of Gorilla Glass 3, the display lives up to the hallmark qualities of past iPhone displays. First and foremost, it's super easy to view outdoors with the sun presents, thanks in part to its potent brightness output of 606 nits – a modest step up over its predecessor's 587 nits mark, but an excellent result nonetheless.
Once again, too, the Retina Display present here is one of the most accurate when it comes to reproducing colors. With a color temperature of ~7100 K, there's a slight cooler tone to the screen. From the looks of it, the panel in here closely matches its predecessor when it comes to color accuracy. Yes, there are very few minor differences, but for the most part, the display here is pretty darn excellent at producing accurate colors. In addition, viewing angles are pretty fantastic too, as it maintains its clarity at even the widest angles.
Aside from a phone's design, the other main thing to catch our attention from an initial glance is the phone's display. On one hand, we're ecstatic to see an increase in size to make the iPhone 6 competitive, but on the other, we're a little disappointed by Apple's decision to sit behind the pack with a lower resolution panel. Its saving grace, however, is the high-quality panel that it uses.
Display measurements and quality
Recommended Stories