Another Xiaomi Mi 5 specs rumor claims 6 GB of RAM; Update: real-life picture leaks, refutes the rumor
30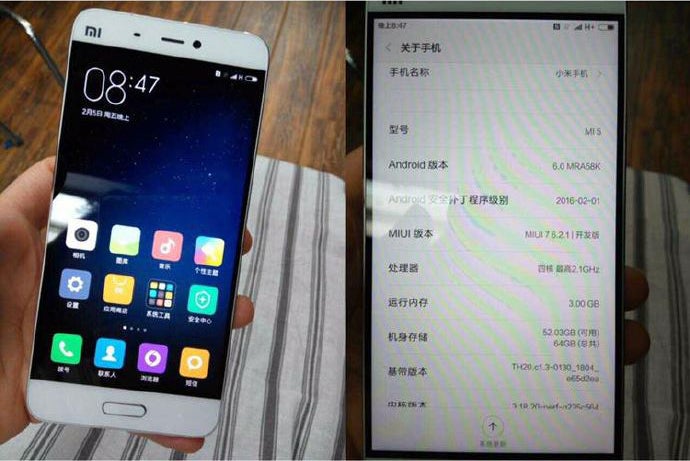 Alleged Xiaomi Mi 5 smiles for the camera
Xiaomi may be among the less mainstream-famous manufacturers to have a scheduled appearance at the Mobile World Conference next week, but the company is well-known among smartphone lovers. It's a China-based handset slinger, which is pretty huge in Asia, and famous in the tech world for offering quality hardware at bargain prices.
Thus far, Xiaomi has only officially sold its handsets in Asian markets. International fans that wanted to get their hands on one of its devices had to go the extra mile and find a trustworthy 3rd party reseller who would ship anywhere in the World. The fact that the company is
about to unveil
its newest flagship — the
Mi 5
— at the Mobile World Congress in Barcelona has many hoping that this is a sign Xiaomi is going international.
In the past month, we've seen
design leaks
,
camera teasers
posted by Xiaomi's VP of International Hugo Barra, and some
specs leaks
. Today, we get another report of Xiaomi's internals in the form of a Weibo post by a devout tech blogger. It mostly reaffirms previous rumors, but also shedds light on possible memory variants and the phone's battery capacity.
So, what we know with 99% certainty, and is reaffirmed in this report, is that the Mi 5 is going to be equipped with a 2.15 GHz Qualcomm Snapdragon 820 SoC — this has previously been suggested numerous times, and even the company's CEO Lei Jun has had no trouble talking about it openly on social media. Further, the post lists a 5.2-inch display diagonal, which is in line with leaks from other sources in the past months. A couple of days ago, we saw another leak point at a 5.15-inch diagonal, but that's a single report that has yet to be reaffirmed. We also get another mention of the 16 MP / 4 MP rear and front cameras, which we've also heard about before. And, of course, many claim that the new handset will have a USB Type-C port, which we've already seen Xiaomi use in the
Mi 4c
.
The post also mentiones RAM and internal memory, claiming that there will be two Mi 5 variants — one toting 32 GB of internal memory and 4 GB of RAM, and the other packing 64 GB of storage and — get this — 6 GB of RAM. The smartphone's battery capacity is listed as 2,910 mAh – not too shabby.
So, what should we make of this 6 GB of RAM rumor? We'd suggest taking it with a spoon of salt – it just seems a bit outlandish that in the year when we expect most flagship smartphones to have 4 GB of RAM, Xiaomi would be able to somehow cram an extra of 2 gigabytes in there. But hey, we'd love to see it be real!
Update:
The photo you see at the top of this article is a shot of the alleged Xiaomi Mi 5. We can see it's running Xiaomi's MIUI build 7.6.2.1. interface on top of Android 6 Marshmallow, and the processor is indeed clocked at 2.1 GHz. The memory data refutes the 6 GB RAM report, as it lists a much more believable combo of 64 GB of storage and 3 GB of RAM.