Hugo Barra posted an HDR camera sample from the Xiaomi Mi 5, looks nice and crisp
16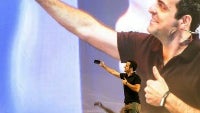 The incoming Xiaomi Mi 5 is one we're certainly looking forward to as its Feb 24 announcement nears. Lately, we've been talking a fair bit about this Android flagship out of China, and if you're eager to spend time reading a camera samples post about it, we presume you already know what the fuss is all about. But just in case you don't, you can check out the links we've left at the end of the article. By the looks of it, the Xiaomi Mi 5 is going to be a good one, although it won't be sold globally by official means. Then again, online retailers will take care of everyone interested in importing the smartphone from China.
Enough with the introductions, let's dive in the new camera sample which Xiaomi VP and prolific ex-Googler, Hugo Barra, posted on his Facebook page. By the way, a couple of days ago,
we got a look at a pair of shots taken with the Mi 5
, and we came away impressed with the level of detail, and not all that impressed with the botched white balance. With this in mind, how does Hugo's sample fare? The VP shot the leaves of a Cycad plant in HDR (which the scene doesn't call for) to show off the level of detail possible with the Mi 5's alleged 16MP rear camera.
Although the shot isn't full resolution, it is indeed detailed and vibrant, with the full-size crop showing those leaves looking very crisp, without much apparent sharpness filtering applied. Hugo says the shot was taken in Automatic mode with no intervention on his part, other than turning HDR on, and the Mi 5 certainly produced a pleasing result.
The VP might upload a full-resolution shot on Xiaomi's forum, so we'll keep an eye on the boards for the full 16MP goodness and put it here once it goes live. Interim, gaze at that majestic Cycad in the gallery below. We also included the other two Xiaomi Mi 5 camera samples we have, shot by company co-founder Lin Bin.
Essential Xiaomi Mi 5 stuff to check out:
Recommended Stories