Another Samsung Galaxy S II ad is uncovered; no Voice Talk promo on this one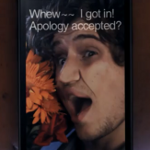 Samsung keeps churning ads out for the Galaxy S II at such a pace, it might make your head spin. At least this time, the Korean based manufacturer decided to steer clear of controversial topics like texting while driving. In fact, there is no mention of the
Voice Talk technology
that the last two ads had championed.
This time, we are shown how thin the Samsung Galaxy S II really is. At 8.49mm, the device is thin enough to (Spoiler Alert!) slip under a door. Actually, by the time the ad ends, you are not sure if our hero actually gets his phone-or his girlfriend-back.
The device is expected to launch in the U.K. on May 1st as we
reported
, and so far, Samsung has kept mum on its plans for this handset regarding the U.S. But with the success the company had with the original Galaxy S Stateside, we would imagine that the unit will eventually make that trip over the ocean. And until then, there probably will be a few more commercials made that not only extol the many features of the Galaxy S II, but also let U.S. cellphone fans see what they are missing out on-at least for now.
source:
YouTube
via
AndroidCentral