New Samsung Galaxy S II ad once again shows advantage of texting with Voice Talk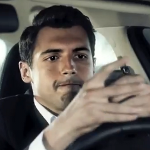 Once again, Samsung is trying to show you the wonder of its Voice Talk feature for the Galaxy S II. Like we saw on the previous ad for the phone, prior to the Samsung Galaxy S II, texting while driving was a death defying action that never ended up with the message getting sent. After the Galaxy S II, the Voice Talk feature on the handset allows a driver to call up the text application, address the text, dictate the message, and send it on its way all without using hands.
So far with the commercials for the Samsung Galaxy S II, we have seen the device dunked in a fish tank, used in the bitter cold and knocked around a moving automobile. But all of that is make believe for the cameras. If you want to see the Galaxy S II really taken to extreme locations, check out the series of real-life Extreme Unboxings of the handset which can be caught from the
Samsung UK YouTube Channel
.
source:
YouTube