AT&T says customers can exchange their Samsung Galaxy Note 7 for another device
42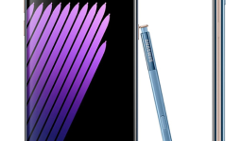 Earlier today, we told you that T-Mobile customers who already own the
Samsung Galaxy Note 7
can
return the device for a refund which can be used to purchase a new device
. We also told you that Sprint subscribers can exchange their Samsung Galaxy Note 7 for a similar device until the issue is resolved. And now, AT&T has just released a statement about Samsung's beleaguered phablet.
In its statement, AT&T says that due to safety concerns, subscribers are "strongly encouraged" to exchange purchased Samsung Galaxy Note 7 units for a new smartphone. Accessories that were bought can also be returned. We would recommend that you head to your local AT&T store to make the exchange, even if you made your Galaxy Note 7 purchase from AT&T's website. The carrier's reps are better equipped to handle your problem on a face-to-face basis.
So far, we have yet to hear from Verizon. As we told you earlier this morning, Samsung officials were reportedly in talks with the nation's largest carrier to discuss the situation. As soon as Big Red releases a statement, we will pass it along to you.
"Samsung has notified us that they have identified a battery cell issue in certain Galaxy Note7s. They have asked all retailers, including AT&T, to stop selling the device. Because safety is our top priority, customers are strongly encouraged to exchange the Samsung Note7 for a new device. Customers with a Note7 may select a new smartphone, and may also return any Note7 accessories."-AT&T
We imagine that the Samsung Galaxy Note 7 will be one of the major topics discussed this weekend by the top brass at carriers throughout the world. And since we never close, feel free to stop in anytime to check out the latest news on the Galaxy Note 7.
source: AT&T