80's Takeover artist Carl Icahn sniffing around LightSquared
3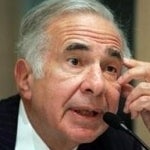 There is no question that Philip Falcone's vision for
LightSquared
is in trouble. Thanks to
interference with GPS signals
, the government is unwilling to sign off on the regulatory approval that the wholesale carrier needs to fulfill contractural obligations with
companies like Sprint
. As a result, the value of LightSquared's debt has dropped sharply in recent days, allowing former takeover shark Carl Icahn to buy a ton of the debt at bargain prices. Some of the company's debt is publicly traded and has dropped in price from par (100% of full value) in June, to a price of 40 (40% of value or 40 cents on the dollar).
$300 million of LightSquared debt was sold in December by Farallon Capital Management LLC and some of that paper
landed in Icahn's portfolio
. Other buyers include distressed debt investors
David Tepper
and
Andrew Beal
. Icahn is the more famous of the trio, having tried to perform boardroom coups with such companies as Marvel, TWA and others. By buying enough debt, Icahn will have a say in the restructuring of LightSquared, especially if bankruptcy is declared. Debt holders are first in line to receive the fruits from asset sales if a filing is made, while common stockholders are last.
The interest by these investors in the company has some analysts saying that there must be some value to LightSquared. Senior telecom analyst at brokerage CRT Capital Group, Lance Vitanza, says, "
The fact that smart money from the likes of David Tepper and Carl Icahn is coming in speaks to the potential value of underlying assets. If you were to resolve the GPS interference issues and eliminate the satellite requirement entirely you would have in excess of $10 billion in value
."
Icahn is one of the last of a breed of takeover artists that changed the landscape of Wall Street and corporate boardrooms in the 1980's. A rumor that Icahn was interested in a company could move a stock sharply higher. While the Insider Trading scandal later in the decade took down fellow traders like
Ivan Boesky
, Icahn somehow managed to escape incarceration and ended up with just a slightly tainted reputation. Luckily for Icahn, others had much more easily proved connections with former Junk Bond King
Michael Milken
who was tied up in an Insider Trading scandal with Boesky.
Falcone himself was a distressed debt investor and has plowed $2.9 billion from his hedge fund, Harbinger Capital Partners LLC,into LightSquared. An additional $1.6 billion in debt was needed to help build the 4G LTE pipeline that the company hopes to use to sell wholesale spectrum to mobile operators. The company says its network could be used by
260 million Americans
by 2016. And while the company does have a temporary waiver that for now allows the network to be used for more than just satellite phones, the interference with GPS signals could allow Sprint to back out of a deal that could save LightSquared $13 billion from now through the end of the decade. Sprint has said that it is
giving LightSquared until sometime in February
to get regulatory approval. The original contract had a clause that struck it void if the network wasn't green lit by the end of last year. LightSquared has said before that it
has a solution
to the GPS interference problem, but a
advisory board
recently said that the problem still exists.
source:
WSJ