6 of the best weird cases for Samsung Galaxy S7
1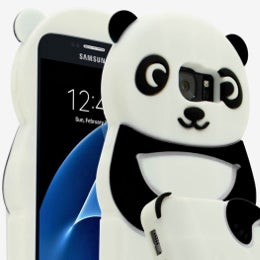 If you're in need of a weird case for the Samsung Galaxy S7, we have a selection of such accessories that you should check out.
Granted, when it comes to protection cases with a touch of weird, iPhone users have, by far, the vastest selection to choose from. But there are also plenty of unusual cases for top Android handsets, and, since the Galaxy S7 is unquestionably a top phone, we went in search of the best weird cases for it. We're inviting you to discover them below (in no particular order), and let us know if you like any of them, or if you're aware of other weird Galaxy S7 cases that you think is worth buying.
UrSpeedtekLive Game Boy case for Galaxy S7
This wallet-type case from UrSpeedtekLive has a Nintendo Game Boy-themed design - perfect for all the nostalgic souls out there. It offers a "durable synthetic leather" exterior that's wrapped around a TPU snap-on case for protection against drops, scratches, and dirt. For your convenience, the case can be transformed into a stand, and includes credit card slots, a pocket for cash, plus a strap to carry it comfortably.
Bastex Panda case for Samsung Galaxy S7
Do you feel the strange desire to transform your Samsung Galaxy S7 into a panda bear? Well, you can (sort of). Thanks to this case from Bastex, your S7 will look like a happy panda, at least when viewed from the rear. What we have here is a one-piece, flexible silicone case that offers basic protection, while making sure not to obstruct your cameras, or any of the phone's ports.
Japanese Anime No Face case for Galaxy S7
Fans of anime will surely recognize the character that this case is portraying: it's No Face (often spelled Noh Face), the lonely spirit/ghost from Spirited Away - one of the most successful anime fantasy films ever. Unlike the real (or, uh, fictional?) No Face, the No Face case is not transparent, being made of matte silicon. But rest assured that your ports and cameras will be easily accessible.


Teddy Bear case for Galaxy S7

Also available for various iPhone models and older Galaxies, this fluffy teddy bear case is obviously targeted at female users. It's like an unstuffed stuffed animal that you'll have to stuff with your Galaxy S7. The not so cool thing about this case is that, when in use, it won't let you take photos with your cameras (rear or front).
Hyait Multifunctional case for Galaxy S7
The Hyait Multifunctional wallet case comes with a few extra features, including a detachable neck strap lanyard, and a means to keep our headphone cords tangle-free. Moreover, you're getting a pocket for cards or cash (this can function as a stand, too). The case is made from PU leather - which means "a split leather backing covered with a layer of polyurethane."
Pokemon Pikachu case for Galaxy S7
With all the Pokemon Go players out there, there should be plenty of Galaxy S7 owners interested in this case that depicts Pikachu - the most easily recognizable Pokemon. The case is a silicone one with cutouts for ports and the rear camera - perfect for catching monsters in Pokemon Go!
FCC OKs Cingular\'s purchase of AT&T Wireless