Best battery cases for Samsung Galaxy S7
5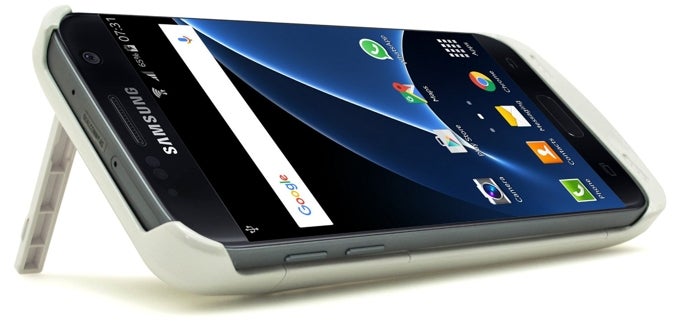 There are countless protective cases made for the
Samsung Galaxy S7
. Some of these cases - the
ultra-thin
, or the
transparent ones
- don't change the phone's aspect too much, which is why many users prefer them. However, when it comes to cases that also include batteries, there's no way around it: all of them will make your beloved Galaxy S7 considerably bulkier and less attractive. But that's the price that you have to pay - besides the actual price in $ - if you need both a case, and extra power (to aide the 3000 mAh battery of the S7) in one product.
We think that the Galaxy S7 battery cases listed below are among the best out there, and we invite you to check them out:
Samsung Galaxy S7 Wireless Charging Battery Pack Case
It's a god idea to first take a look at Samsung's own Galaxy S7 battery case, which is available in black and grey, complementing the smartphone perfectly. Samsung is calling this product a "Wireless Charging Battery Pack", but it is, ultimately, also a case. The accessory includes a 3400 mAh battery, and can charge your Galaxy S7 wirelessly, letting you know how much battery you've got left via a four-level LED indicator. We must note that the case leaves the bottom of the Galaxy S7 a bit exposed, so it doesn't offer the best protection you can get.
ZeroLemon ZeroShock 7500 mAh Rugged Extended Battery Case
If you simply must have a Samsung Galaxy S7 case that includes a giant battery, look no further than the ZeroLemon ZeroShock 7500 mAh Rugged Extended Battery Case. With 7500 mAh on board, this chubby case should be able to recharge your precious Galaxy about two times. The case is shockproof, and it's definitely the toughest on our list, but at the same time it's also the bulkiest. It's currently available via Amazon for $69.99 (down from the original price of $99.99).
Mophie Juice Pack External Battery Case
Mophie has made a name for itself by selling exactly the type of cases that we're talking about here. The Mophie Juice Pack External Battery Case for Samsung Galaxy S7 provides edge-to-edge protection while also being stylish and not too bulky for a product in this class. The case includes a 2,950 mAh battery, which can only deliver about 60% extra power to your Galaxy S7. On the plus side, the Mophie Juice Pack is compatible with most wireless charging technologies, so you don't necessarily need a Samsung-compatible charger when using it.
Incipio offGRID Wireless Charging Battery Case for Galaxy S7
The Incipio offGRID Wireless Charging Battery Case for Galaxy S7 features a two-piece snap-on design that makes it easy to install, and will absorb shocks whenever you drop your phone. It has a 3700 mAh capacity (which should be enough to fully recharge your S7), plus frontal LED lights to show remaining power levels. Moreover, as the name of the accessory suggests, you've got support for wireless charging (Qi and PMA standards).
Bastex Protective Shell with Rechargeable Battery
This Bastex battery case is the most affordable on our list, and yet the only flaw (so to say) that we think it has is the lack of wireless charging. The case provides edge-to-edge protection, and includes a 4200 mAh cell - good for offering up to 110% of extra battery life to any Galaxy S7 that may be wearing it. There are three versions of this Bastex battery case - black, white, or gold - each having its own kickstand.