5 cool new Android launchers and interface tools (August #2)
7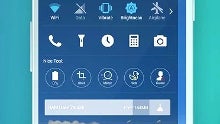 If you put enough time and effort, they say, you can tailor every Android phone to serve your unique interests and interface layout, and third-party launchers like Nova, Apex and the like, have proved it time and again.
Every once in a while, a new launcher appears that promises a paradigm shift in interacting with our mobile devices, utilizing innovative gesture-based or side-sliding launch tech, and some of them are even donning amazing graphics and extra functionality.
We took a glimpse at what's new and cool or updated fine at the Play Store in the interface draping department for the fortnight, and noticed a few launchers and interface tools that you might find useful, or at least funky to try out. Check them out below.
Nice launcher is nice, as it says on the tin, bringing an Android 6.0 Marshmallow twist to keep you warm until Google gives the source code for the real thing to manufacturers. There are all the basics like homescreen management, grid size layout, smart folders, widgets and numerous transition effects to choose from. The app drawer has been reworked in Android M style, but there are also others like vertical with category and list styles to choose from, as well as a sidebar to pull for your favorites from any screen.
What makes Nice really nice, however, are the security and privacy options, as well as the ability to use gestures like double or triple tap to turn on/off the display. An icing on the cake is the Power Saver mode that monitors your CPU usage, manages your startup apps, and can even use Greenify's hibernate option to keep your precious battery juice in place, In addition, you can backup and restore your launcher settings and layout later, or use backups from your current launcher.
The new YOLO launcher comes with its own simplified notification system, and has every bearing of a good one: small footprint, fast performance, smart folders and search, gesture interface and theming, the works.
The Win 10 Launcher interface is, needless to say, inspired by Windows 10 and its tiles, now housing Android apps. You can change theme colors, access your favorites in one tap, and have an overall Windows-y feel while doing this.
Floatify takes on a perennial phone notifications problem, striking a fine balance between intrusiveness and the will to stay in sync with everything that is happening. The latest update brings about many welcome novelties like a DirectReply that lets you send predefined messages like "Ok, thanks!" without keying in even a letter. There is also a QuickReply Emoji keyboard now, for all the times you are too lazy to express yourself with words, and a swipe up from home to get to the QuickReply option. New music controls are making a cameo, so you will be able to manage your default player, Google Music, Poweramp or Spotify.
Notification Cleaner is another app that helps control your notification clutter, but instead of checkmarking apps one by one, you can manage their notifications pattern from a single place - it supports all popular chat and messaging, as well as email apps, and doesn't require any particular launcher, or changes in your current launcher settings.