10 of the best iPhone 6s bumper cases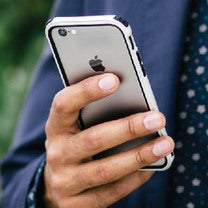 Considerable is the fraction of iPhones that end up inside a case of some kind. After all, Apple's handset isn't exactly the most durable out there, and since it costs a tiny fortune, ensuring its protection is a good idea. On the other hand, the iPhone is a pretty handset, and it is a pity when it gets obscured by a case that isn't.
Bumper cases aim to bring the best of both worlds into a single accessory. They wrap tightly around your iPhone's edges, making sure that bumps and drops do little to no damage, but leave the back and front of the handset exposed. And if that's the kind of case you're looking for, then you've arrived at the right place.
After some digging on the internet, we found some of the best
iPhone 6s
bumper cases money can buy right now. They're listed in the slideshow below, so feel free to take a look. As always, do let us know if there's a cool iPhone 6s bumper that we should have included.
Even more great iPhone 6s cases: