Best iPhone 13 cases - updated September 2022
We may earn a commission if you make a purchase from the links on this page.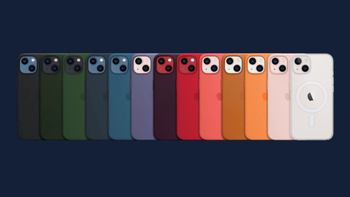 The new
iPhone 13 series
is still a very powerful and capable iPhone series despite the new
iPhone 14
taking the reigning Apple flagship crown. For the iPhone 13, you'll need new cases given the fact that its design was improved since the iPhone 12 series.
And, as you could probably imagine, there's hundreds of iPhone 13 cases online.

And... that's where we come in! In this article, we give you our top recommendations for the best iPhone 13 cases from brands we love and trust, so you don't have to sift through the numerous options yourself. This way, you can be sure that you'll have a great quality case to protect your new phone.
Jump to section:
By the way, this article is only for the iPhone 13. If you're looking for a case for the iPhone 13 Pro, Pro Max, or 13 mini, check these out:
Official iPhone 13 cases and cases with MagSafe

Apple always makes fashionable, durable, and protective official cases to go with its iPhones and it is no different with the iPhone 13 series. Just like last year, this year's iPhone cases are all MagSafe compatible, and its no surprise they are among the best iPhone 13 cases available right now.

Official iPhone 13 silicone cases
Silicone cases are some of Apple's most popular ones, bringing the most color variety out of any of the other materials offered by Cupertino. The colors sport a soft matte finish. No matter what your favorite color is, you are bound to find one you enjoy from the eight different ones, which are:
Marigold
Clover
Chalk Pink
Abyss Blue
Pink Pomelo
Midnight
Blue Jay
Product RED

Of course, as we already said these iPhone 13 cases are MagSafe compatible so they snap easily on your new iPhone 13 and allow you to charge it via a MagSafe wireless charger for a convenient charging. The silicone cases are available for all the models from the iPhone 13 series. And, as with any official iPhone case, these come with a microfiber lining to protect your iPhone's back from scratches (you know, when dust enters between your phone and its case, it can scratch your phone's back. The microfiber lining solves this issue).
Official iPhone 13 leather cases
The official leather cases for iPhones are, as always, top-notch in looks, style, and quality, and therefore are one of the more expensive options the company offers. And again, they are compatible with all your MagSafe accessories. If you're into the top-premium leather Apple look, you would love those iPhone 13 cases.

There are five options for the official Apple leather case for iPhone 13:
Golden Brown
Dark Cherry
Sequoia Green
Midnight
Wisteria
The exterior of the phone case features a soft-touch finish and silicone exterior that feels great in the hand.

Official iPhone 13 leather wallet cases
The standard leather wallet with MagSafe compatibility from Apple does not offer protection, but it is a convenient way to store your credit cards with style. It is available in five colors: Golden Brown, Dark Cherry, Sequoia Green, Midnight, and Wisteria.

This wallet case attaches using your iPhone's magnets, so you can use it with the smallest iPhone 13 mini or the biggest iPhone 13 Pro Max. You can attach it to your iPhone 13 Silicone case with MagSafe so your iPhone is both protected and your credit cards are conveniently stored as well. This makes it among the most useful MagSafe accessories you can get, alongside the MagSafe charger. And now it comes with Find My support as well, so you can now hardly lose your wallet.

Official iPhone 13 clear cases
Well, if you were hoping for a "clearer" clear phone case from Apple this time, well... it didn't happen. It seems Cupertino still hasn't found a way to keep MagSafe compatibility on its clear cases without making it visible. Having said that, the metal ring circling the Apple logo—alongside the oval shape beneath it—give this iconic look that the company is striving for.

This iPhone 13 case is thin, light, and on its surface, there is scratch-resistant coating. And all the materials and coatings of this case are optimized to prevent yellowing over time, so you can showcase your new iPhone 13 without worrying your case will ruin its looks.
Spigen Ultra Hybrid Mag Safe compatible case for iPhone 13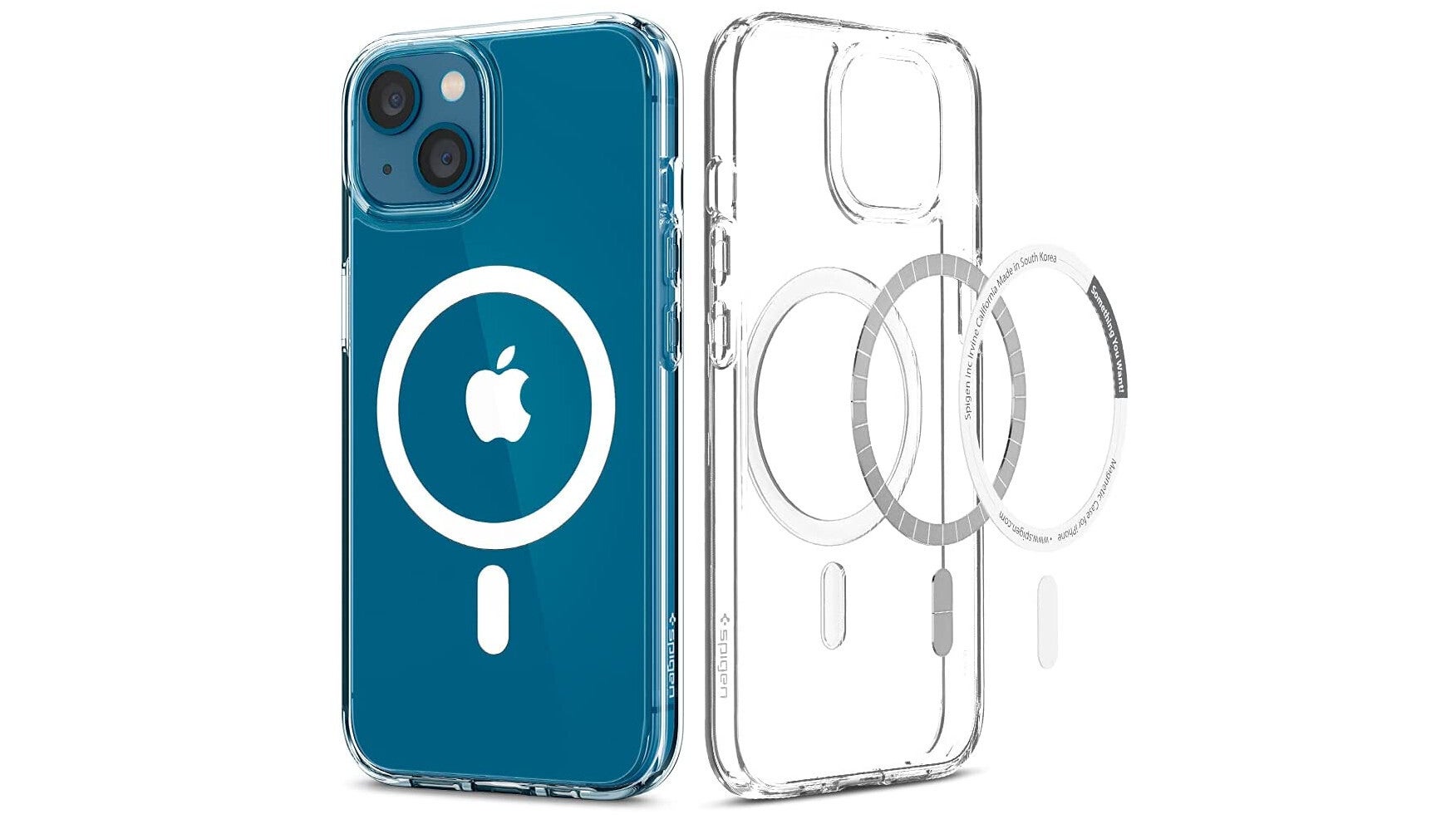 Spigen is a reputable company when it comes to cases that are both durable and functional. The Ultra Hybrid case is one of the best iPhone 13 cases, and is MagSafe compatible with your new iPhone 13. At the same time, it is a very stylish protective case. And what's even cooler: the Ultra Hybrid iPhone 13 clear case from Spigen comes with air cushion technology for shock absorption, so your iPhone 13 is protected at all times.
Moment MagSafe compatible case for iPhone 13
A luxurious iPhone 13 case with MagSafe compatibility comes from Moment. This case is made with Bio-Plastic TPU material, and protects your phone from drops and scratches with over 6 feet of drop protection. It works with MagSafe accessories and Qi Wireless charging. It has a sleek and stylish look and looks simple yet sophisticated.
Incipio Grip MagSafe compatible case for iPhone 13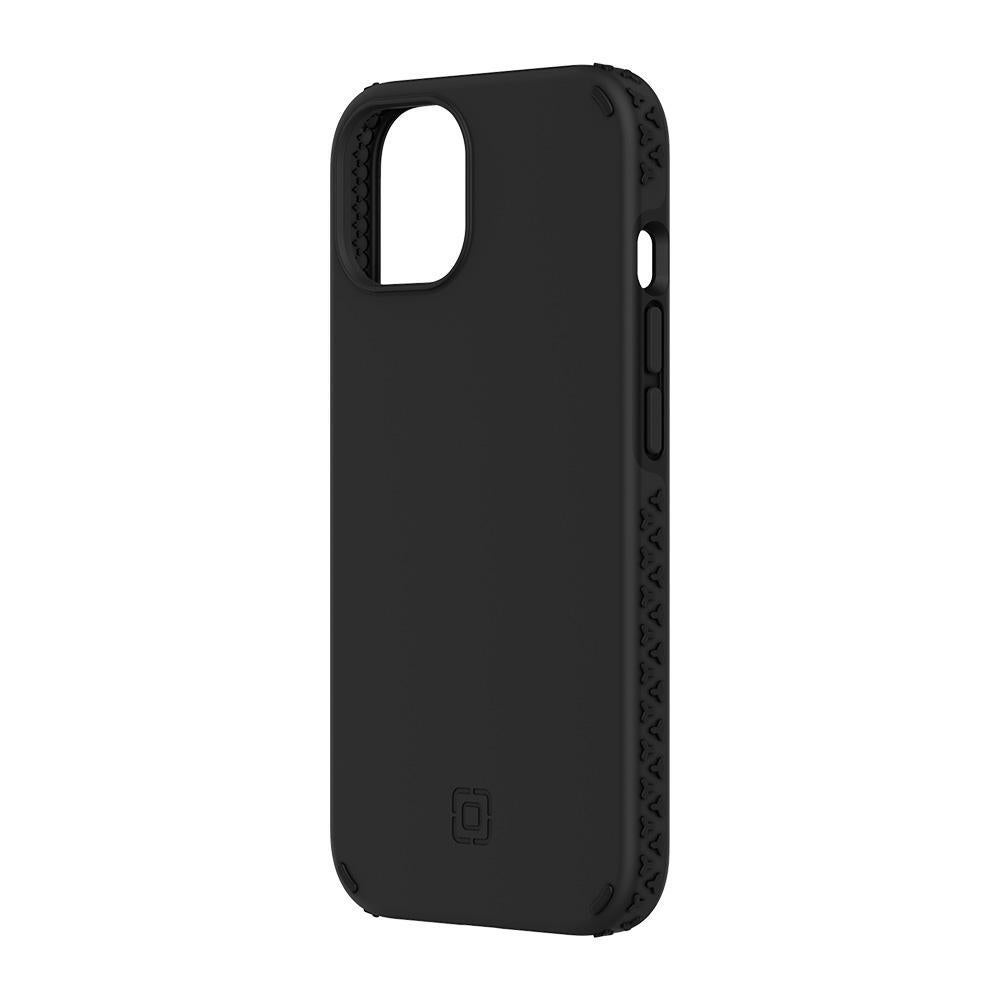 Stop drops before they happen with multi-directional grips that prevent slippage from all directions with this protective case by Incipio. Grip is Incipio's slimmest 14-foot drop protective case with two layers of co-molded protection.
The Incipio Grip is MagSafe compatible and comes in Black, Clear, and Midnight Navy color options with a sleek matte finish. It also has raised-edge bezel for extra protection of the iPhone 13 screen and camera island from scratches and cracks. On top of that, the Incipio Grip case features antimicrobial technology that prevents 99.9% of surface bacteria.
Best iPhone 13 leather cases
If you don't want to go for the official leather cases for the iPhone 13, there's a multitude of gorgeous, protective, and stylish third-party iPhone 13 leather cases. In this section, we look at the best of them, to help you with your decision.

Mujjo leather case for iPhone 13
This beautiful and sturdy leather case for your new iPhone 13 comes from Mujjo. The case is simple, yet sophisticated and it comes in three colors: Tan, Monaco Blue, and Black. The Mujjo leather case for iPhone 13 is made with high-quality full-grain vegetable leather, while the 1mm raised leather bezel protects your new phone from abrasive surfaces.
The camera bump is also protected with a raised edge. And for a unique look just for you, the leather acquires a beautiful patina over time. Additionally, Mujjo has a leather case option with a card holder that can hold 2-3 cards.

OtterBox Strada Folio Series Case for iPhone 13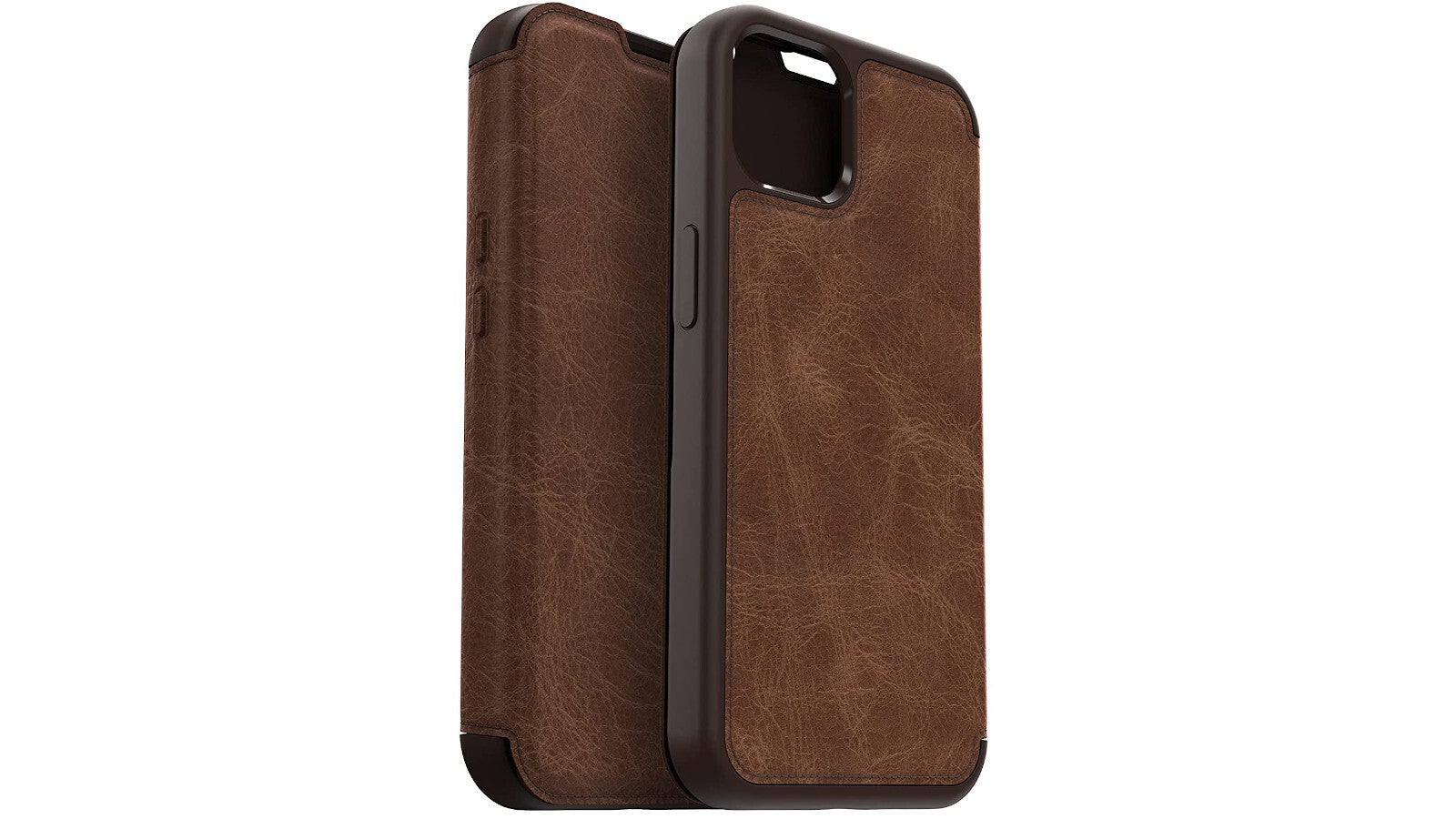 This leather case for iPhone 13 offers protection and a gorgeous leather look without adding too much bulk, and that's why it is a part of our selection of the best iPhone 13 cases. The premium leather folio which this iPhone 13 case is made from ensures an elegant look and soft to the touch experience.

Additionally, it has been tested to survive 3 times as many drops as the military standard (MIL-STD-810G 516.6), so you will have no worries of dropping your iPhone 13 with it. On top of that, its slim and soft material makes it easy for your to take it out of your pocket. It also has a card holder, making it a full leather wallet case for your iPhone 13.

CYRILL Leather case for iPhone 13
CYRILL is Spigen's sister brand, and it is now offering its cases lineup for the iPhone 13. This leather case has a beautiful premium look, while at the same time offering maximized protection. It has a soft microfiber inner lining and a sturdy PC back. On the outside, this leader case has a synthetic leather layer that provides protection from fingerprints, oil stains, scratches, and dust. It comes in three casual and neutral color options ideal for a classy look:
Nomad Modern Leather Case for iPhone 13
This luxurious and premium leather case for the iPhone 13 from Nomad is a great option for you if you like your leather case to be unique: this case develops a patina with time. It is made with Rustic Brown Horween leather from the USA, and its raised TPE bumper on the edge helps provide protection for your screen and prevents damage from drops at all angles. On top of that, this case works with wireless charging and has a MagSafe magnet so you can use your other MagSafe accessories without the need to take the case off your phone.
Coach Leather Slim Case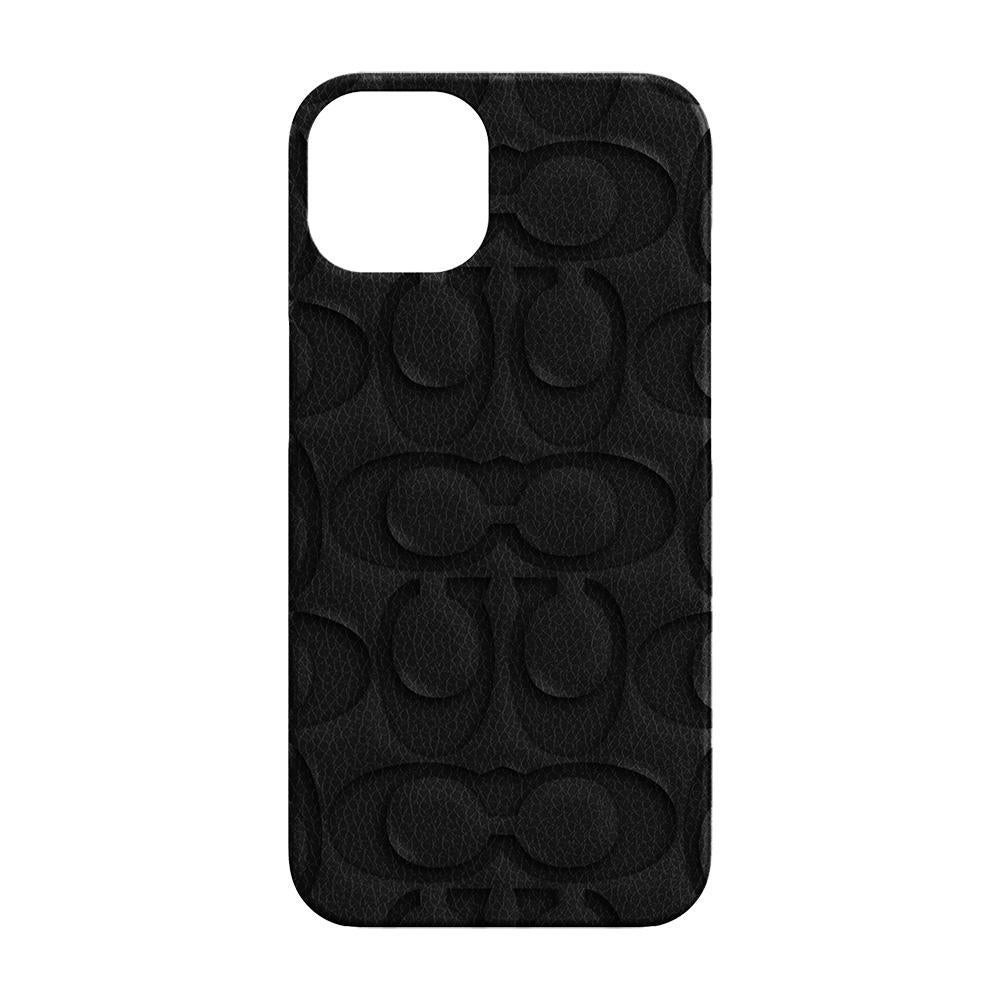 The leather slim wrap case from Coach delivers a wraparound design with 360-degree protection. It comes in either genuine leather or signature Coach canvas material, with a smooth interior finish for a soft and secure hold. There are two variations: Black Emboss Signature C Pebbled Leather or Retro C Sports Logo Black.
kate spade new york Wrap Case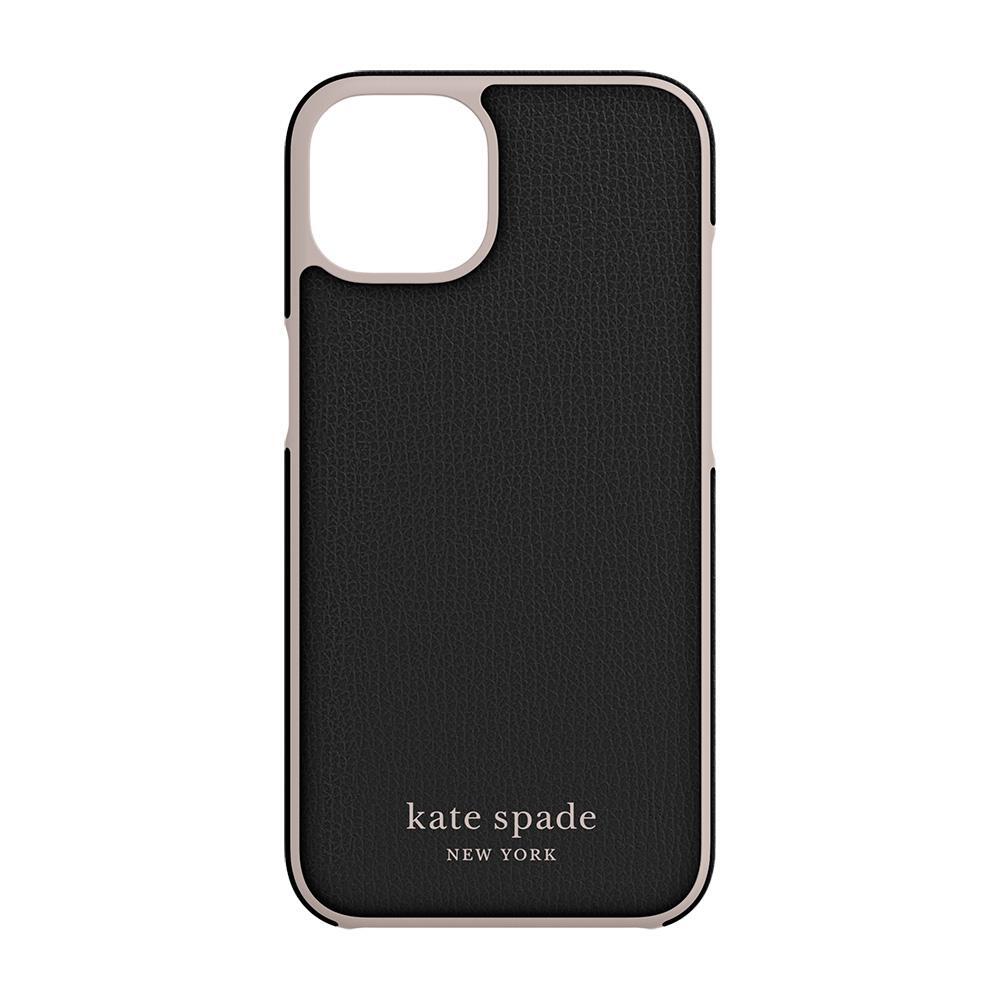 This iPhone 13 case is made using kate spade new york's scratch-resistant vegan leather along with a velvety interior lining. If you want something protective and at the same time beautiful, you will like this one. The case is embellished with a classic debossed kate spade new york logo giving it a luxury look and feel. It comes in Black, Leopard Flocked Black, and Pale Vellum.

Best iPhone 13 rugged cases
If rugged cases are your thing, we have you covered here as well. The rugged cases offer more protection to your new iPhone 13, while maintaining a very cool look.
Spigen Tough Armor iPhone 13 case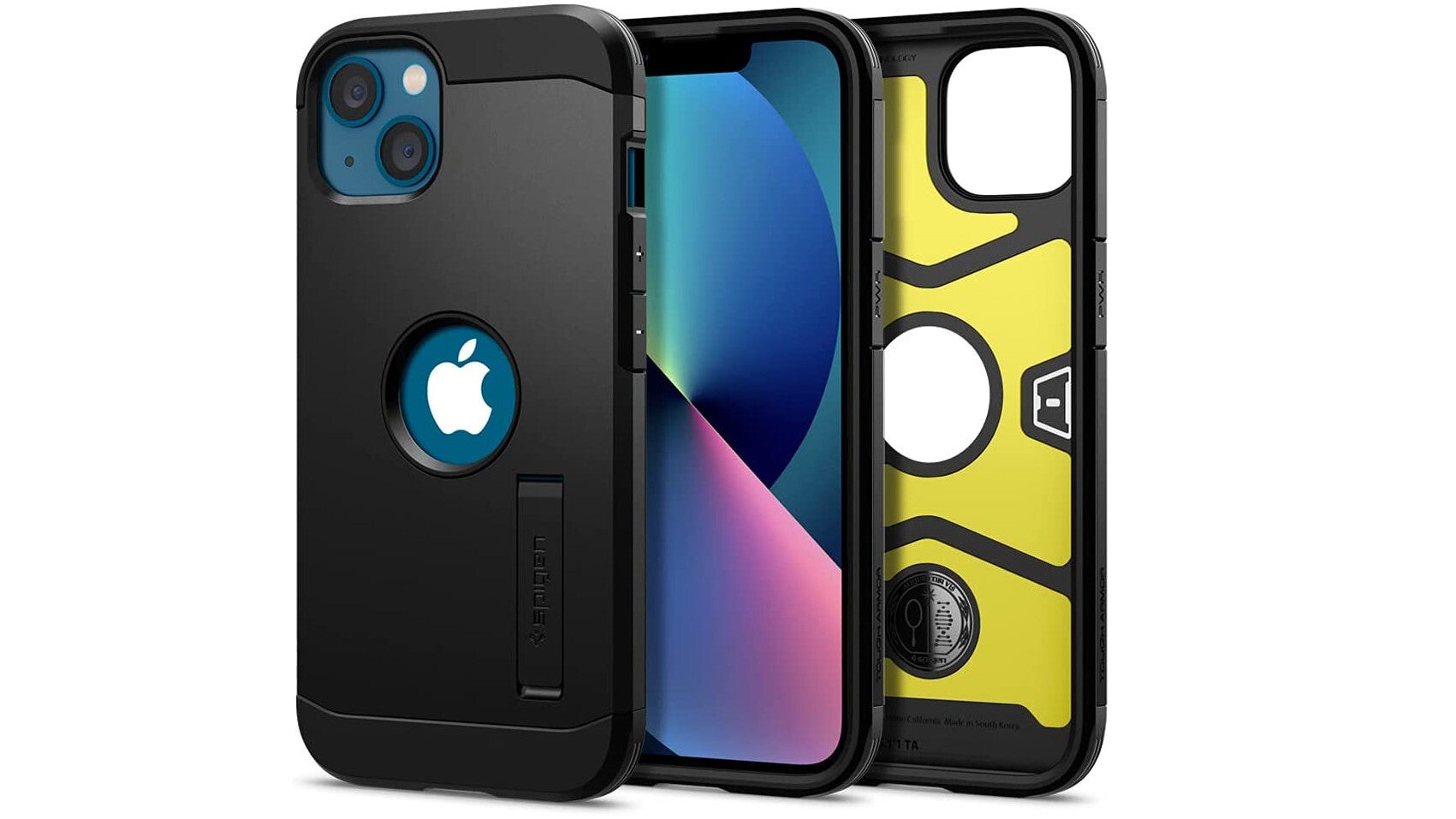 Spigen is ready with the new cases for the iPhone 13 and now, the company has its signature Tough Armor rugged collection available for the iPhone 13. This case features a new foam technology that provides excellent shock resistance, while a combination of TPU and polycarbonate material ensures your new iPhone is protected from scratches and drops. Raised bezels protect the camera bump.

The Spigen Tough Armor iPhone 13 case is also equipped with a built-in kickstand if you want to comfortably watch videos on your iPhone. So if you're looking for a kickstand case with a rugged design, this one is for you.

Spigen Rugged Armor iPhone 13 case
This is another rugged case by Spigen. It has a good-looking carbon fiber design, although it doesn't have a built-in kickstand like the previous one. As most of the other cases in this list, this one also has raised bezels to protect the display of your phone. And it allows MagSafe charging, so you won't have to take it off every time.

Urban Armor Gear UAG iPhone 13 rugged case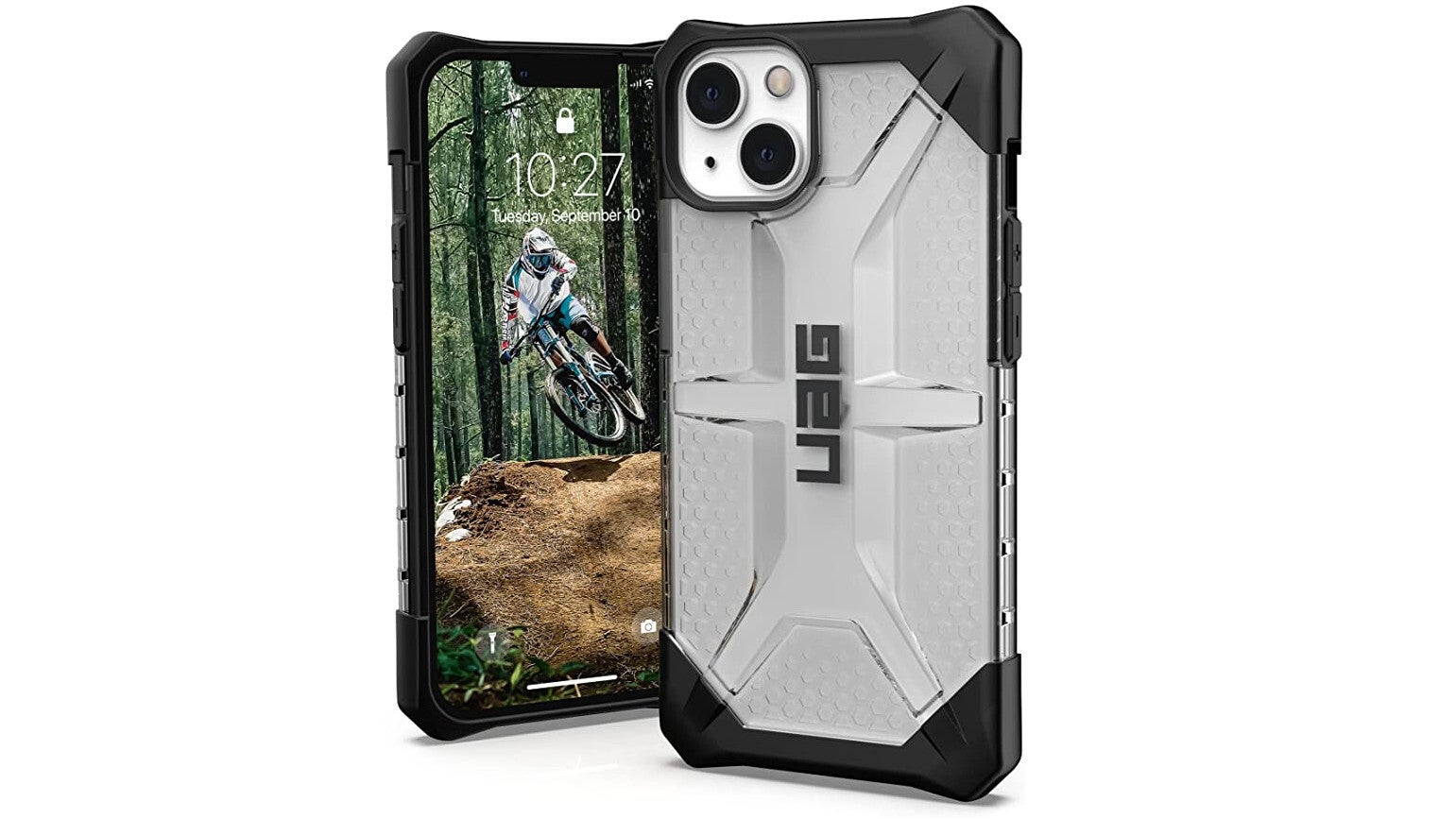 Another excellent rugged case for the iPhone 13 comes from Urban Armor Gear. It's rugged and protective while at the same time has a slim and lightweight constitution making it a great choice for a rugged iPhone 13 case. It features raised edges to protect the screen of your new phone. The case has drop and scratch protection and ultra-responsive cover buttons for a crisp clicky feel. On top of that, it is compatible with wireless charging and contact-less payments.
OtterBox Defender series iPhone 13
When talking about rugged protection, we need to mention the OtterBox Defender series. This iPhone 13 case comes with multi-layer defense from the solid inner shell and resilient outer slipcover with port covers that block dirt, dust and lint from getting into jacks and ports. The cool thing is that it has also been tested to survive four times as many drops as military standard, and its raised edges protect the camera and screen. It also has a hands-free kickstand for your convenience.


Survivor Endurance with MagSafe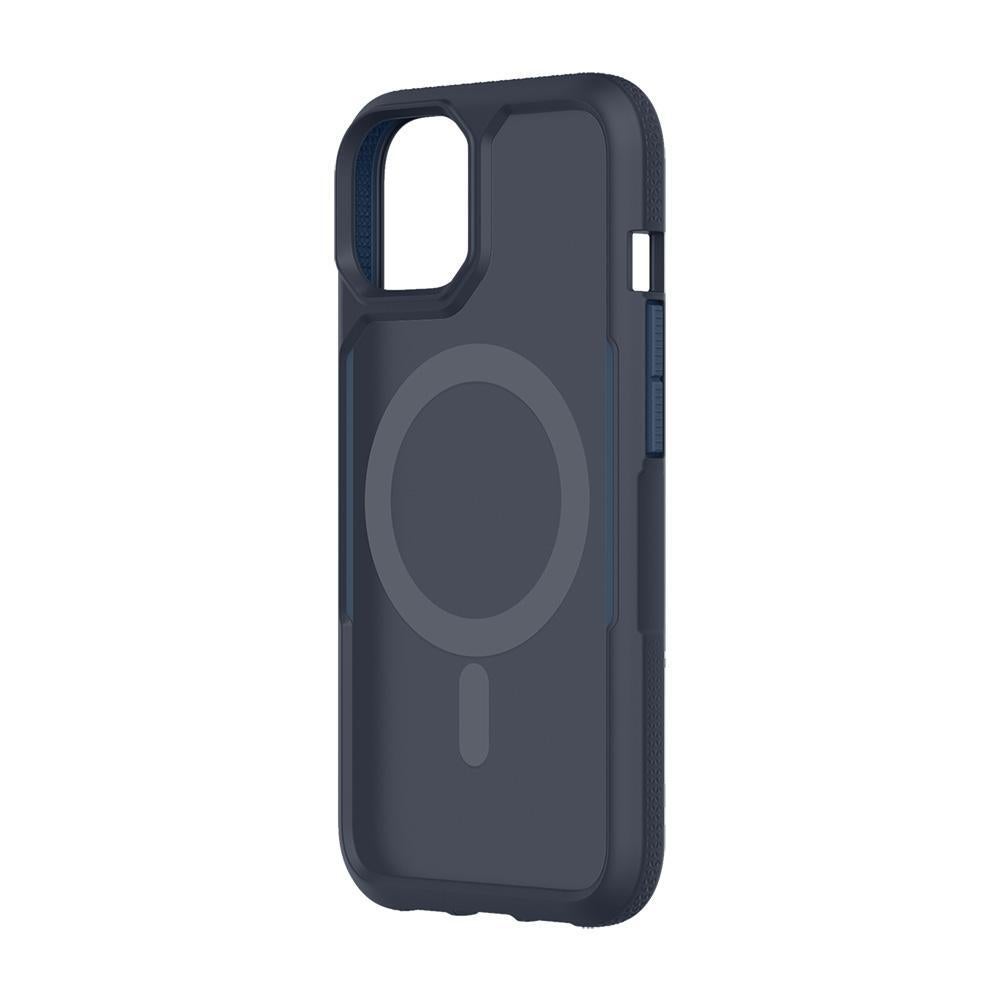 The Survivor Endurance case makes our list of the best iPhone 13 cases with its rugged, but at the same time slim protection. Three layers of defense offer up to 14-feet of drop protection. The Survivor Endurance MagSafe case is ready for heavy duty and it comes in Storm Blue, Black, and Plum Purple colors with rugged looking cover buttons. This rugged iPhone 13 case offers military grade protection on top of it all.

If you don't want the MagSafe circle on it, you can also get the case without MagSafe support for a more simple look.

Best iPhone 13 slim cases
If adding too much bulk to your new iPhone 13 is not something you prefer, you can go for these ultra-thin and elegant phone cases.

Totallee world's thinnest iPhone 13 case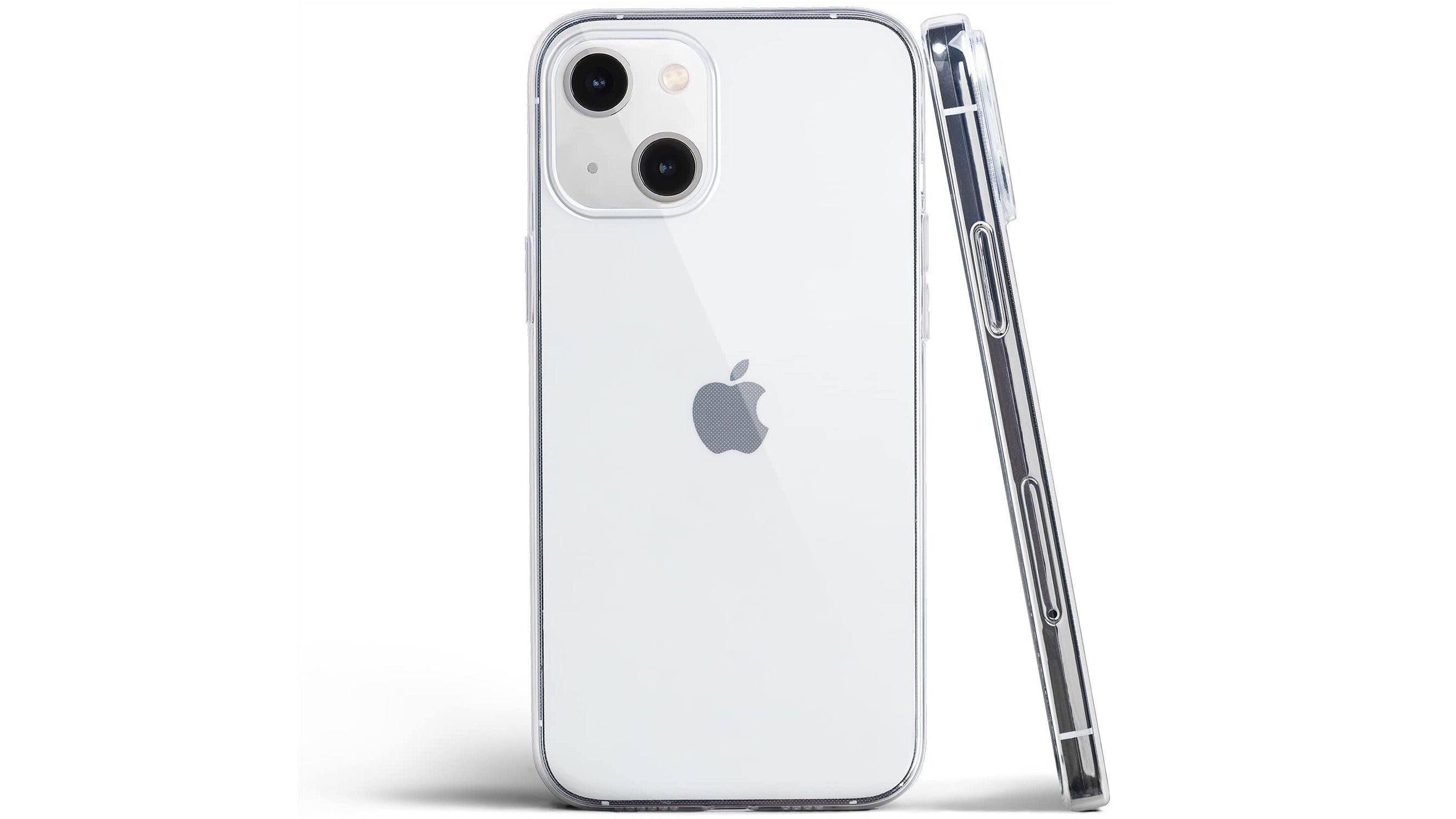 Totallee has a clear case for the iPhone 13 that's quite unique: it has a sleek and thin material, making your new iPhone 13's color stand out. While other clear cases may go yellow with time, this one should keep it's pristine look without adding unnecessary bulk. It is not made using cheap plastic material (unlike some other phone cases you can find out there), but from a flexible TPU that is more durable and offers impact protection.
Case-Mate SOAP Bubble for iPhone 13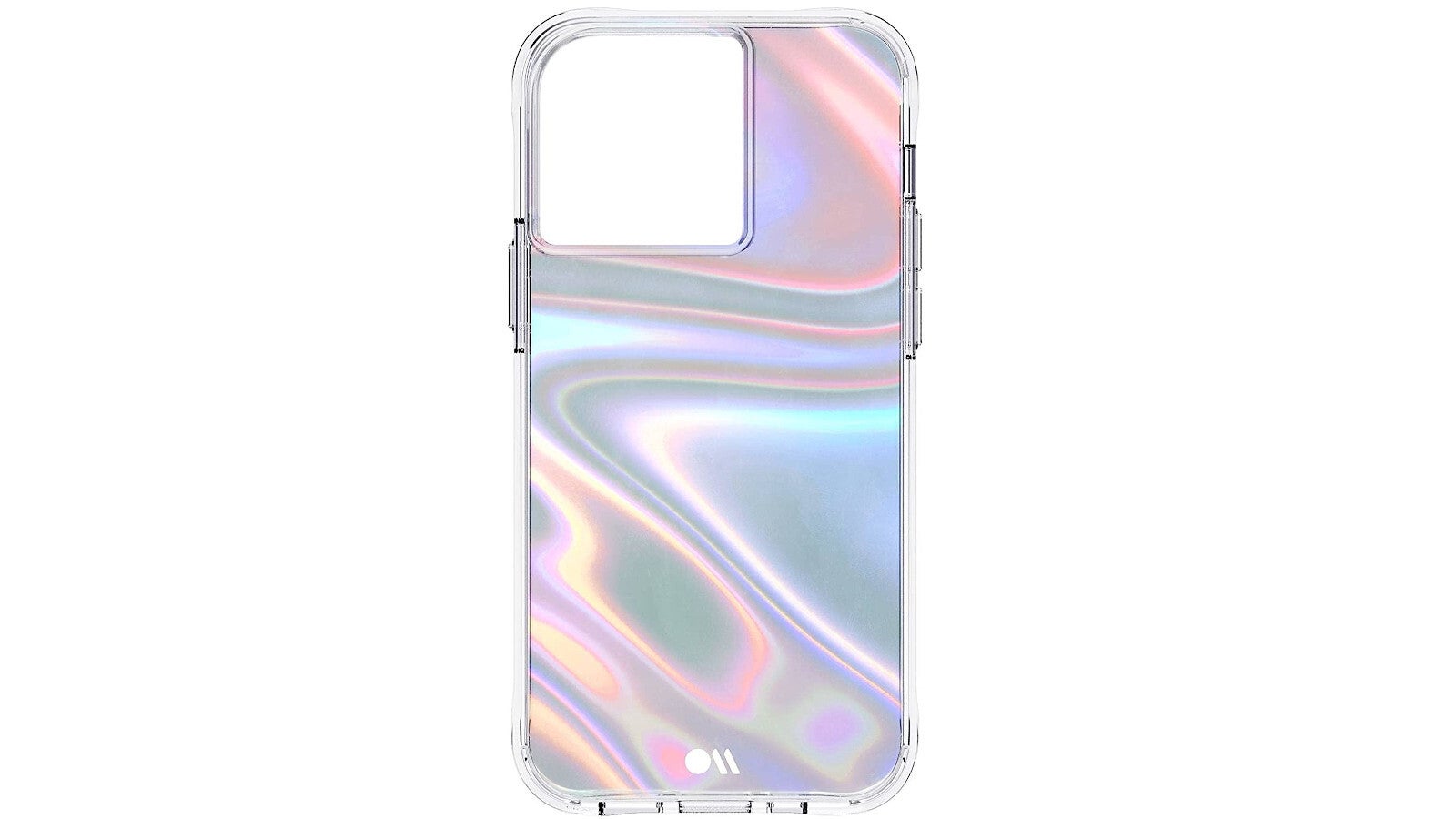 Case-Mate is a company that makes impressive cases that make your iPhone 13 stand out, and this case is among the best iPhone 13 cases for a reason. The SOAP Bubble for iPhone 13 is one such case, with a beautiful iridescent design. Despite being slim, this case offers 10ft drop protection and has raised edges to ensure the phone's display and camera lenses are well protected from scratches. On top of that, the case is made from plant-based material. The model has a multitude of different color options you can choose from as well.

kate spade new york Protective Hardshell Case for MagSafe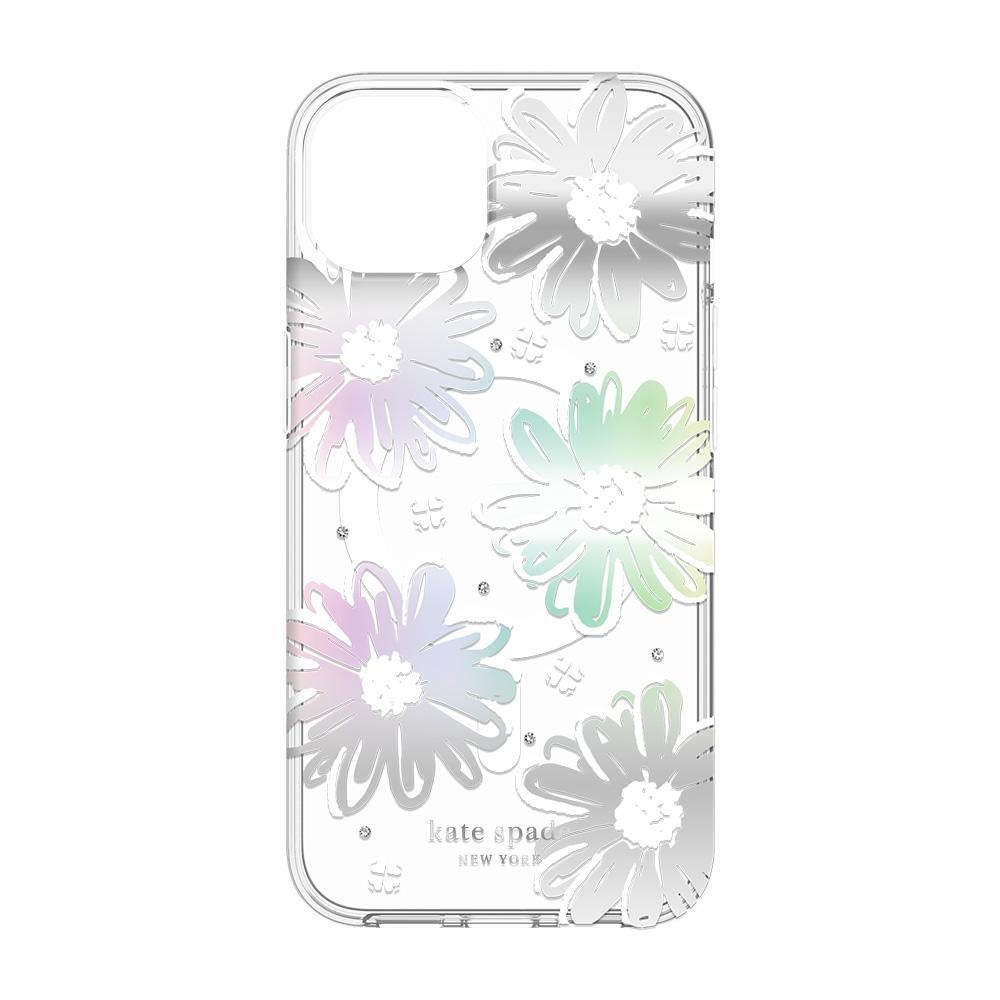 The iPhone 13 case by kate spade features a co-molded hardshell with a shock-resistant bumper for protection of up to 10-feet, all while maintaining a lightweight and easy-grip feel for everyday use. It comes in a trendy contrasting design that's based on a clear case, complemented by a beautiful flower design, that follows the shape of your iPhone and its camera module, making the camera lenses stand out.

Trendy and stylish iPhone 13 cases
If you fashion and expressing yourself through your mobile device, one of the best ways to do that is through your case. That is why stylish and designer cases are a thing, and there is an abundance of them for iPhones. These are the best iPhone 13 cases in the trendy and stylish category that we picked for your iPhone 13.
Caseology Parallax for iPhone 13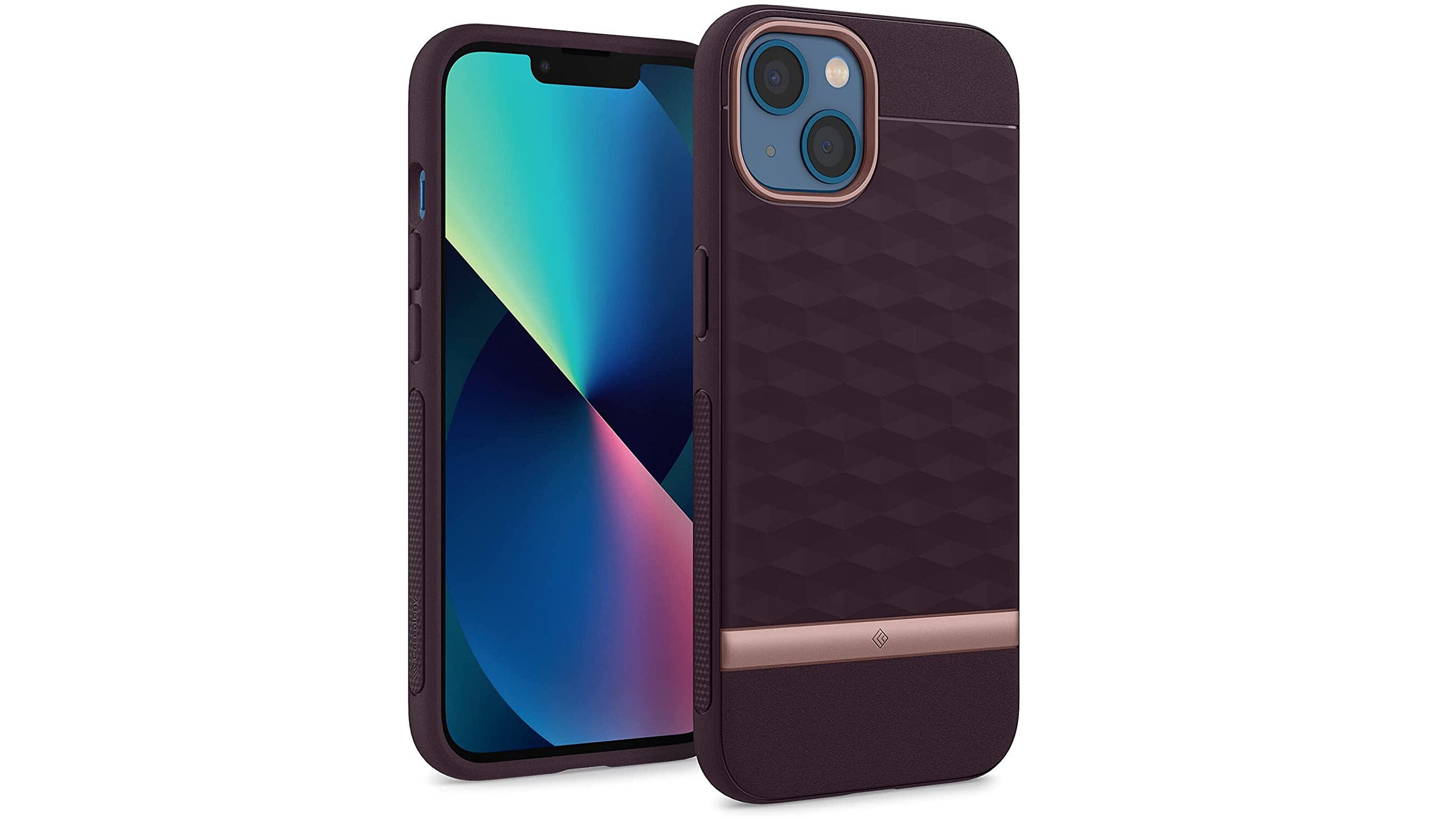 If you want something trendy and fashionable, check out Caseology Parallax. The Parallax cases are known for their stylish and sleek design with a 3D geometry pattern that provides enhanced ergonomics and secure grip. On top of that, dual layered bumpers provides heavy duty protection. There are four colors available for this model. This case supports wireless charging as well.

Case-Mate Tough Prints for iPhone 13
Case-Mate's Tough Prints series of iPhone 13 cases provide fashionable and quite the glamorous look. The wide variety of color options and styles of this case lineup makes it a great option for all the different fashion senses and tastes. On top of that, the Case-Mate Tough Prints for iPhone 13 offers 10 foot drop protection and durable anti-scratch coating to better protect your new iPhone 13. Additionally, it has shock absorbing materials and cushioned corners, while its flexible sides provide enhanced grip.

OtterBox Commuter Series Case for iPhone 13
If the sparkly and glamorous iPhone 13 cases are not your thing, but you still want to be trendy, fret not: OtterBox has a solution for you with the Commuter series for the iPhone 13. This case comes in four colors with a subdued, yet trendy-looking design. But its not only its looks: the case is also very durable and protective. It has been tested to survive 3X as many drops as military standard (MIL-STD-810G 516.6).

On top of that, the OtterBox Commuter Series case comes with lasting antimicrobial technology that helps protect the case exterior against many common bacteria. Additionally, it is MagSafe and wireless charging compatible.

Incipio Design Series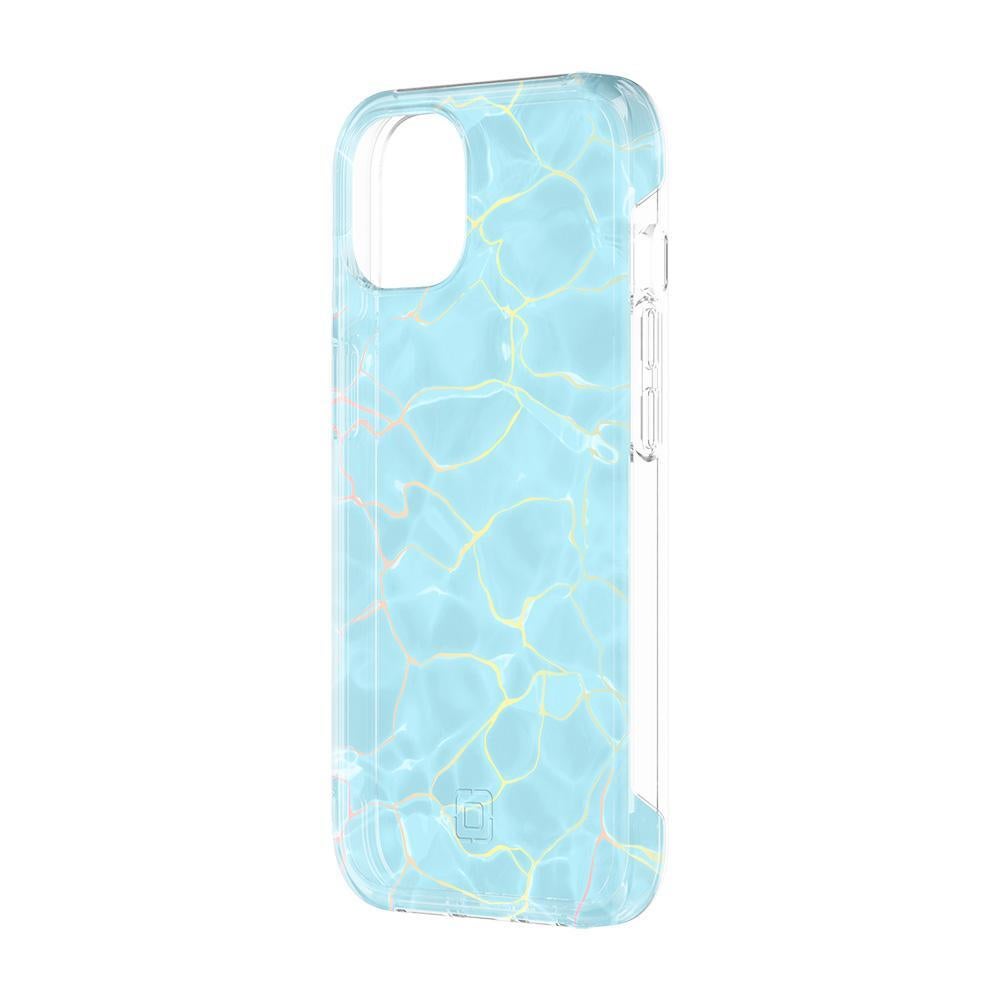 The Incipio Design Series uses innovative techniques to create on-trend designs made with recycled materials, that match your style, while offering 10-foot drop protection. It comes in different options including: Reflections, Flower Fields Glitter Wash, Pearlescent, Rainbow Glitter Wash, and Sunset.
Coach Protective Case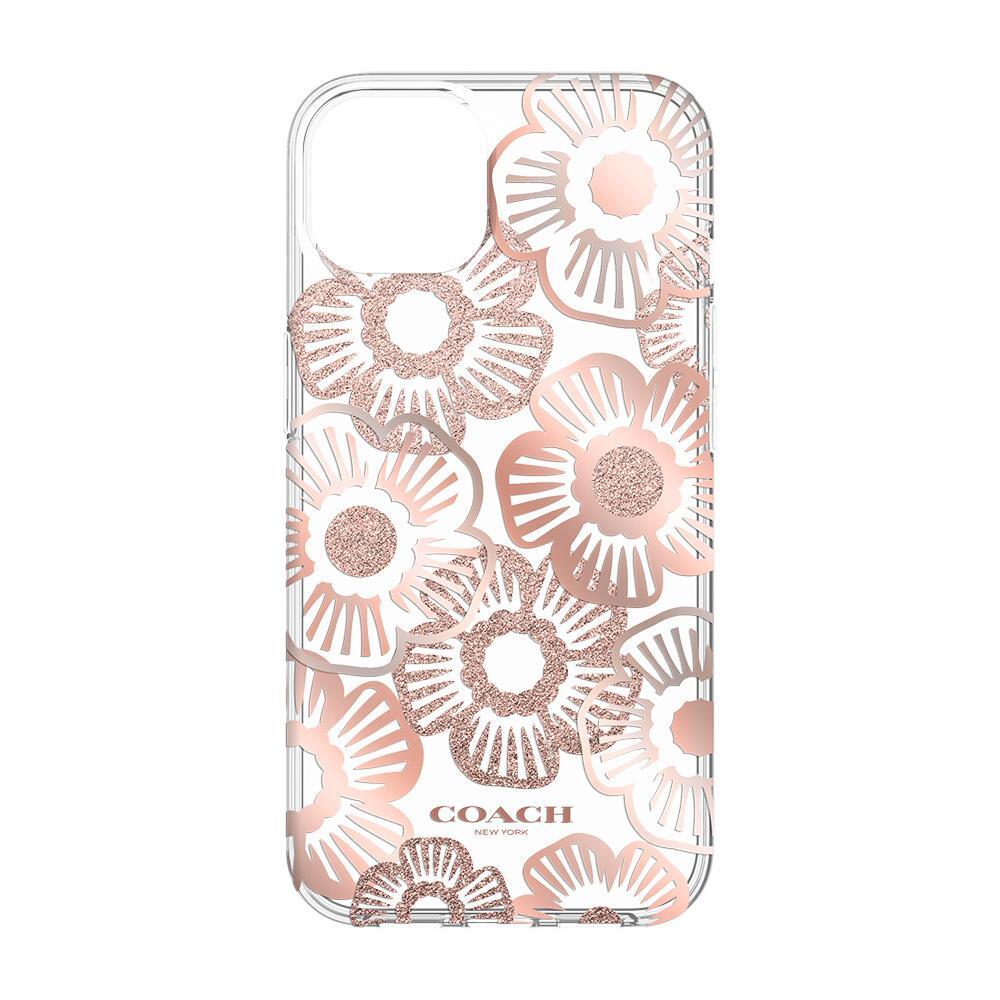 Delivers maximum protection while remaining slim, sleek and fashion-forward. Features two-layer, co-molded protection with a shock-resistant bumper on the outer edges of the case for drop protection up to 10-feet, plus antimicrobial protection that eliminates 99.9% of surface bacteria. If you're looking for a trendy silicone case, you will like this one.

Will the iPhone 13 case fit the iPhone 13 Pro?
Unfortunately, no. iPhone 13 cases do not fit the iPhone 13 Pro. Even though the iPhone 13 and 13 Pro sport the same 6.1-inch display and dimensions, the camera island on the 13 Pro is physically larger, meaning that cases for the two phones are not interchangeable. If you're buying an iPhone 13 case, make sure that it's designed to fit your exact iPhone 13 model.
Conclusion
Of course, picking a case for your new iPhone 13 is all up to your style and preferences, and of course, what type of user you are. If you tend to go on hikes often or have a habit of dropping your phone, you will be better off with a rugged case, while if you want to show off the iPhone 13's slim design, a clear case like the one from Totallee can do a great job at doing that.

If you have really decided to go all in for the Apple experience, choosing a first-party case will be the best, and the variety of options Apple makes for its iPhones will ensure you will enjoy looking at and holding your new iPhone 13.

Still looking for the iPhone 13? Buy yours from here: