Best iPhone 12 and 12 Pro cases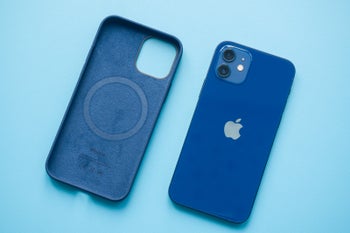 The new
iPhone 12 lineup
has been officially unveiled and this year
Apple
has brought to life four new iPhone models. The
iPhone 12 mini
is here and it's even smaller than the
iPhone SE
(2020) yet as powerful as the
iPhone 12
. The big buys are also here, the
iPhone 12 Pro
and
iPhone 12 Pro Max
are equipped with fancy LiDAR sensors and better camera systems, and even fancier "ceramic shield" glass. Nevertheless, the
iPhone 12
model is still "the iPhone to buy", bringing a ton of upgrades.
ALSO Read:
Let's say you've read all the available information on the iPhone 12 series and have made up your mind about buying one of these marvelous devices. The next thing on the table is to purchase a case for your new technological gem. That's where we come in. No need to roam the internet and fuel your frustrations or lock in a state of choice paralysis. We're covering the best iPhone 12 cases to make it easier for you to get the best for your new Apple device. We're gonna cover all the models in separate articles, and this one is focused on the iPhone 12 and iPhone 12 Pro.
Do iPhone 12 cases fit the iPhone 12 Pro?
The short answer to this question is yes. The screens of the iPhone 12 and the iPhone 12 Pro are identical and so are the overall dimensions of both phones. You can safely use an iPhone 12 case with an iPhone 12 Pro and most manufacturers include both models in the description of their cases anyway. So, one less thing to worry about when browsing for a case for your iPhone 12 or iPhone 12 Pro.
iPhone 12 & 12 Pro cases list:
Best iPhone 12 and 12 Pro thin cases
totallee Super Thin iPhone 12 case
The iPhone 12 is definitely a looker, so why hide it? This totallee super thin iPhone 12 case offers enough protection, while at the same time keeps things thin and comfortable. This case employs a minimalistic design without brand logos and names, resulting in a very stylish approach to iPhone 12 protection.
You can choose from various colors - Frosted Clear, Frosted Black, Navy Blue, and Green. These options are Matte and only 0.02" thick. The Frosted Clear is our favorite but you can pick any color you like. There's also a transparent version that is slightly thicker at 0,03" and still offers the same level of protection while letting your iPhone 12 beauty shine.
Best iPhone 12 and 12 Pro clear cases
Spigen Ultra Hybrid Crystal iPhone 12 case
You can get good protection without sacrificing looks. Behold the hybrid technology that packs advanced drop protection in a single layer while keeping your iPhone 12 on display. The Ultra Hybrid combines a shock-absorbing flexible bumper with a rigid back to maximize defensive features. The crystal clear back is designed to preserve the original look of your iPhone 12 without yellowing over time. The Air Cushion Technology guards the corners of the phone mitigating all the shock from everyday impacts.
Presidio Perfect-Clear iPhone 12 case with Grips
The Presidio Perfect-Clear iPhone 12 case comes from Speck and offers the company's most iconic case with a clear twist: clear no-slip grips for ultimate durability. This case can withstand 13-foot drops, and has an antimicrobial protection that delivers a 99% reduction in bacteria growth on the case. The Perfect-Clear coating resists discoloration and anti-yellowing materials keep the case clear over time.
Mous Clarity iPhone 12 case
Mous started its business by dropping phones from 45ft cranes and out of helicopters and that should mean something. These cases try to offer maximum protection while staying stylish and beautiful. The Mous Clarity iPhone 12 case features the AiroShock impact-absorbing technology with raised top and bottom edges to protect your phone screen, without impeding
edge
-to-edge swiping. The Mous Clarity adds only 2mm to the phone's thickness and showcases your pretty new iPhone 12 without affecting
wireless charging
.
Best iPhone 12 and 12 Pro rugged cases
Spigen Tough Armor iPhone 12 case
When you want ultimate protection, the Spigen Tough Armor iPhone 12 case is a no-brainer. It features a dual-layer body design with the addition of a new extreme impact foam for extra shock absorption. A polycarbonate shell covers the flexible TPU material, and the AirCusion technology coupled with the new protective foam ensures that you iPhone 12 will survive almost anything you throw at it.
URBAN ARMOR GEAR UAG iPhone 12 case
Urban Armor Gear's Monarch Series starts with UAG's signature armor frame and shock-resistant core, layered with top-grain leather, a polycarbonate shear plate, and alloy metal hardware—all wrapped in impact-resistant rubber. Monarch cases feature upgraded side grips with honeycomb traction designed to provide a firmer grip, as well as oversized tactile buttons for precise use. Built for the risk takers and wanderlust spirits. This phone case is more than ready to take on whatever life decides to throw at it.
OtterBox Defender Series iPhone 12 & 12 Pro case
The OtterBox Defender series are famous for its durability but this one comes with custom graphics on the back, making it really cool and original. The Realtree Edge back will help you stand out in the crowd - it adds vintagy feel to your modern iPhone 12 gem. This case doesn't compromise protection as well, it features protection shields against drops, bumps and fumbles, raised edges to protect camera and screen, and is also rated DROP+ for 3X as many drops as military standard (MIL-STD-810G 516.6.)
Best iPhone 12 and 12 Pro leather cases
OtterBox Strada Series Case for iPhone 12 & iPhone 12 Pro
If you want something stylish and durable at the same time, the OtterBox Strada Series Case for iPhone 12 & iPhone 12 Pro is a perfect choice. It offers classy worn leather looks while keeping protection a priority. This case comes with a vertical card slot for cash or a card, dual layer protection technology, and thanks to its one-piece design slips on and off in a flash.
Mujjo Full Leather iPhone 12 case
Leather is always in fashion and Mujjo knows it. The Full Leather iPhone 12 case has a slim profile and is fully wrapped with full-grain leather – a durable finish that gets more beautiful with wear. Really cool colors to choose from too, with Slate Green being our favorite.
Best iPhone 12 and 12 Pro stylish cases
Halo LuMee x Paris Hilton iPhone 12 case
The Halo LuMee takes phone cases to a whole new level. It's a fashion statement. Along with the eye-catching iridescent effect design, this iPhone 12 case offers bright, high-quality light on the front and back that balances out uneven, unflattering back-light, making selfie shots a breeze. Simple and easy to use, it is a mobile lighting studio at your fingertips. If you're a fan of Paris and love everything iridescent, this iPhone 12 case is a must.
Caseology Parallax iPhone 12 case
The Parallax cases are known for their stylish and sleek design with a 3D geometry pattern that provides enhanced ergonomics and secure grip. Dual layered bumpers provides military grade protection that is drop-test certified, while keeping the case wireless charging friendly. It's a real beauty that will complement your new iPhone 12 and won't bust the bank.
Mous Limitless 3.0 iPhone 12 case
Limitless technology adds additional functionality to your normal case. It uses powerful magnets that allow you to quickly slap the case on a car stand or add a magnetic card wallet to the back. Furthermore, the Limitless 3.0 cases come with very distinctive looks and use premium materials. You can choose a Carbon-fibre design or opt for a more traditional and really stylish Bamboo or Walnut back. This iPhone 12 case features all Mous' protection features and is also compatible with Qi fast chargers.