Xiaomi 13 Lite Hands-on: A worthy contender
1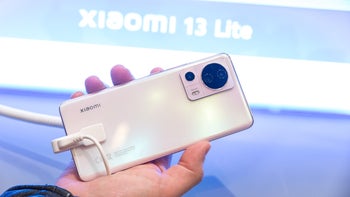 Xiaomi 13 Lite Intro
The Xiaomi 13 Lite is the manufacturer's latest contender for the mid-range class of phones, and as the name suggests it is the most affordable of the new Xiaomi 13 series that launched recently. The Lite, unlike the regular Xiaomi 13 and the Xiaomi 13 Pro, however, was not available in the Chinese market until now, so this is the first time we are seeing it.
Coming in at around €500, the Xiaomi 13 Lite is getting into quite the saturated territory. That said, it is equipped with some respectable specs for that price point, with some of its most notable aspects being the very capable display and processor.
What's new about the Xiaomi 13 Lite:
IP53 rating for dust and splash resistance
1000 nits peak display brightness
Qualcomm Snapdragon 7 Gen 1 (4 nm) chipset
New 50 MP main camera (Sony IMX 766)
Dual front-facing cameras
Xiaomi 13 Lite Specs
Premium hardware for an affordable price
There is plenty to love when we look at Xiaomi 13 Lite's spec sheet, and we think you would agree. Check for yourself:
Specs
Xiaomi 13 Lite
Size and Weight
6.27 x 2.86 x 0.28 in (159.2 x 72.7 x 7.2 mm), 6.03 oz (171 g)
Display
6.55" FHD+ AMOLED, 120Hz, 1000 nits peak brightness
Processor
Qualcomm Snapdragon 7 Gen 1 (4 nm)
RAM
8GB
Storage
128GB/256GB
Software
Android 12, MIUI 14

50MP wide camera, f/1.8 aperture, 1/1.56" sensor size
8MP ultra-wide camera, f/2.2 aperture, 119° FOV
2MP macro camera, f/2.4
32MP ultra-wide selfie camera, f/2.4, 100° FOV
8MP. f/2.3 depth camera

Battery Size
4,500 mAh
Charging Speeds
67W wired, no wireless charging
Price
starting from $499.90
There are a few of these specs that stand out to us. First, there is the flagship Qualcomm chipset — the Snapdragon 7 Gen 1 that's built on the 4nm process. For a phone of this price range this processor is quite the treat, as despite that it is almost a year old now, it is still extremely capable.
What's more, we also have a great main camera sensor — in this case is Sony's IMX 766 — which can be found in previous, more expensive phones than this one. We also cannot fail to point out the superb display, which the Xiaomi 13 Lite seems to have borrowed from the
Xiaomi 12 Lite
that came out last year.
Xiaomi 13 Lite Design & Colors
The Xiaomi 13 Lite comes in a sleek design, somewhat similar to its predecessor. It has a very thin body that comes in at just 0.28 in, so it is easy to hold in the hand. You have your classic camera island on the back, which houses all three shooters and the flash.
Colors-wise, the 13 Lite comes in three of them: Lite pink, Lite blue, or Lite black. Suffice to say, this is a very "safe" approach to the phone's design, which might come out as uninspired, but there is nothing wrong with that in a non-flagship device.
Xiaomi 13 Lite Display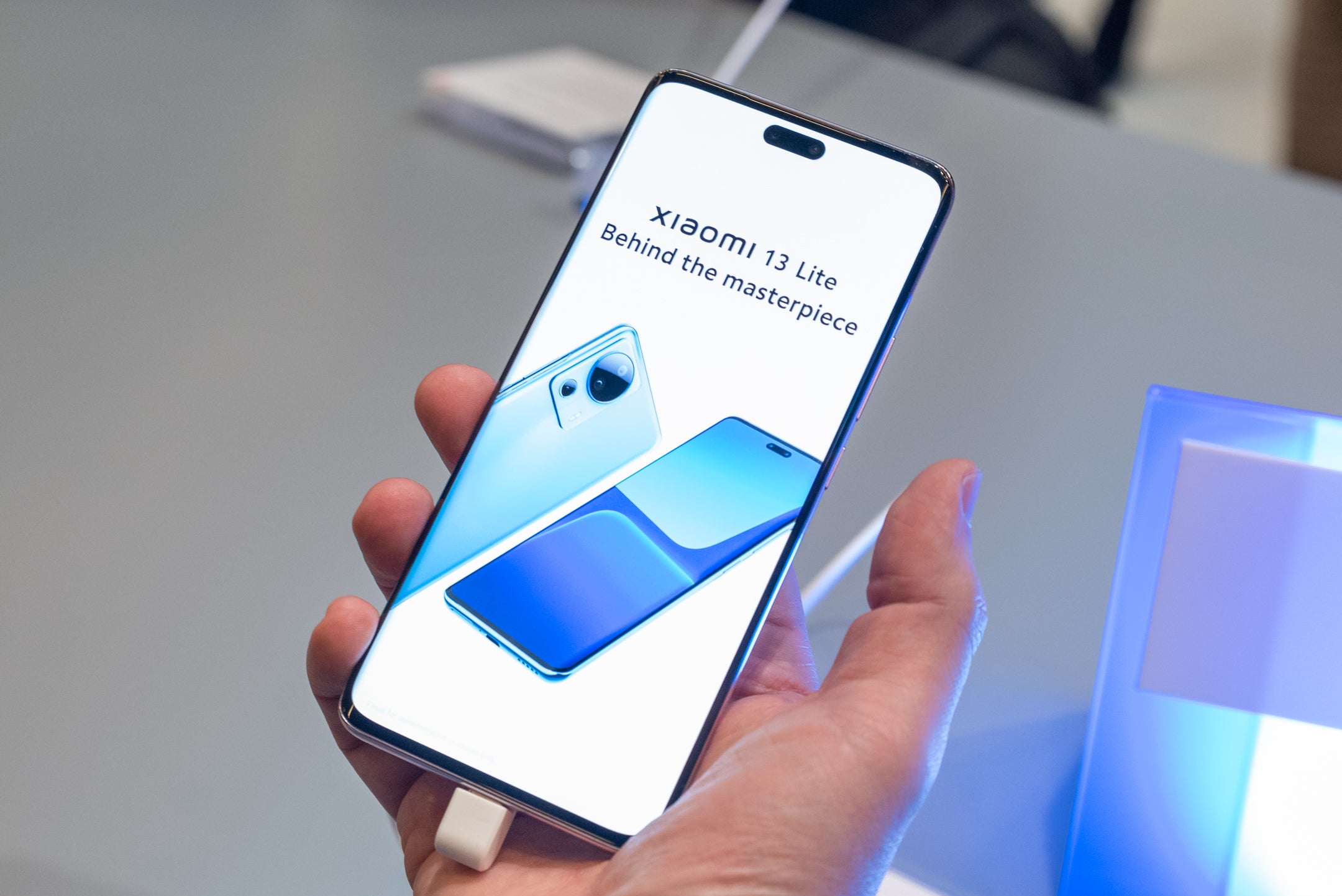 (Image credit - PhoneArena) Xiaomi 13 Lite's display.
As we mentioned earlier, Xiaomi 13 Lite's display is one of its best qualities. It is almost identical to that of the Lite 12, as it has a 120Hz refresh rate, a resolution of 1080 x 2400 pixels, support for Dolby Vision and HDR10+, and measures in 6.55 inches. Xiaomi has made it even better, though, by increasing the peak brightness to 1000 nits.
One thing that we were not so sure about is the curvature on the screen's left and right sides. More high-end phones have started to drop this design approach little by little, but it seems will continue to linger in the mid-range phone market for now.
Xiaomi 13 Lite Camera
A versatile camera set
This being a hands-on experience, we did not have too much time to experience the new main and selfie cameras on the Xiaomi 13 Lite. That said, if we are to look at some other phones that have the Sony IMX 766, like the OnePlus 10T or the Huawei Mate 50 Pro for example, we expect to see at least a B-grade photo and video quality to come out of it.
You will also find the 8MP ultra-wide and 2MP macro snappers on the back, but it is probably best not to get your hopes up for those two that much.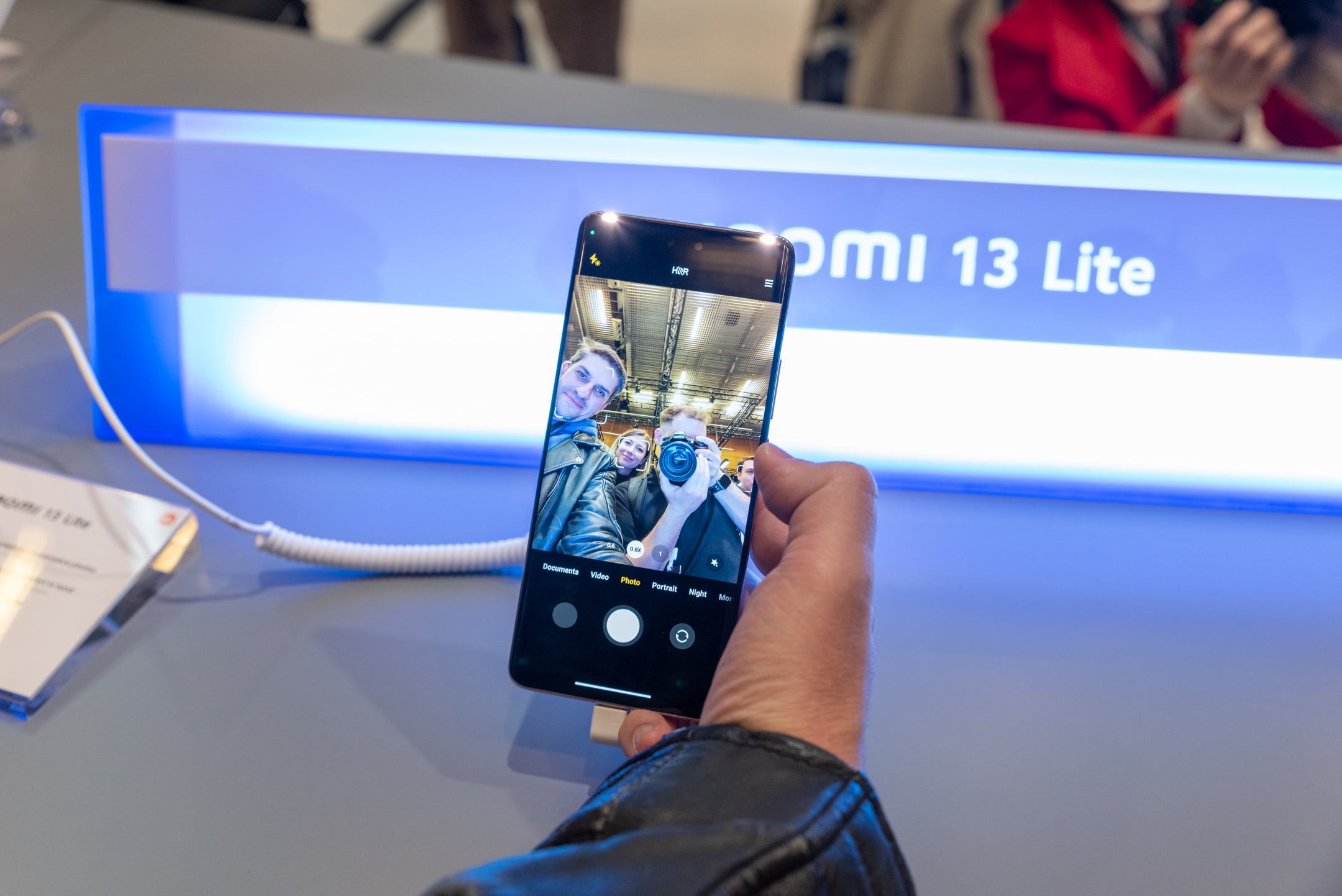 (Image credit - PhoneArena) Xiaomi 13 Lite dual front-facing camera with dual flash.
On the other hand, there's a new dual-camera on the front that lets you take selfies with a wider angle, to capture more in one photo. These dual front cameras can shoot better portrait photos and come with a dual flash, which helps with lighting your face in very dark conditions. On top of that, there are neat software features related to the selfie shooter, like a 2x zoom and a Pocket mirror mode which will center the user's mouth and eyes.
Xiaomi 13 Lite Performance
With the Snapdragon 7 Gen 1 and 8GB of RAM, the Xiaomi 13 Lite should have no trouble handling whatever you throw at it. We are excited to test it out ourselves so we can find out how much it can do with this high-end chipset, so stay tuned for our full review.
Xiaomi 13 Lite OS / Android version
One of the downsides of the Xiaomi 13 Lite is that it comes with Android 12. The company has not plainly stated how many years of major software updates the more affordable model out of its new trio will get, but it is safe to assume that it will be at least 1, with 2 years of security patches.
The Xiaomi 13 Lite comes with a 4,500 battery and can be charged at a maximum speed of 67W, which is enough to get it from 0-100% in about 40 minutes, at least according to the manufacturer. Come back for our full review, where we will show you the results of our battery testing, so you could get an idea what to expect.
Unfortunately, there is no wireless or reverse-wireless charging on the 13 Lite.
There are two more members of the Xiaomi 13 series, the regular Xiaomi 13 and the Xiaomi 13 Pro. As you might expect, they come with much higher price tags that reflect the even better specs compare to the Xiaomi 13 Lite. You can check our full
Xiaomi 13 spec sheet
, or our
review of the Xiaomi 13 Pro
for more information.
Xiaomi 13 Lite Competitors
The €500 price tag on the Xiaomi 13 Lite puts it in a very tough arena that is full with competitors. Here are very good alternatives and should be considered:
The Pixel 6a might be a bit old by now, but it comes with stellar performance thanks to the Google Tensor chipset. You get the "Google Experience," with many of the software features that Pixels come with, including those related to the camera, which is still one of the best ones you can get for this money (if not the best). The Pixel 6a will cost you around €459, which makes it even cheaper than the Xiaomi.
The Galaxy A53 5G from Samsung is also a very viable option. Frankly, most of its specs rival those of the Xiaomi 13 Lite, but there are other things like the expandable storage that could be important to many. The 13 Lite, on the other hand, has no expandable storage and comes with only a maximum of 256GB.
It's worth mentioning here, however, that both of the alternatives given above are expected to be replaced with newer models very soon, so it might be worth waiting to see what the
Pixel 7a
and
Galaxy A54
bring to the table.