Xiaomi 12 Lite review: iPhone who? Check out this value…
6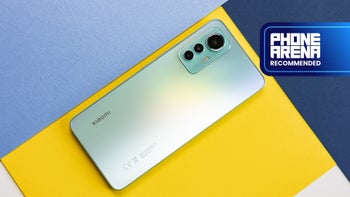 For its price of $449 (or even cheaper if you wish to go with 6GB of RAM instead of 8), the Xiaomi 12 Lite is undoubtedly among the most "bang for the buck" phones we can expect to be getting in 2022.
With its huge AMOLED display at 120Hz refresh rate, snappy performance and beautiful build, it is definitely worth your consideration. With that in mind, let's take a closer look at this new Xiaomi phone…
Table of Contents:

Xiaomi 12 Lite Unboxing
The Xiaomi 12 Lite unboxing experience should be a familiar one for most people by now. In Apple fashion, the lower part of the phone's box slides down slowly while you're holding the top, as if to tease you, eventually revealing your new phone.
Inside the box is also a welcome clear case for your Xiaomi 12 Lite, and on the phone itself is a pre-applied screen protector.
Perhaps most importantly, this phone comes with a beast of a fast charger – 67 watts, while many high-profile phone makers don't even give you a charger to begin with, let alone such a fast one. So, good stuff so far!
Xiaomi 12 Lite Specs
Specs
Xiaomi 12 Lite
Size and Weight
159.30mm x 73.70mm x 7.29mm, 173g
Display
6.55" AMOLED DotDisplay, 950 nits max brightness
Processor
Snapdragon 778G
RAM
6GB or 8GB
Storage
128GB / 256GB, no expandable storage
Software
Android 12 with MIUI 13
Cameras
108MP main camera, f/1.88 aperture
8MP ultra-wide camera, f/2.2 aperture
2MP macro camera, f/2.4 aperture
32MP front camera, f/2.45 aperture
Battery Size
4,300 mAh
Charging Speeds
67W wired turbo charging, no wireless charging
Price
starting from $399
The specs are indeed pretty fantastic, considering the starting price of $399. Particularly when it comes to the large display, the common camera sensors we take for granted these days, and the fast charging, all packed away nicely in a thin and light smartphone body. Let's examine all that in greater detail...
Xiaomi 12 Lite Design & Colors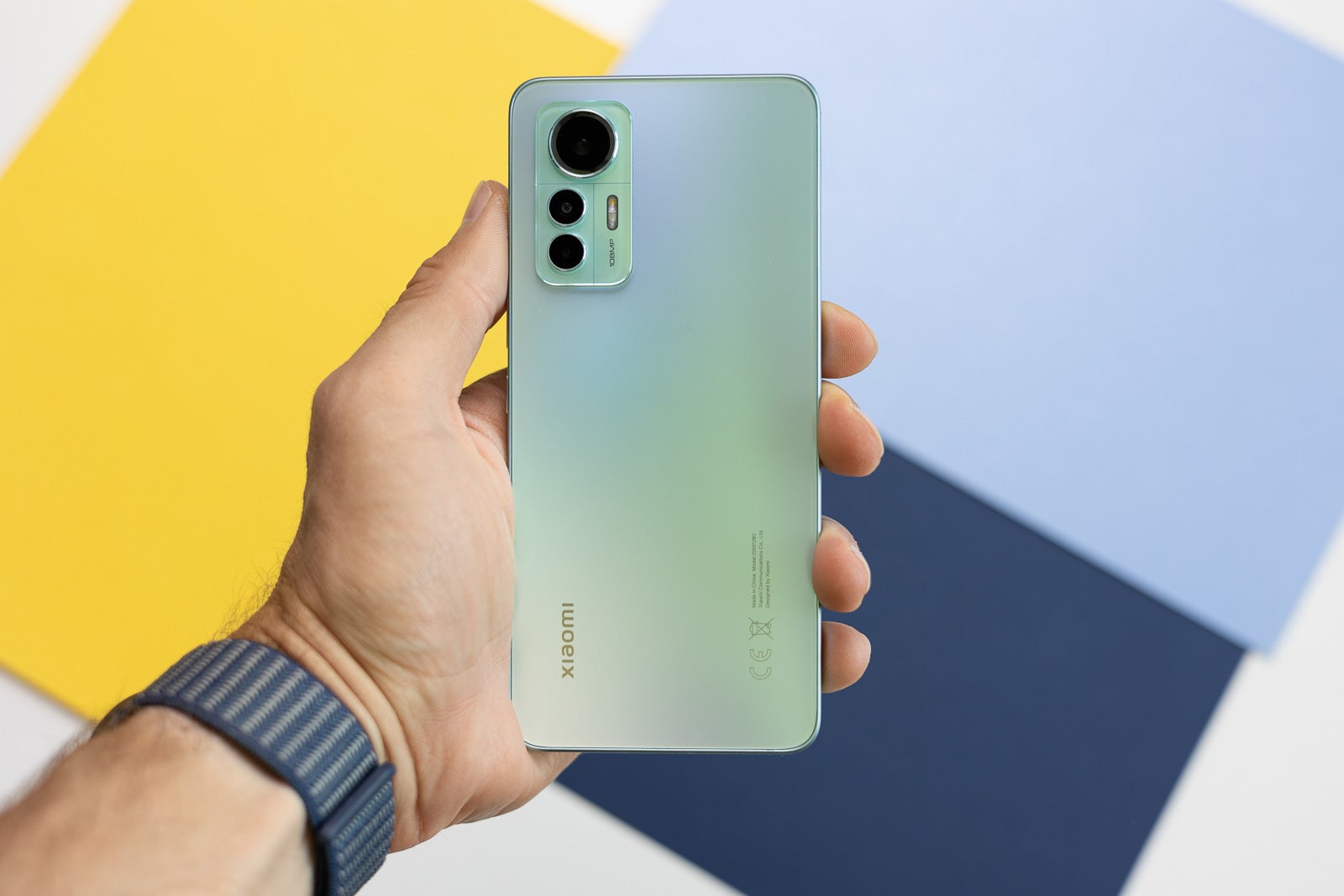 Xiaomi 12 Lite back and camera module
I'm loving the look of the Xiaomi 12 Lite. Unlike the Xiaomi 12 and 12 Pro, the 12 Lite here has flat edges instead, which look (subjectively) nicer and more modern to my eye.
However, they're not exactly iPhone-levels of flat; the edges appear ever so slightly more chamfered than what we have on a modern fruit-based phone.
The display is flat too, and so is the back – which, again, is welcome to see on Android phones for a change.
However, if you're looking for subtle minimalism, this phone doesn't quite go there, as its back has a color-changing, light-refracting effect that definitely gives it some extra flair. Although the back is matte, and the effect is more muted than on some earlier color-changing back designs we've seen, it's still not exactly low-key either, at least when a light source hits it.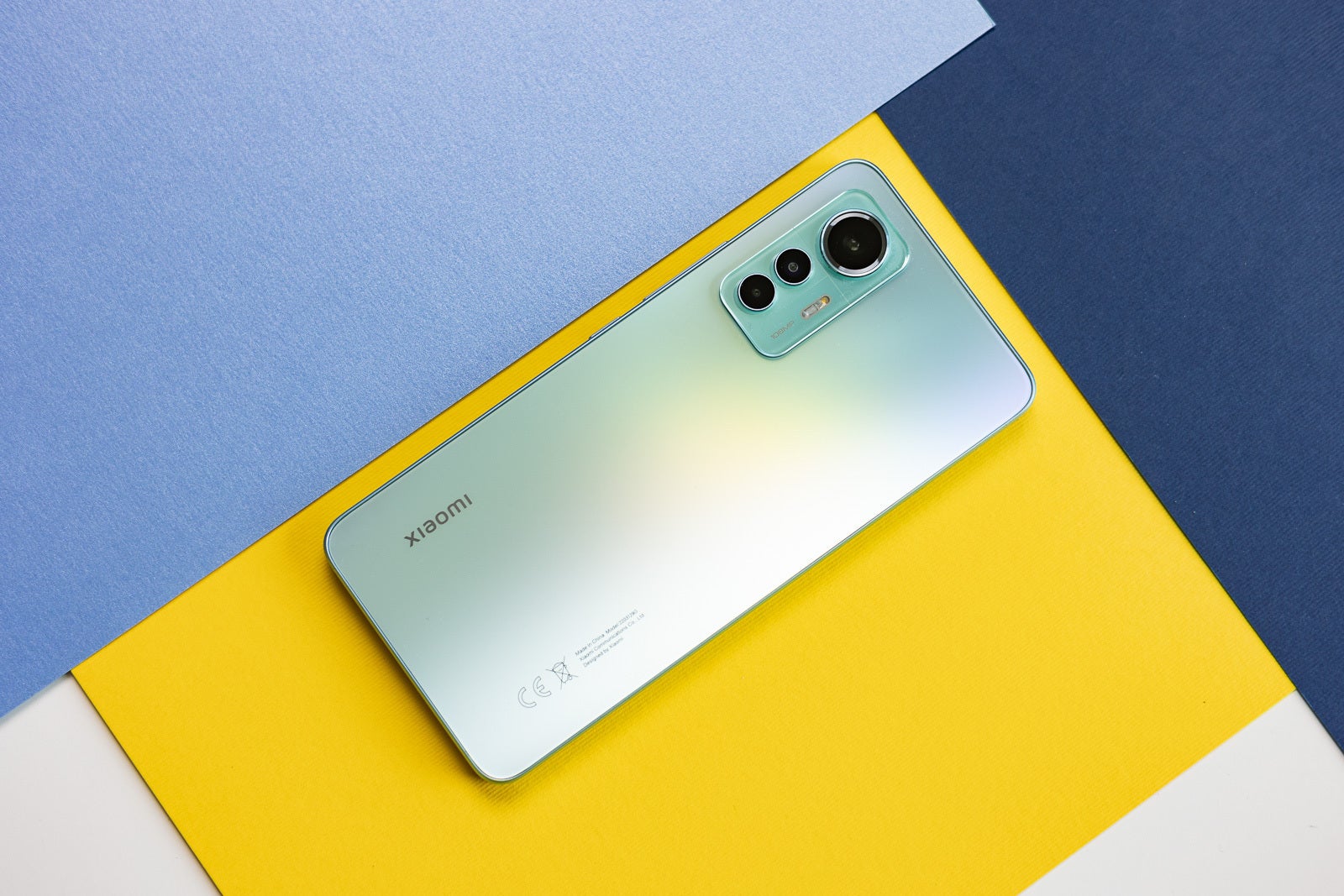 Xiaomi 12 Lite back, showing its color-changing effect
Xiaomi doesn't specify whether that back is made out of glass or it's plastic, but regardless, it feels quite nice, smooth and premium.
Update
: Xiaomi has reached out to confirm that the back of the Xiaomi 12 Lite is indeed made of glass.
On the front, the Gorilla Glass 5-covered display is only interrupted by a small holepunch camera cutout in the top center. And, as usual with Android phones in this price range, while the bezels around the display are very slim, the bottom one is ever so slightly thicker than the top one, which always bothers me a tiny bit.
For its size, this phone feels very nice and light in the hand, which seems to have been one of Xiaomi's priorities, as the Chinese giant itself proudly describes the Xiaomi 12 Lite as being "featherweight." At just 173 grams, the Xiaomi 12 Lite does, indeed, fit this description.
As for the available color options, they're a bit more playful and fun than the average slab these days. The Xiaomi 12 Lite comes in Lite Green, Lite Pink and Black.
The ports situation – on the bottom we have a USB Type-C charging port, next to which is a speaker grill, and on the opposite side – a SIM card slot. No expandable storage via an SD card slot, unfortunately.
No water or dust resistant rating on this phone either.
Xiaomi 12 Lite Display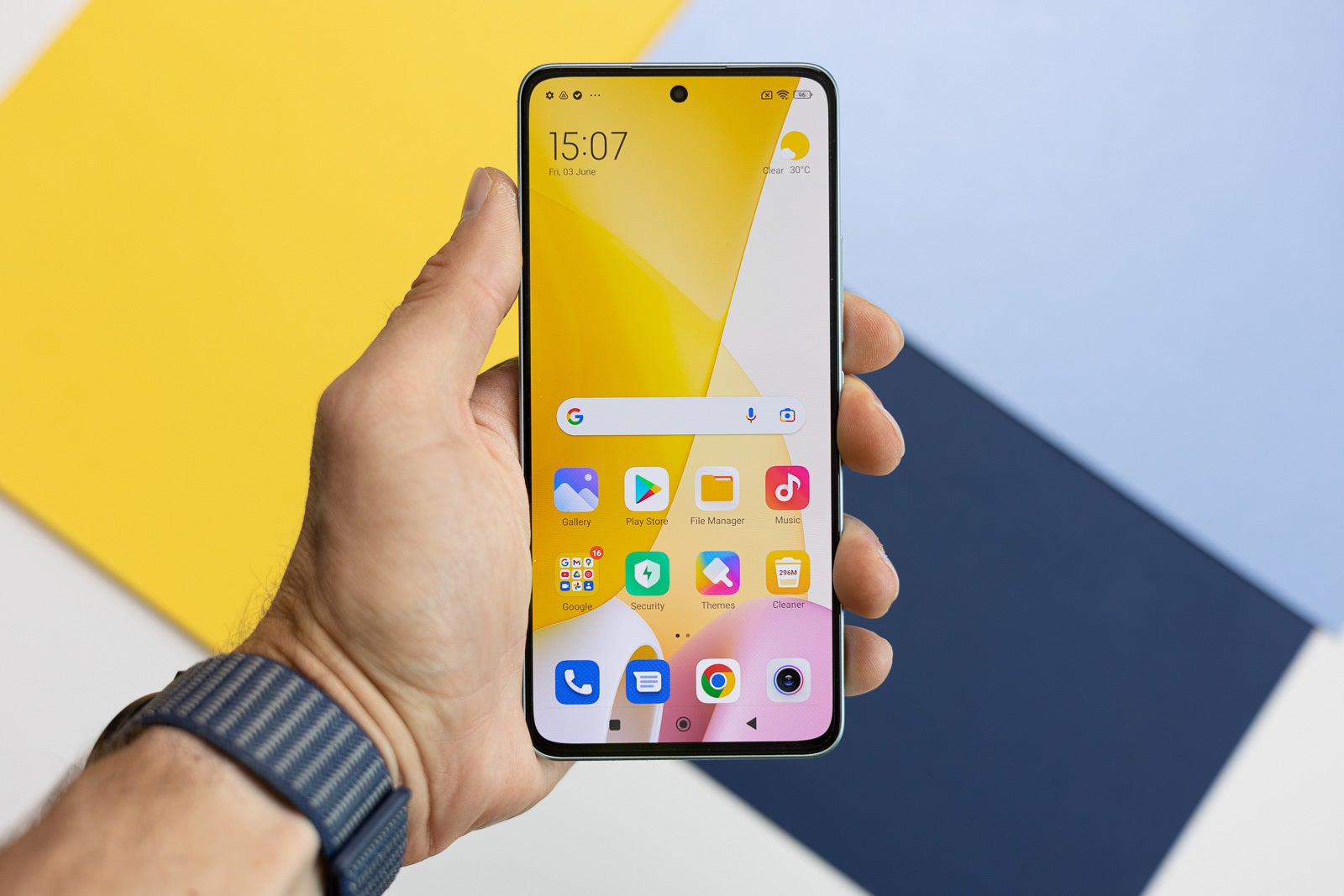 Xiaomi 12 Lite display and holepunch front camera
The Xiaomi 12 Lite comes with a big 6.55-inch AMOLED display, at a resolution of 2400-by-1080 pixels. It's sharp, has great colors, and can go very bright, plus very dim, which are both welcome features you'll want when you're either outside in the sun or in bed half-asleep respectively.
The display also has a 120Hz refresh rate, double what the average smartphone has, plus a 240Hz touch sampling rate. And everything does indeed look pretty smooth – whether we're talking about the Android interface and its little transitions, or a game that supports higher refresh rates. It does make a notable difference coming from my 60Hz iPhone.
Xiaomi was kind enough to give us the option to switch to the more traditional 60Hz refresh rate, though, if you want to save up a bit of battery life, at the cost of that extra perceived smoothness.
We even have Dolby Vision and HDR10+ on this screen, so supported content does look extra contrast-y, and way brighter in the bright places. Say you're watching a video of a sunset beaming behind some mountains – they will be dark, and the sun right behind them will appear super bright – that's HDR10+ for ya. Things can really pop drastically, and it's beautiful, especially in movies that support it.
Overall, for this price range the Xiaomi 12 Lite has a very impressive, large, vibrant and smooth display that doesn't cut corners.
Well, perhaps except one – durability. Now, Xiaomi does say that the screen is Gorilla Glass 5-covered, but I got faint scratches on it in merely 5 minutes, by pocketing the Xiaomi 12 Lite along with my iPhone 12 mini. I often carry two phones in the same pocket, and have never seen one scratch, let alone so quickly.
Again – it got very faint scratches, but it doesn't matter, since it's not a pristine, "new phone" anymore because of this, and I'm a bit disappointed by how easy it happened.
Not sure what the deal is here, with this supposedly glass display, but I'd say keep the pre-applied screen protector on if you're buying this phone. Don't immediately remove it like I did. In any case, let's look at the raw display specs now, and compare those to some recent competitors in this price range...
Xiaomi 12 Lite Camera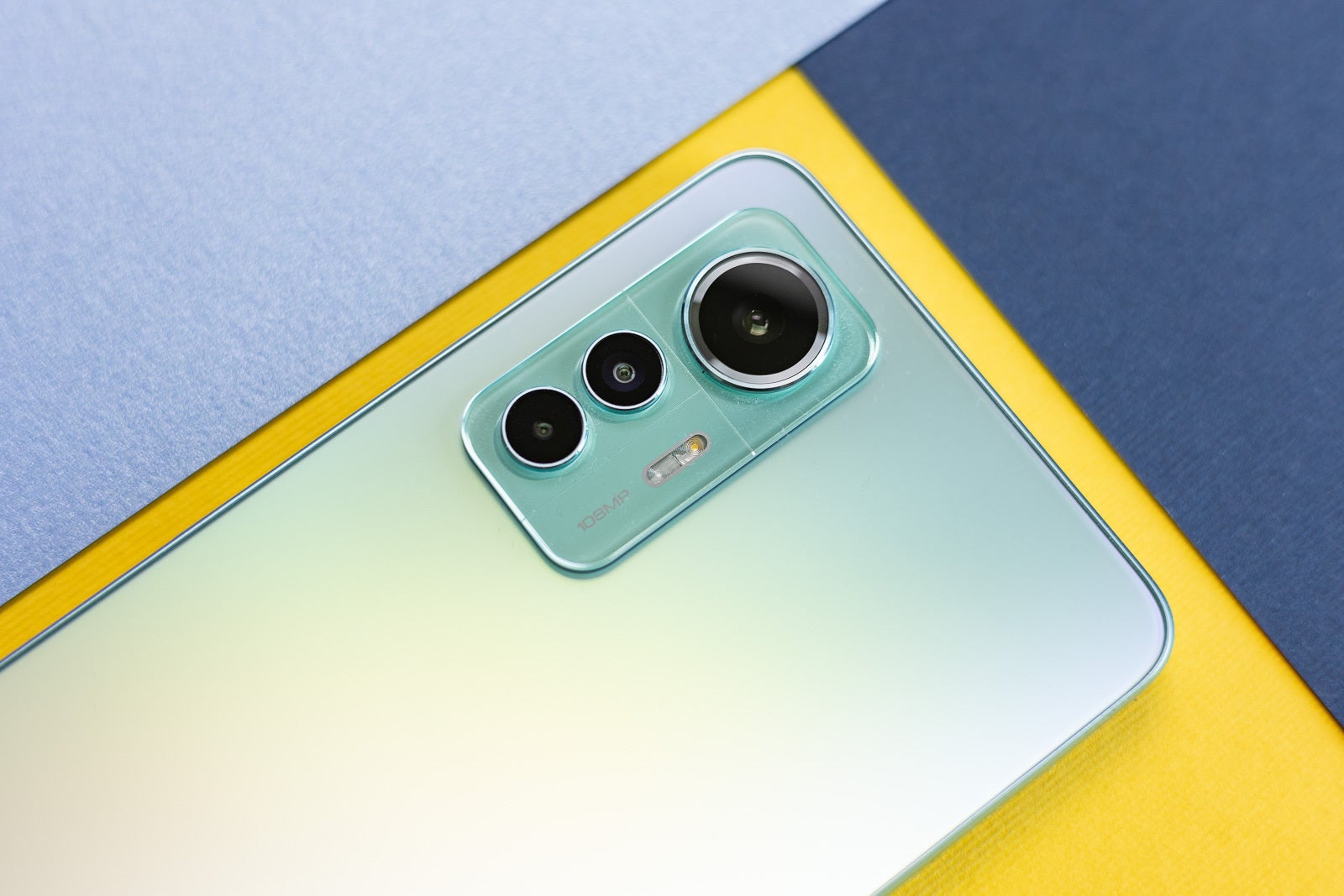 Xiaomi 12 Lite camera module
On the back of the phone, its camera module definitely catches the eye, featuring three cameras, each with a metal ring around them, protruding inside a transparent camera bump.
The main camera is a giant 180 megapixel one, a Samsung HM2 sensor with an aperture of f/1.88. The other cameras are an 8MP ultra-wide and a 2MP macro.
As for the selfie camera, it's 32 megapixels, and along with the back camera, has Portrait mode, if you enjoy taking photos with a blurred background. In addition, there's Night mode available, although the camera seems pretty capable of taking good low-light shots without it.
It's worth mentioning that like most phones out of China, this one comes with a camera app set with skin-smoothing effects on, which you'll have to remember to turn off the first time you start taking pics. Although that's a desirable feature in Xiaomi's home country, I definitely don't like it, or enjoy having to turn it off manually for pretty much any camera mode, before I get the experience that I expect.
Regardless, photos from the Xiaomi 12 Lite come out sharp, detailed and color-accurate, and the wide-angle camera doesn't seem to lack in quality behind the main one, which is welcome to see, and in my experience, rare. If you zoom in you might notice a bit of oversharpening going on, but for social media – the pictures come out pretty darn great.
Portrait mode does a good job figuring out what needs to be in focus and what's the background, so it'd blur just the latter. And, it handled challenging factors such as me wearing glasses. You can even adjust how much background blur you want as you take a Portrait photo, which is a nice touch.
The camera also applies a pleasant background blur when you close in on any objects, putting them in focus, such as the flowers in the sample photos you can check out below. Generally, those came out beautiful and impressive, and are a good representation of what the Xiaomi 12 Lite camera can deliver in good lighting conditions.
I guess my only photo-related gripe about this phone is the unnecessary macro camera, which appears to be slapped on just so it can have the obligatory three cameras on the back. Accessing this camera from the camera app isn't even that intuitive or easy to find, and the resulting photos aren't exactly mind-blowing either. You can't really take those perfect, detailed shots of tiny objects, like you might be hoping for. At least I couldn't, and I tried plenty of macro shot scenarios.

But, while we can't go as close as I'd like, we can go far. There's 10X zoom while taking photos and 6X zoom while filming videos, although it's digital, so while it might be useful on rare occasions, the results won't be clear and detailed.


Oh, and you can switch between the main and ultra-wide cameras while filming a video, which is always great to have as an option. The ultra-wide one definitely fits way more of your surroundings, so you can start with the main one and switch on the fly, if you decide that you need to.
Let's talk more about video. The rear camera is defaulted to record at 1080P, 30FPS, although you can go up to either 1080P, 60FPS or even higher at 4K at 30FPS. No 60FPS at 4K.
In any case, videos don't come out as impressive as the photos. They're well good enough for social media again, but not as sharp as I'd like them to be, and oddly enough, the wide-angle camera seems to capture slightly more color-accurate video than the main camera, as you can see in the sample videos below (recorded at default settings).
But on the plus side, the video stabilization is good, and so is the audio recording quality. But don't expect wind isolation or anything fancy like that.
Xiaomi 12 Lite Performance & Benchmarks
On the subject of performance, the Xiaomi 12 Lite does not disappoint. It packs the mid-range, but still fast Snapdragon 778G with either 6 or 8GB of RAM, with us having the latter to review.
Opening apps and games, or switching between multiple apps is fast and smooth, and has been since day one. Paired with that 120Hz display, Android 12 (with MIUI 13 on top) here appears very snappy and quick.
Xiaomi 12 Lite OS / Android version
The Xiaomi 12 Lite comes with Android 12 and Xiaomi's MIUI 13 overlay on top. It once used to bother me how much Xiaomi's MIUI skin has been modelled after Apple's iOS, but I can't deny that it looks beautiful and familiar. If you're transitioning from an iPhone to this phone, it should be a pretty easy transition exactly because MIUI is so iPhone-ish.
And best of all, MIUI has some nice built-in features I definitely find useful, like a screen recorder, screenshot editor, plus quick access to screencasting or NFC, since the Xiaomi 12 Lite does indeed have NFC support.
Animations are quick and fluid, and there's a (yet again) iOS-like background blur effect applied to the home screen, once you pull down the notification screen or quick actions screen over it.
The icons are in the "squircle" shape, squares with rounded corners. It's all good stuff, visually. Dare I say, MIUI has become my favorite Android overlay in recent years, even more so than the objectively feature-packed, but slightly less pretty OneUI by Samsung.
Xiaomi 12 Lite Battery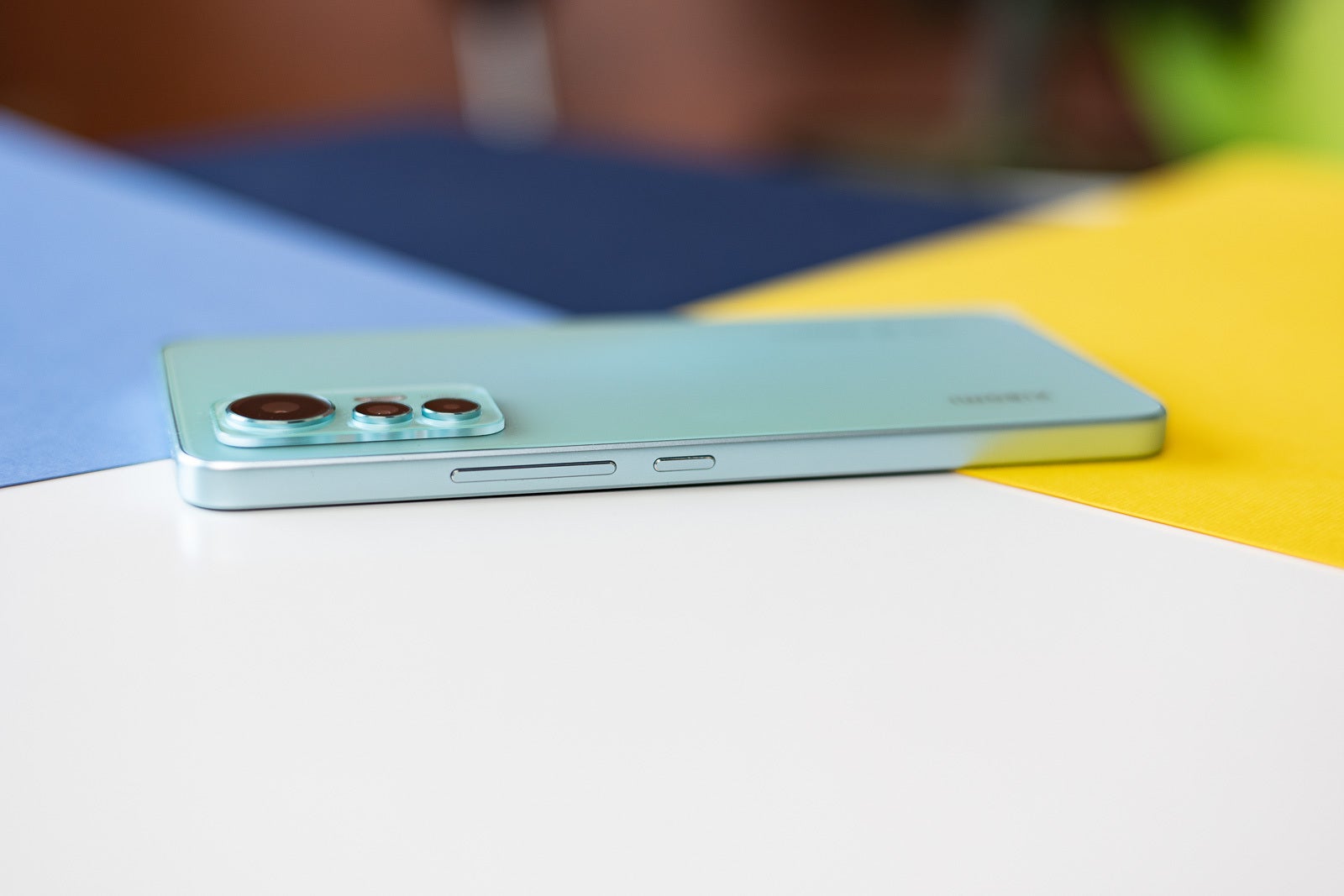 Xiaomi 12 Lite from the side, showing its flat edges and thin build
Let's start with the bad news first – the Xiaomi 12 Lite does not have wireless charging. But the good news is pretty good – it not only has a reasonably-sized 4,300mAh battery that lasts a long time, but the phone can turbo charge at 67W, and a 67W charger is included in the box! Either we're starved for basic features these days, or the latter is actually very impressive. I'd say it's both.
While I'm used to seeing huge 5,000mAh batteries in Xiaomi phones, the reason this one is a bit smaller is likely due to the fact that the Xiaomi 12 Lite is meant to be reasonably thin and light, which it is. No matter – the battery lasts a very long time, and I'd say Xiaomi has found a perfect balance between weight and battery size.
Xiaomi claims "full-day battery", but with sparse usage, I've gotten well within three days and beyond. And when it's time to charge, just 13 minutes of turbo charging gets this phone halfway up from zero!
Xiaomi 12 Lite Audio Quality and Haptics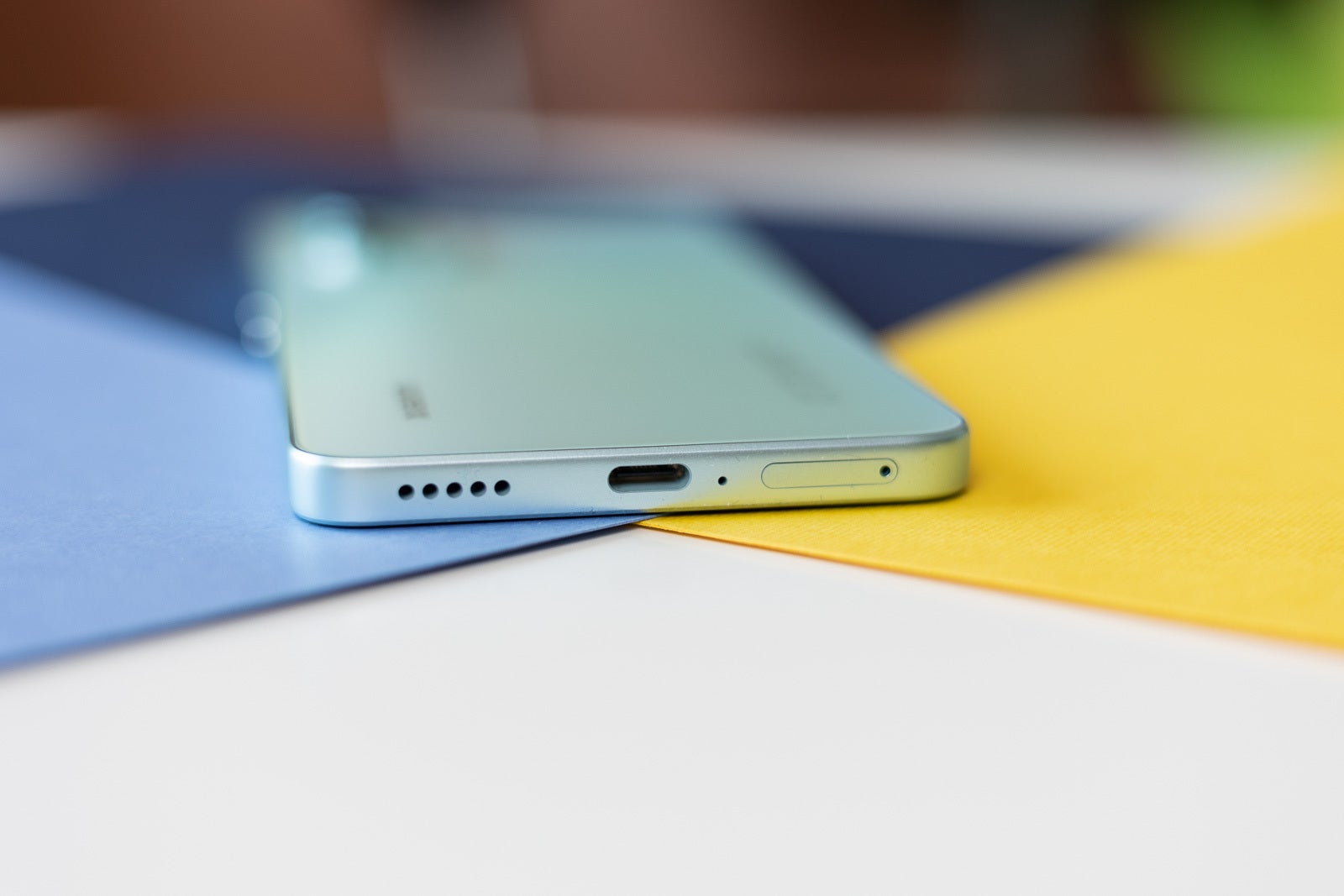 In my experience Xiaomi has always been in the upper tier when it comes to the audio quality of its phones, and what I'm hearing from this one is no exception. We have dual stereo speakers and Dolby Atmos spatial audio technology, which does make a difference – music does sound a bit wider and punchier with it on.
In terms of sound clarity – no complaints – your music, movies and games will sound crystal clear, impressively without distortion even at max volume.
However, these aren't exactly iPhone-quality speakers. While they do have highs and some mids, there are no lows, meaning not a hint of bass. So while these speakers are either equal to, or greater than even some flagship Android phones (especially Samsung ones), they could've been better.
Oh, and there's no headphone jack, by the way, but like many of you, I'm long used to that, although it would've been nice to have the option. Yet in typical Xiaomi fashion there is still an infrared blaster for some reason. But no 3.5mm jack? I suppose the priorities on the Chinese market are quite different, if the former is more important, enough for Xiaomi to keep including it to this day...
But enough on this tangent. As for the haptics of the Xiaomi 12 Lite, vibration taps when adjusting sliders or typing on a virtual keyboard feel nice and reassuring, if a bit anemic. But then again, I doubt anyone is looking for bone-crushing haptics either. If you're worried about the weird, hollow-feeling haptics you may have felt on some other phones in this price range, that's not the case with the Xiaomi 12 Lite.