Samsung Galaxy A53 5G vs Galaxy A52 5G: differences
6
We may earn a commission if you make a purchase from the links on this page.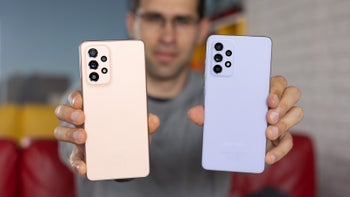 The Galaxy A5X series are right in the middle of the price spectrum. At somewhere between $400 and $500 dollars, these phones are not cheap, but they are not expensive either.
The
Galaxy A53
released in 2022 strikes a great balance between features and price, but that was also something we said about the
Galaxy A52
model from 2021. So what are the actual differences between the two and has Samsung delivered meaningful upgrades?
In terms of looks, the
Galaxy A53
and A52 are nearly identical: both have the same design style and both are made out of plastic. The form factor is the same with a 6.5-inch screen and the two have a similar camera style on the back. The good news is that the A53 has a lower starting price and is slightly faster and has improved camera quality. Let's find out more about those differences.
Plastic construction on both, A53 is thinner
6.5" AMOLED screen, 120Hz refresh rate
Exynos 1280 vs Snapdragon 720G
Four rear cameras on both (but no zoom lens)
Larger battery on A53
MicroSD card slot available on both
No headphone jack on

Galaxy A53
Galaxy A53

pros and cons

Slight differences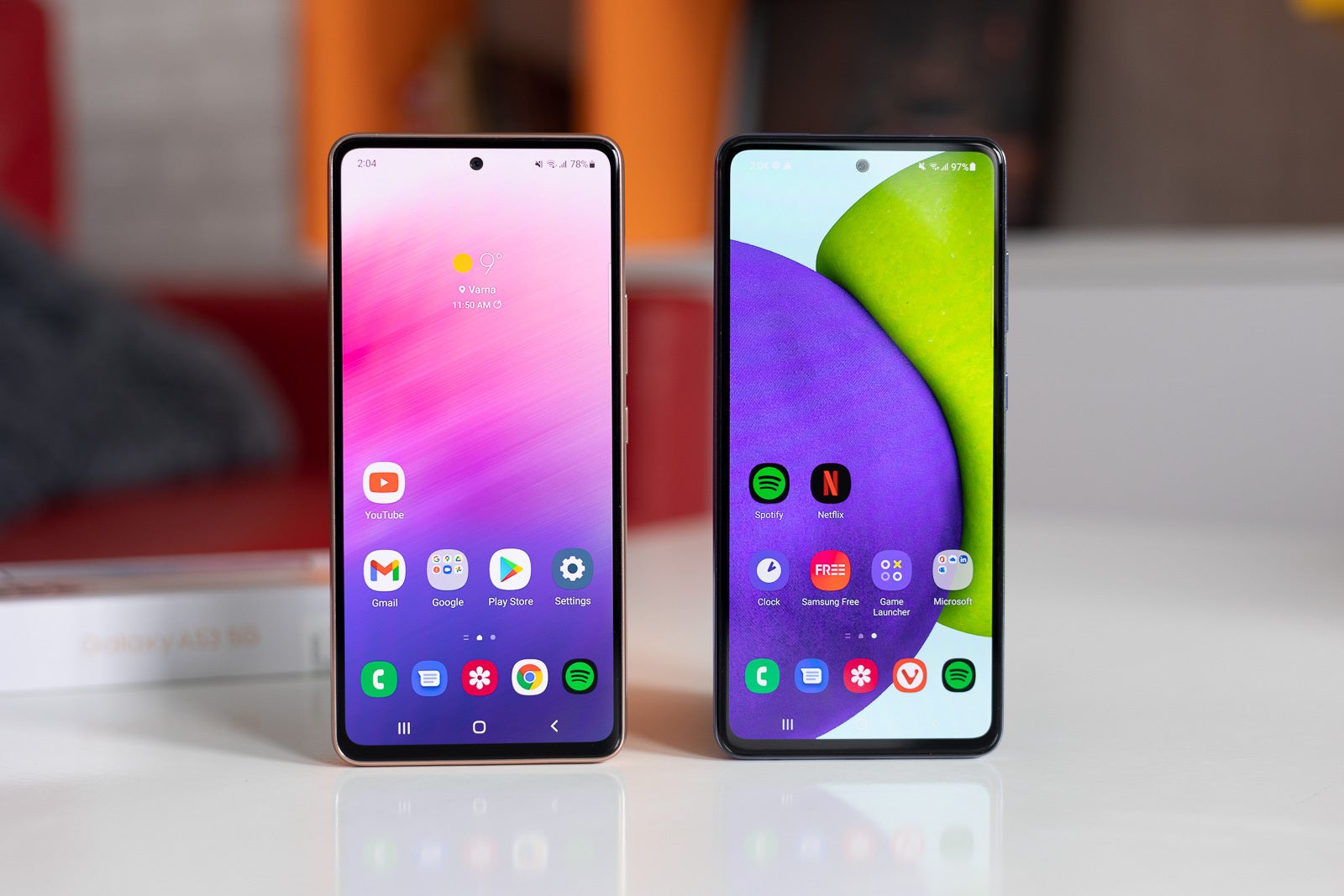 Both being Galaxy A series phones, they are made using good old plastic all around, but the construction is solid overall.
One thing missing on the newer A53 5G is a headphone jack, which was available on the A52 5G.
Being plastic, both weigh less than your typical 6.5-inch phone and are quite comfortable to carry in a pocket. This by the way is one thing
budget phones
seem to do better than glass-and-metal premium phones.
You also get IP67 water and dust protection on both, so you know you don't need to worry if you get some rain or in case of an accidental drop in water.
There is no difference in screen size as both have 6.5-inch screens. Both are AMOLED screen and again both have 120Hz refresh rate for smooth scrolling. No dynamic refresh rate on either one, though, as that remains a premium feature.
The pair also share a discreet punch hole front camera in the center. For biometrics, you have an optical fingerprint scanner built inside the screen on both, and you can also use image-based face recognition.
The A53 gets a battery upgrade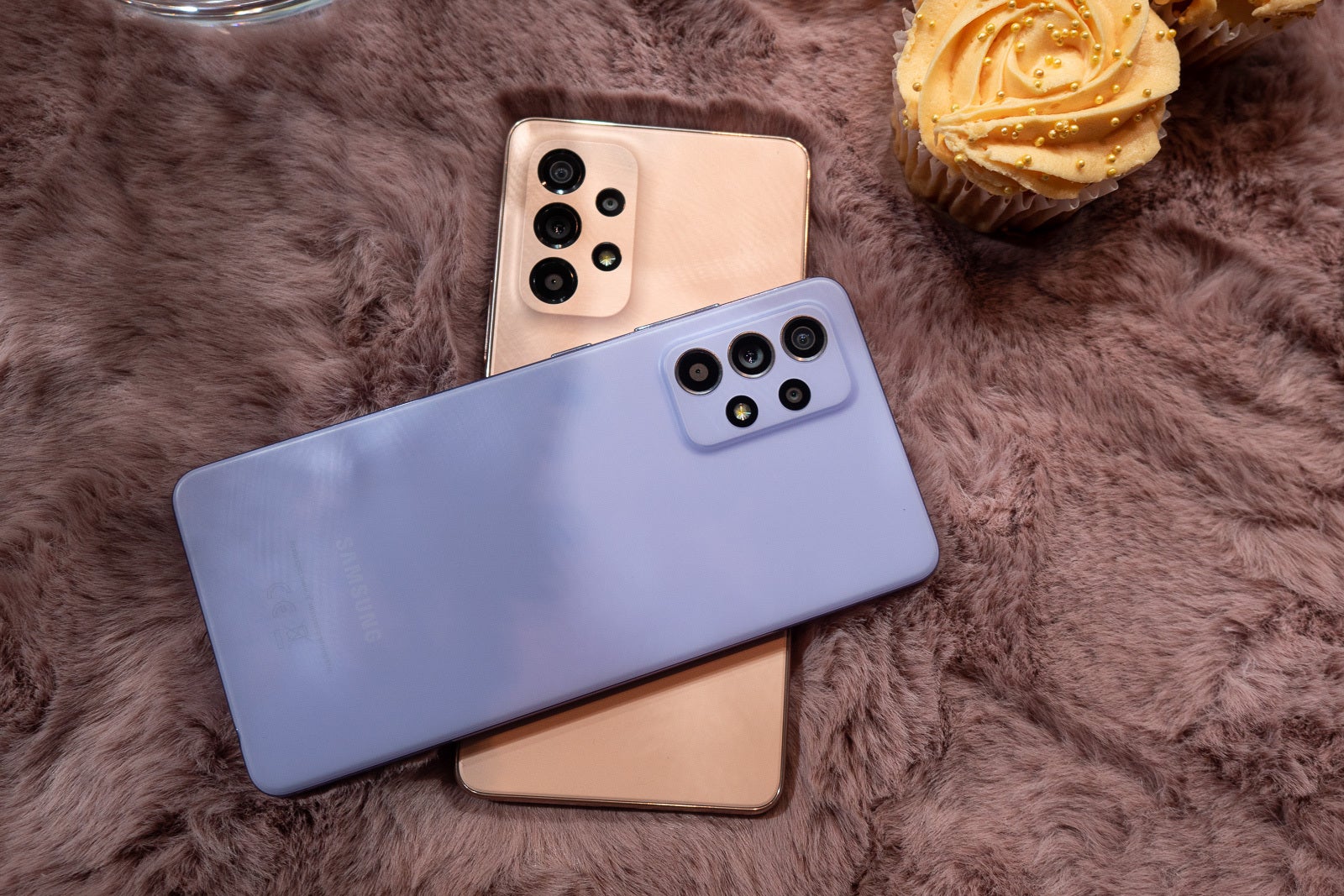 Last year's Galaxy A52 5G had excellent battery life, and Samsung is only doubling down on that as the newer A53 5G comes with an even bigger battery cell inside, while still keeping the same weight.
You get a 5,000mAh battery on the A53 5G vs a 4,500mAh one on the A52 5G, which is nearly 11% larger capacity. Good stuff!
PhoneArena Battery Test Results:
In our independent tests, you can see the A53 outlast the A52 in the web browsing test, but for video streaming, they were pretty close, but the A52 actually scored higher.
One thing you are not getting in the box with this year's A53 5G is a charger. The new phone does support 25W charging speeds, so we recommend getting Samsung's official 25W USB-C charger that will cost you around $20.
There is no wireless charging support, in case you were wondering. That feature is reserved for the more premium
Galaxy S21 FE
model and up.
Cameras
Still four camera, still no zoom lens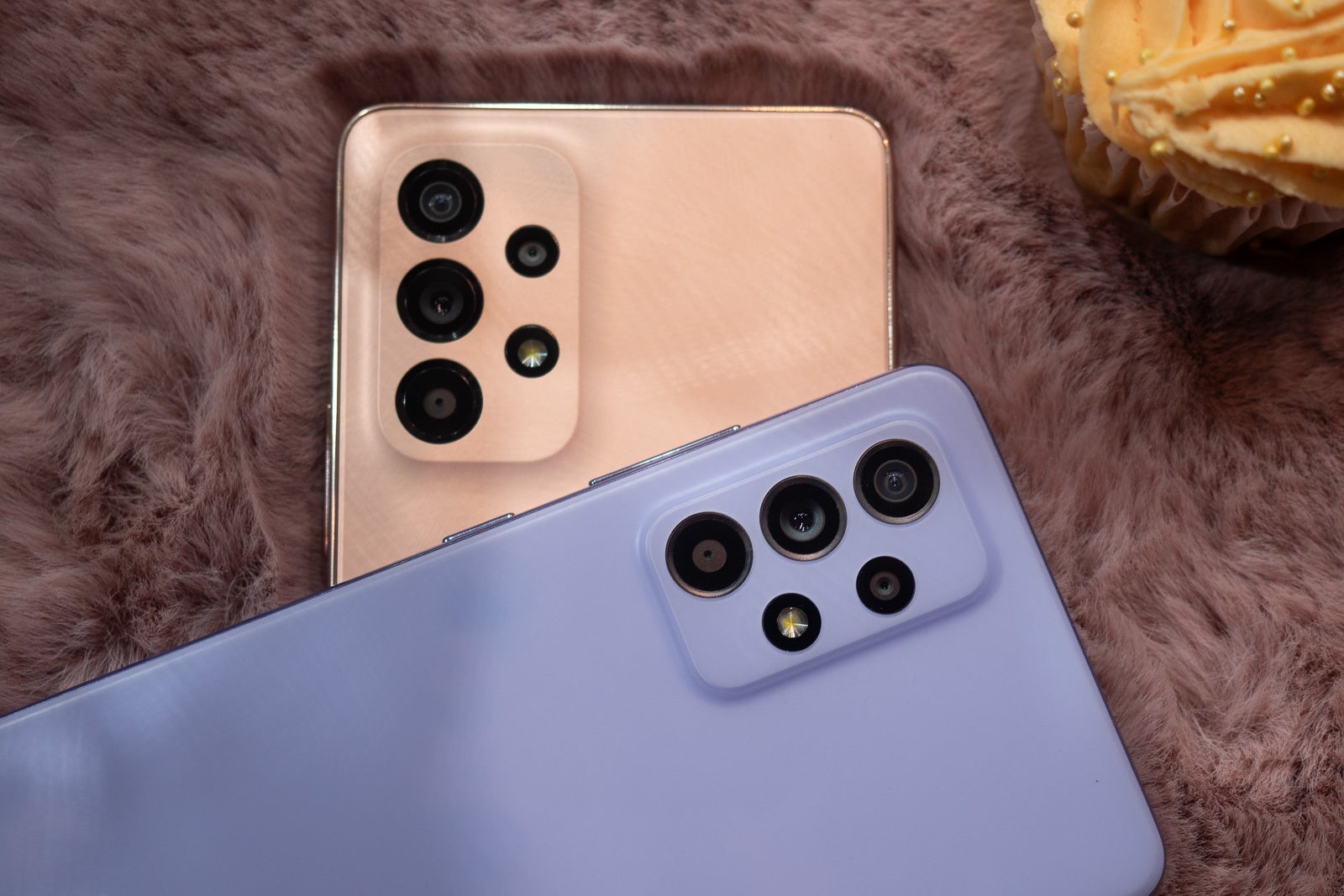 The
Galaxy A53
5G has a more organic camera bump that now extends from the back of the phone and just looks plain cool.
However, at essence, it is about the same to what we had on the Galaxy A52 5G, which was a main + ultra-wide combo, and two largely useless macro and depth cameras. The one thing missing here is a telephoto zoom lens, and Samsung only adds that one in more expensive phones like the
Galaxy S21 FE
or the Galaxy S22 models.
Here is a look at the camera specs and how they differ between the A53 5G and the predecessor model:
| Camera Specs | Resolution | Sensor Size | Pixel Size | Lens |
| --- | --- | --- | --- | --- |
| Main A53 | 64MP | 1/1.7" | 0.8µm | 26mm, f/1.8 |
| Main A52 | 64MP | 1/1.7" | 0.8µm | 26mm, f/1.8 |
| Ultra A53 | 12MP | 1/3" | 1.12µm | 13mm, f/2.2 |
| Ultra A52 | 12MP | 1/3" | 1.12µm | 13mm, f/2.2 |
| Macro A53 / A52 | 5MP | - | 1.12µm | f/2.4 |
| Depth A53 / A52 | 5MP | - | 1.12µm | f/2.4 |
There are no major differences in hardware, no bigger sensor as far as current information goes.
Still, Samsung is constantly improving the software that makes the images, and we expect to see subtle improvements in actual photo and video quality on the A53 5G.
Compared to last year's model, the new A53 captures much more vibrant and lively colors that pop more. The difference is very clear and photos from the newer phone are ready to share without the need to edit, they just look consistently better. The older A52 also tends to capture pale colors and overexpose the highlights, a problem that is dealt with in the A53.
You can also see the same kind of improvement on photos with the ultra-wide camera. Detail also appears sharper, cleaner on the A53.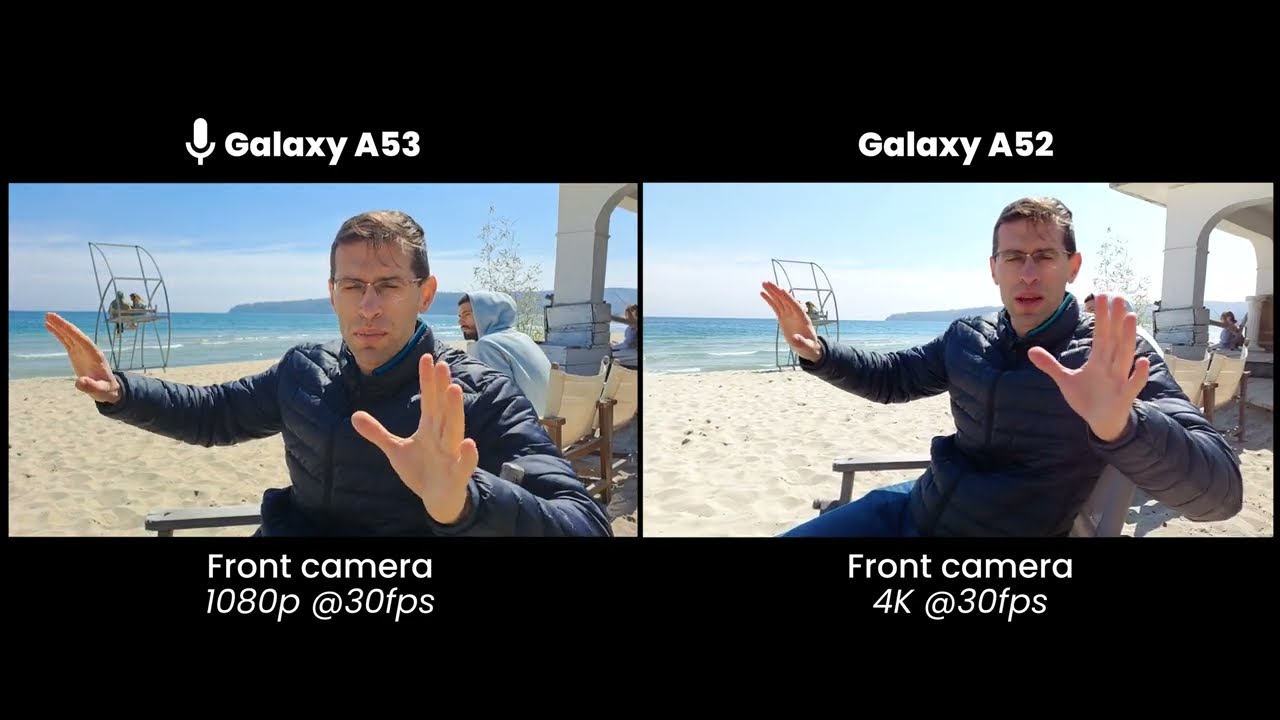 A similar story applies with video where the A53 delivers a much improved dynamic range.
Performance and Software
The A53 is barely faster than the A52 5G
Under the hood, the
Galaxy A53
5G features the Samsung Exynos 1280 processor, an octa-core chip with two high-performance cores running at 2.4GHz and six more frugal cores. And this time around, you only have one model with 6GB and 128GB of storage, which sounds like a good combo. Good news is that the microSD card slot is still available on the A53, and remains a staple of the Galaxy A series.
We have already seen performance benchmark leaked from an early
Galaxy A53
5G model, and these are the scores:
| GeekBench 5 | Single-core | Multi-core |
| --- | --- | --- |
| Galaxy A53 5G | 686 | 1874 |
| Galaxy A52 5G | 639 | 1887 |
| Galaxy A52s 5G | 763 | 2647 |
| Galaxy S21 FE | 908 | 2775 |
As you can see, there is a small improvement in single-core performance over the Galaxy A52 5G model, but surprisingly, performance was lower even compared to the mid-cycle Galaxy A52s model and also significantly lower than the often discounted
Galaxy S21 FE
.
On the network side, you have 5G connectivity on both phones.
Software
In terms of software, being the newer phone, the
Galaxy A53
5G ships with the latest Android 12 and One UI 4.1 combo, while the previous model launched with Android 11 and was only updated to Android 12 in late January 2022. Good news is that Samsung has committed to 4 years of major software updates for the Galaxy A series! That's more than most other phone makers out there.
Just keep in mind that we have seen that after the first major update, Samsung is not in much of a rush to push those updates and they usually arrive with quite the delay, compared to something like a Google Pixel, which gets those updates on day one.
Galaxy A53 vs A52: Specs Comparison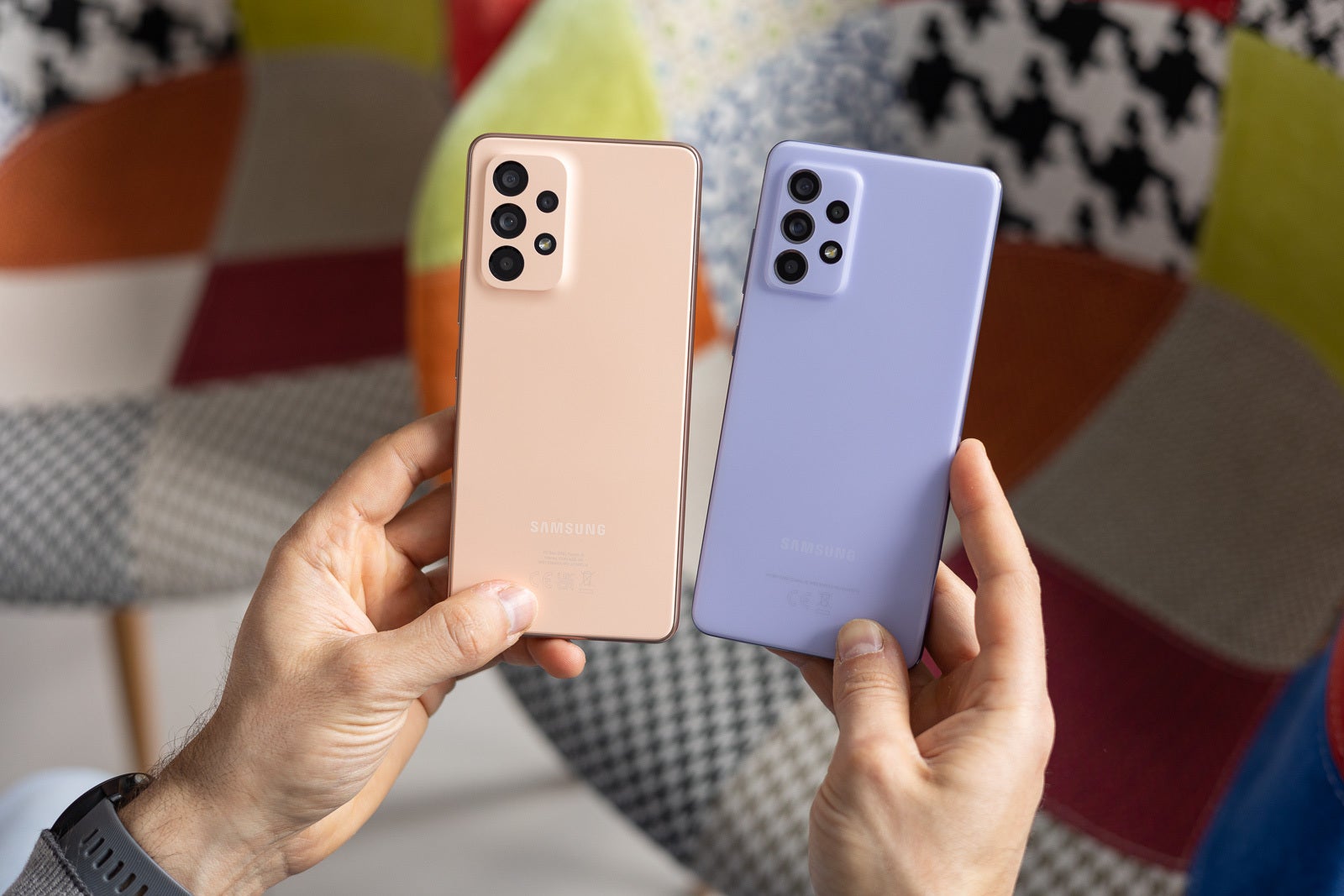 And here is a detailed specs comparison between the
Galaxy A53
5G and the previous A52 5G model:


Galaxy A53 5G
Galaxy A52 5G
Size and Weight
159.9 x 74.7 x 8.1mm, 189g
159.9 x 75.1 x 8.4 mm, 189g
Colors & Materials
New pastel colors, plastic
"Awesome Black", plastic
Display
6.5" AMOLED, 1080p, 120Hz
6.5" AMOLED, 1080p, 120Hz
Processor
Exynos 1280
Snapdragon 750G

RAM
6GB
6GB / 8GB
Storage
128GB
microSD card slot
128GB or 256GB
microSD card slot
Cameras
64MP wide camera, f/1.8
12MP ultra-wide camera, f/2.2
5MP macro camera
5MP depth camera
64MP wide camera, f/1.8
12MP ultra-wide camera, f/2.2
5MP macro camera
5MP depth camera
Battery size
5,000 mAh
4,500 mAh
Charging speeds
25W wired
no wireless charging
25W wired
no wireless charging
Prices
starting price is $450
often sold at $350


Samsung brought the
Galaxy A53
5G on March 17th, 2022, exactly one year after it launched the Galaxy A52 model.
Don't forget that last year, international markets also got a Galaxy A52 model with LTE only that was cheaper and had a slower, Snapdragon 720G processor. Also, midway between the A53 and A52, Samsung released a Galaxy A52S 5G model outside the US, which had a faster
Snapdragon 778G inside.
At the end of the day, this new
Galaxy A53
5G model is certainly a minor upgrade to an already excellent mid-ranger. The bigger battery and the tweaks to the camera are the bigger news, as well as the slight increase in performance are all the highlights.
If you are looking for a new phone in 2022, it only makes sense to get the newer A53 model, but if you already own a mid-range of the same class from last year, there is little to warrant an upgrade this year and you'd better stick with your current phone for at least one more year.
Recommended Stories