Samsung Galaxy A53 5G vs Galaxy A33 5G: all the differences
1
We may earn a commission if you make a purchase from the links on this page.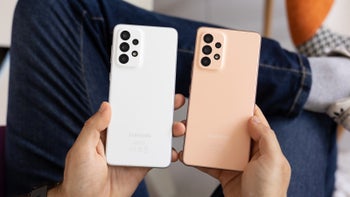 If you are not willing to spend a fortune on a new smartphone, the Galaxy A series is one of your best options for a new phone in 2022. Samsung is bringing two new models, the Galaxy A53 5G and Galaxy A33 5G, one a $450 affair and the other one, an even cheaper sub-$400 super budget model.
What are the differences and is it even worth splurging a bit more on the A53 5G?
We take a deeper look right below...
Samsung Galaxy A53 vs А33 in a nutshell:
Plastic construction on both
A53 has thinner borders around screen
120Hz vs 90Hz
Slightly faster processor on A53 5G
Both come with huge, 5,000mAh battery inside
Display and Design
Slight differences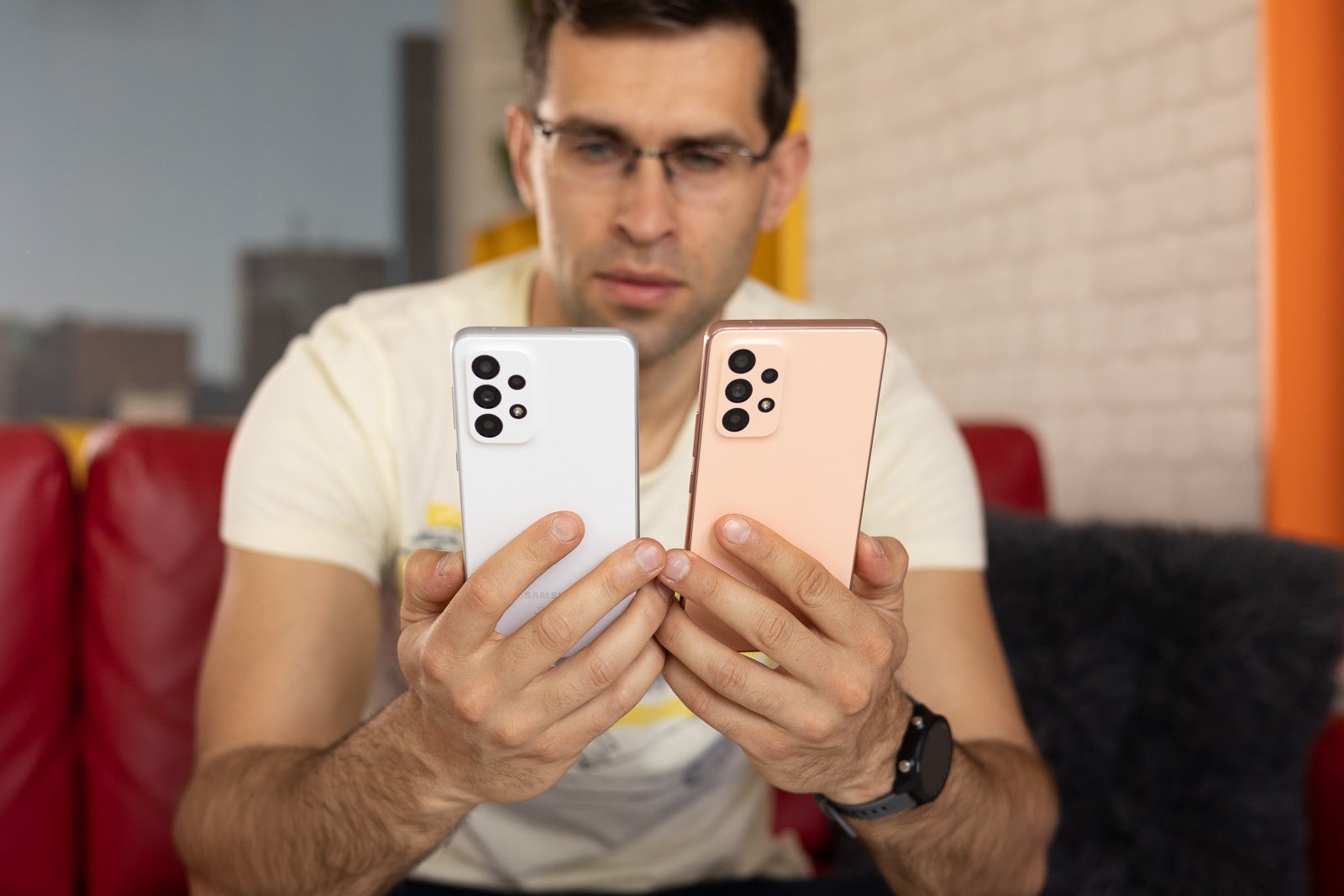 They look so similar that it's hard to tell them apart (the white one on the left is the A33, the one on the right is the A53)
Both being Galaxy A series phones, meaning budget devices, they are made using good old plastic all around, but still you get a solid, tight construction.
Thanks to the plastic build, however, both phones are lightweight for their class and quite comfy to carry in a pocket. Quite the relief, if you've ever carried around a Pro Max flagship these days.
In terms of colors, both come in the same 4 versions: Black, White, Light Blue and Orange. Keep in mind that different markets might get different colors, though.
You also get IP67 water and dust protection on both models, a nice feature to have.
One thing missing on both phones is a headphone jack, such are the times and while budget phones used to have it, that's no longer the case with these A series.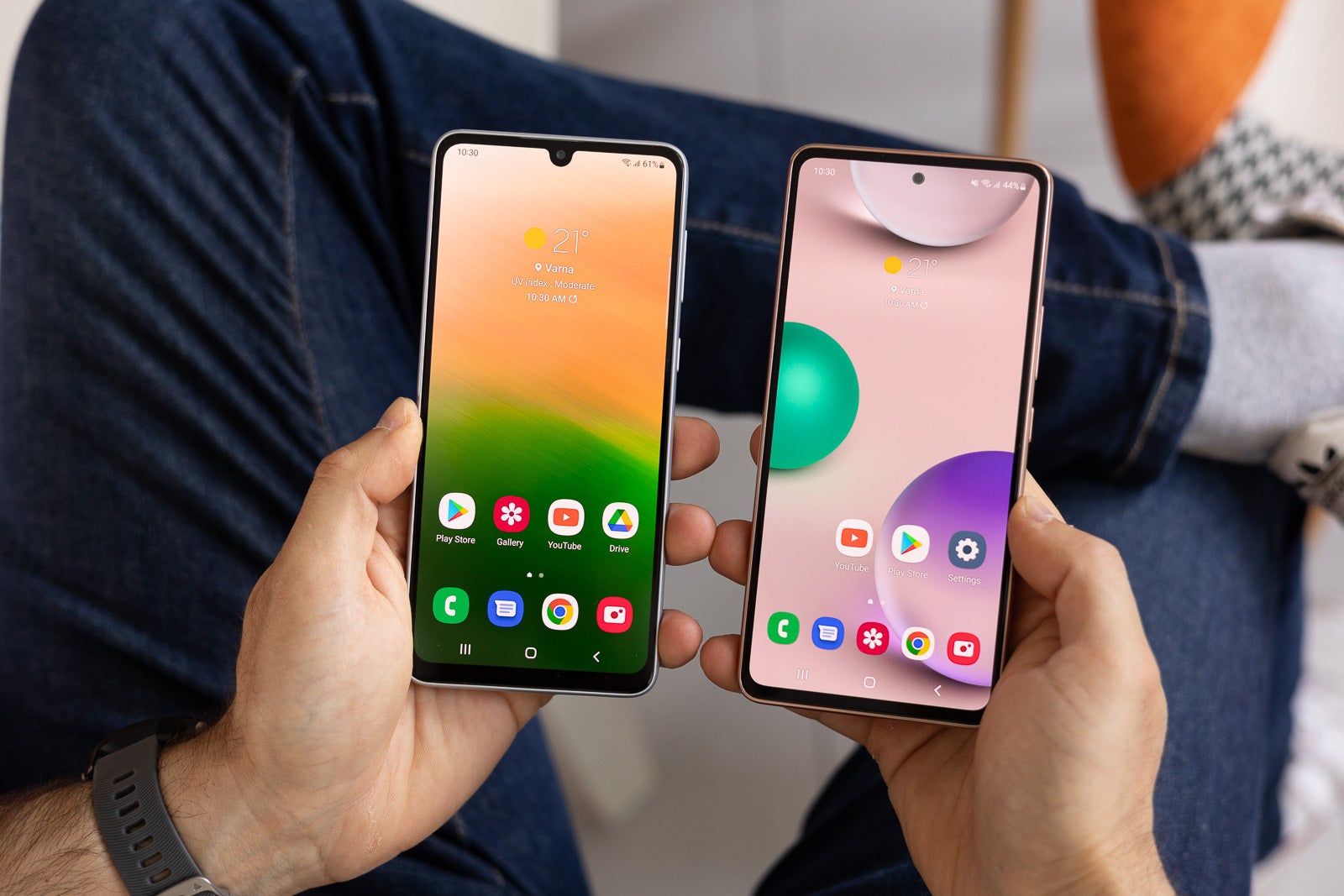 The A33 has bigger bezels and a chin, while the A53 looks more elegant, but the screen quality is nearly identical
We have nearly identical screen sizes, though: 6.5" on the A53 5G vs 6.4" on the A33 5G, and good news is both use AMOLED tech with lush colors and excellent contrast. The difference here is refresh rate: you get the sweet 120Hz goodness for smooth scrolling on the A53 5G, while the cheaper model gets 90Hz. And also just the bezels around the screen are quite thick on the A33, while the A53 more elegant borders.
The pair both have an optical fingerprint scanner inside the screen. Plus, it's also nice that both have image-based face recognition using the front camera.
Battery and Charging
Same super impressive battery size on both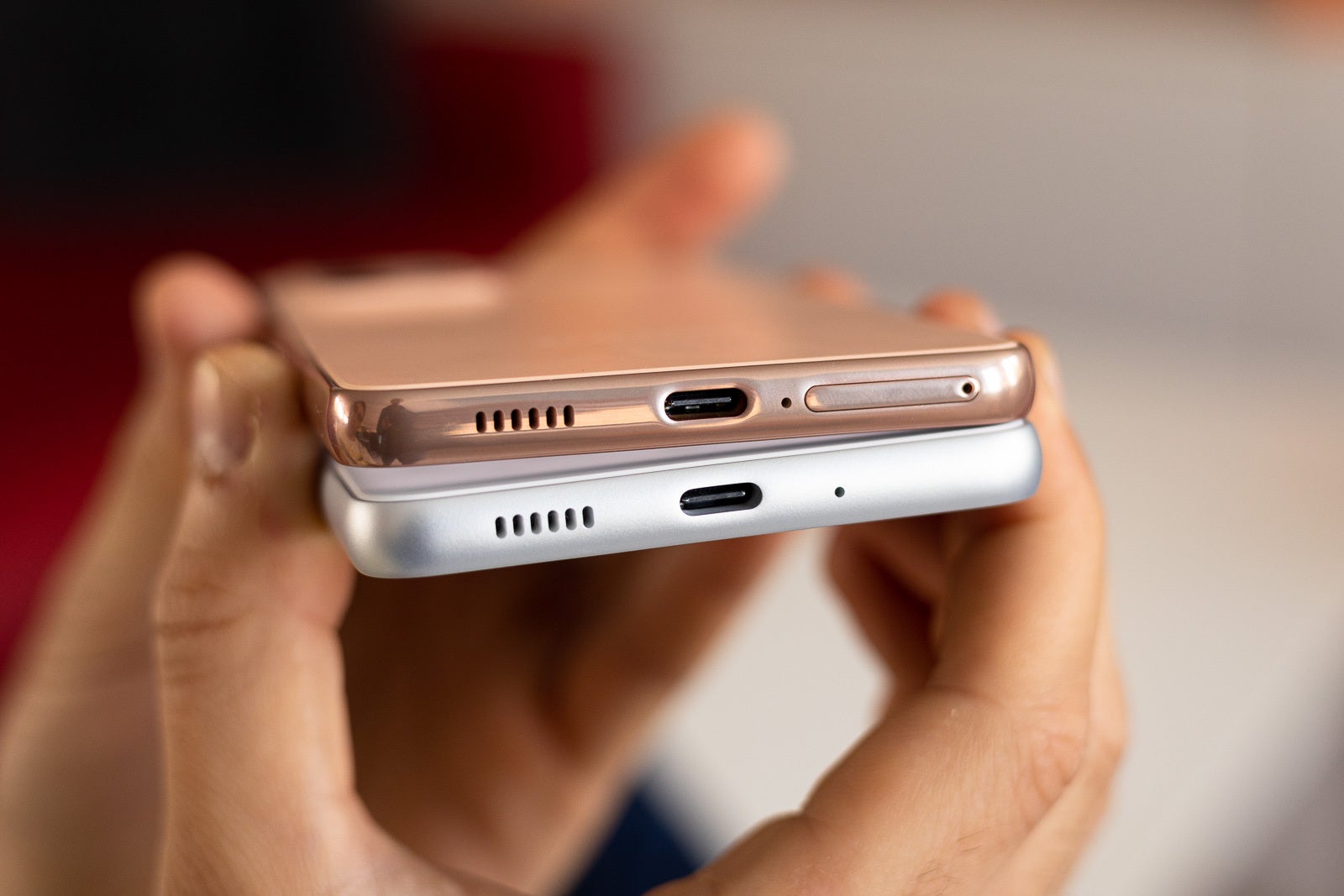 No headphone jack on either one
Battery life has always been excellent on the Galaxy A series and these two latest editions only continue that tradition.
You get a 5,000mAh battery on both the A53 5G and the A33 5G. This is just incredibly promising, as such a giant battery is very likely to provide excellent real-world endurance.
Below, you can find our battery test results which we perform under controlled brightness, at equal conditions on both phones:
On the charging front, you get 25W fast charging speeds on both phones, but you won't find a charging brick in the box, so you'd need to buy a charger separately.
There is no wireless charging support on board, but that's one feature traditionally missing on most budget phones.
Cameras
Still four camera, still no zoom lens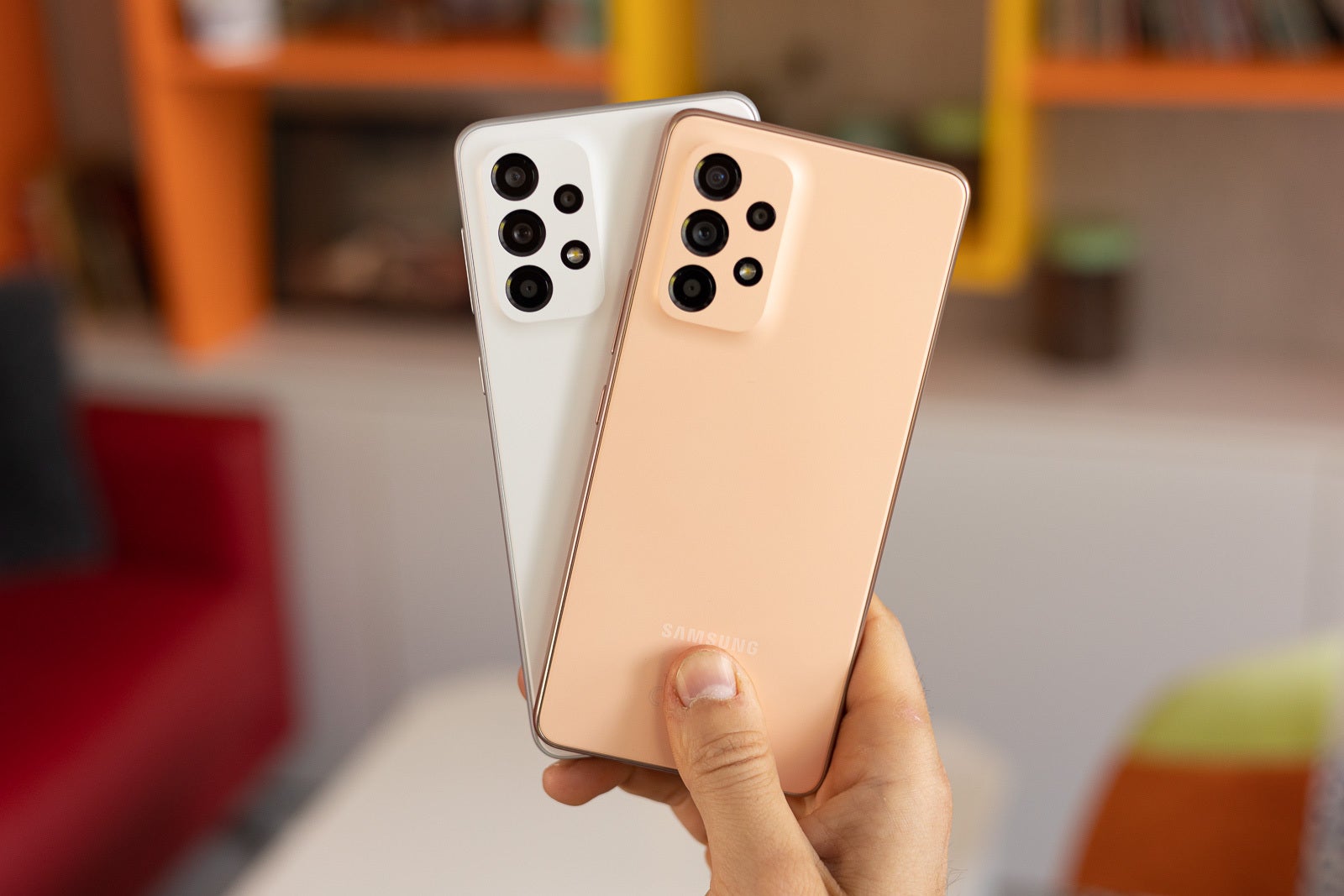 Nearly identical quad camera systems
Samsung insists on including four cameras on the back of all these phones, as if trying to impress consumers with the sheer number of lenses. Unfortunately, two of those cameras are completely unnecessary: the macro and depth cameras are expected to be of middling quality and merely 5MP resolution. You also
don't
get a telephoto zoom lens.
However, you do get a main and an ultra-wide that will handle most of the camera workload, and below, you can find the exact camera specs for camera nerds to explore:
| Camera Specs | Resolution | Sensor Size | Pixel Size | Lens |
| --- | --- | --- | --- | --- |
| Main A53 | 64MP | 1/1.7" | 0.8µm | 26mm, f/1.8 |
| Main A33 | 48MP | unknown | unknown | f/1.8 |
| Ultra A53 | 12MP | 1/3" | 1.12µm | 13mm, f/2.2 |
| Ultra A33 | 8MP | unknown | unknown | f/2.2 |
| Macro A53 / A33 | 5MP | - | 1.12µm | f/2.4 |
| Depth A53 / A33 | 5MP | - | 1.12µm | f/2.4 |
Of course, Samsung will not sit still and we only expect camera improvements from the last generation A52 and A32 models.
We have captured a few photos to demonstrate the differences in photo quality:
Both being Samsung phones, these two share a ton of common photographic DNA. And it's all about providing super vibrant, saturated photos that look better than real life. You can catch the A53 going for that ultra saturated look more often and more aggressively, even to the point of "too much", but detail is also seems to be a tiny bit cleaner.
The rest seems identical: the ultra-wide camera, the selfie shooter, not much of a difference there.
In terms of video recording, both are pretty similar. You have 4K30 video recording as the best quality available, but software video stabilization is not available in 4K, so you would need to switch to 1080p on both phones to use that.
One advantage the A53 has over the A33 is that if you choose to use the 4K option, you can use the ultra-wide camera while recording video, while the A33 only allows switching to the ultra-wide camera in lower resolution, FHD 1080p videos.
Performance and Software
Same Exynos chip on both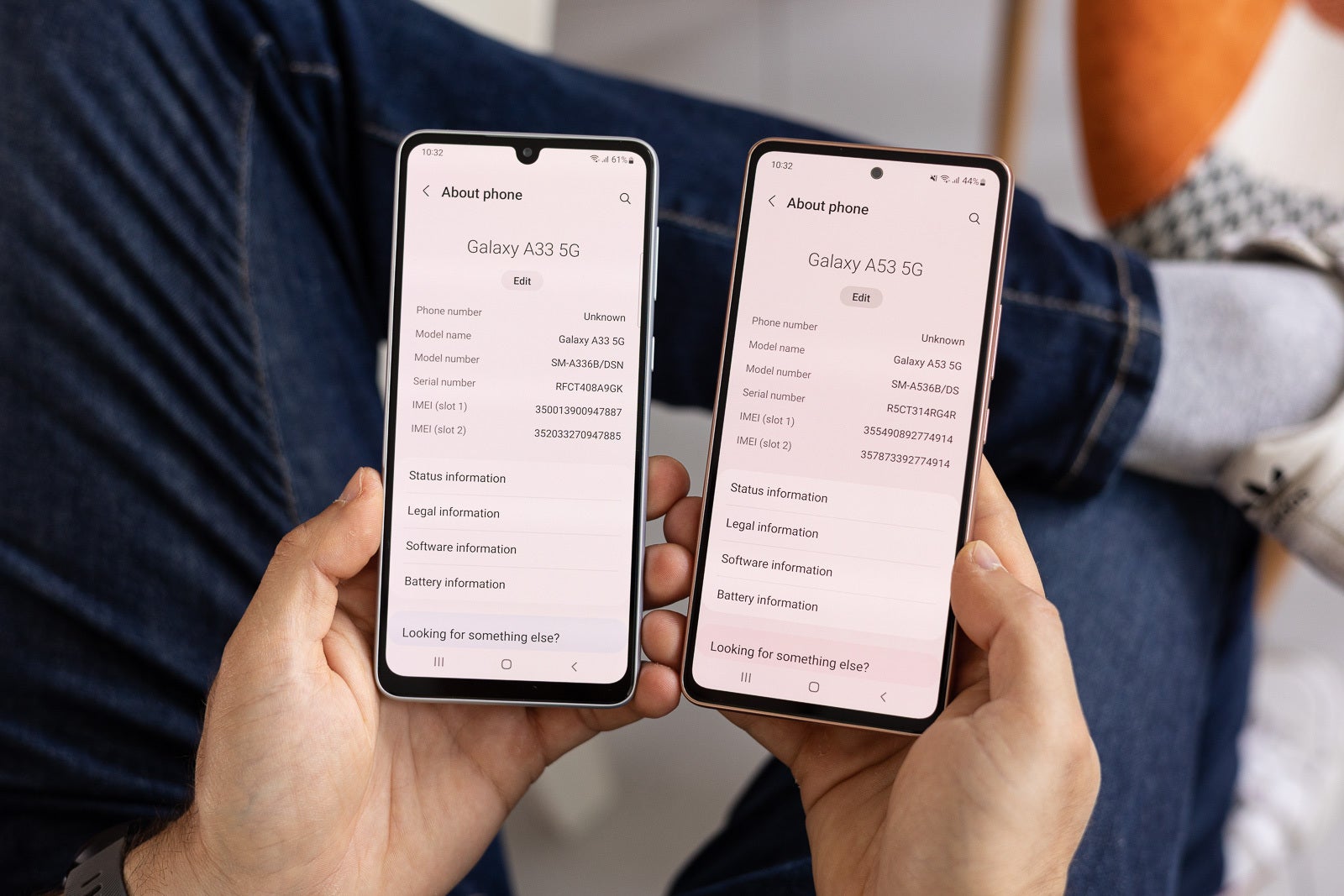 Not quite flagship level, but both feel fast enough
Interestingly, both the A53 5G and A33 5G are powered by the Exynos 1280 processor, but with a slight difference in the configuration: the A53 uses more powerful "big" cores and is a bit faster.
We also like the Samsung has simplified the range and you only get a single version equipped with 6GB and 128GB of storage on both phones. And yes, you also have a microSD card slot on both, so you can easily expand that storage.
As you can see, there is a very tiny jump in speed on the Galaxy A53, but a quite noticeable yearly improvement is coming with the Galaxy A33, which would make these two models a lot more similar in terms of actual performance.
And we are glad about that: one of our main complaints against the A32 5G model was its slow speed, and Samsung seems to be addressing just that.
On the network side, you have 5G connectivity on both phones, as their names suggest. Don't expect to see fancy 5G mmWave support, but we do expect to have the rest of the popular 5G bands on board.
Software
In terms of software, being 2022 phones, the Galaxy A53 5G and A33 5G both ship with the latest Android 12 and One UI 4.1 combo. Last year, Samsung committed to 4 years of major software updates for the Galaxy A series, and that really makes these two stand out in the Android space.
Only remember that practice shows how after the first major update, Samsung is usually not in much of a rush to push further updates and they usually arrive with quite the delay. If timely updates are a priority, it might be a better idea to get a Google Pixel phone instead, which gets those updates on day one.
Galaxy A53 5G vs A33 5G: Specs Comparison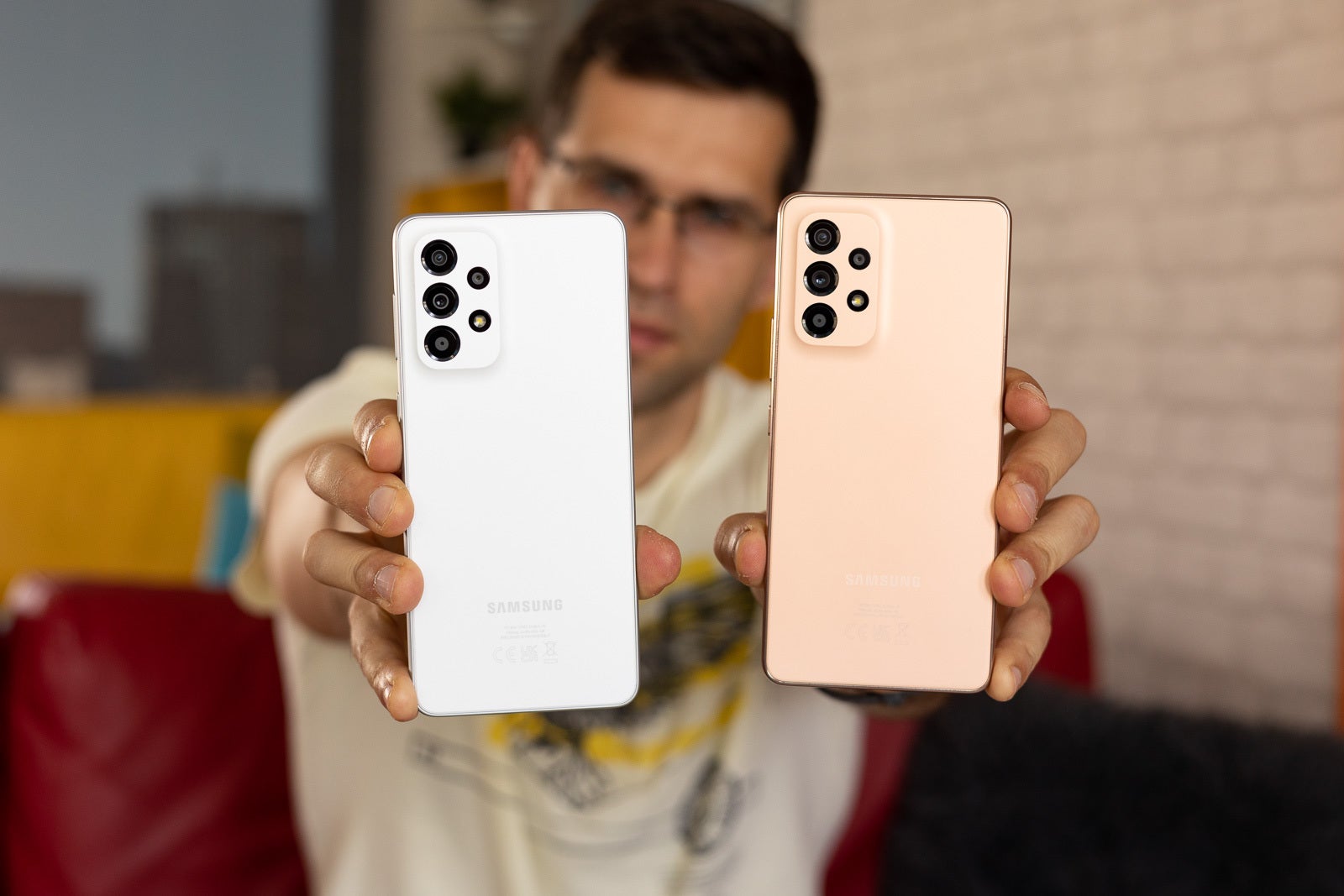 And here is a detailed specs comparison between the Galaxy A53 5G and the A33 5G model:


Galaxy A53 5G
Galaxy A33 5G
Size and Weight
159.9 x 74.7 x 8.1mm, 189g
159.7 x 74.0 x 8.1mm, 186g
Colors & Materials
Black, White, Light Blue and Orange
Plastic
Black, White, Light Blue and Orange
Plastic
Display
6.5" AMOLED, 1080p, 120Hz
6.4" AMOLED, 1080p, 90Hz
Processor
Exynos 1280
Exynos 1280
RAM
6GB
6GB
Storage
128GB
microSD card slot
128GB
microSD card slot
Cameras
64MP wide camera, f/1.8
12MP ultra-wide camera, f/2.2
5MP macro camera
5MP depth camera
48MP Wide camera, f/1.8
8MP Ultra-wide camera, f/2.2
5MP macro camera
2MP depth camera
Battery size
5,000 mAh
5,000 mAh
Charging speeds
25W wired
no wireless charging
25W wired
no wireless charging
Prices
$450
starting from around $370


Samsung has announced both the Galaxy A53 5G and A33 5G on March 17th, 2022, exactly one year after the launch of the Galaxy A52 / A32 models.
Don't forget that there has been quite a bit of variation within the series too. Last year, international markets got a Galaxy A52 model with no 5G connectivity that was cheaper and had a slower, Snapdragon 720G processor. Also, midway between the A53 and A52, Samsung released a Galaxy A52S 5G model outside the US, which had a
Snapdragon 778G inside, about as fast as this new A53 5G model.
At the end of the day, Samsung has improved the cheaper A33 model significantly and it's now a much more usable phone than before, with far fewer compromises. And yes, the gap between the A33 and the A53 is much smaller now. It's noticeable in the looks, with the less refined design, bigger bezels and even the teardrop camera vs punch hole. However, the cheaper model seems to have improved a lot more in speed and the evolution happening in that segment looks bigger than the more modest upgrade that is the A53 5G model.
At the end of the day, you get a better camera and slightly better performance as you should on the A53 5G, but the Galaxy A33 5G shapes up as the strongest Samsung budget model in years, and that's saying quite a bit.