Redmi Note 11 Pro 5G Review: a worthy successor or just a 5G update?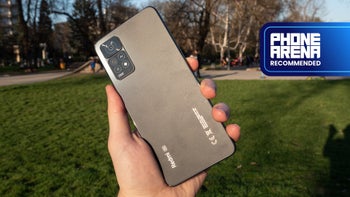 Intro
Xiaomi
has long proven by now that it is one of the best manufacturers of
budget-friendly phones
, offering flagship-like features for affordable price tags. Well, here we have the Redmi Note 11 Pro 5G, which has arrived to prove that statement once again.
The Redmi Note 11 Pro
5G
is just one of the Note 11 Pro trio from Redmi. The other two are the Redmi Note 11 Pro and the Redmi Note 11 Pro Plus 5G.
Now, yes, it definitely has its downfalls and certainly is not for everyone, but depending on what you are looking for, it could be the perfect fit both for your needs and your wallet.
The prices of the Redmi Note 11 Pro 5G can vary, but it goes somewhere between $330 to $400 in the US and €330 to €400 in Europe. It comes in three RAM/storage combos: 6/64GB, 6/128GB, and 8/128GB.
But enough beating around the bush, let's get to the nitty-gritty and see what this affordable Xiaomi phone has to offer.
Design and Display Quality
Much like its predecessor, the Redmi Note 11 Pro 5G is definitely one of the better-looking affordable phones out there. We are used to seeing flashy designs and cheap-feeling builds in this price range, but that's not the case here.
The back panel is made out of glass, although you could easily confuse it for metal. It has a somewhat matte look and is quite good at hiding fingerprints. You will find the Redmi Note 11 Pro 5G in three colors: Graphite Gray, Polar White, and Atlantic Blue, all of which look pretty cool and stylish.
The only buttons you will find on the Redmi Note 11 Pro 5G are the power button and volume rocker on the right side. Both give off a really pleasant sensation when being clicked. Somehow they are soft but also satisfyingly clicky at the same time. Yes, I am aware that this description is on the border of sounding, well, weird, but what can I say—Xiaomi pushed all of the right buttons for me here.
Speaking of buttons, embedded in the power button is the Redmi Note 11 Pro 5G's fingerprint scanner. I wouldn't exactly place my bet on it in a race for the fastest fingerprint scanners, but it does a good enough job. It's worth noting that it seems to be a bit faster if you actually click the power button compared to just placing your finger on it.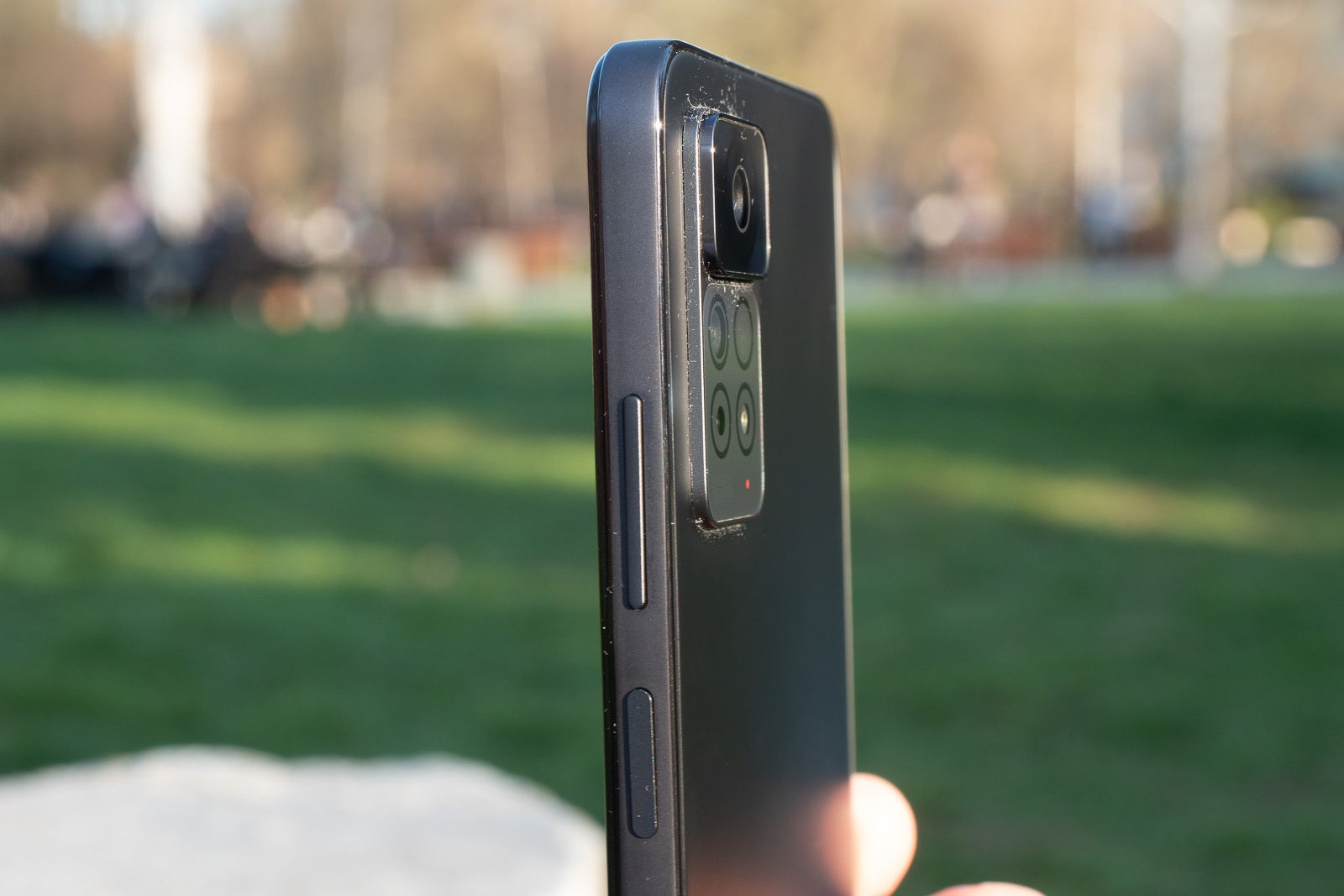 Ports-wise, there is a 3.5mm headphone jack at the top. Wait! Hold your horses. It gets even better! On the bottom, there is a SIM card tray that also doubles as what now? Yes, a microSD card slot! Definitely some bonus points here for the Redmi Note 11 Pro 5G for bringing both wired audio and expandable storage to the table. Oh, yeah, and the USB-C port is there too.
In terms of protection, the Redmi Note 11 Pro 5G is IP53 certified, meaning that it is somewhat shielded against dust and can handle rain or sweat. The glass covering the display is Corning Gorilla Glass 5, but I wouldn't depend on it too much.
If you want to be extra careful, you can install the plastic screen protector and sturdy-looking transparent case that come in the box with the Redmi Note 11 Pro 5G. The screen protector is not installed, so you will have to do that yourself.
Speaking of what's in the box, the Redmi Note 11 Pro 5G also comes with a 67W fast charger, which helps it achieve some amazing charging speeds that I touch upon later, in the battery section of this review.
One of the strongest suits of the Redmi Note 11 Pro 5G is its display. It can go up to 120Hz of refresh rate, or if you want to save a considerable amount of battery, you can reduce it to 60Hz instead.
The 6.67" AMOLED DotDisplay with a resolution of 2400 x 1080 pixels produces great colors, contrast, and viewing angles. The outdoor visibility of the display was decent enough, given that I tested it in bright daylight conditions. I could see what was on the screen without straining my eyes too much.
Lastly, while the Redmi Note 11 Pro is undoubtedly a big phone, so is its display. In other words, the screen-to-body ratio leaves little room for disappointment. Most of the bezels stay thin on all sides, with the bottom one being slightly thicker.
Display measurements and quality
Performance and Software
During regular use, the Redmi Note 11 Pro 5G's Snapdragon 695 and 6/8GB RAM delivered snappy and fluid performance while navigating the UI. Browsing the web and watching media were also a breeze for this budget-friendly Xiaomi phone.
In terms of gaming, the Redmi Note 11 Pro 5G can handle light and somewhat heavy titles, especially in combination with Xiaomi's LiquidCool Technology. If you want to play some more graphically intensive games, though, this is not the phone you've been looking for.
Currently, the Redmi Note 11 Pro 5G is running MIUI 13. Now, Xiaomi's Android skin is definitely not for everybody. That being said, throughout the last couple of years, it's become ever so more user-friendly. Behind MIUI 13, however, lies Android 11, which at this point is starting to feel a bit too old.
In terms of software updates, you can expect two major Android updates, which is not that much, especially given that you are starting out with an already old version. To put it this way, the last guaranteed Android version you will get will likely be Android 13. Security patches will continue for three years though.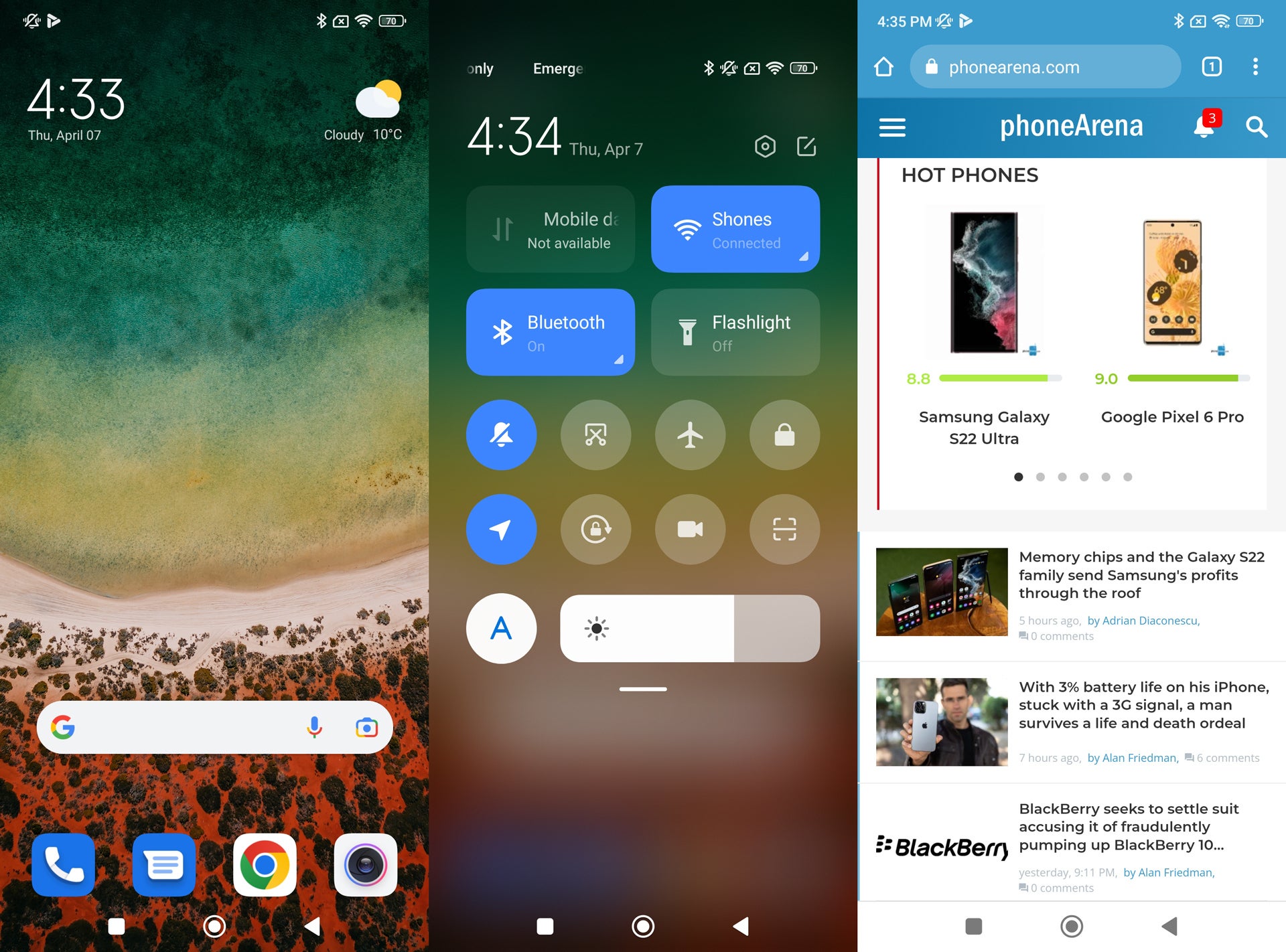 It's almost as if Android and iOS had a kid, and it came with a mixed bag filled with both of those UIs features. A good example of this is the control center which seems to have taken a bit of both worlds, and I've got to say I am a bit of a fan.
What persists to this day, however, is the huge amount of bloatware that comes with the phone. Why is there bloatware you ask? Well, sometimes companies use this type of advertising as a way to reduce a phone's price tag and make it look more appealing when potential buyers look at the spec sheet.
Camera
The Redmi Note 11 Pro 5G has a triple camera setup on the back including the main 108MP with Samsung's HM2 sensor powering it, an 8MP ultra-wide, and a 2MP macro camera.
The main camera does a good job at delivering overall crisp images with vivid colors, however, it tends to overexpose more often than not, which can sometimes result in a loss of detail in the highlights and can make the photo look unappealing. Of course, that can easily be corrected manually but the point here is that it is not always reliable in point-and-shoot situations.
There is also the 108MP mode which gives you some highly detailed shots that you can massively zoom into without losing detail. In my testing, the results were impressive. You could—without a doubt—tell the massive increase in quality. One thing to keep in mind, though, is that you need a good amount of light to make complete use of this mode.
The ultra-wide snapper, on the other hand, as you might expect, does not boast the same detail as the main one. Thankfully, the colors look consistent with the main camera, albeit exposure tends to be a bit darker since the ultra-wide camera is not as sensitive to light.
As for the 2MP macro, contrary to macro cameras on other phones, the one on the Redmi Note 11 Pro 5G does an admirable job in terms of detail and color representation, so props to Xiaomi for that.
The front-facing camera also did not disappoint. The shots I managed to muster up with this little guy were clean, and so were the ones I took in portrait mode. One gripe that I have, though, was the lack of any HDR, which you can see from the blown-out background behind me.
Now, in the camera app menu, there is a button dubbed AI, which I would refrain from using. It's supposed to figure out the scene and accurately adjust settings for a successful image but it was way off during my testing. The AI feature added excessive saturation and confused sunny conditions for snow.
The night mode, on the other side, even though it works only with the main shooter, did an amazing job in low-light scenarios. Dare I say, I was a bit impressed by how well it did, given the phone's price range.
One of the more disappointing parts of the phone's performance was a certain bug while shooting with the cameras. After a few shots, the camera app would freeze and shut down almost every time I tried to take a few shots. Hopefully Xiaomi takes care of that issue in the future.
While taking photos with the Redmi Note 11 Pro 5G is an overall nice experience, I cannot say the same is true for shooting video. First and foremost, the only modes you have are 720p in 30fps and 1080p in 30fps. Now, those modes would have been okay if only the quality was better. Both in terms of detail and stabilization, I was left rather disappointed. A small saving grace of shooting video with this phone is the good audio recording quality.
Audio Quality and Haptics
Speaking of audio, it is definitely one of the better aspects of the Redmi Note 11 Pro 5G. There are two speakers—one on the bottom of the phone and one on the top. Actually, the top side of the phone has two speaker grills, so even if you block one of them the sound still comes out of the other, which minimizes the chance of ruining your YouTube or gaming bing sessions.
The channel separation coming out of the two speakers is also noteworthy. This is probably what Xiaomi is talking about when calling the speakers of the Redmi Note 11 Pro 5G "super linear."
The sound itself is really good for watching media, especially speech and some more vocal music. The bass, however, lacks richness and can sometimes come off as muffled, so I wouldn't replace my Bluetooth speaker with the Redmi Note 11 Pro 5G. The volume also leaves some room for improvement.
Thankfully, if you want to listen to some bass-heavy music and have a pair of wired headphones that can deliver such performance, you can plug them in. Yes, the 3.5mm headphone jack is still here folks!
Moving on to the haptics in the Redmi Note 11 Pro 5G, they are definitely not the best out there, however, they don't leave a cheap feeling impression while using the phone. At least not as much as other affordable handsets on the market.
Battery Life and Charging
The battery in the Redmi Note 11 Pro 5G is 5,000mAh, which is about as much as you would need in a phone like this. In a heavy-use scenario like browsing, watching videos and movies, gaming, I did not manage to completely drain it in one day. Overall, the phone lasted me almost two days with my use.
But even when you reach those single digit percentiles on the battery you just need to plug in the included 67W charger that came in the box and the Redmi Note 11 Pro 5G will be full in no time. I found myself surprised each time I left it to charge and then returned to check whether there was enough juice in it.
Competitors
As good as the Redmi Note 11 Pro 5G sounds, its predecessor—the Redmi Note 10 Pro—bears many of the same great features like the 120Hz AMOLED screen and the 108MP Samsung HM2 main camera sensor, and the 5000mAh battery, to name a few. In other words, you could easily save a few bucks by going for the previous model.
Another alternative is the
OnePlus Nord CE 2 5G
, which offers a cleaner, more vanilla-like Android experience if you will. Although, keep in mind that you lose some of the high refresh rate, going down to 90Hz instead of 120Hz. You also get a single speaker that sounds rather tinny.
Summary and Final Verdict
So, should you buy the Redmi Note 11 Pro 5G? Well, if you use your phone mainly for browsing the web and snapping photos every now and then, it is a great option to consider. You also get great battery life and media watching experience thanks to an awesome screen and pretty good speakers. Let's not also forget the 3.5mm audio Jack and microSD card slot, which are rare nowadays.
Previously, Xiaomi's MIUI software stood as a major gateway, stopping many users from trying out their phones, but that's less of a reason nowadays. Navigating through menus and using the phone's features is easier and more intuitive.
If you want a phone that can produce good video quality and can handle graphically intensive gaming, however, then you should take a look at some other options out there.