Samsung Galaxy Note 10+ vs Galaxy S10+
23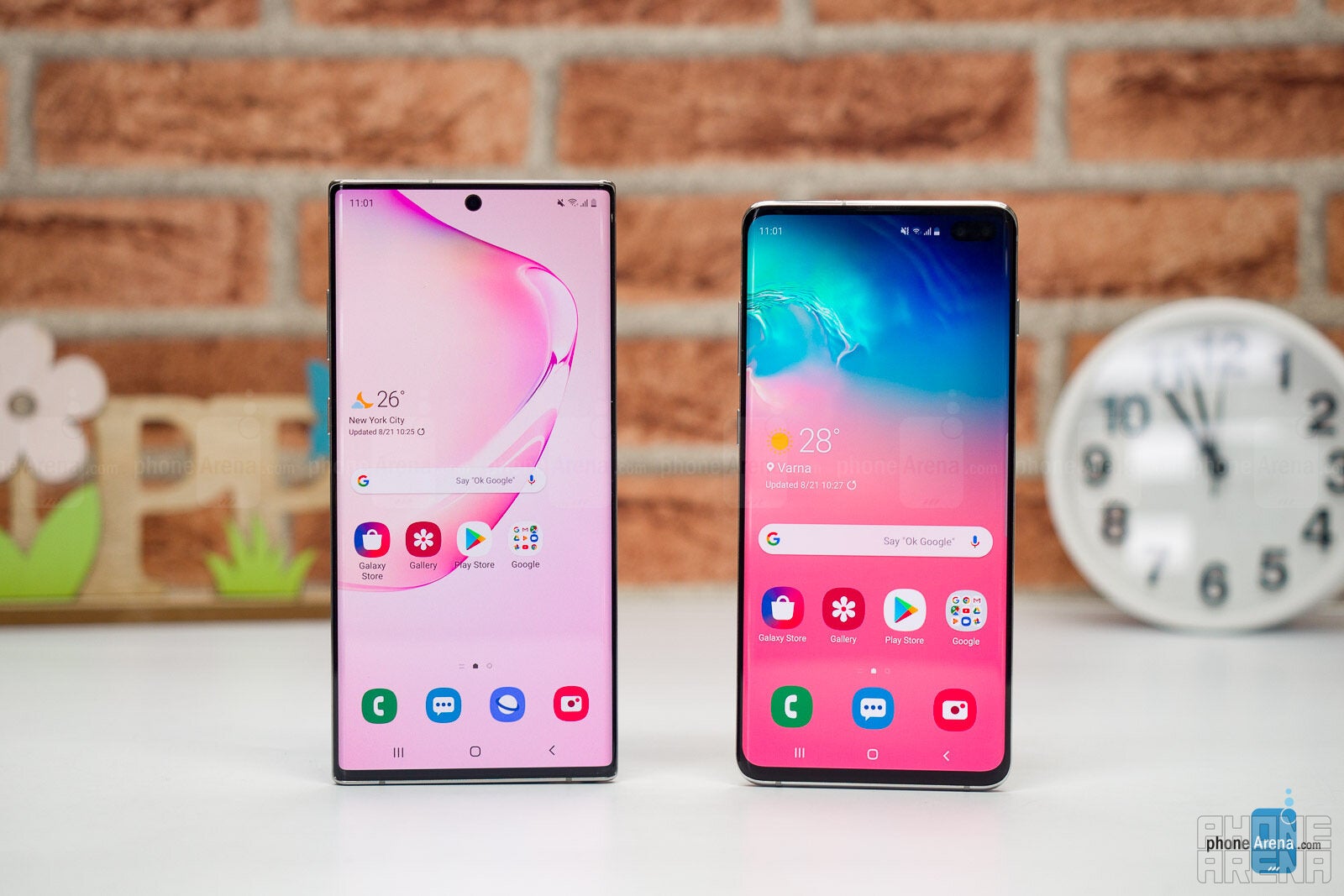 One brand, two phones, and at least a thousand reasons to get either one of them. But if you have to pick, which one should it be? Should you go with the Note 10+ for the S Pen and the larger screen? Or perhaps you should stick with the tried and tested Galaxy S10+, which is more compact and retains the headphone jack? Let's dive further and explore the differences between these two 1000-dollar high-ends.
Design
It is clear – and frankly unsurprising – that the Galaxy Note 10+ and Galaxy S10+ share a great number of design traits. They're both water resistant, they're made of shiny glass and polished metal, and the minimal bezels let their curved Infinity Displays stretch from one corner to the other. The curves on the screens do result in accidental taps near the edge area, but they also make both phones look more premium and stylish.
But if you look closely, you'll spot a few notable differences between the Note 10+ and the S10+.
One is that the Note 10+ lacks a classic headphone jack. It does come with a pair of quality USB-C wired earphones in the box, but if you want to use your own pair, you'll have to spend an extra $15 on a dongle. Or you can get a nice set of wireless earphones, perhaps.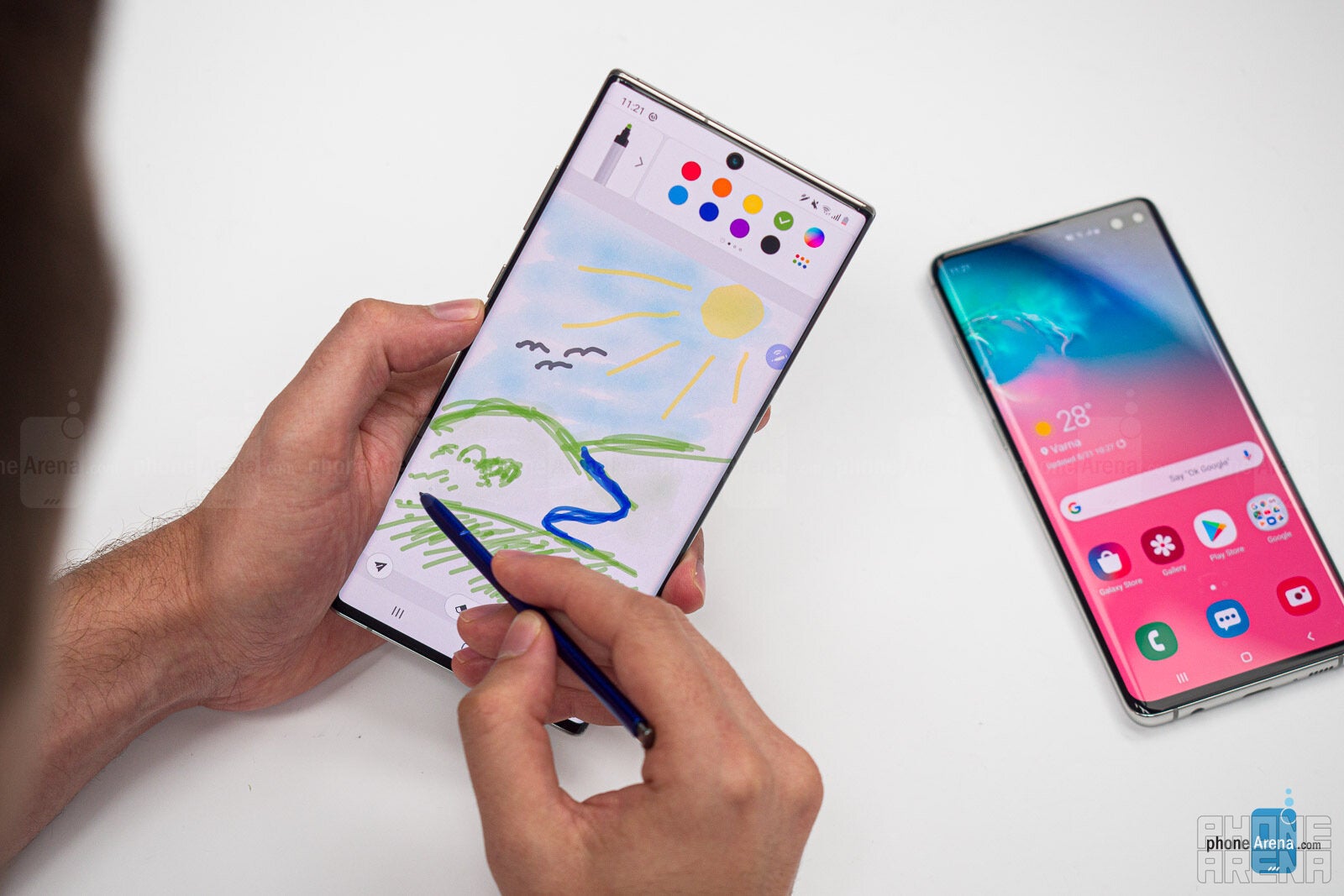 Another difference is that the Galaxy Note 10+ drops the physical Bixby button. To access Samsung's virtual assistant, you simply hold down the power key – which is now on the left, mind you, and positioned lower for easier access. The removal of the Bixby button is a change we're perfectly fine with as it makes pressing it by accident – as you often will with the Galaxy S10+ – a thing of the past.
Of course, the biggest differentiating factor between these two phones is the addition of the S Pen digital stylus with the Galaxy Note 10+. Read more about it in our
Samsung Galaxy Note 10+ review
or in our in-depth article covering
all that you can do with the Galaxy Note 10 S Pen
.
If you're a fan of flashy colors, the Aura Glow Galaxy Note 10+ which we have here will surely draw your attention. This color option is a feast for the eye, creating a rainbow-like visual effect across the Note 10+'s surface. The phone also comes in white, black or blue, in case you prefer something less flashy. As for the Galaxy S10+, the color options are a bit more conservative. It can be had in black, white, blue, or pink. Additionally, the 512GB and 1TB versions of the phone come with a black or white ceramic back which is more resistant to scratching than traditional glass.
Without a doubt, both the Galaxy Note 10+ and the Galaxy S10+ belong to the extra large size category. Still, the Galaxy S10+ is a bit lighter and more compact, as is shown in our size comparison below.
Fingerprint reader and Face Unlock
If you're familiar with the in-display fingerprint scanner on the Galaxy S10+, then you already know what to expect out of the Note 10+ in this regard. In terms of speed, neither phone can match a classic capacitive fingerprint reader. Reliability also leaves room for improvement. Don't get us wrong: the in-screen fingerprint readers on both phones work fine, but given the price, we do wish they performed better.
One thing worth pointing out is that the fingerprint reader on the Note 10+ is about an inch higher than that on the S10+. This should make it easier to reach and operate.
Alternatively, there's Face Unlock on both the Galaxy Note 10+ and Galaxy S10+. The feature is not as advanced or as secure as Apple's Face ID, which makes a detailed 3D scan of your face instead of just taking a flat, 2D image. It is there mostly for convenience, not to make your phone unhackable.
Display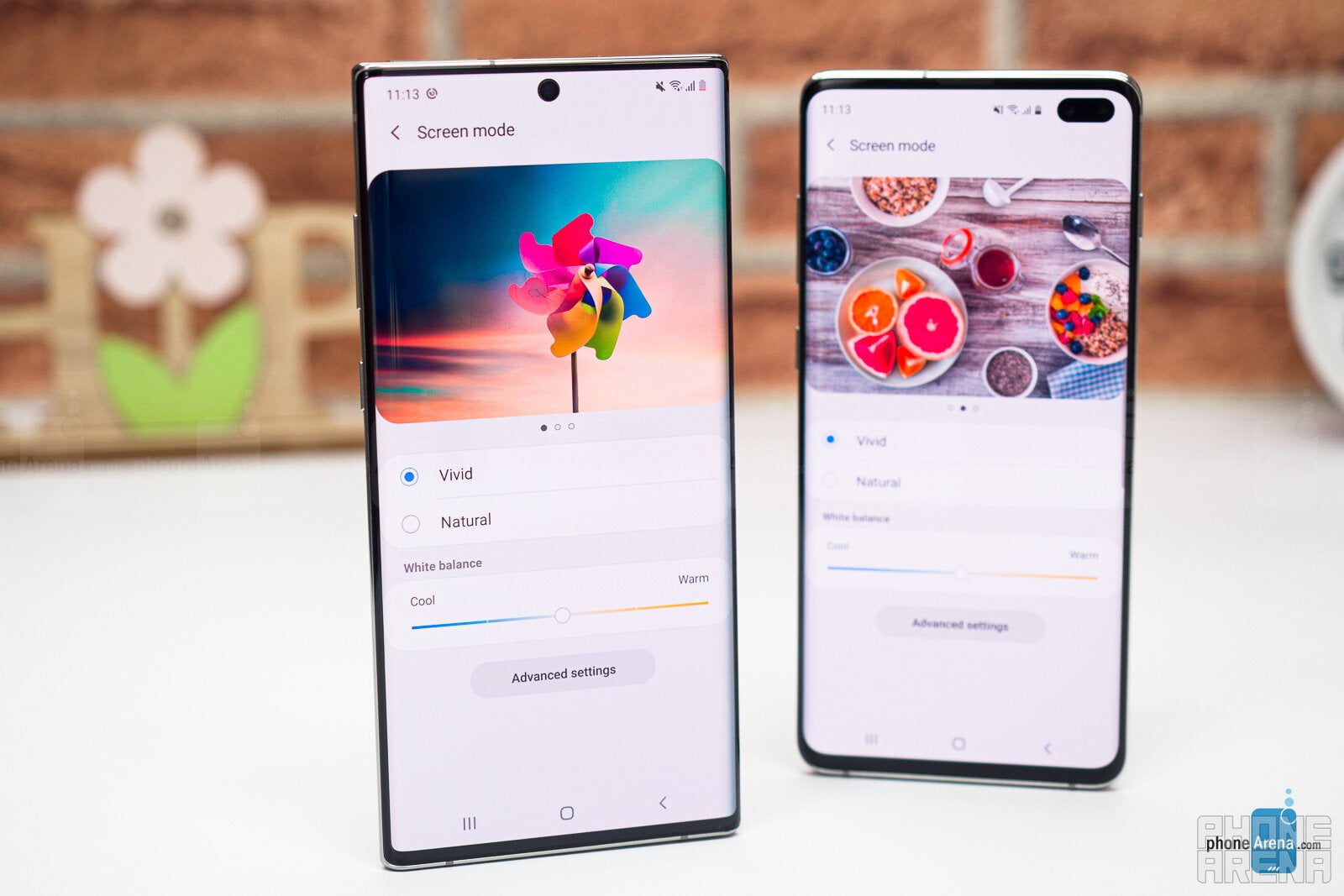 There's not a whole lot to say here. All you need to know is that both the Galaxy Note 10+ and Galaxy S10+ treat your eyes to lovely, accurate colors and visuals of high resolution. Both OLED displays look gorgeous, as they should. Of course, the Note 10+ has the size advantage as it gives you an additional 0.4 inches of real estate.
For the ultimate viewing experience, however, you might want to go into Settings and set the display resolution to maximum. Both phones run at 1080p resolution by default, presumably to save battery and improve performance. And speaking of screen settings, both phones give you two display color modes: natural and vivid. The former favors color accuracy while the latter pumps up the saturation a bit to make the screen pop a bit more.
You may have noticed that both screens have cutouts for the front-facing cameras. The one on the Note 10+ is circular and centered, and the one on the S10+ is pill-shaped and offset to the right. Both can be distracting at first, but as with many things, you get used to this peculiarity over time.
Display measurements and quality
Software and Interface
Hardly a surprise, both the Galaxy S10+ and Galaxy Note 10+ run Android 9 Pie out of the box, with the addition of Samsung's One UI software on top of it. Visually and functionally, both phones are very similar. Among the major differences are the specialized S Pen features found on the Note 10+: Screen-off Memo, AR Doodle, remote controls and more. Again, you can learn more about those in our dedicated article covering all the
Galaxy Note 10 S Pen features
.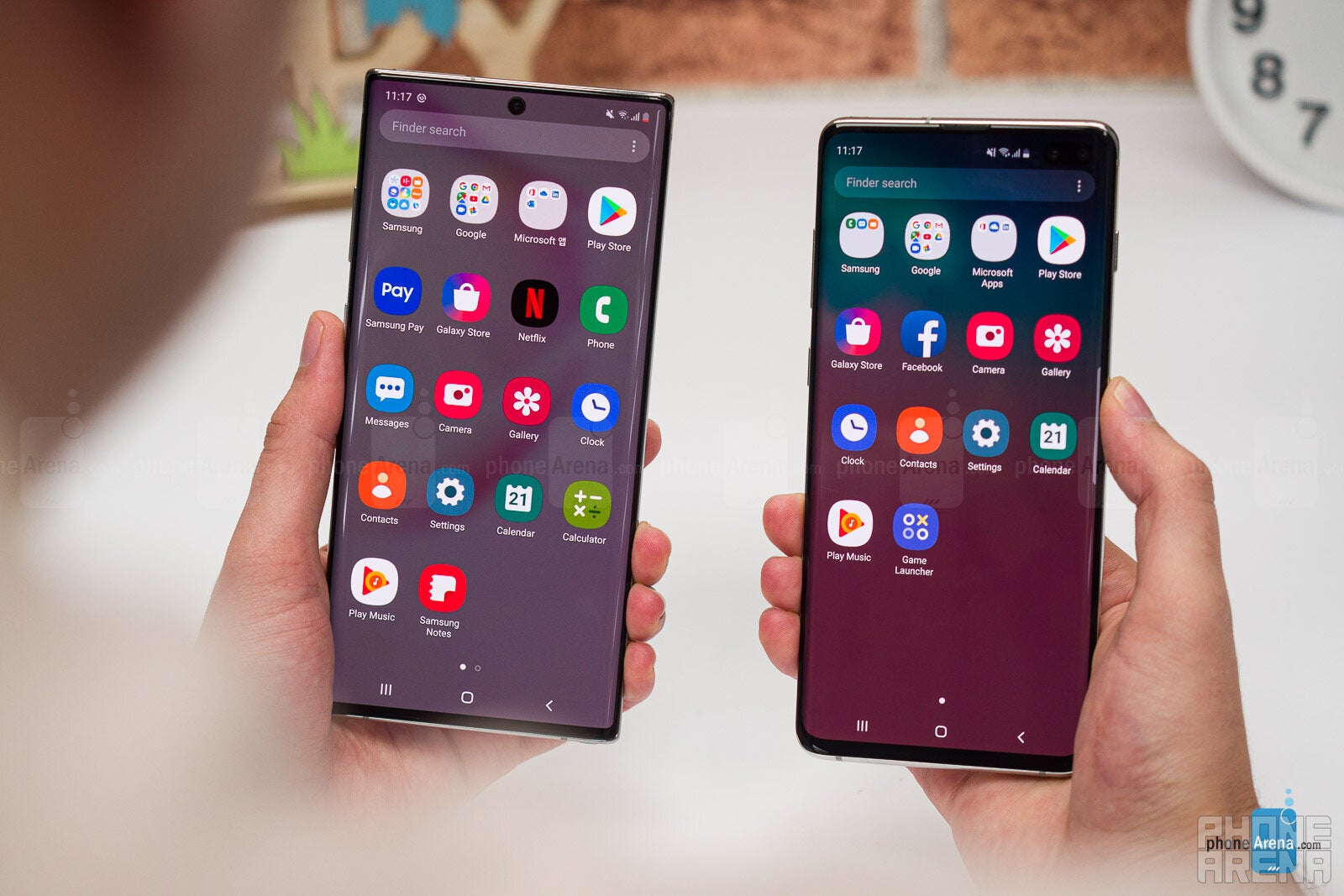 S Pen-powered tricks aside, the Note 10+ and S10+ come with many conveniences you'd expect to see on a modern high-end phone: an always-on display, user interface themes, a blue light filter, a dark mode, and a secure folder for all your private stuff, to name a few. Gesture navigation is also an option in case you don't like the default on-screen buttons, although Samsung's implementation of gestures isn't our favorite.
Both the Galaxy S10+ and the Note 10+ support DeX, Samsung's desktop software experience. What this means is that you can hook them up to a display, keyboard, and a mouse to use them much like you would a desktop PC – with windowed multitasking, keyboard shortcuts, and all that good stuff. But right now, only the Note 10+ supports additional DeX features, such as DeX for PC and Link to Windows. This lets you drag and drop files between platforms, get your smartphone notifications on your PC's desktop, and more.
Processor, performance, memory
The Samsung Galaxy Note 10+ and Galaxy S10+ you'll find in the US are at the same level when it comes to processing power. Both feature the powerful Snapdragon 855 SoC – but not the newer 855+ which has faster graphics. As expected, the two post high benchmark results and run heavy games just fine.
In global markets, the Note 10+ is equipped with the newer Exynos 9825 chip, while the Galaxy S10+ ships with the Exynos 9820. Because of this, we expect the global Galaxy Note 10+ model to have the upper hand in terms of performance and/or power efficiency vs the global Galaxy S10+.
RAM stands at 12GB for the Galaxy Note 10+, which might seem like overkill since it's what you'd expect to find on a laptop. But all this memory might come to good use if you're a heavy DeX user. And you know, it makes the phone more future proof. The storage at your disposal is a generous 256GB in the base Galaxy Note 10+ model, and a 512GB model is also available for a few extra dollars.
The Samsung Galaxy S10+ comes in three configurations. 8GB of RAM and 128GB of storage is what you'd find in the base version – and that would be enough for most people. Heavy users can choose between two extra-powerful variants: 12GB RAM + 512GB of storage or 12GB RAM + 1TB of storage.
It should be pointed out that the Galaxy Note 10+ uses the newer UFS 3.0 type of storage which means it achieves much faster read/write speeds for better performance with heavy tasks. Both the Galaxy S10+ and the Note 10+ offer a microSD card slot for further storage expansion.
Camera
On the hardware side, not a whole lot has changed. Both the Samsung Galaxy Note 10+ and the Galaxy S10+ have a powerful combo of cameras at the back comprised of a main camera with dual aperture, a secondary 2x zoom telephoto camera, and a third camera with a super wide-angle lens. The Galaxy Note 10+ throws an additional ToF (time-of-flight) sensor that helps with measuring distance to subjects, allowing the phone to take better portrait photos. The S10+ has a ToF sensor as well – but on the front, to improve the quality of selfie portraits.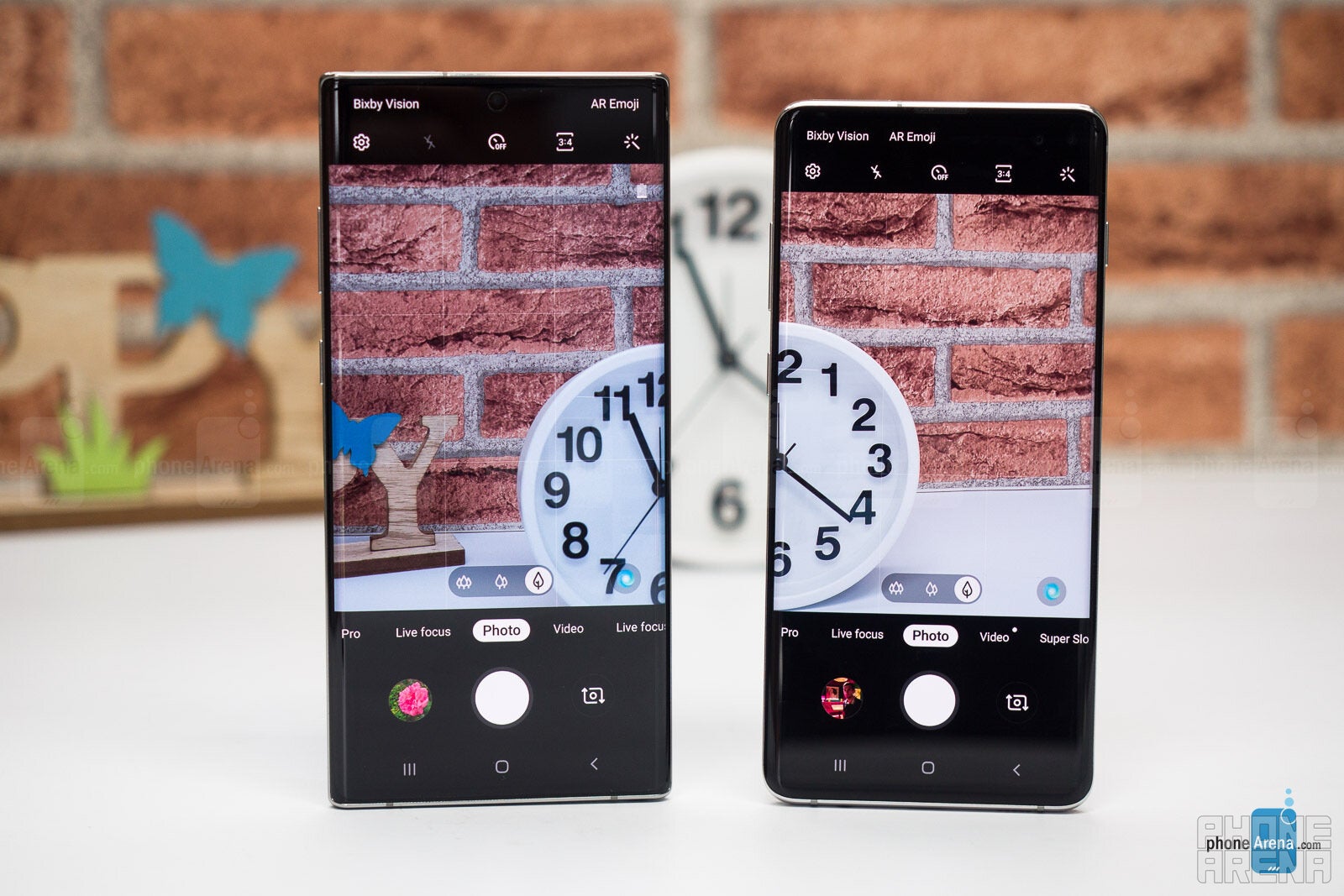 Image quality is on the same high level, as expected. We do see a tad more contrast and saturation in the Note 10+'s photos, but overall, we'd say that both phones perform equally well. When using Live Focus, Samsung's portrait mode, the Galaxy Note 10+ clearly has the upper hand as it is able to more precisely separate the subject from the background, without blurring strands of hair or the rims of glasses too often.
Now that we've mentioned Live Focus, we have to point out that only on the Note 10+ you can get the same effect for videos. Unfortunately, the results look disappointing. The background blur effect looks too artificial when you have movement in the frame, as it lags behind the subject.
The list of additional camera features you'll find on the Note 10+ includes AR Doodle and Zoom In Mic, both of which we tested for our Galaxy Note 10+ review. Its Video Editor is another useful addition, letting you add filters, text, stickers, and music to your videos. You can use it to combine clips, too.
Sound and call quality
Both the Samsung Galaxy Note 10+ and the Galaxy S10+ come with stereo speakers – one at the bottom and another doubling as an earpiece. Music sounds really good on both, with clear mids and highs and a good presence of bass notes (good for a phone, of course).
Now's a good time to remind you that the Galaxy Note 10+ doesn't have a 3.5mm headphone jack, but the Galaxy S10+ does. Samsung's official dongle for the Note 10+ costs 15$. But you won't necessarily need it because the Note 10+ comes with a pair of AKG-branded USB-C earphones in the box. And they do sound really good.
Battery life
The Galaxy Note 10+ and Galaxy S10+ come with some of the biggest batteries ever put in a Samsung phone – with capacities of 4300 and 4100mAh respectively. But at the same time, both phones appear to be power-hungry beasts. The results from our battery benchmark indicate that both deliver good battery life, though they're not the leaders in the high-end segment. In any case, you should be getting solid screen-on times with either phone.
The recharge speed is what makes the Galaxy Note 10+ shine. With its 25W charger, the phone charges from zero to full in only about an hour while the S10+, bundled with a less powerful charger, takes 1 hour and 40 minutes.
Both phones support Samsung's Reverse Wireless Charging tech, allowing you to recharge a phone or an accessory that has wireless charging compatibility. The process is quite inefficient, but we can't deny that charging your Samsung Galaxy Buds on the go is convenient.
Conclusion
Now it's time to bring pricing into consideration. Since it has already been around for half a year, the Galaxy S10+ is easier to find on sale, be it at a carrier or at your favorite big-box retail store. Amazon currently has the base, 128GB model for $830. At Samsung's official store, you can get one for $1000 bundled with a free Chromebook – or for $800 with service from a carrier. At about $1000 to $1100 for the base, 256GB unlocked model, the Samsung Galaxy Note 10+ is generally a bit more expensive. But if you're buying yours with monthly installments through a carrier, then the difference becomes negligible.
And if pricing is not an issue, then we'd recommend going straight for the Galaxy Note 10+. You not only get a bigger phone with a flashy paintjob. You're getting Samsung's versatile S Pen, a richer DeX experience, more storage space for your stuff, and a bigger battery with much faster charging.
On the other hand, if you don't find much of a use for Samsung's S Pen, the Galaxy S10+ would be a good choice – though only if you're getting it at a considerably lower price. You'll get a lighter, great-looking phone with an equally beautiful display and powerful set of cameras.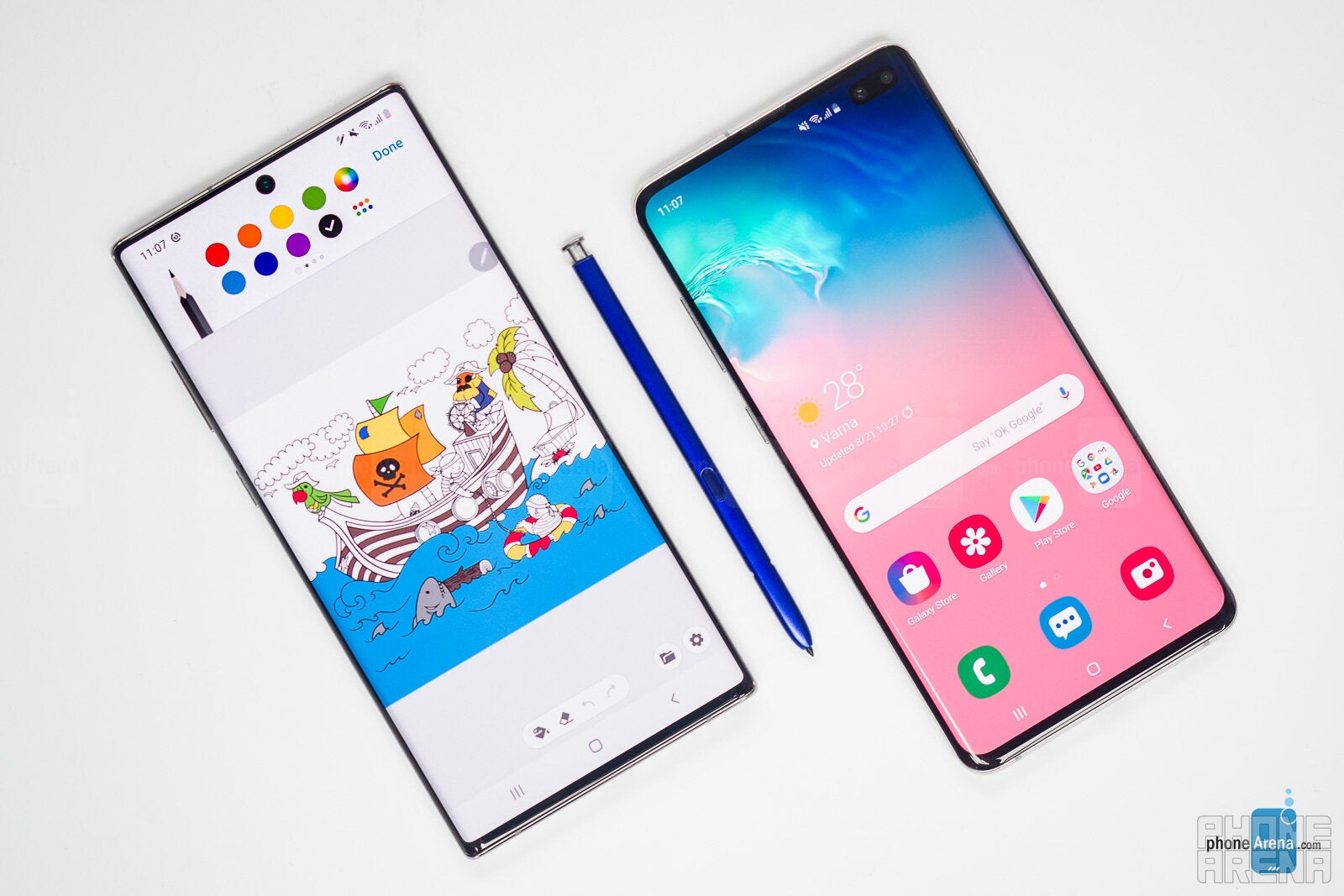 Recommended Stories