Samsung Galaxy Note 10+ Review
99+
The Galaxy Note series has always been about delivering the most feature-packed, most advanced flagship experience with a focus on productivity with the S Pen. And while the Galaxy Note 10 and Note 10+ are in many ways the most advanced phones that Samsung sells in 2019, they're also not all that much different from the S10 series.
At least that's how things look on the surface: the Note 10 and S10 series share the same processor, they have very, very similar cameras, and battery life is comparable.
So is the S Pen the only reason to buy a Note 10 or 10+ over a Galaxy S10 model? We think there's more to it: subtle differences that build up for a new experience. Read on to find out all about these little things that make the Note stand out and if it's ultimately worth buying.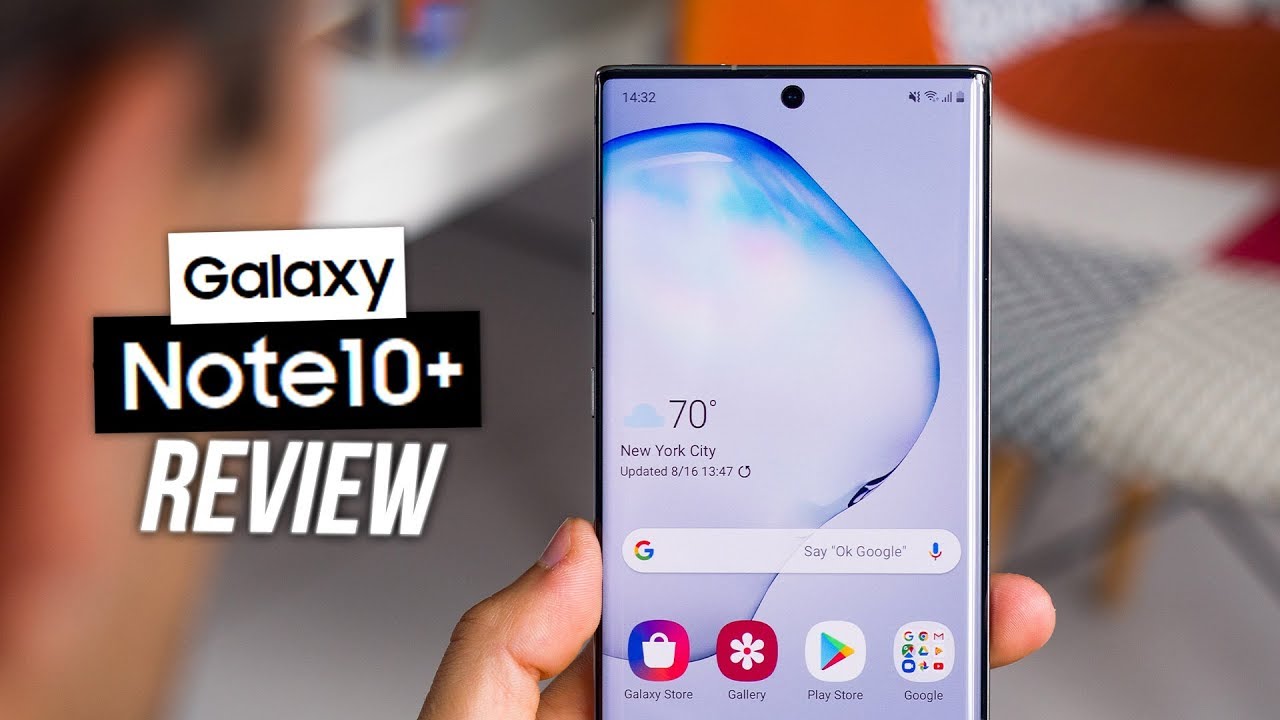 What's inside the box:
Phone with S Pen
25-watt wall charger (USB-C)
USB-C to USB-C cable
USB-C in-ear headphones (tuned by AKG)
Tweezers and 2x extra tips for S Pen
SIM tool
1x USB-C to regular USB adapter
1x USB-C to microUSB adapter
User Manual
Design
Two sizes, beautiful design, and no headphone jack
For the first time ever, this year, Samsung has two different sizes for the Note. The Galaxy Note 10 is a refreshing, truly compact phone about the size of an S10 – a very pocketable device that is easy to use with one hand.
Then there's the positively gigantic Note 10+. This truly is an "XL" type of device that is about the same size or bigger than the iPhone XS Max, Google Pixel 3 XL and OnePlus 7 Pro. It is a bit lighter than most such large phones, though, and the tapered edges make for a relatively comfortable grip.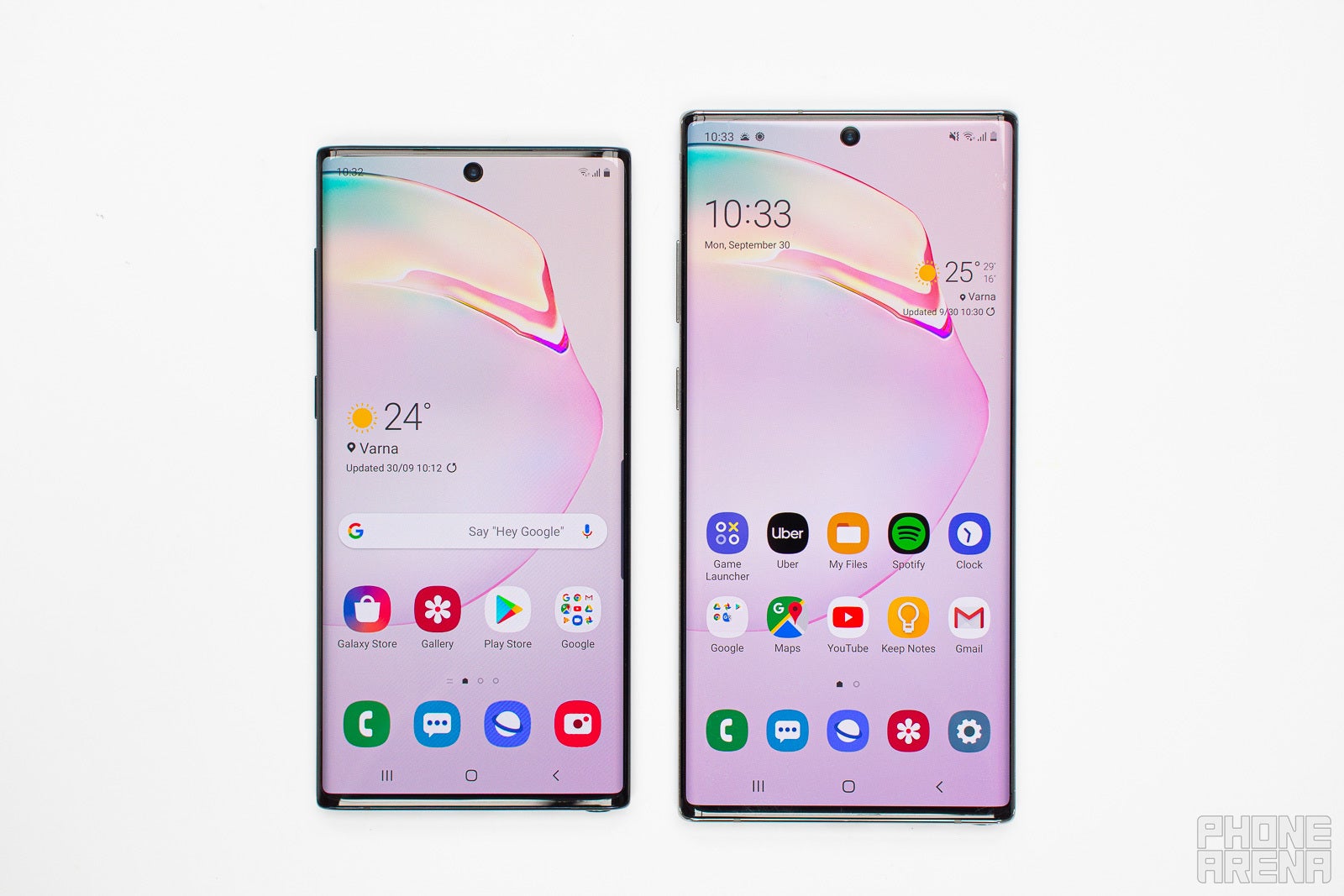 Note 10 and Note 10+
Both Note 10 models are very stylish. The construction itself is sturdy, with glass on the front and the back, and an aluminum frame in the middle.
For the bigger Note 10+ there are four official colorways: a classic black, a white one, a blue variant, and then a fourth, "Aura Glow" version where the back reflects surrounding light transforming into all sorts of gradients, shapes and colors, and it looks mesmerizing. This Aura Glow version is definitely our favorite. Meanwhile, the smaller Galaxy Note 10 comes in black, white, Aura Glow, red, or pink. The last two colors are very hard to find in the US.
One interesting thing Samsung did is move all the physical buttons on the left side, while most other phones have at least the power key on the right. This is definitely a somewhat weird decision that took a bit of time to adjust to, but we would not call it a big problem by any means. We did, however, notice that the power key wobbles a bit on the bigger Note 10+, something we did not quite expect from such a premium phone.
Just like earlier Samsung flagships, the Note 10 and 10+ feature IP68 water and dust resistance rating, meaning that they will survive an accidental drop in water.
And yup, what you heard is true: there is no 3.5mm headphone jack on the Note 10 or Note 10+.
In-screen Fingerprint Scanner and Face Unlock
Better, not perfect.
The Note 10 and Note 10+ use an ultrasonic fingerprint scanner embedded under the display, the same technology that Samsung introduced earlier this year on the S10 series. The placement of the reader is different now. It has been moved a bit higher, presumably to make it easier to operate.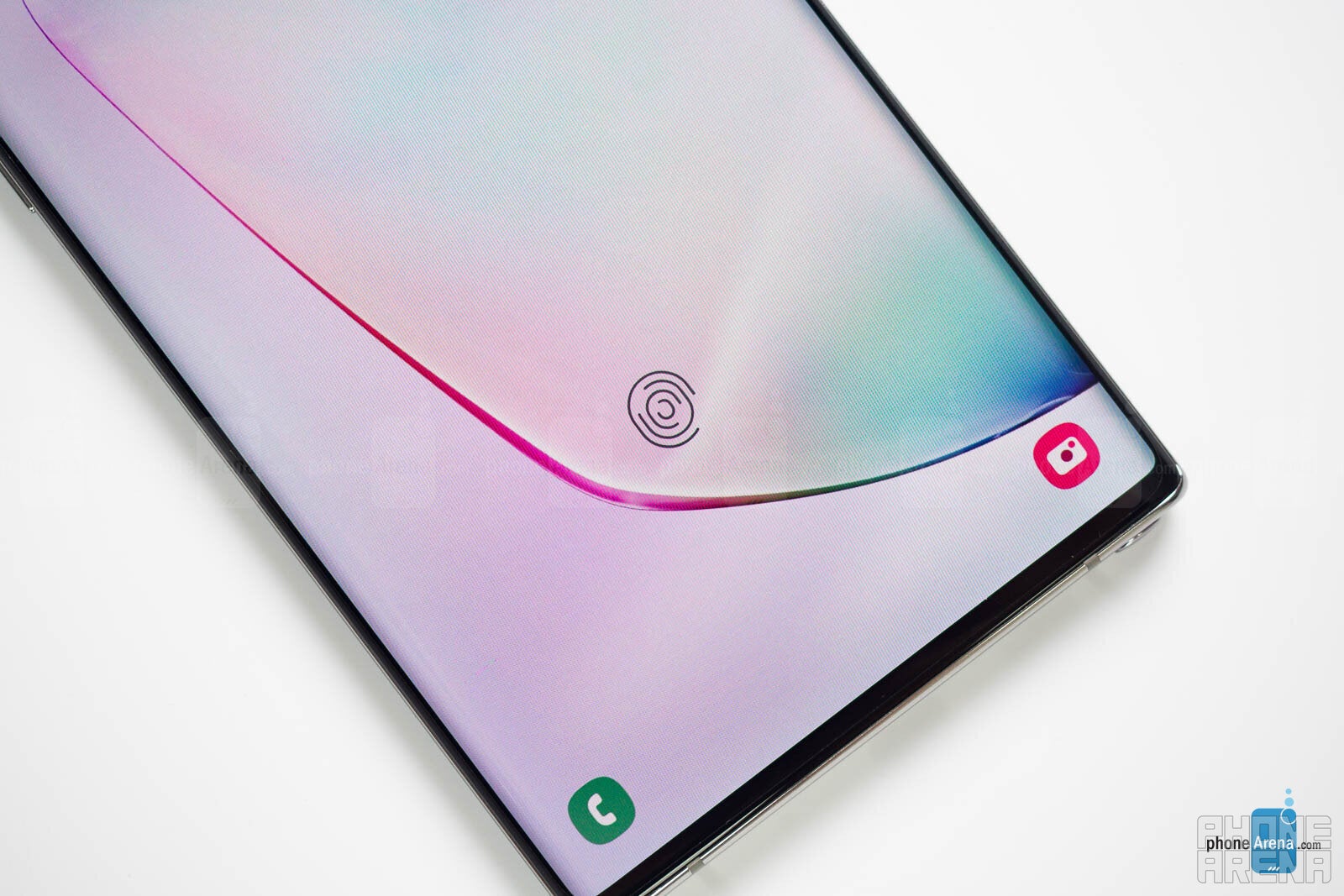 With the S10, we found the fingerprint scanner's reliability to be a bit hit-or-miss. It would not always recognize a fingerprint at first go. Compared to newer optical fingerprint scanners like the ones on the Huawei P30 Pro and the OnePlus 7 Pro, it was slower and not quite as accurate. And, unfortunately, the same holds true for the Note 10 and Note 10+: we still don't feel that the ultrasonic fingerprint reader on it is quite as good as the newer optical sensors.
You also get the good old picture-based face unlock feature. This is not comparable to the detailed 3D scans that you get with Face ID on iPhones: it's not as secure and does not work as well in lower light, but you do have the option to use it.
Display
6.3 or 6.8 inches of incredible colors!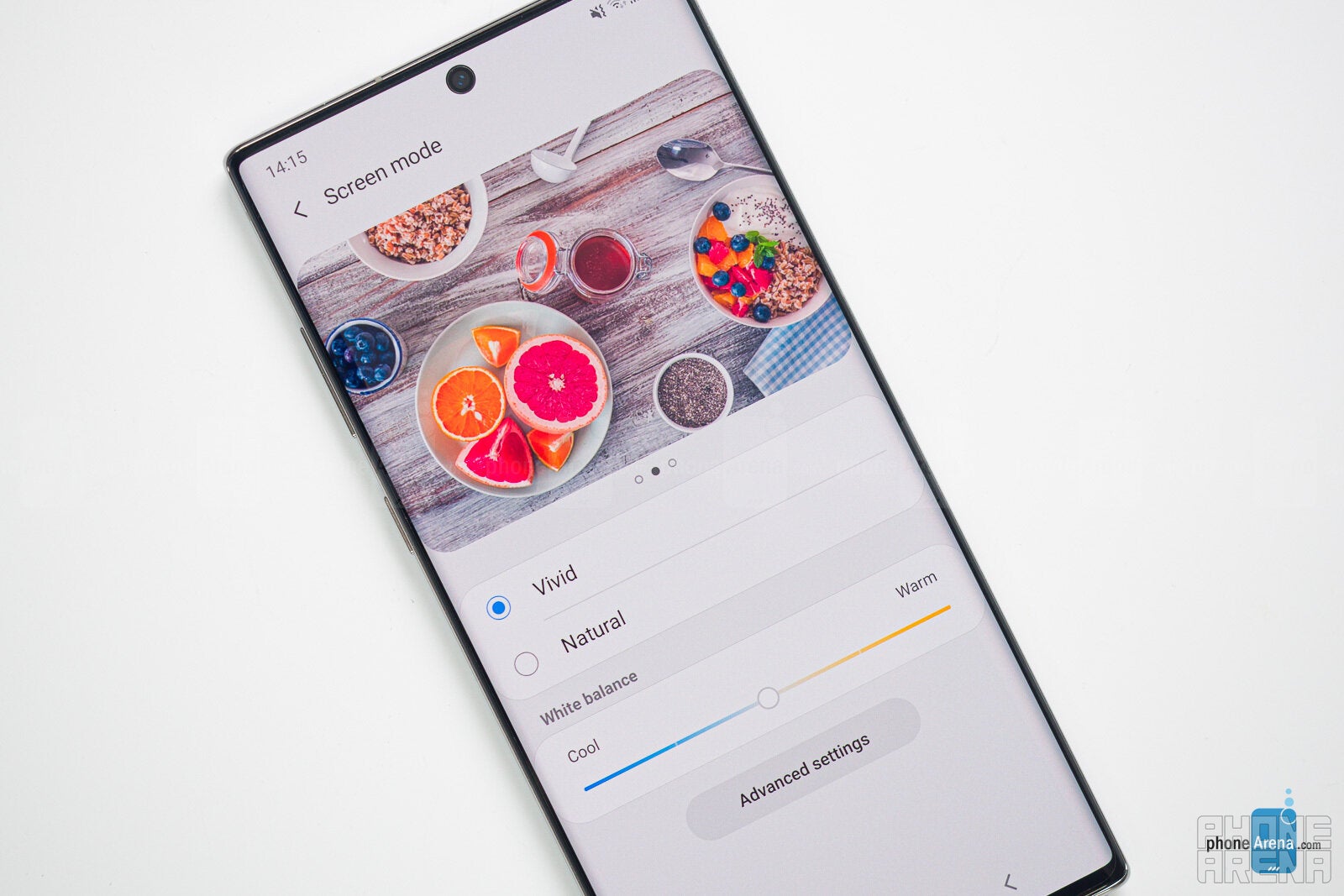 The number one reason why you should want a flagship phone these days has to be the screen. Both the Note 10 and the Note 10+ are every bit as gorgeous as their premium prices suggest: the Note 10 has a fairly large, 6.3-inch AMOLED display while the 10+ has a gigantic, 6.8-inch AMOLED screen. Both get very bright so they're easy to see outdoors. They display beautiful, vibrant colors, though we did notice with a naked eye that our particular Note 10 unit has a slight greenish cast when displaying shades of gray. We hope that ours is an isolated case. But in every-day use, you might not even notice this. Both are great screens overall.
You should also know that the resolution is Full HD+ for the Note 10 and the higher Quad HD+ for the Note 10+. However, by default, the screen on the 10+ is set at Full HD+ for battery economy and really because the difference is small. We tried switching to the higher resolution, but in regular use, we simply did not notice much of a difference in sharpness, so we ended up using the phone at the default, Full HD+ setting.
You also have a couple of different color settings on both: you have the natural and the vivid color modes. The natural one looks more realistic, but if you want the impressive, saturated colors that really pop, you should switch to the vivid mode.
We should also mention the punch-hole camera, which is now in the center. It's quite small, smaller than the punch hole on the S10, and while it is a bit of a distraction when you are watching full-screen video, we don't mind it much.
Despite everything great about these screens, we should also mention that they fall short of a new industry trend: 90-hertz refresh rate. The OnePlus 7 Pro and a few gaming phones have such higher refresh rates, and it makes for a truly buttery-smooth performance, while the Galaxy Note 10 and Note 10+ skips on this cool technology, refreshing at the traditional 60Hz.
Finally, we should also note something that might bother you with these screens: since they have such tiny bezels, we often got phantom touches. These are unintended touches from just holding the phone that interrupt your experience and we saw them happen quite often, especially with the Note 10+. This probably has something to do with the slightly tapered edges of the screen that come in contact with the hand holding the phone, but whatever the reason, it seems like something that should be addressed with some sort of palm rejection.
Display measurements and quality
Interface and Functionality
One UI: better looking, but still lacking the smoothness of iPhone or Pixel
The Galaxy Note 10 and Note 10+ come with the latest Samsung software, One UI 1.5 on top of Android 9 Pie.
And it looks quite good: One UI is now better optimized for single handed use with more controls in the easier to reach bottom part of the screen, it looks stylish, it has a few useful options on top of stock Android, but it still does not run as smoothly as an iPhone or a Pixel phone. There is a slight, but noticeable stutter as you have to wait for the keyboard to appear an extra moment or two, and the same goes for notification shade, and places like the app drawer that appear with a sudden, jittery motion rather than a nice, smooth animation. These are not deal breakers by any means, those are just tiny details that we have noticed throughout the years and that Samsung somehow just can't quite fix.
The one new feature that we loved the most here is something superficial: it's the wallpapers! The new live lockscreen wallpapers are a delicious piece of modern smartphone art that look absolutely stunning. The selection of built-in static wallpapers is also very impressive, centered around a bubbly theme it brings the best out of the screen's qualities.
S Pen
The unibody design makes a huge difference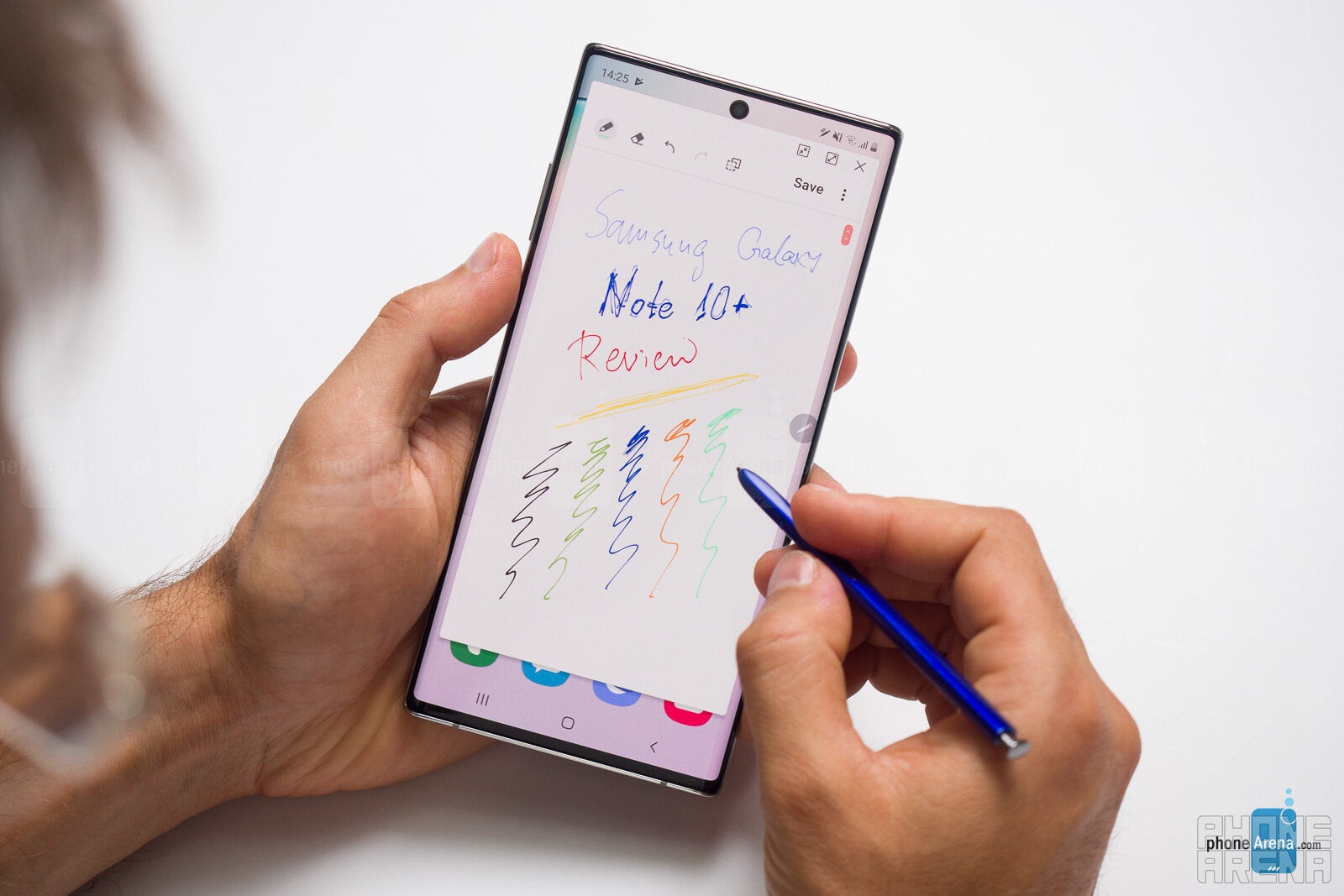 The biggest change with the S Pen in the Note 10 and Note 10+ is just the way it feels. It's now a unibody design, meaning that it feels more solid and sturdy. While on previous S Pens you could hear a bit of a rattle and they felt a bit cheap, this one feels way more premium.
For all else, it's of the familiar form and size, with a single physical button. Lockscreen memos where you take the S Pen without even waking up the phone and you could directly jot down notes are still here, and as convenient as ever.
What's new has mostly to do with the S Pen's new functionalities as a magic wand. First, it features a new battery inside that lasts up to 10 hours and it automatically charges when you insert it in the Note. But now you can use it to control the camera app: hold the button and swipe up and down to switch between the front and rear cameras, swipe to the side to switch between different camera modes, and make a circle and hold the button to zoom in and out.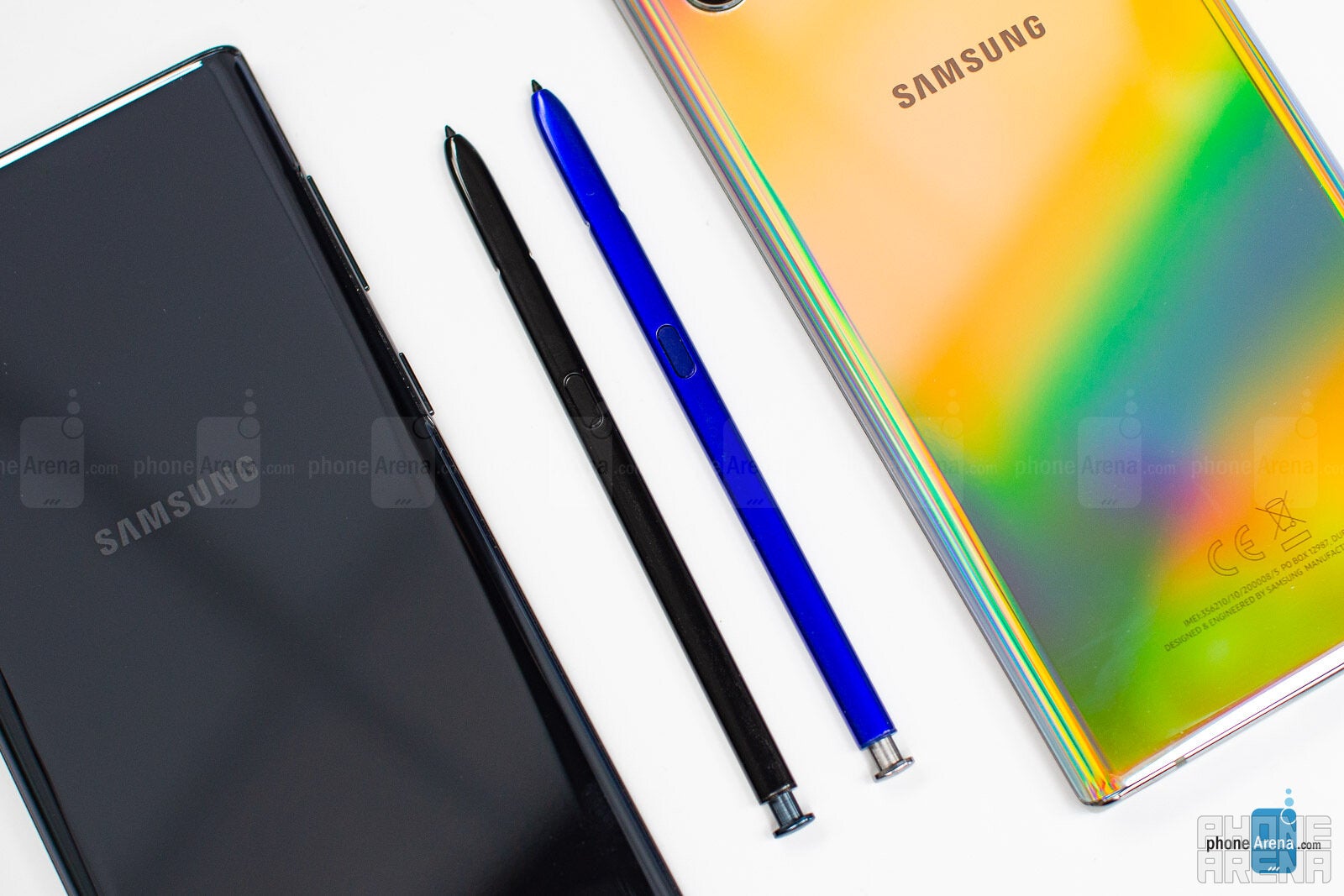 On the software side, Samsung's Notes app is now better at recognizing hand-written text. It would recognize ours, which means it's quite good at it, and it can then easily convert your hand-written notes into a Microsoft Word file.
You also have the AR Doodle option in the camera where you use the S Pen to draw on top of someone's face. It's a fun gimmick, but… a gimmick, and not much more.
Processor, Performance and Memory
The fastest storage ever on a phone
The Note 10 and Note 10+ come in two different flavors when it comes to hardware: in the United States, the phones are equipped with the Snapdragon 855 chip (
not
the most recent 855+), while everywhere else around the globe, the phones are powered by Samsung's own Exynos 9825.
We have not yet had a chance to do a direct 1v1 comparison between these two different flavors, and you should know that the models that we have up for review is the one with the Exynos chip.
With this in mind, we should say that on paper, the Note 10 and Note 10+ are beasts: they fly in benchmarks receiving top scores, they perform excellent in games, and the 10+ in particular features an immense 12GB of RAM which is a sweet overkill.
One tiny detail that you might have missed is that the Note 10 and Note 10+ not only have an incredible 256GB of storage in the base version, but that storage is also of the new UFS 3.0 standard and it is the absolute fastest storage of any phone we have tested so far. Below you will find some benchmarks scores performed on the Note 10+, but if you are curious about the real-life implications of having such fast storage, it is just that everything loads and runs faster, from large games and videos to smaller files.
| Phone | Sequential Read | Sequential Write | Random Read | Random Write |
| --- | --- | --- | --- | --- |
| Samsung Galaxy Note 10+ (UFS 3.0) | 1512 MB/s | 583 MB/s | 192 MB/s | 194 MB/s |
| OnePlus 7 Pro (UFS 3.0) | 1425 MB/s | 220 MB/s | 160 MB/s | 24.3 MB/s |
| OnePlus 6T (UFS 2.1) | 731 MB/s | 206 MB/s | 139 MB/s | 22.6 MB/s |
| Samsung Galaxy S10+ (UFS 2.1) | 815 MB/s | 194 MB/s | 134 MB/s | 24 MB/s |
Yet despite all of these incredible improvements, we can't say that the Note 10 or Note 10+ quite match an iPhone, a Pixel or a OnePlus when it comes to perceived smoothness in daily operations. There is a bit of a delay when opening the keyboard, when swiping the notification shade, and when opening the app drawer. It's not huge by any means, but it's there, and the only thing we can attribute it to is the custom Samsung One UI.
You should also know that if the built-in storage is not enough for you, this Note 10+ model does support memory expansion via microSD cards. It features a hybrid card slot meaning that you can either use it in a dual-SIM OR in a one-SIM-one-microSD card config. The smaller Galaxy Note 10 does NOT have a microSD card, but a 512GB version is available.
Camera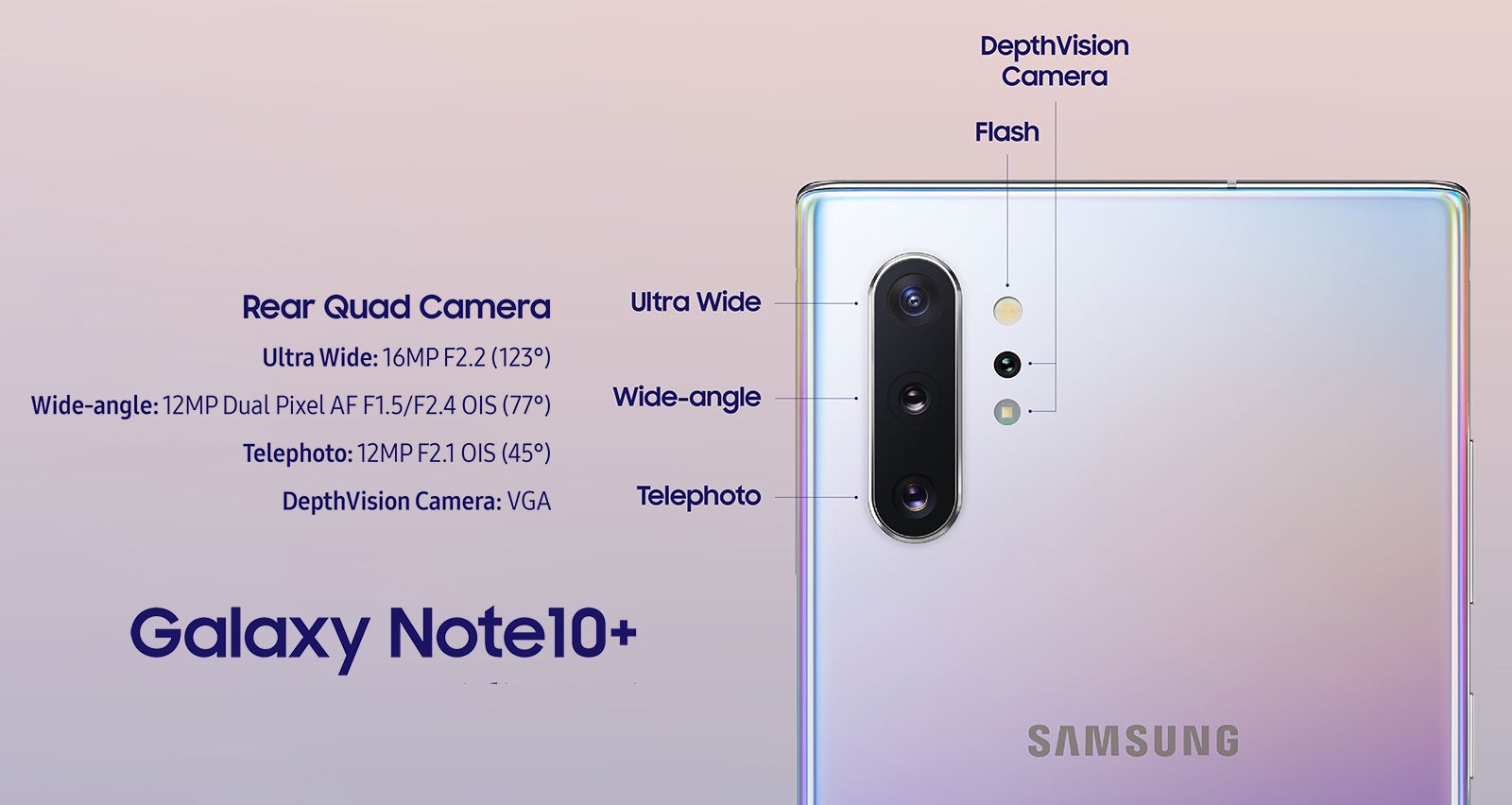 The Samsung Galaxy Note 10 and Note 10+ have very similar cameras to what we have seen in the Galaxy S10 series, but there are a few slight tweaks made here and there.
Technically, the Note 10+ comes with four cameras on its back and one on the front. Here are the specs:
12MP main camera, f/1.5-f/2.4, OIS
16MP ultra-wide camera, f/2.2
12MP 2X telephoto camera, f/2.1, OIS
DepthVision VGA
10MP front camera
The difference in the Note 10 is that it lacks the DepthVision camera of the Note 10+. This camera is what other companies refer to as a Time-of-Flight (ToF) camera. It helps the phone better determine the depth in an image for better Live Focus images. Here's a quick example of how the Note 10 couldn't quite separate the frame of the glasses from the background:
Image Quality
So how do images typically turn out?
Well, excellent really! Samsung has changed a bit the color reproduction from the S10 series and it has managed to squeeze a bit more detail from the sensor so you get slightly better photos.
We love the colors here: we would describe them as not quite 100% realistic, but instead they have a bit more saturation and punch. The exposure is a tiny bit brighter, typical for Samsung phones, and you get similar colors from all three different lenses on the back.
In comparison with the iPhone and the Pixel, the Galaxy stands out with its balanced and cheerful colors. It does not go overboard with contrast like the Pixel and it does a better job exposing the face than the iPhone. It's not always that way, but generally you get very consistent and very likable results with the Note 10+ cameras.
Night Mode arrived as an update for the S10 series, but it did not work with the telephoto lens. With the Note 10 and Note 10+, Night Mode now works with all three cameras. It's definitely not as fast as Google's Nightsight mode as it takes a few long seconds shooting and then saving the images, but if you have the patience it does bring a lot more light and color in the frame even in pitch black conditions. Take a look at how it looks below:
Samsung calls its portrait mode where the subject is in focus, while the background remains blurred out Live Focus and you can use this mode with both the regular and the telephoto lens on the Note 10 and 10+. We recommend using the telephoto lens because of its optical qualities: it is more flattering for faces that look better proportioned on it.
You also have a 10-megapixel camera for selfies. It also supports Live Focus so you can blur the background and it does a very good job, with a good amount of detail and with vibrant colors.
Video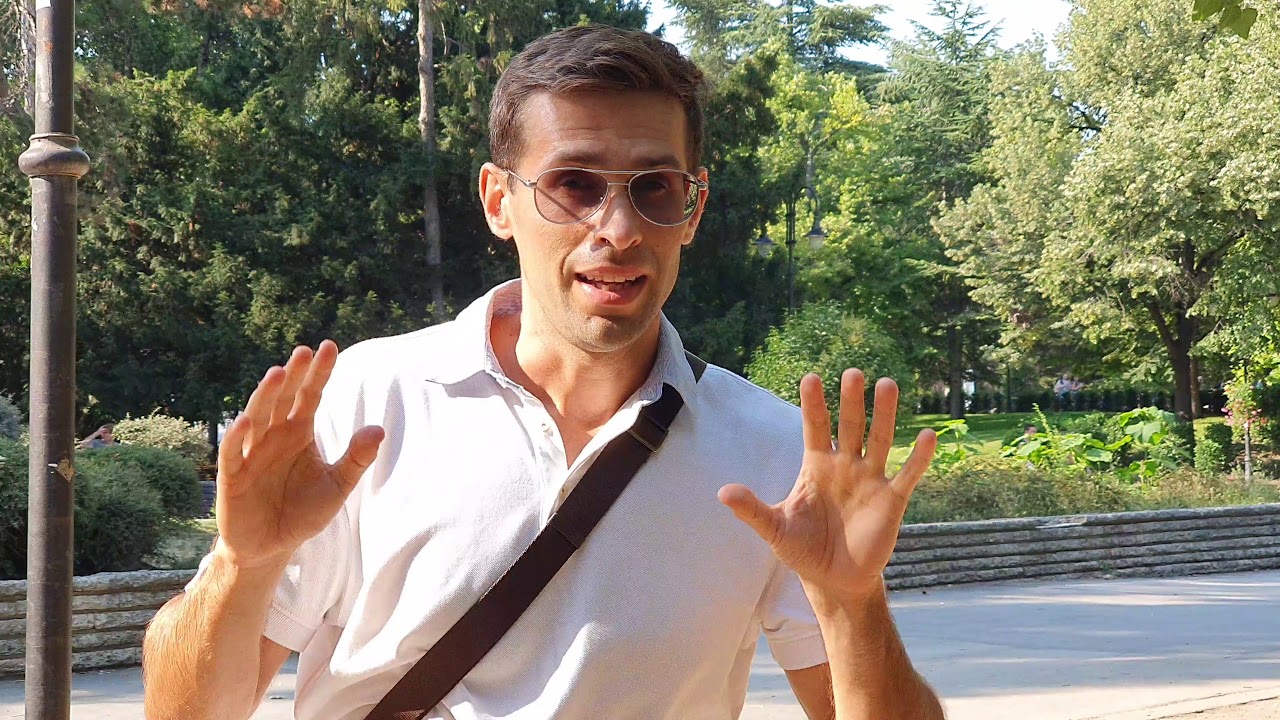 Turning over to video, you have your standard options: 4K60, 4K30, and then FullHD 60 and FullHD 30. The above sample shows the 4K video recording quality using the built-in stabilization, but you can also enable the even better Super Steady mode to get... well, super steady shots. The Super Steady mode used to work using a crop of the ultra-wide angle camera on the S10 series, but on the Note 10 series, it now also works with the regular camera. Take a look at a short demo of Super Steady below: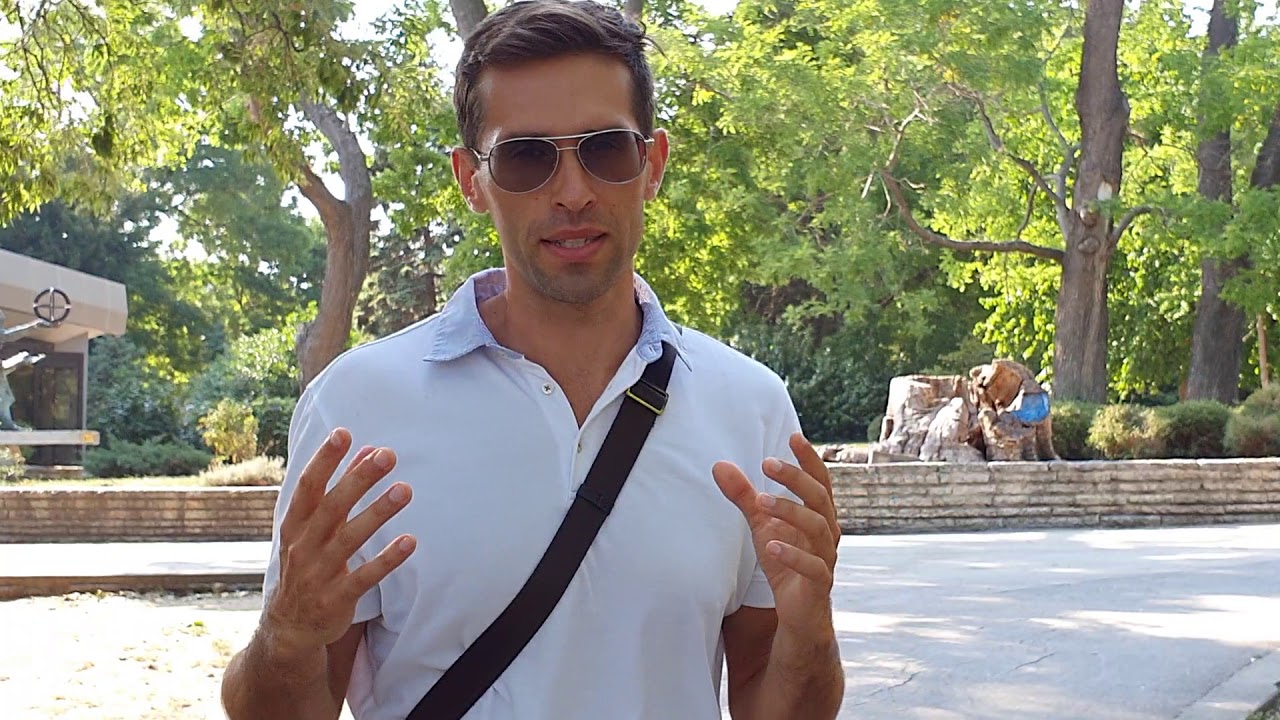 Samsung also has a few new gimmicks here and gimmicks really is the best way to describe these new features.
The first one is called Live Focus video and what it basically does is blur the background leaving only the subject in focus. And it looks very, very ugly. The big problem is that with video you inevitably have moving objects, but unfortunately the blurred background effect does not move with the same speed as your subject, it lags behind, leaving a ton of ugly artifacts. Second of all, the effect just looks extremely artificial and fake. It looks like a cheap filter, and not a good one.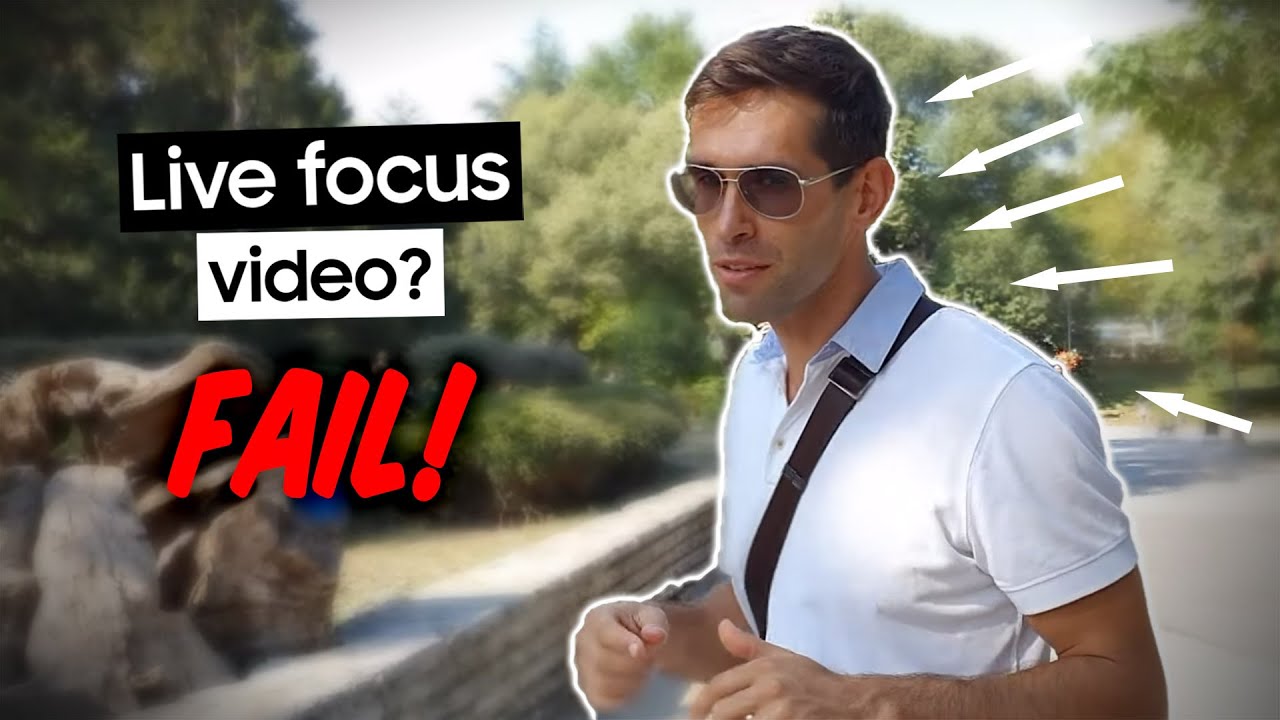 What works a bit better is a second filter under the same category where you only have the subject in color and everything else in the background turns black and white. This effect is quite creative and we can see ourselves using it.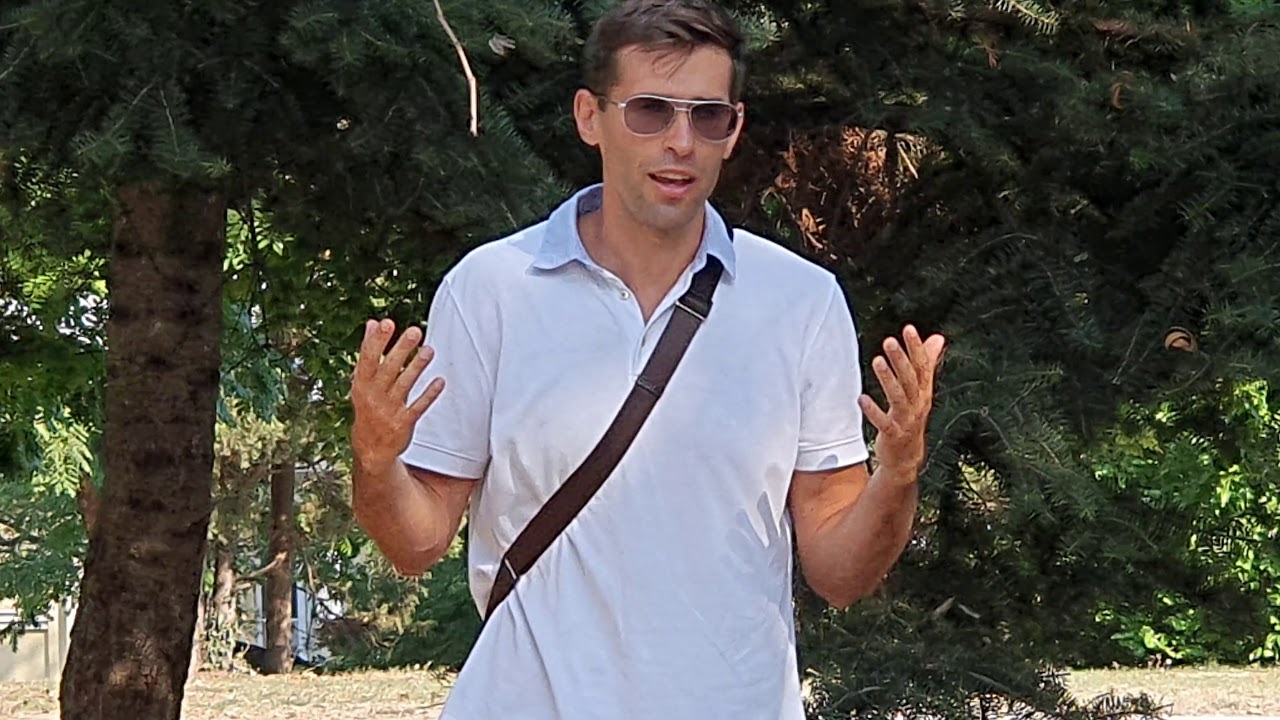 The other new thing that actually works quite good is what Samsung calls "Zoom-in mic" and this is something that is enabled automatically. Basically, whenever you zoom on a subject, the audio that comes from that subject is amplified. This is great if you are recording someone standing far away and speaking, or a performing artist. A really neat feature!
Lastly, you have another gimmick for the teens (and pre-teens) out there: AR Doodle. It lets you use the S Pen to draw mustache, ears, and all sorts of other scribbles on top of a live video and all of those drawings will stick to the face of the person you have in your video. We tried it and we got a laugh out of it, but using it regularly… we might just be a bit too old for that.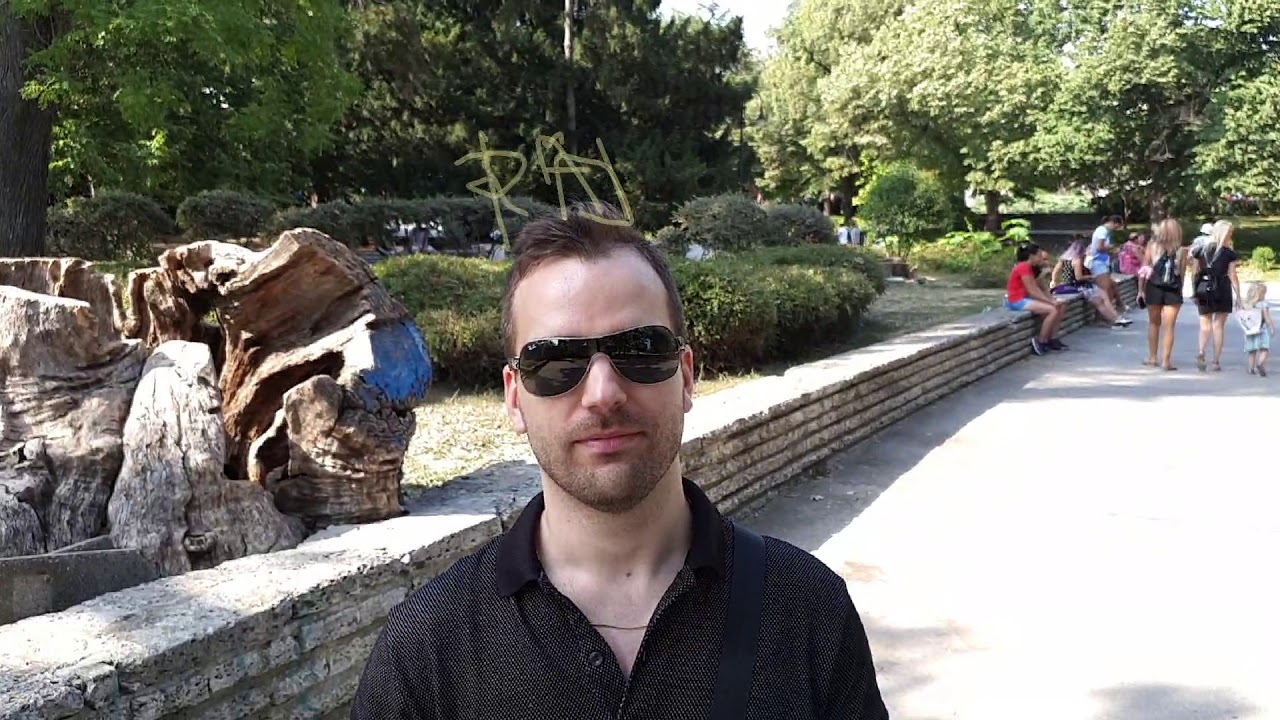 Sound & Call Quality
Loud and clear, but could have had a bit more bass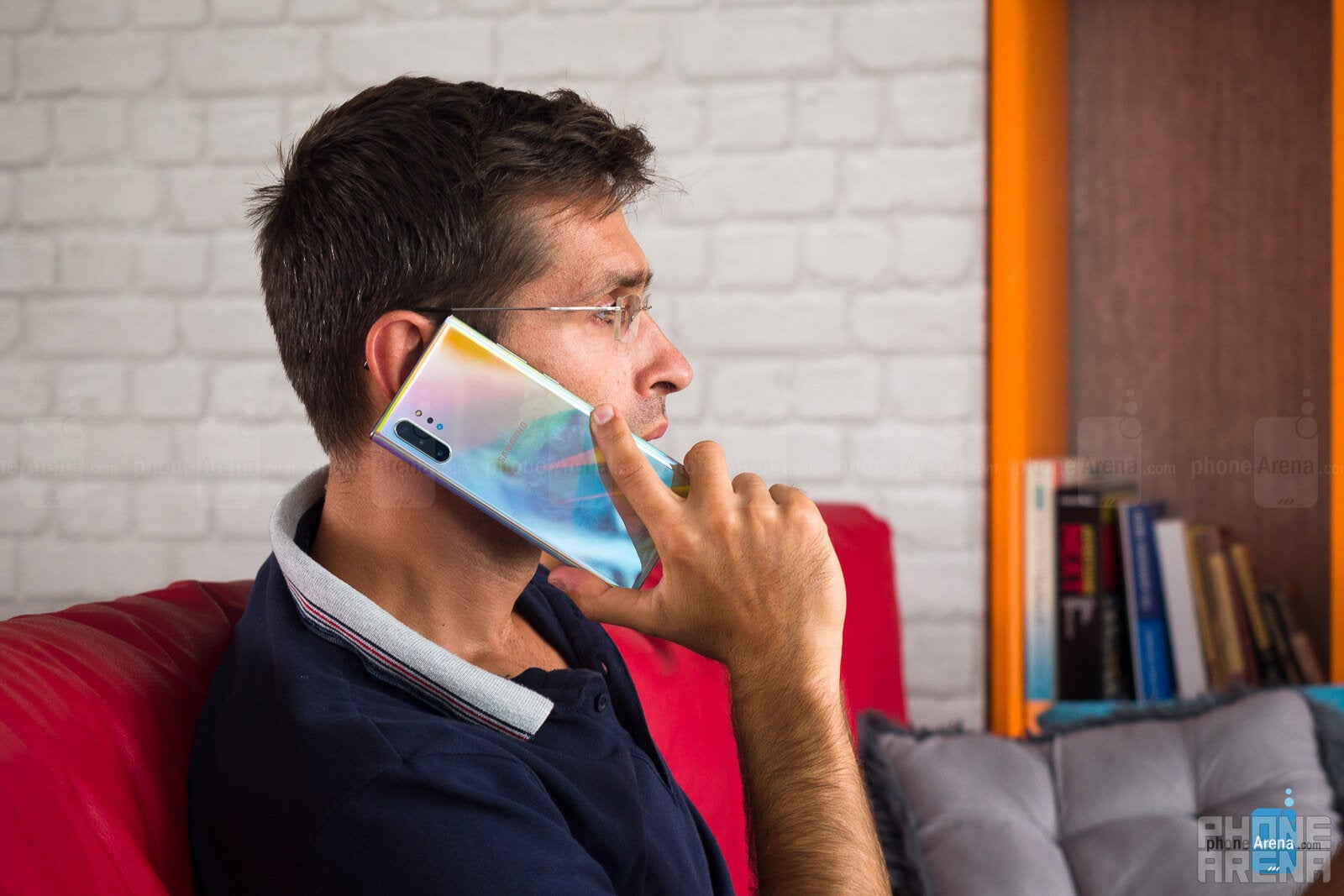 The Note 10+ features dual speakers that are capable of blasting music with quite the powerful punch. The speakers don't cover the lower tonalities as well as, say, an iPhone, but for a phone speaker they sound excellent in the mids and highs. The speakers on the Note 10 are also very good, but lack in clarity compared to the ones on the Note 10+.
On both phones, one of the speakers is pointed downwards while the other one blasts sound from two different places: the tiny slit between the glass of the screen and the top frame, as well as a tiny hole at the top of the phone. The result of having a total of three different places where sound comes from is that whichever way you hold the phone, it's very hard to accidentally muffle the speakers.

This is the place where we should remind you about the lack of a 3.5mm headphone jack on the Note 10+. There is not even a USB-C to 3.5mm headphone adapter included in the box, so if you need such an adapter, you would have to spend extra $15 to buy it separately. The headphone jack is something that some users will miss, while some others have already moved on to the bright wireless future. You tell us which camp you belong to in the comments.
One more thing: you do get a pair of in-ear USB-C headphones tuned by AKG in the box with a couple of different-sized tips for a proper fit on different ear sizes. They sound quite good for a pair of free headphones, but of course for the music aficionados they are in no way a replacement for high-quality headphones.
When it comes to call quality, we can report that the Note 10+ sounds crisp and clear, with a sufficient amount of volume, so you will have no issue hearing your callers well. On the other end of the line, too, the quality is excellent. With the smaller Note 10, however, we found the sound lacking in clarity and depth.
Battery life
Good, but not exceptional
The Note 10+ features a large, 4300mAh battery, bigger than the ones on many of its rivals and bigger than the 4,000mAh cell on last year's Note 9, so expectations were that it will last a really long time.
The only way to really tell is to run some tests and to actually use the phone, and we have done both. Real-life use shows that the phone performs quite well, but cannot quite compete with phones like the Huawei P30 Pro that feature a truly outstanding battery life. The Note 10+ will last most users a full day without any worries, but it will not be much more than that.
To be a bit more precise, we turn to our battery testing. On our compound test, the Note 10+ scores 8 hours and 21 minutes, which is slightly lower than its predecessor, and slightly above the average for a 2019 flagship phone, but again, not
much
higher than the average. We also tested the Note 10+ battery life while playing YouTube videos and found that it lasts 7 hours and 6 minutes in that particular case, which is noticeably lower than the Galaxy S10+ and the Huawei P30 Pro that scored around 9 hours on that same test. Keep in mind that we tested the international model that comes with an Exynos chip, while the Snapdragon model might have slightly different results.
One area where Samsung really stepped up its game this year is fast charging on the Note 10+: the phone supports up to 45 watt charging speeds and by default it ships with a 25-watt charger. If you want the full 45-watt speeds, you'd need to buy that charger separately, but even with the 25-watt included adapter the phone charges incredibly quickly. In fact, it ranked among the fastest-charging phones we have ever seen! Quite the achievement!
We measured the charging speeds and here is what we got:
in 15 minutes: you get 33% charge
30 minutes: 61%
1 hour: 98%
We should also mention that the Note 10+ also supports wireless charging, which trades slower charging speeds for the convenience of not having to deal with cables.
Price and Alternatives
The Galaxy Note 10 and Note 10+ are premium phones and you can easily tell this by the price:
Samsung Galaxy Note 10+ 256GB: $1,100
Samsung Galaxy Note 10 256GB: $950
Samsung Galaxy S10+ 128GB: $1000
Samsung Galaxy S10 128GB: $900
iPhone 11 Pro Max 256GB: $1,250
iPhone 11 Pro 256GB: $1150
OnePlus 7 Pro 256GB: $750
Pixel 3 XL 128GB: $700
This ranks the two among the most expensive phones out there, topped only by the iPhone 11 Pro series with the same amount of storage.
If you want more affordable flagship models, however, you definitely have them: the Google Pixel 3 XL with its excellent camera and timely software updates retails at just $700 these days, and the excellent OnePlus 7 Pro is a great deal too costing just $750 for the 256GB model.
Conclusion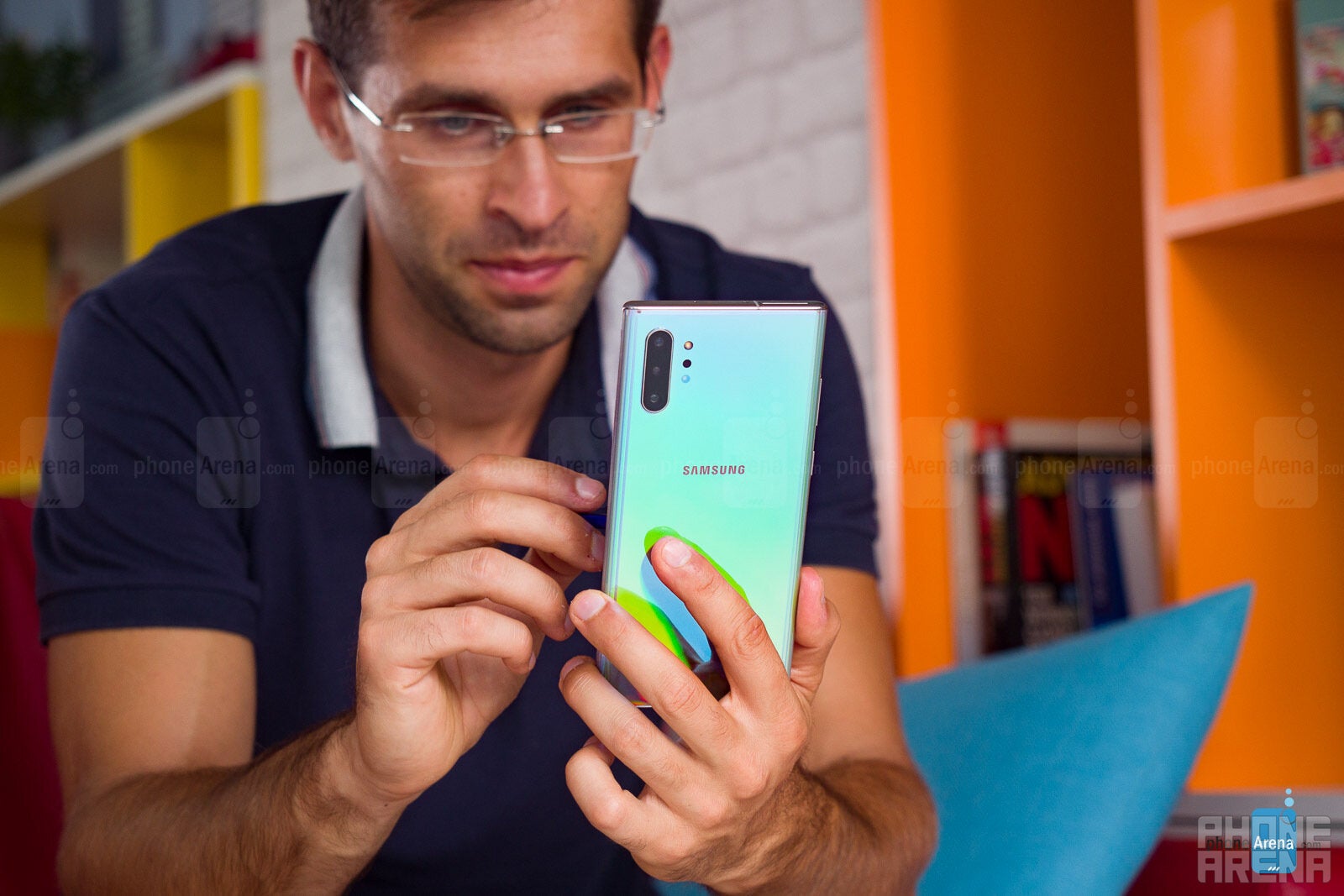 In some areas, the Samsung Galaxy Note 10 and Note 10+ truly impressed us: with their refined design, the beautiful Aura Glow color, the more functional S Pen, the incredible display, the plentiful storage that is also the fastest of any phone out there, the high-quality loudspeakers, and so on.
But then in other areas, we see that the two cannot quite match what some other companies have shown is possible: the high refresh rate display on phones like the OnePlus 7 Pro showed us how a phone can run unbelievably smoothly, and the Note is just not quite there yet; the ultra-long zoom on the Huawei P30 Pro and its impressive low-light performance showed us a new dimension of smartphone cameras, and the Note series does not have those powers; and then it seems that battery life, a critical aspect of any smartphone experience is good, but not quite there with the best on the Note series.

Considering all of this, we still love the Note 10 and 10+. They are excellent, beautiful all-around phones. We do, however, wish they pushed the boundaries a little more in certain aspects.
Recommended Stories