OnePlus 7 Pro Review
62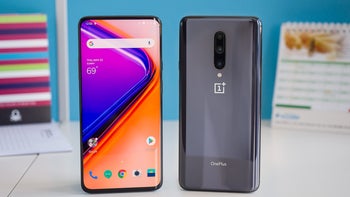 You can now read our:
OnePlus is changing. The "never settle" company started as a bit of a phone nerd dream factory: for years, it focused on selling just one flagship-grade smartphone with a clean Android experience, and a price about half that of similarly powerful flagships from Samsung and Apple.
And people noticed. The company has been steadily gaining popularity to become the fifth largest smartphone seller in the United States last quarter. And now, the new OnePlus 7 Pro is not only matching other flagships – it delivers innovation that mainstream brands don't even have yet. And... inevitably, it costs a lot more than earlier OnePlus phones (but still not as much as mainstream flagships).
What is it like living with the new OnePlus 7 Pro? And is it possible for an underdog to emerge on the global market and actually make a phone that is better than the Samsungs and Apples of this world? Let's find out.
What's inside the box:
OnePlus 7 Pro
Silicone see-through case
30-watt Warp Charger
Red USB-C to standard USB cable
OnePlus stickers
SIM tool
User Manuals and letter from OnePlus CEO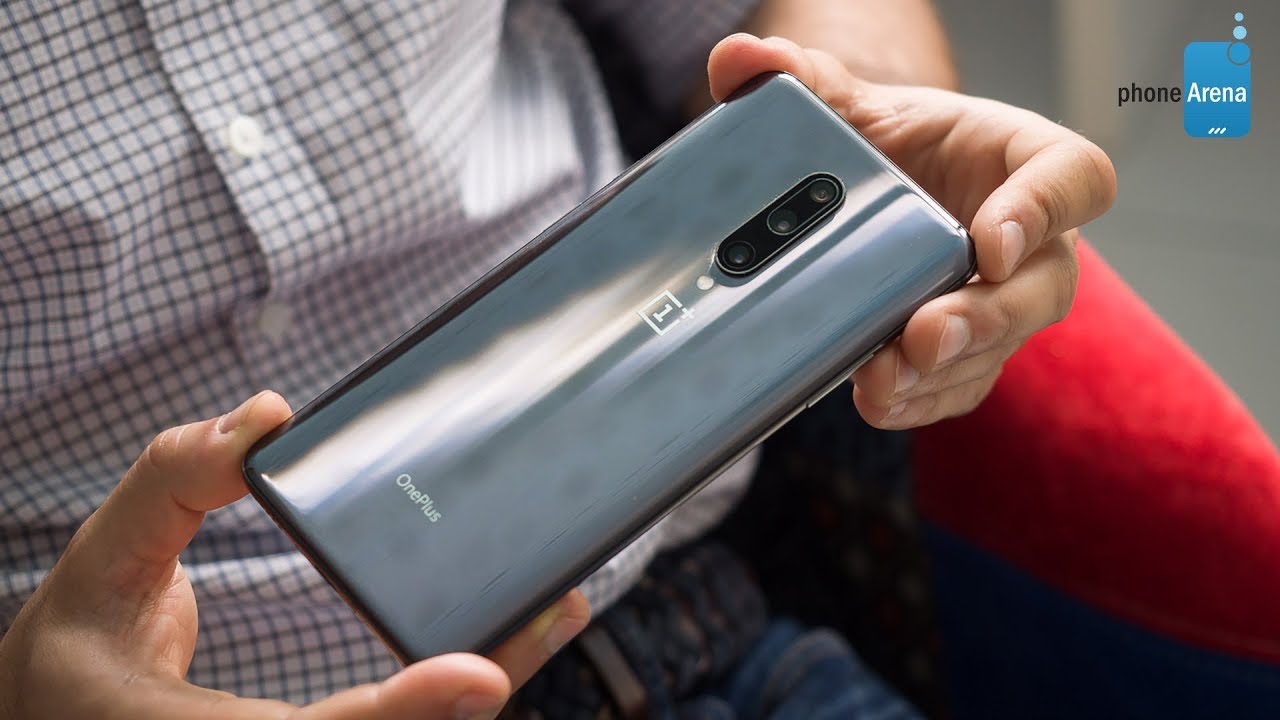 Design
Big size
The first thing you notice about the new OnePlus 7 Pro is… boy, that's one big phone! The size of OnePlus phones has only grown larger and larger, and this one feels about as big as a Galaxy Note 9 or an iPhone XS Max. It's not much bigger than them, so it's nothing out of the ordinary, but it's definitely larger than earlier OnePlus phones.
In terms of design, the new thing here is that OnePlus uses a screen with tapered edges, rather than a flat screen, and the back of the phone has tapered edges too.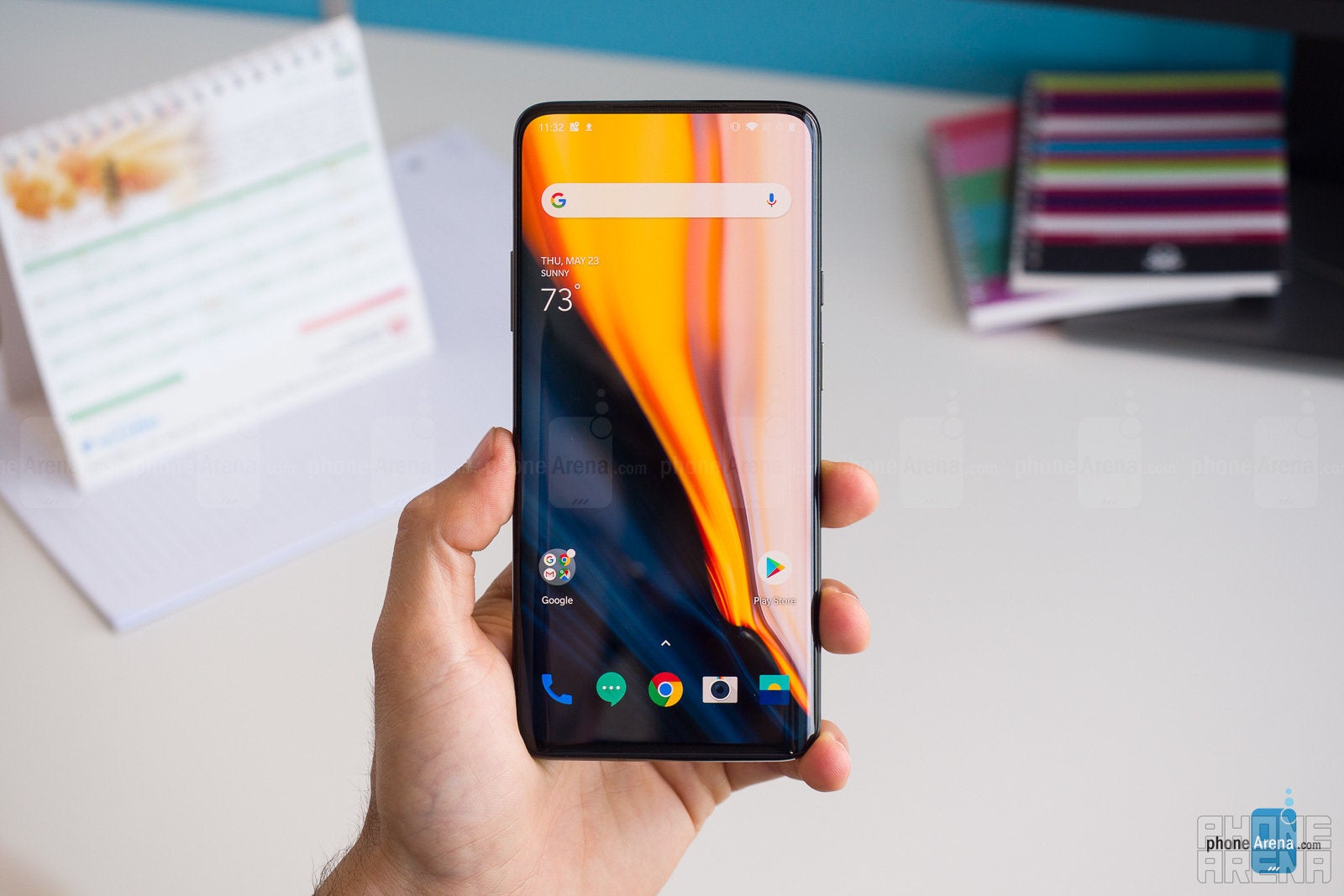 The phone is made of glass and has a metal frame, and it feels very solid, just like you would expect out of a premium device. Volume buttons are on the left side, the power key on the right, and you also have the mute switch AKA alert slider on the right, one of the most useful additions out there.
The new OnePlus 7 Pro comes in two colors at launch: a classic black ("Mirror Gray") edition that we have up for review and a "Nebula Blue" fancy one that has a gradient on the back. A third, gold model ("Almond") will arrive as a limited edition a few weeks after the official launch.
One feature that you will not find on the OnePlus 7 Pro is an official water-resistance certification. But while you don't have IP rating, the phone is still actually water-proof, it just does not have that official rating, which costs extra and OnePlus says would have unnecessarily raised the price.
In-screen Fingerprint Scanner and Face Unlock
Better, not perfect.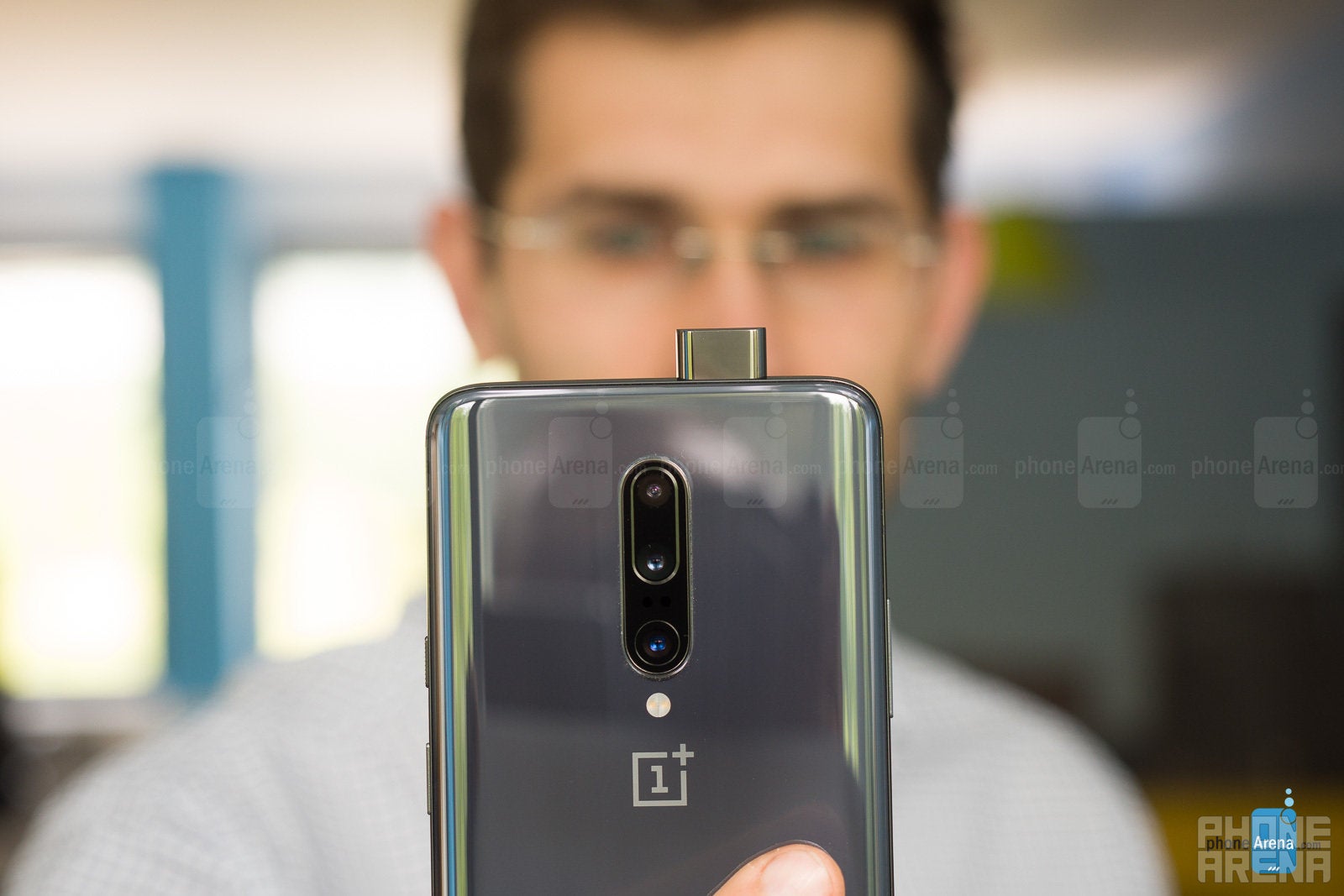 The OnePlus 7 Pro comes with a fingerprint scanner embedded in the screen. It's an optical one, meaning that the screen lights up brightly for one brief moment to illuminate your finger and in this moment, the fingerprint scanner reads the intricate patterns of your thumb. This is cool technology and it works much better than the first generation of this tech that we saw on the OnePlus 6T.
Update:
After the first few days when we were getting a lot of failed readings with the fingerprint, it has now started working nearly flawlessly, fast and accurate. This is still not quite as good as a traditional fingerprint reader which just works every single time, but it is close. And if you are wondering, yes, it is definitely better than the ultrasonic fingerprint reader on the Galaxy series, for example.
You also get the good old picture-based face unlock feature that we know from earlier OnePlus phones. Only here, it works via that funny pop-out camera which surfaces every single time you try to unlock your phone. And it is not too bad actually! Face unlock does not work perfectly in low light, but during the day it mostly does get the job done.
Haptic Feedback
The new vibration motor makes a big difference
Android phones in general just don't seem to care much about haptic feedback (or in other words, the vibrations). Thankfully, OnePlus finally starts taking this aspect of the experience seriously with the 7 Pro. The phone features a brand new vibration motor that provides a much more precise haptic feedback. You can feel this everywhere throughout the experience: from the way the keyboard responds to typing to the vibration for calls and notifications.
This is a subtle thing and you can't quite appreciate it until you go back to an older phone and notice the flimsy vibration. And then, you will know the difference.
Display
A Stunning 6.7" AMOLED screen with impressive, 90Hz smoothness
By removing the notch and minimizing the bezels, OnePlus has effectively created one of the first truly uninterrupted all-screen experiences ever on a phone and you will appreciate how immersive it looks.
But it's not just about the edge-to-edge uninterrupted experience – what matters the most is that this is one absolutely gorgeous display! It's a 6.7-inch AMOLED screen with a Quad HD (1440 x 3120 pixels) resolution that features brilliant, lively colors and looks extremely sharp!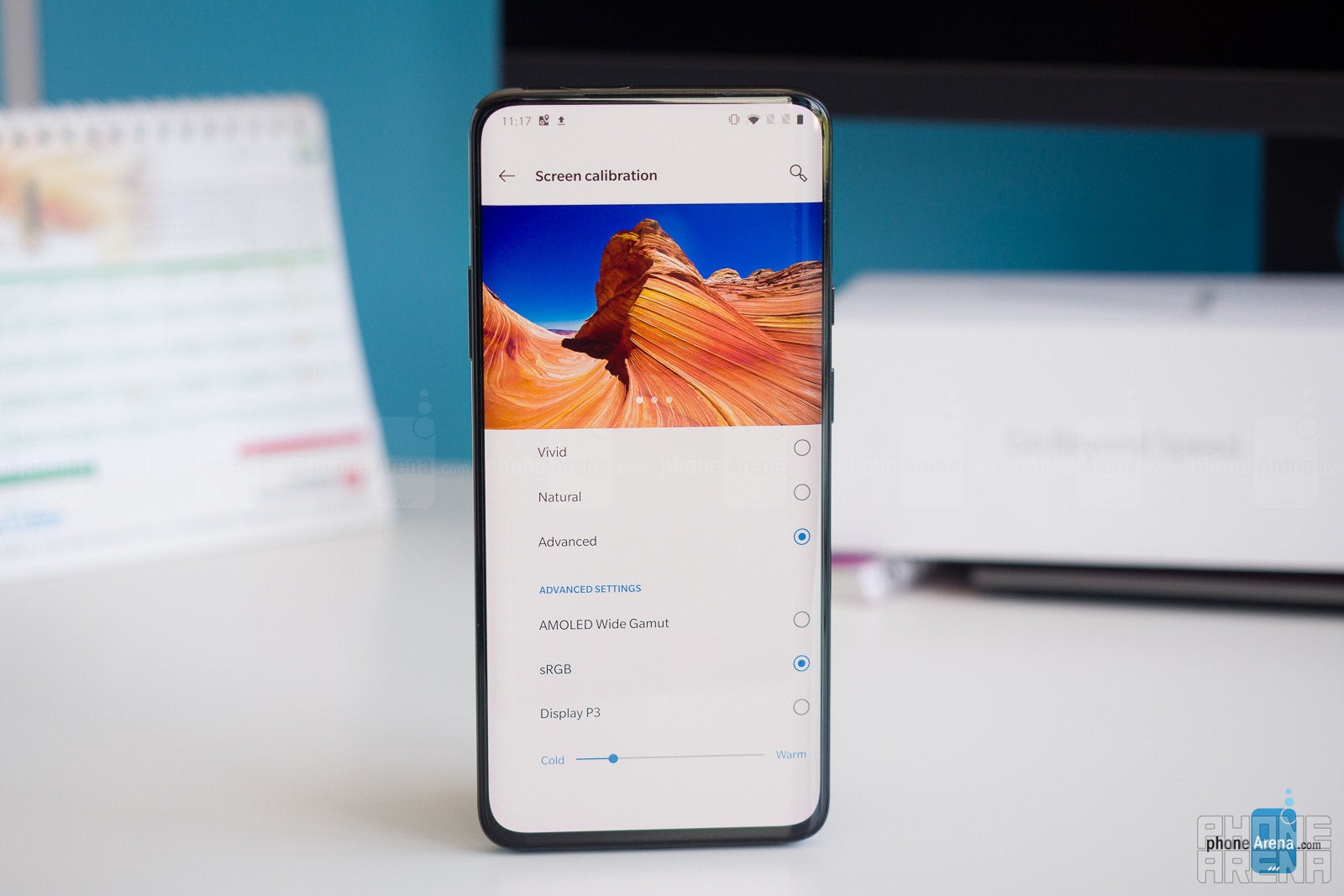 And then comes the killer feature that we have previously only seen on specialized gaming phones: the 90-hertz (90Hz) refresh rate. What this means is that the display refreshes 90 times every second compared to 60 times (60Hz) on basically all other mainstream phones. This makes every swipe, every scroll, every movement in the interface appear more responsive, faster. You don't need to be an expert to feel the difference, and once you get used to this new standard of speed in every interaction, it's hard to go back to a traditional display. OnePlus has really set a new standard for smartphones here, something particularly impressive considering that its phone costs less than rivals and is made by a much smaller company!
We should also say that this new 90Hz refresh rate is enabled by default, so you will see it right from the moment you set up your phone. It will, however, drain your battery a bit faster and you can revert to a traditional 60Hz refresh rate in the settings, but we definitely recommend you enjoy this phone at its full capabilities at 90Hz.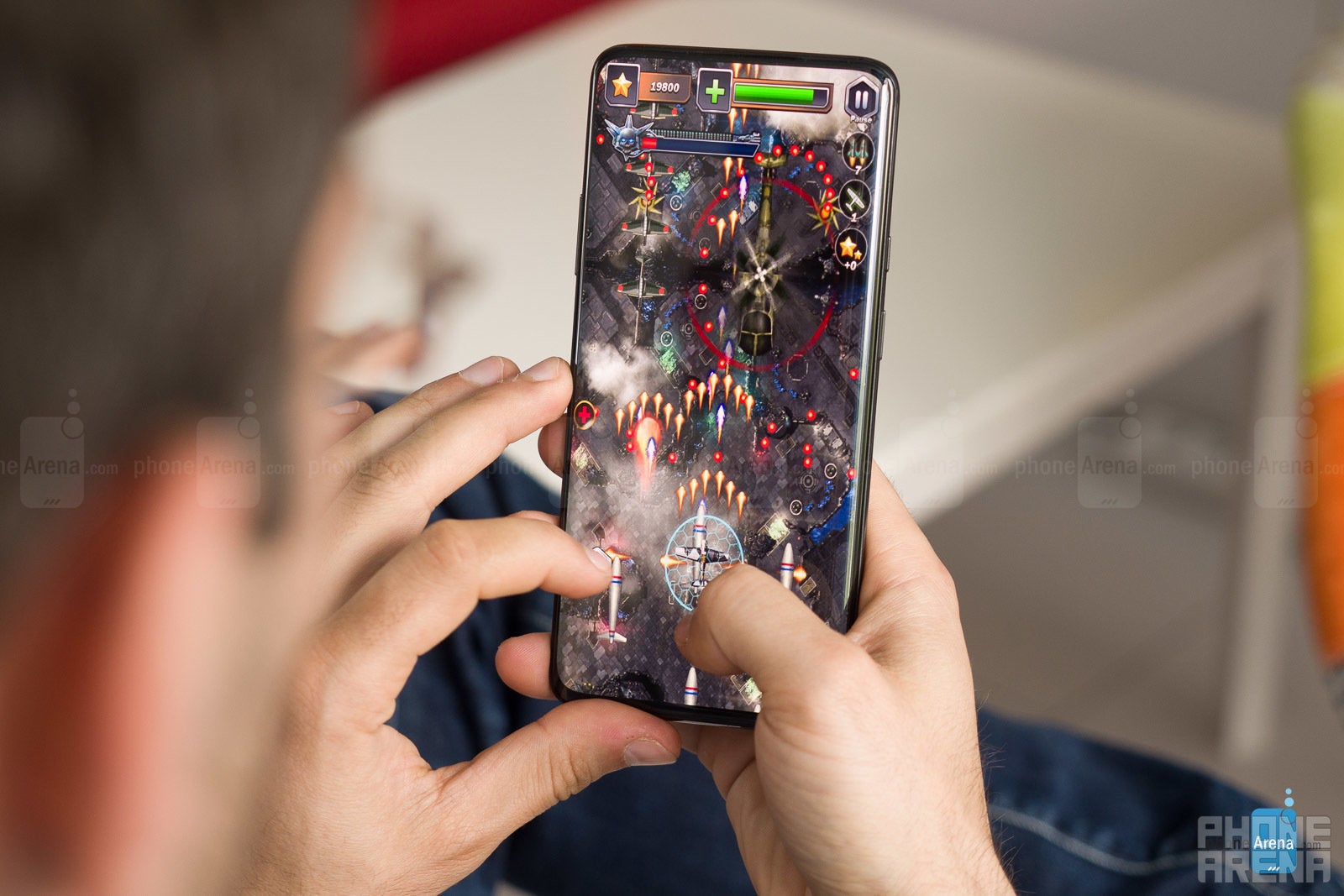 The only thing that you may not like about this screen is that it is not a perfectly flat display, but it instead tapers towards the edges. The curvature is bigger than the very subtly curved screen on the Galaxy S10, and it looks more like the latest Huawei flagships phones.
Update:
After using the phone for a longer while, we are now convinced that the curved screen is one of the bigger downsides of this phone. You get a lot more accidental touches with it and this can be quite annoying.
Display measurements and quality
Interface and Functionality
OxygenOS is great, but that gesture navigation needs to improve!
The OnePlus 7 Pro comes with the company's custom Oxygen OS, a minimalistic interface on top of Android 9 Pie. We love this skin: it's light, it's fast, it looks good and OnePlus is among the best companies when it comes to software updates.
There is only one thing that we really wish improved in this interface and that is the gesture navigation. Right now, gestures are cramped in the bottom of the phone (swipe from the left or right to go back, swipe from the center to go home and for multitasking), and this is just inconvenient. We often tapped on the wrong button when we meant to swipe to go back, and it would be so much better if OnePlus utilized a swipe from the side as a gesture to go back a step. Good news is that Google has now switched to such a navigation for Android 10 Q, so if OnePlus does not make this happen, the next major update for the 7 Pro will bring this in the fall.
With this in mind, here is also what's new in Oxygen OS:
Screen recording: you can now record your screen, a feature sorely missing in stock Android
Zen mode: you now get a 20 minute time-out from notifications and the app lifestyle, but important calls still go through
Other familiar features from earlier OnePlus phones are also still on board here: you have gaming mode (now improved and called Fnatic mode) that turns on when you start playing a game and prevents notifications from disrupting your gaming, while performance is optimized and important calls still go through; the Night Mode filters out blue light to make the screen easier on the eyes; Reading mode turns your screen grayscale and again is helpful when you read long text; Dark Mode is for night owls and it turns all backgrounds to black for a better experience with your phone when the lights go off.
Processor, Performance and Memory
Quite likely, the fastest Android phone we have ever used
OnePlus has always shipped phones with the fastest chips available and the 7 Pro does not surprise: it has the most powerful Android chip on the market right now, the Snapdragon 855 coupled with 6GB/8GB or a whopping 12GB of RAM.
One feature that is not commonly mentioned is that the OnePlus 7 Pro also comes with the newest and fastest memory standard: it is the first phone that we know of that uses the UFS 3.0 flash memory standard, delivering the fastest read and write speeds ever on a phone. The biggest difference we noticed is in something called 'sequantial reads', which basically means that this phone will be capable to load large files like games and scrub through movies much faster than rivals. Here are the results of the memory test that we ran:
| Phone | Sequential Read | Sequential Write | Random Read | Random Write |
| --- | --- | --- | --- | --- |
| Samsung Galaxy Note 10+ (UFS 3.0) | 1512 MB/s | 583 MB/s | 192 MB/s | 194 MB/s |
| OnePlus 7 Pro (UFS 3.0) | 1425 MB/s | 220 MB/s | 160 MB/s | 24.3 MB/s |
| OnePlus 6T (UFS 2.1) | 731 MB/s | 206 MB/s | 139 MB/s | 22.6 MB/s |
| Samsung Galaxy S10+ (UFS 2.1) | 815 MB/s | 194 MB/s | 134 MB/s | 24 MB/s |
Combine all this with the numerous little optimizations that a separate division within OnePlus makes to get rid of every millisecond of lag on the phone, and you notice how the experience is indeed extremely zippy. Everything just flies. There is no stutter, no lag. This is probably the fastest Android phone that we have ever used, bar none.
Also, traditionally you don't get microSD card support on OnePlus phones and the 7 Pro is no exception: the built-in storage cannot be expanded, so what you buy is what you get.
Internet and Connectivity
This model does not support 5G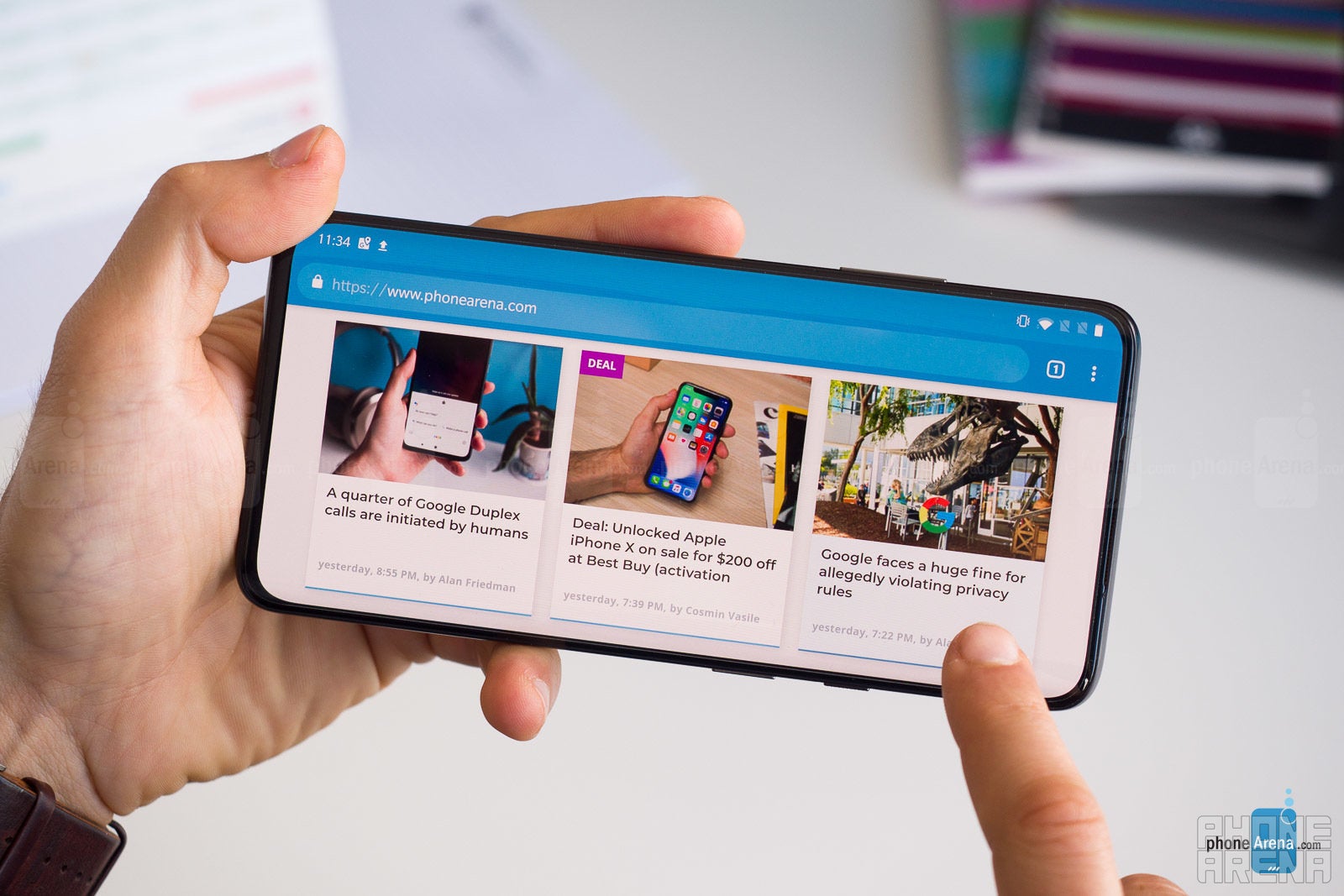 The OnePlus 7 Pro is packed with 4G LTE bands and it works across the globe, while in the US it's sold either unlocked or via T-Mobile.
It's worth knowing, though, that the 7 Pro does not support 5G. At least not the currently sold model. OnePlus is planning to sell a new 7 Pro 5G model that will be compatible with EE in the UK and Elisa in Finland starting in June 2019, but there are no news about other carriers just yet.
Camera
The best OnePlus camera so far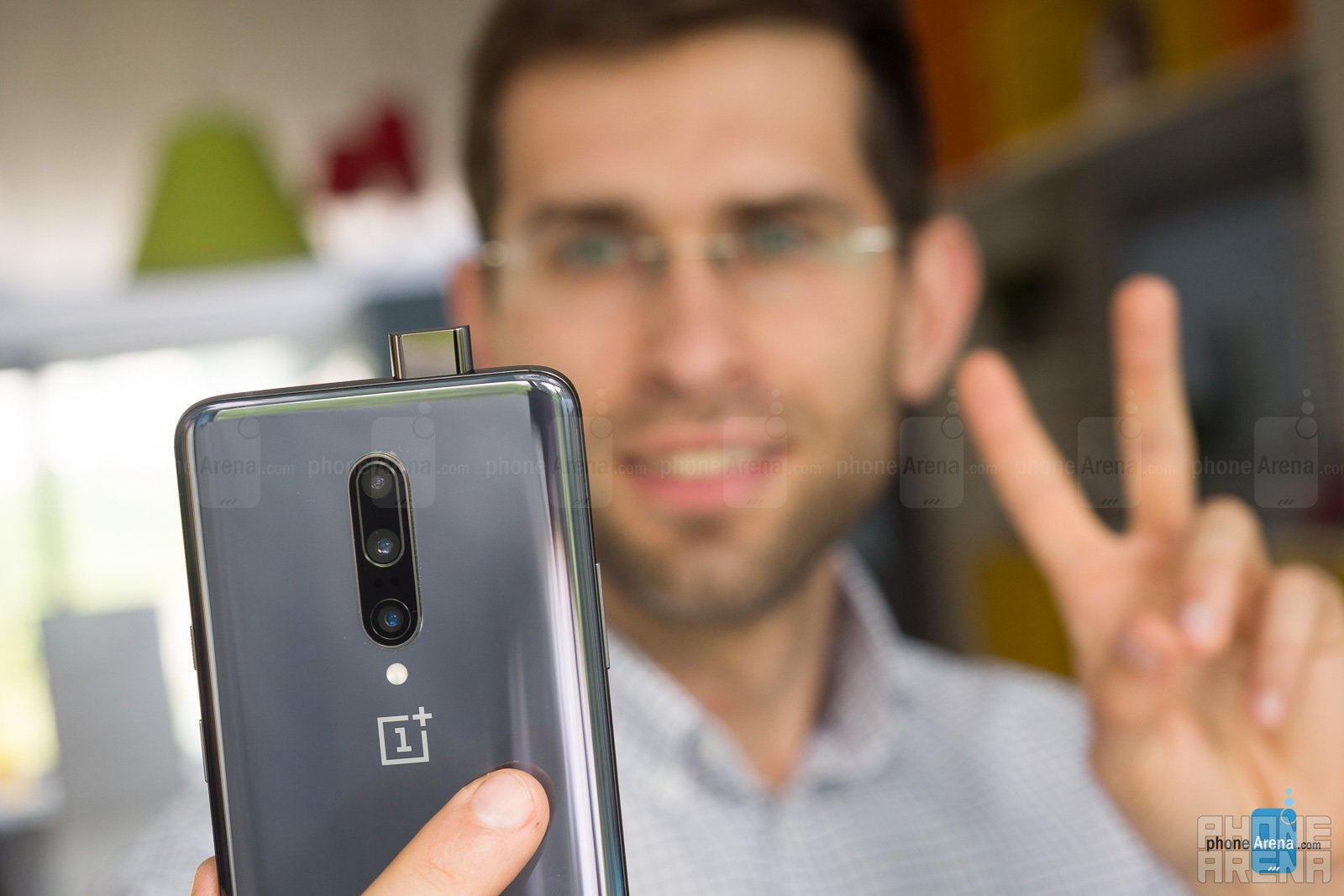 OnePlus phones have never had great cameras and that has been their key flaw.
Has the OnePlus 7 Pro finally fixed that?
Well, mostly yes, but there is a disclaimer to that.
First, let's mention that this is the most versatile camera setup from OnePlus. You get three cameras on the back and one on the front, and here are the specs:
48MP main camera, f/1.8, OIS, 1/2" sensor
16MP ultra-wide camera, f/2.2, 17mm focal length
8MP 3X telephoto camera, f/2.4, OIS
16MP front camera
Image Quality
So how do the actual images turn out and has OnePlus finally delivered the great camera that we have been expecting from the company?
We would say that mostly, yes. This camera is fast and it takes good-looking images in almost all conditions. The photos look quite realistic, the exposure is balanced, and there is no nasty oversharpening. Check, check, check, right? Well… yes, if realistic photos is what you are after, but most people want their phone to capture an image and also make it look good, make it share-able. This is the reason why phones like the Samsung Galaxy S10 series consistently win our blind camera comparisons. The S10+ in particular has boosted, noticeably oversaturated colors and slightly brighter exposure, all things that make the image pop and gives photos that "Wow!" effect. You don't quite get that with photos from the OnePlus 7 Pro.
You also have true versatility now, with three different cameras shooting at three different focal distances. The ultra-wide one, like on most other phones, is the weakest performer: colors on it look worse than on the main camera, far colder and less lively, and it has far less detail. Still, if you have good light, this camera allows you to capture some very interesting shots that you otherwise just cannot get.
The 3X zoom telephoto lens also performs best when you have more light around. It allows you to get surprisingly close-up shots and the quality is actually quite good, with similarly nice colors as on the main camera. You get a bit more noise in the shots with the telephoto lens, but not too much. We would also say that 3X zoom is a much more useful focal distance than the 5X zoom you get on the Huawei P30 Pro, for example. One brilliant idea from OnePlus is that it uses this telephoto lens for portraits. This is the right focal distance for portraiture! At this distance, human faces look pleasingly symmetrical and well-proportioned, while wider lenses skew these proportions and you get weirdly big faces that look a bit like a caricature. It's no coincidence that professional photographers commonly use 85mm lenses (and further) for portraits. We took a bunch of photos of people with the Portrait mode on the OnePlus 7 Pro and the results are incredible. These are truly shots that you would want to share.
And the front camera that pops out every time you take a selfie is also a very decent shooter. It supports portrait mode too, so you can get a slight background blur for more pleasing shots.
At night, the main camera on the OnePlus 7 Pro does quite a good job. Images we took with it look sharp and detailed, and you even get more detail in brighter areas than the iPhone XS Max, which clips the highlights a bit in low-light photos.
Again, you can use all three cameras in low light conditions, but really the quality is great only from the main camera and acceptable from the telephoto one, images from the ultra-wide-angle camera in low-light are quite terrible.
One thing we could not give a proper test was the new Night Scape 2.0 mode. Night Scape works by capturing a few shots at different exposures and quickly combining them into one, so you get a brighter image with more color. The few images that we managed to snap with this new Night Scape mode turned out quite good! You lose a bit in terms of detail, it just seems that every jitter of your hand results in a slight but visible blur to the image, so it's not as sharp, but colors pop a lot more and especially on a smaller screen, these photos look great.
Unfortunately, Night Scape failed on us way too often, as the phone would try taking a picture for a minute or more, obviously not as intended. This seems to be a bug and we are hoping that it will be fixed soon (an update is scheduled for next week). Still, it is a shame that this is not fixed for a phone that is already on the market.
We have snapped hundreds of photos with the OnePlus 7 Pro and we have selected a couple dozen shot in various conditions. All these shots are only downsized, but have not been edited in any way and come as they were shot straight out of the camera, with the automatic default settings.
Video quality
In terms of videos, you get to shoot at up to 4K resolution at up to 60 frames per second. The default option is 4K30 and that is what we recommend people use most of the time as it has better stabilization and looks a bit more natural. 4K60, however, is a useful option when you are trying to capture movement and you can also use the 4K60 files to create slow-motion videos in post without losing quality.
One thing that we noticed is that 4K footage on the OnePlus is noticeably cropped in, meaning that you don't get such a wide-angle perspective as on most phones, but a much tighter view.
The electronic stabilization works in concert with the optical one for a very smooth hand-held video. We noticed that colors, however, are a bit on the bleak side and not quite as vibrant as on other phones, and the continuous auto-focusing is not as fast as on the best phones out there.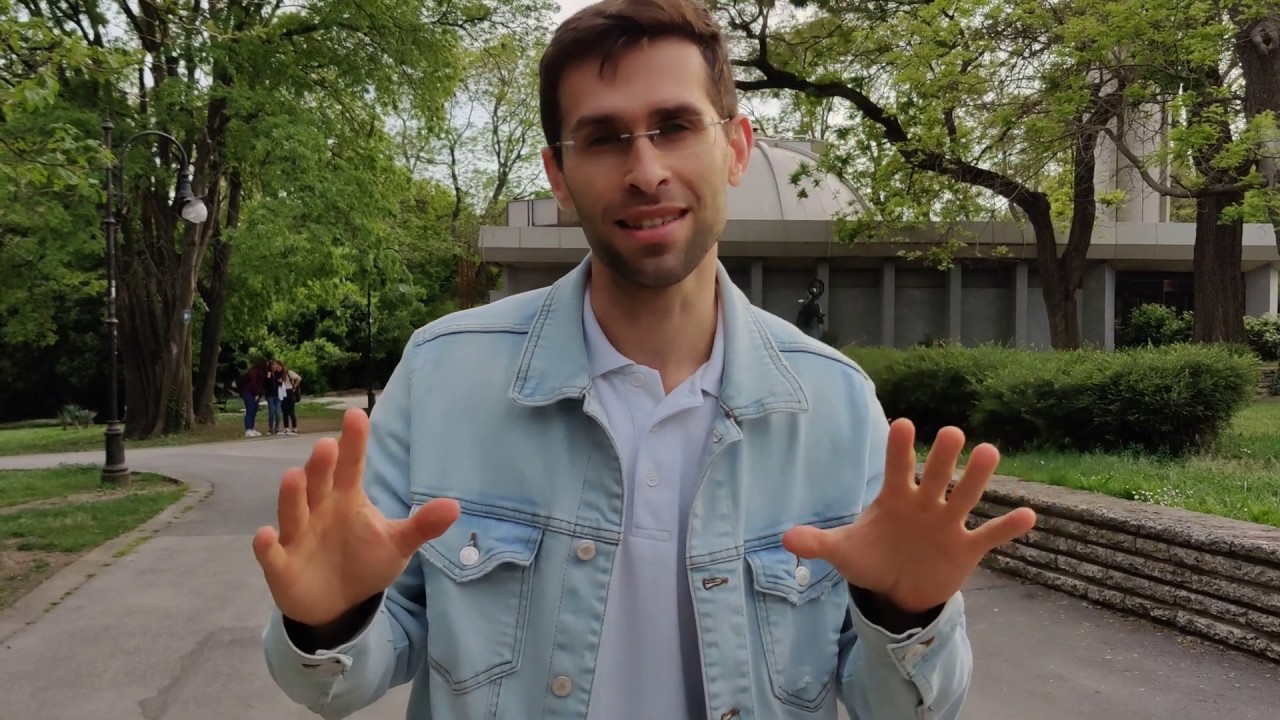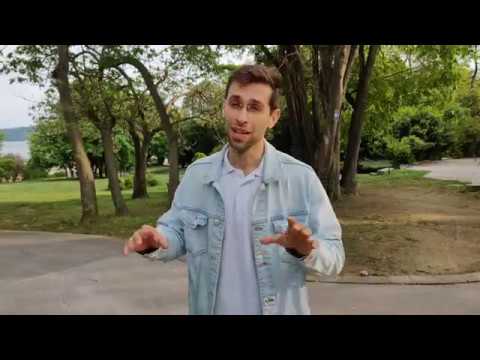 Sound quality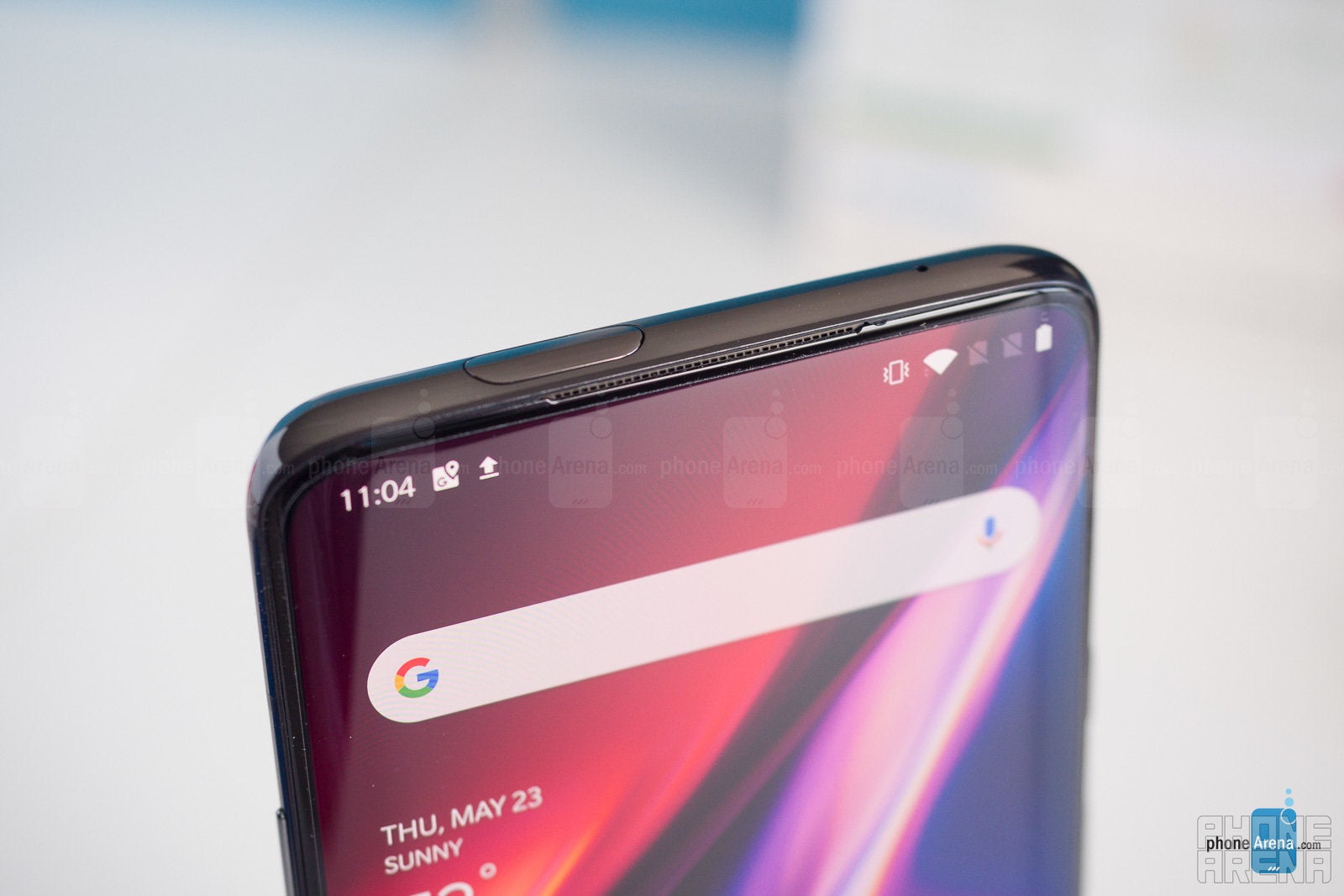 You have two loudspeakers on the OnePlus 7 Pro and they combine for a loud and clear output that you will enjoy. One speaker is located on the bottom of the phone and the other one is in the earpiece at the top. The bottom one delivers the bigger sound, while the top one helps out with higher tonalities.
What is missing here is a 3.5mm headphone jack. This is not a surprise: OnePlus removed the feature last year with the 6T and with the 7 Pro you don't even get a dongle in the box, which is a bit disappointing. Most phone makers have gone the same path, but users who want the feature might feel let down by OnePlus particularly since the company advertized the headphone jack for years and ran polls with its users that showed 90% of them in favor of the jack, yet still it chose to remove it.
Still, we don't consider this a dealbreaker. OnePlus itself has some excellent $20 USB-C headphones on its website, and if you want to go the wireless way, you have the $100 OnePlus Bullets Wireless which sound excellent and have great battery life.
Call Quality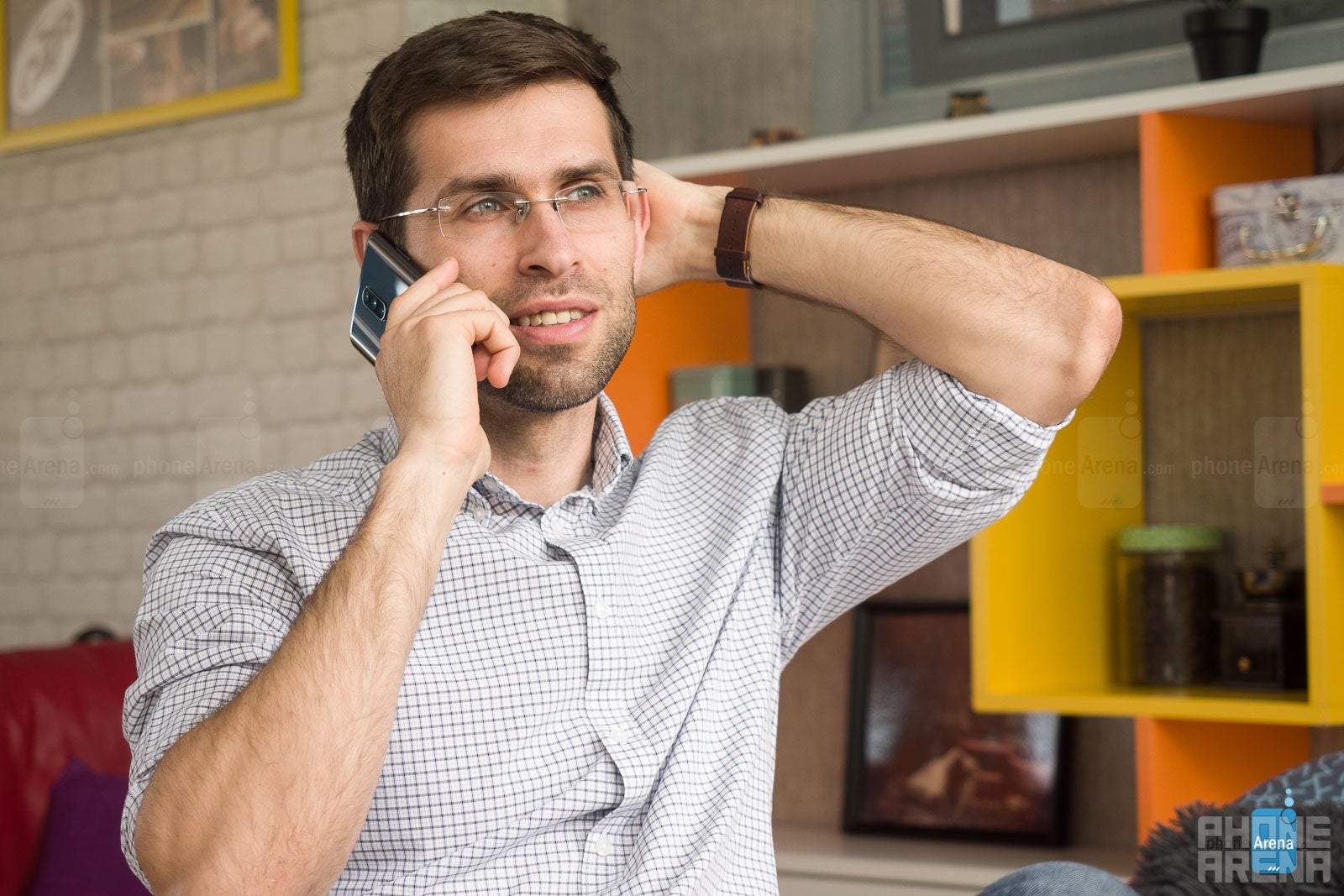 When it comes to call quality, the OnePlus 7 Pro does very well. The in-call speaker is loud and our callers sound very crisp and clear, so no issues in this regard. On the other end of the line, callers also report hearing us very well (we've had some issues with microphones on other phones in the past, but thankfully not here).
Battery life
Not quite as great as earlier OnePlus models, but still better than average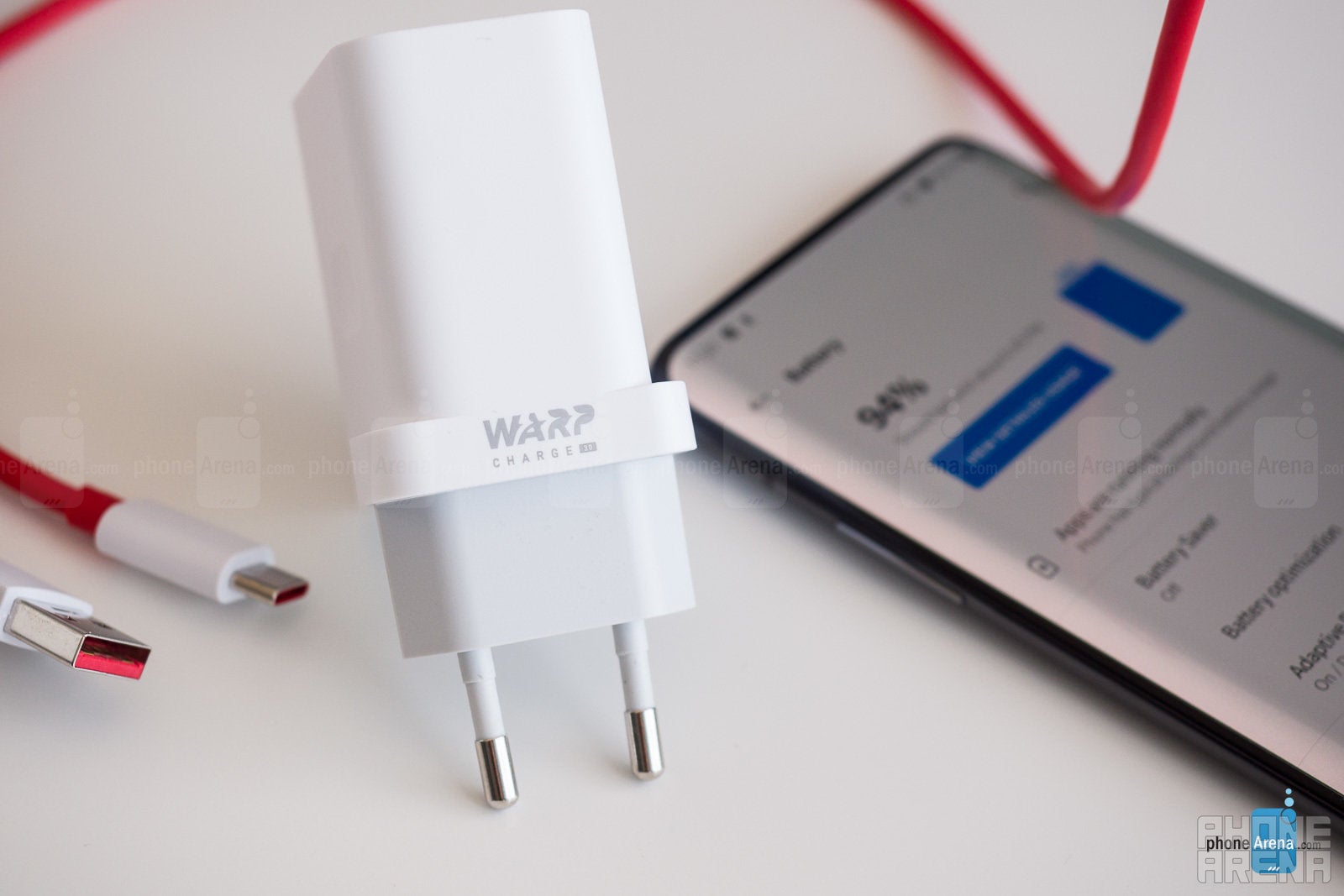 The OnePlus 7 Pro is physically a big phone and one benefit that comes with that large size is that it allows for a large battery, in this case a 4,000mAh one, an even bigger capacity than the 3,700mAh battery cell used on the OnePlus 6T.
Such a huge battery here is a bit of a necessity: that 90Hz display is a joy to use, but refreshing the screen 90 times per second results in a bigger hit on the battery.
In our real-life experience with the phone, we would say that the 4,000mAh battery lasts enough so that you can get through even those longer days without needing to recharge. Previously, we have had some great experiences with battery life on OnePlus phones, and this one might just last a bit less, but not by much.
To get our battery experience quantified, we turned to our battery test that we have been running on all the phones we test for the last few years. This test is a great way to compare different phones throughout the years. The OnePlus 7 Pro lasted a good 9 hours and a bit, ranking it slightly above the average for a flagship phone. It's not as good as the ~10-hour score on last year's OnePlus 6T, but not too far behind.
One cool technology that we have associated OnePlus phones with in the past couple of years is fast charging. What used to be called Dash Charge is now Warp Charge and it is a proprietary charging standard that tops up the OnePlus battery very quickly. Technically speaking, you get charging speeds reaching up to 30 watts, but the way this power is delivered is a bit different than on other fast charging phones. Here, you have a 5 Volt and 6 Amp power delivery, which a very high amount of current (compare this to 10 Volts and 4 Amps on Huawei's 40-watt SuperCharger). Usually, such a high amount of current ends up generating a lot of heat that is dissipated in the phone and might damage it, but OnePlus transfers that heat generation to the larger power brick and this way protects the phone.
In reality, Warp Charge fast-charges the phone at similar speeds regardless of whether you are using the phone or not. This is a huge benefit over rival solutions. For example, Samsung's chargers only deliver the fast-charge speeds when the phone is not in use, while if you are using the phone and charging it at the same time, the speeds would be reduced. That is not the case with OnePlus phones.
And in terms of actual speeds, we measured the following charging times:
15 minutes: 34% charge
30 minutes: 60%
1 hour: 93%
1 hour and 16 minutes: full 100% charge
While we love the fast charging tech on the 7 Pro, we are a bit disappointed to see that the phone still does not support wireless charging. Wireless charging is never as fast as a wired charge, but it is much more convenient.
Price and Alternatives
OnePlus has been slowly but surely increasing prices for its phones and the new OnePlus 7 Pro is the biggest price leap so far.
Right below you can see a brief history of how OnePlus phone pricing changed throughout the years:
| Starting price | 16GB | 64GB | 128GB | 256GB |
| --- | --- | --- | --- | --- |
| OnePlus One | $300 | $350 | | |
| OnePlus Two | $330 | $390 | | |
| OnePlus 3 | | $400 | | |
| OnePlus 3T | | $440 | $480 | |
| OnePlus 5 | | $480 | $520 | |
| OnePlus 5T | | $500 | $560 | |
| OnePlus 6 | | $530 | $580 | $630 |
| OnePlus 6T | | | $550 (6GB RAM); $580 (8GB RAM) | $630 |
| OnePlus 7 | | | €550 | |
| OnePlus 7 Pro | | | $670 | $700 (8GB RAM); $750 (12GB RAM) |
Despite the continuous growth of OnePlus phone prices, other phones have grown in cost even quicker and the OnePlus 7 Pro still offers great value compared to rivals by Samsung, Apple, Huawei and Google.
Conclusion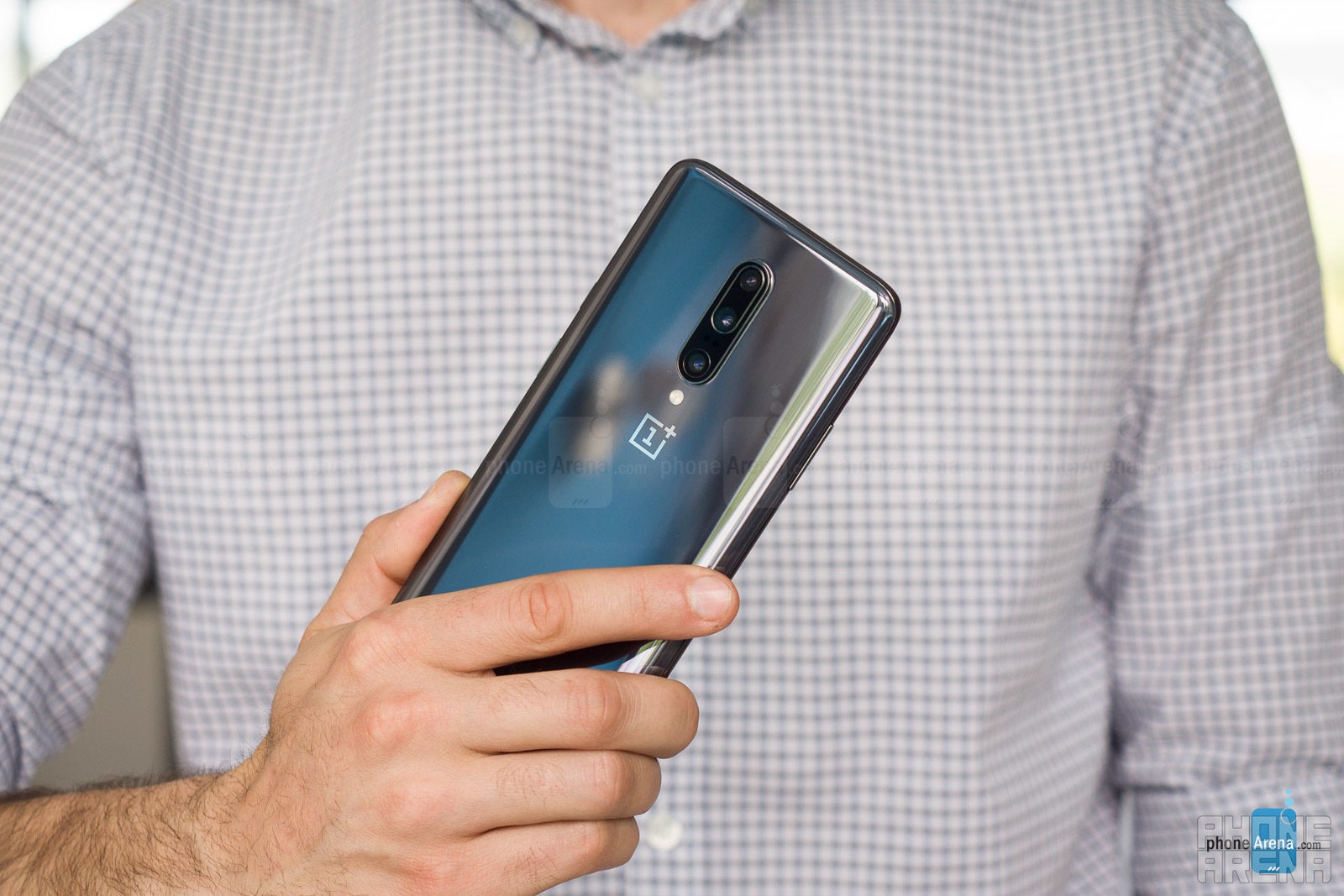 In a nutshell, the OnePlus 7 Pro is the biggest leap forward for OnePlus so far.
The phone is incredible fast, the screen is large, immersive, has beautiful colors, the new refresh rate makes a difference, the cameras have improved, and battery life, while not as great is still solid. And all of that, comes at a price still much lower than iPhones and Galaxies.
So should you buy this phone?
If you are unhappy with your old phone, the answer to that question is an easy yes. The OnePlus 7 Pro is a phone that impresses in practically every aspect, and its few downsides are easily overshadowed by the great overall experience.
You can now read our:
Recommended Stories