OnePlus 7T Pro Review
15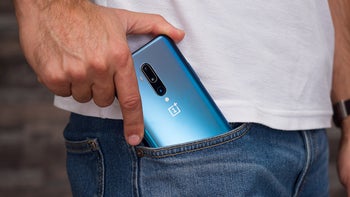 You can now read our:
OnePlus has a new business strategy this year – instead of releasing two phones a year like it used to, the company revealed four in 2019. Earlier this year, the OnePlus 7 was announced alongside the more exciting OnePlus 7 Pro – destined for international markets and for the US audience, respectively. Things switched around for the second half of the year – the US got the OnePlus 7T, while the rest of the world was treated to the OnePlus 7T Pro, the latter being a slight refresh of the OnePlus 7 Pro that brings small updates in a few key areas.
But how good is the OnePlus 7T Pro exactly?
Design
The OnePlus 7T Pro is so similar to the OnePlus 7 Pro that you will be excused for mistaking one for the other. The only perceivably visual difference, aside from the new Haze Blue color, is the laser autofocus system which is positioned outside of the camera module on the OnePlus 7T Pro.
The OnePlus 7T Pro is one big phone, just as big as the Galaxy Note 10+ and the iPhone 11 Pro Max. It's considerably heavy too. But it's also true that it packs top-notch specs that make the overall size a justified tradeoff.
Over the years I've grown quite fond of the OnePlus alert slider on the side as it's a great alternative to the iPhone's mute switch.
There's no official water resistance rating, but the stereo speakers are still here, and so is an improved haptic feedback motor. All OnePlus phones up to the OnePlus 7 Pro have had terrible vibrations that felt weak and cheap, but thanks to the new solution, this Android champ is among the most satisfying phones, at least vibration-wise.
Display
The display of the OnePlus 7T Pro is undoubtedly my favorite aspect of the device. The large, 6.7-inch Optic AMOLED display is a joy to look at thanks to its high resolution and, most of all, its buttery-smooth high refresh rate. I know that running the phone at 90Hz constantly has a negative effect on battery life, but I can't help it. What's the point of owning such a device without making use of all its nifty features?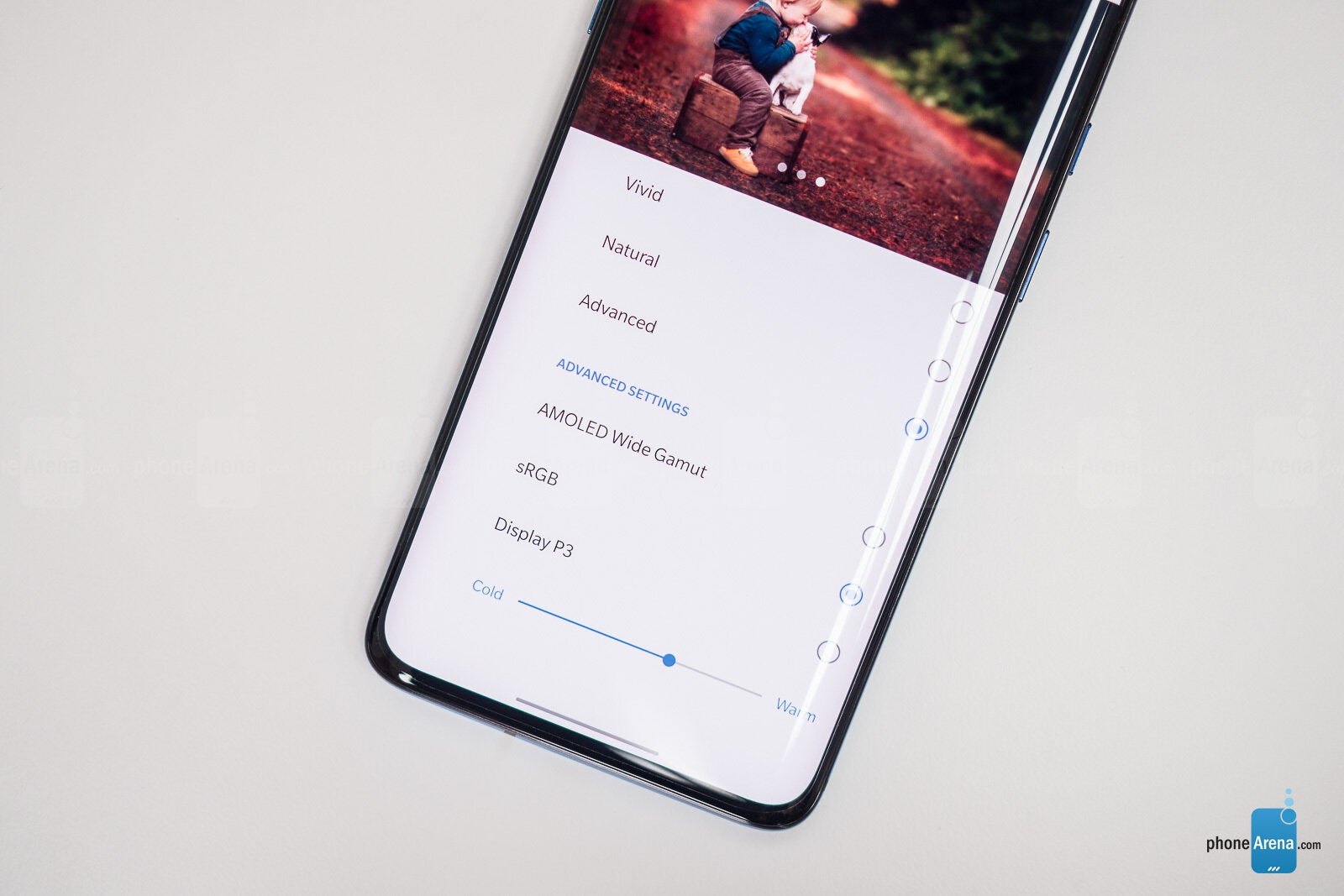 I'm not that fond of the curved display. It works nicely in concert with the new gesture navigation as it makes swiping from the edge a bit more pleasing, especially with a thicker case. However, the display is too curved and raises its own issues like glare. It reminds me of older Samsung flagships like the S7 edge and the S8 Plus. Samsung subsequently addressed this by coming up with a less abrupt curve for its flagships' displays, and hopefully, OnePlus will follow suit.
Display measurements and quality
Fingerprint and face unlock
The optical fingerprint scanner on the OnePlus 7T Pro is fast and reliable. I've never had any issues with it, and while traditional capacitive fingerprint readers were certainly faster, in-display sensors are getting really good. At least optical ones are – ultrasonic solutions like the ones used by Samsung in its Galaxy flagships are more prone to errors and are generally slower.
While there's also face unlock on the OnePlus 7T Pro, I wouldn't recommend using it, or even enrolling your face. For one, it's fast when it works, but you have to wait for the selfie camera to pop up. And then, picture-based facial unlock is not very secure to begin with. Sure, you can have it enabled as a backup option, but I doubt the optical fingerprint scanner will ever betray you to such extent.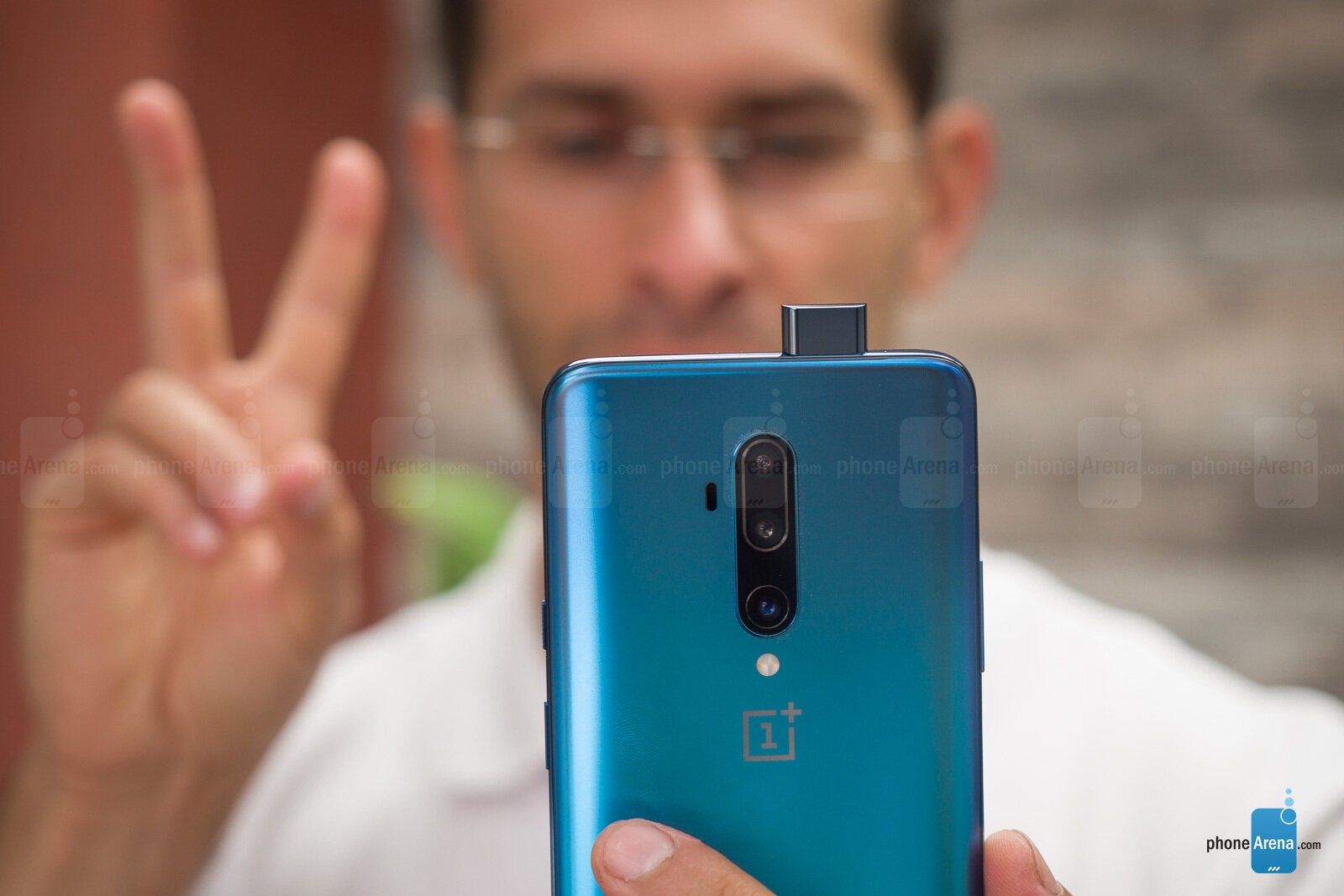 To use the face unlock you have to wait for the selfie camera to pop up
Interface and Functionality
Let's start with one of the best aspects of the OnePlus 7T Pro – it comes with Android 10 right out of the box. So far, very few Android manufacturers can boast with such an accomplishment.
With the arrival of Android 10, OnePlus has defaulted to Google's new gesture-based navigation… which is actually good now! A familiar swipe from the bottom brings up the recent apps, while a swipe from either the left or right side of the screen acts as a back gesture. You can still use OnePlus' own gestures, but in my opinion, they are inferior as you have to reach down to the bottom of the device. Finally, if you really insist, you can use the good ol' button navigation system, but it could be challenging on this large phone.
Performance and Memory
With the Snapdragon 855+ on deck, the OnePlus 7T Pro is a slight but welcome improvement over the OnePlus 7 Pro in terms of performance. Sure, there are faster phones out there (like the new iPhones), but the OnePlus 7T Pro is still crazy fast. I'm not sure what part of this can be attributed to the new chipset and what to the high-refresh display, but the phone leaves the impression of breezing through tasks with seemingly no effort at all. You are unlikely to experience lag or hiccups anywhere throughout the interface.
Memory-wise, the OnePlus 7T Pro is available with either 8 or 12GB of RAM and 256GB of fast UFS 3.0 storage. That's a generous amount of storage, especially considering the price tag of the device.
Camera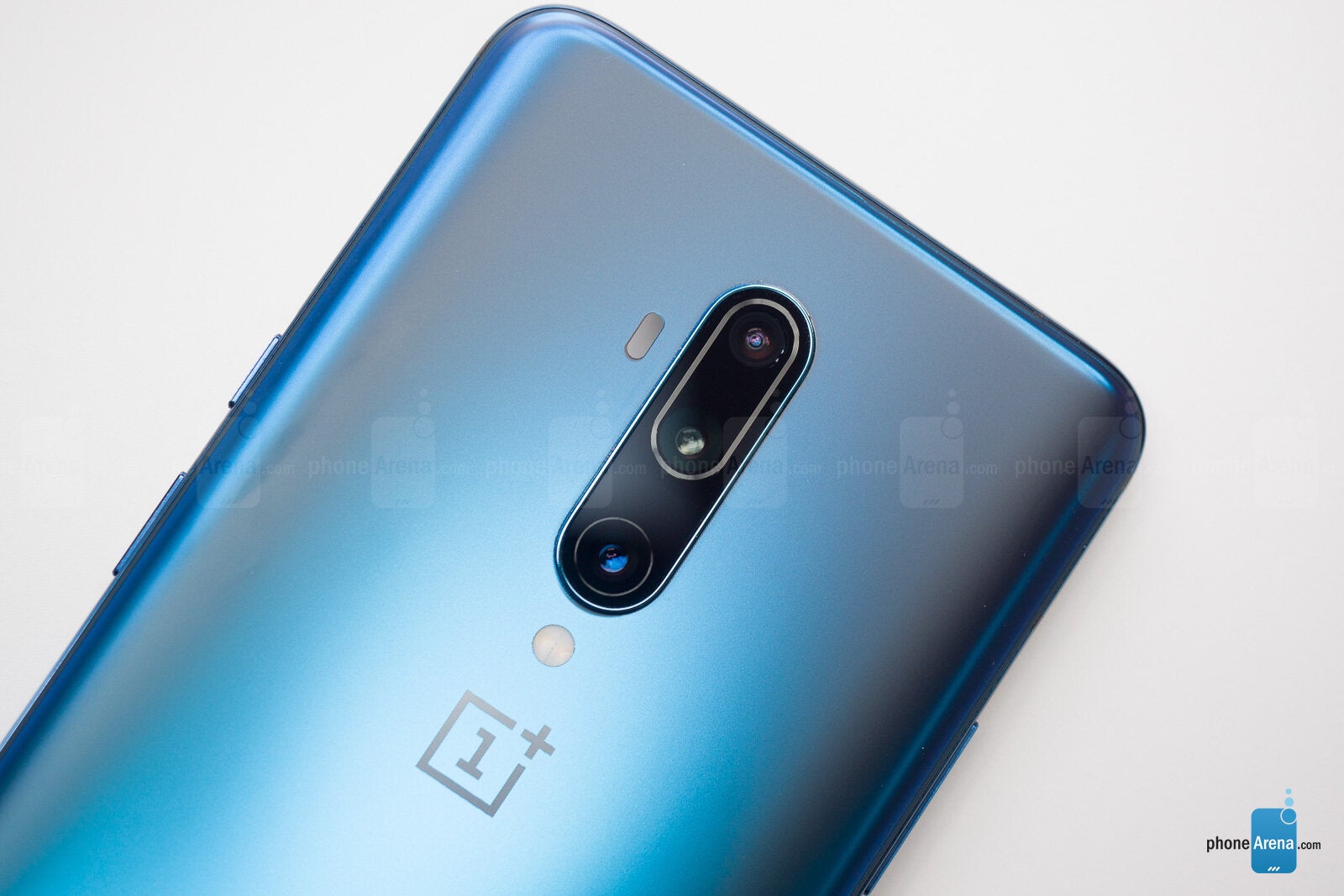 Although OnePlus phones have never had awe-inspiring cameras, I've never had any real issues with them and have always been content with what they offer for the price.
Speaking of the OnePlus 7T Pro, its camera setup is the same as the one on the OnePlus 7 Pro, with just a few slight differences. It comes in the following (and quite versatile) setup:
– 48MP main camera, f/1.6, OIS, 1/2" sensor size
– 8MP 3x telephoto camera, f/2.4, OIS
– 16MP ultra wide-angle, f/2.2
– 16MP pop-up selfie camera
A new feature that arrives on the OnePlus 7T Pro is a dedicated macro mode that lets you snap super-detailed photos from real close. While it uses the ultra wide-angle camera, the phone lets you choose three different levels of zoom – 0.6x ultra-wide, 1x regular, and 2x zoomed. It's a niche feature and the shots you're going to take will either come out blurred unless you constitute a really steady hand, or not as awe-inspiring as you've hoped because they are not that detailed. Shooting a regular photo and cropping it would likely produce the same or even better results in most cases.
Image quality
I'm more than content with the image quality that the OnePlus 7T Pro delivers. It's fast and consistent, and if the lighting conditions are favorable, you could easily snap a masterpiece. The OnePlus 7T Pro takes photos with balanced exposure, true-to-life colors, and just the right amount of sharpening. Sometimes skin tones turn a bit pinkier than normal, which hopefully gets addressed by OnePlus in the future.
There's room for improvement, of course, but I never felt disappointed with the camera setup of the OnePlus 7T Pro. As we've already established with the OnePlus 7 Pro, the long 3x telephoto camera is more useful than your regular 2x camera in most scenarios. As an added bonus, the telephoto helps achieve a more flattering field of view for portraits.
Even when the light goes down, the camera still performs very well. Images turn out decently detailed and exposed, but it's very hard to see anything but marginal improvements in comparison with the OnePlus 7 Pro. Night Scape mode produces better-exposed photos with more color, and while it generally works great, I find it annoying that the camera app doesn't suggest using it in certain conditions, not to mention that the camera app is quite sluggish when changing between modes.
Video quality
Video also turns out fine, especially when shot in 4K@60fps. However, you can only shoot with the main sensor at 60fps, and if you want to capture an ultra wide-angle video, you have to dial the framerate down to 30fps. Additionally, you can only use the 3x telephoto lens to capture video in 1080p@30fps.
Battery life

OnePlus has somehow squeezed in a 4,085mAh battery inside the OnePlus 7T Pro. It is slightly larger than the 4,000mAh unit inside the first OnePlus 7 Pro. Does this mean better battery life? Yes – by a very thin margin, but then again, any improvement is welcome.

I exclusively used the phone in its 90Hz refresh rate mode, and it has always lasted me at least a day and a half. We ran a number of tests on the phone, and it lasted for nearly 10 hours in our browsing test, a bit over 9 hours in our video test, and finally, the 3D gaming test drained it in 5 and a half hours.

When it comes to charging, the OnePlus 7T Pro is once again in its own category as it charges to 50% in around 25 minutes, while the full charge takes a bit over an hour. That's thanks to the new 30T fast charger that's inside the box, and you can see it's very, very fast.


Battery recharge time
Conclusion
The
OnePlus 7T Pro
is a great phone with almost no drawbacks. It's wicked fast and smooth, its camera is even more versatile, and it has all the bells and whistles that a late 2019 flagship should carry. More importantly, it's worth every cent. It costs 759 euro, and the price is well justified.
Disappointingly, the phone won't be available in the US. The 5G-ready McLaren Edition of the OnePlus 7T Pro should come to T-Mobile later this year, but the details are sparse at this point. In any case, it isn't going to be cheaper.
It's really hard to pinpoint any OnePlus 7T Pro rivals that would eclipse it at this price point. From Apple's camp, you could pick the
iPhone 11
for a very similar price, while a
Samsung Galaxy S10
could also be yours for around $750. However, I feel that the OnePlus 7T Pro, and conversely, the
OnePlus 7 Pro
, are vastly superior to both the iPhone and the Galaxy.
Should you upgrade if you already own another 2019 flagship phone? No, you probably shouldn't. If you, however, are rolling with an older OnePlus phone – or any older Android phone, for that matter – then I wholeheartedly recommend the OnePlus 7T Pro. It's a wonderful phone and by far one of the best released in 2019.