LG V60 ThinQ Review
50
We may earn a commission if you make a purchase from the links on this page.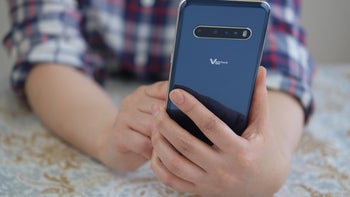 Summary
Upon first glance, the LG V60 ThinQ looks too plain and too dated. It's got a notch, it's missing a telephoto lens, and it has a display that could very well be from last year. But beyond the surface, the V60 boasts a Snapdragon 865, a strong camera setup, top-notch battery life, 5G, and great audio—all for $200 less than the Galaxy S20. It's not an exciting phone, but it's a really good phone and an even better value.
Starting at $799, the V60 isn't the cheapest phone around, but it's certainly a better bargain than its four-digit competitors, especially with further discounts already being offered by retailers. LG's strategy of undercutting the big players with just a few drawbacks places it at a great place for most consumers.
The LG V60 ThinQ is an all-around strong performer and a great alternative to the Galaxy S20 for the majority of users. That formidable blend of excellent performance, battery life, and value may be exactly what the market—and LG—needs.
In the box:
LG V60 ThinQ phone
USB-C charging cable and 25W wall adapter
SIM tool
Microfiber cleaning cloth
Quick start guide
Design
Encased in a smooth glass body and chamfered aluminum rims, the V60 looks like the Galaxy S10's classier cousin. The handset comes in just two color variants: white and navy blue. With its luxe, elegant aesthetic, the V60 looks timelessly good but also timelessly boring. Still, the handset looks pleasant enough.
The V60's back is curved gently at the edges and otherwise flat except for the raised camera bump, replacing the flush back on other recent LG phones. The fingerprint sensor is also gone in favor of an in-display reader which is reasonably fast and very accurate. While I prefer the ergonomics of a back-mounted capacitive sensor, LG's effort here is fine.
Along the edges, the phone features the standard volume keys and a power button, along with a dedicated Google Assistant button. There's also the USB-C port, a bottom-firing speaker, headphone jack, and SIM tray which doubles as the microSD slot. The expandable memory complements 128GB of on-board storage—just one storage variant for this one.
While the V60 is certainly large, the super-slim 20.5:9 aspect ratio allows it to fit neatly into the hand. It's not excessively tall or wide, despite what the numbers might suggest. At 215g, it has enough heft to feel premium but still reasonably lightweight for a device of its size, undercutting the slightly smaller Galaxy S20 Ultra (if only by 5 grams).
Display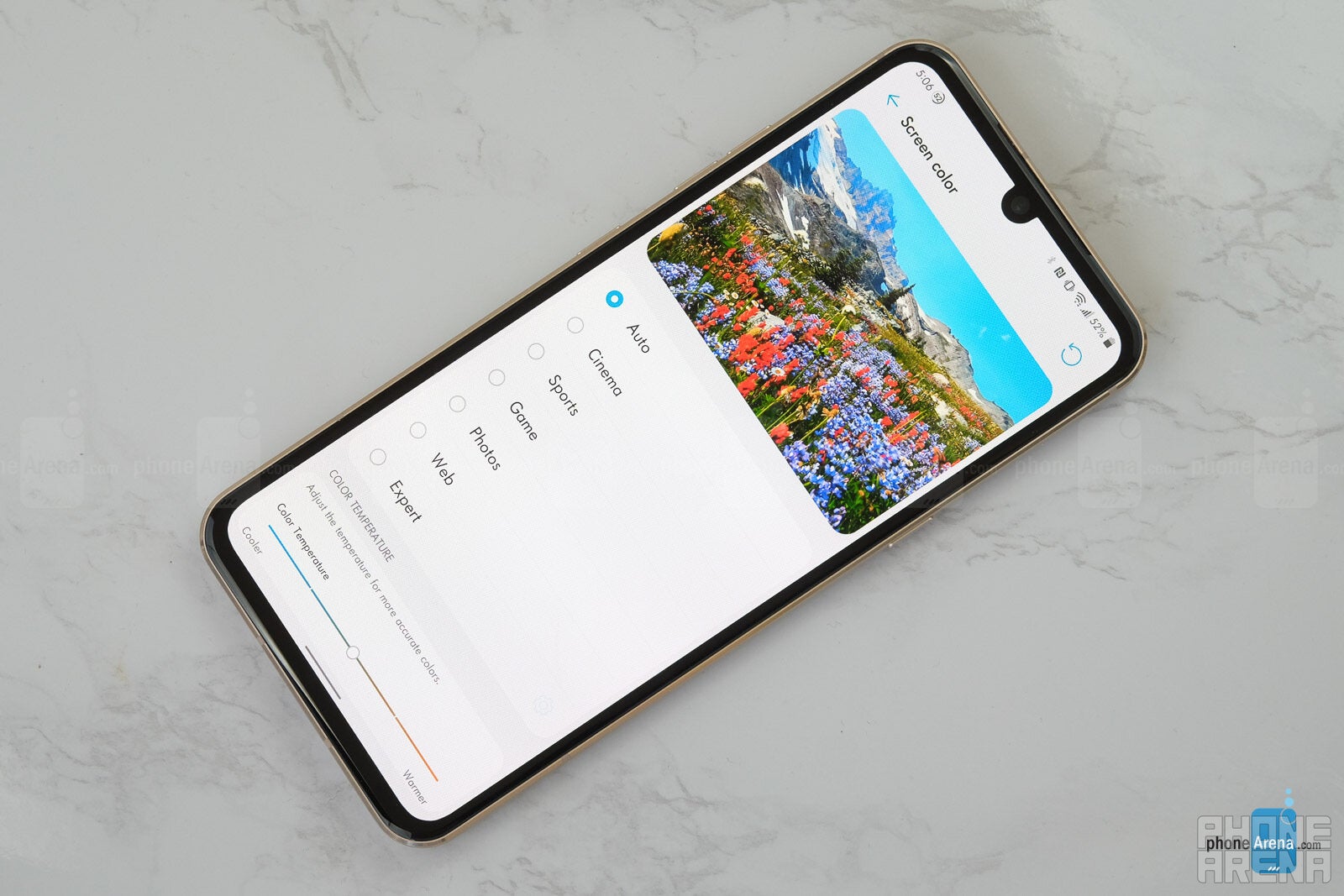 Around the front, the 6.8-inch OLED display is a flat panel set within reasonably slim bezels, along with a small, round notch for the front-facing camera. The V60's display is huge, even by 2020 standards. However, the screen is capped at just 1080p resolution and 395 pixels-per-inch, which is adequate but not impressive in the age of QHD and 4K mobile displays.
The screen is also at the standard 60Hz refresh rate, forgoing the increasingly popular 120Hz or even 90Hz. High refresh rate displays are all the rage right now, but I think LG made a good call to skip on it to keep costs down. Though it certainly would have been nice to have, the majority of users likely won't notice the absence—and the added battery life is a nice plus, too.
That said, the display has great colors (though it runs a bit cold by default) and looks vivid but not oversaturated. There's also a really good range of brightness control for comfortable nighttime viewing and clarity in the sun. While the specs on paper might leave something to be desired, the display itself looks great in person.
Interface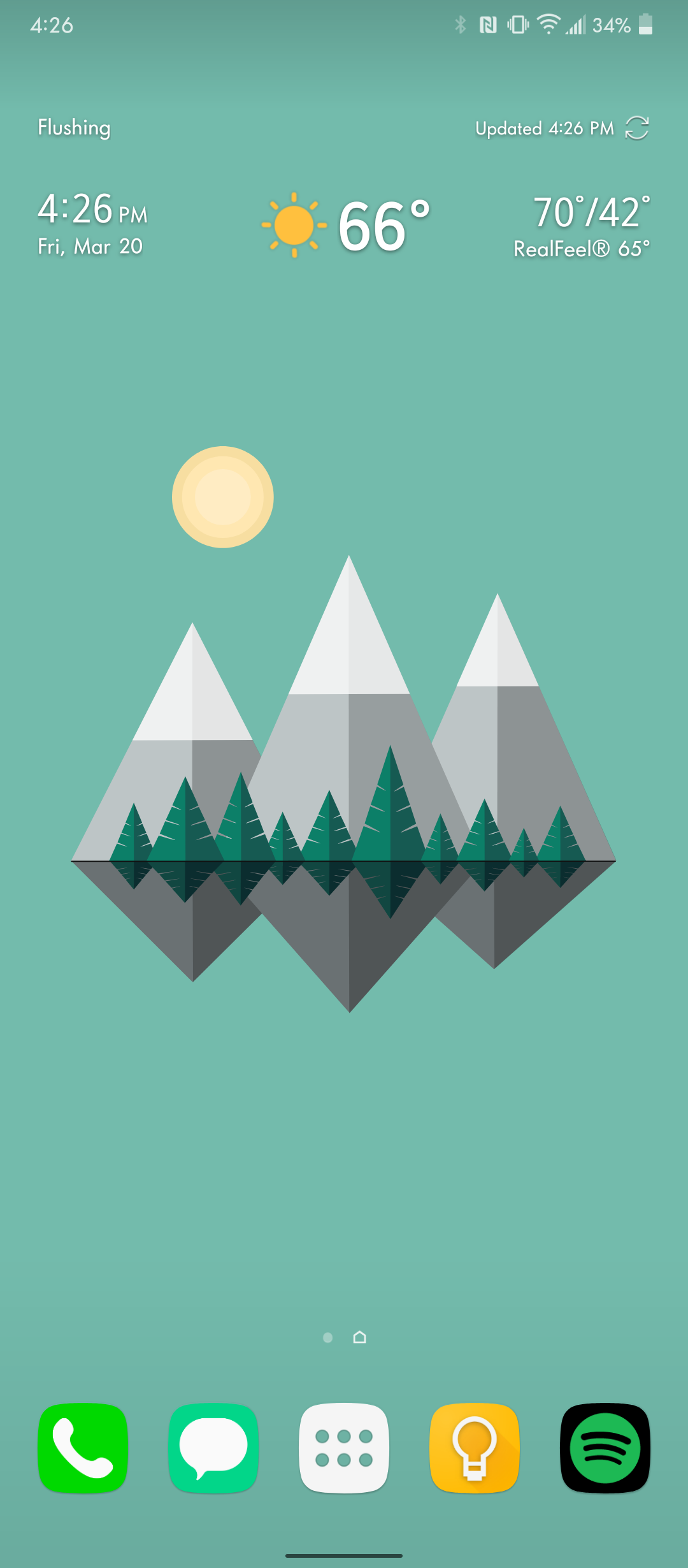 The V60 ships with Android 10 under LG's UX skin, which has come far from the old Optimus UI. The interface fully embraces the modern-but-minimalist aesthetic with friendly, simple icons, like LG is trying to be Samsung with a touch of Apple. The software is zippy enough, and the skin retains the option to disable the app drawer, iOS-style, should you prefer.
There's also a dark mode (called Night Mode) which can be programmed to run on schedule, but it's not quite universal—it just seems to toggle dark mode in supported apps. That said, LG UX also has a number of nice features, like a native screen recorder, the Floating Bar, and a versatile Game Launcher, that give it a more distinctive appeal.
Overall, the UI still isn't the most polished out there, but smooth performance and a few nice additions keep it feeling fresh.
Performance
Powered by the latest Snapdragon 865 and 8GB of RAM, the V60 boasts a great array of specs, enough to perform competently and match many or most of its peers in the flagship realm.
In day to day usage, the phone feels snappy and responsive, without hiccups or lagging. I can't recall if I've ever had issues with dropped frames or freezing.
As far as benchmarks are concerned, the V60 performs well in the expected range for its chipset—in other words, it's super fast. It scored an impressive 911/3350 for single-core and multi-core GeekBench 5, among the highest Android scores we've seen. The V60 is more than equipped to handle your performance needs without a struggle, and games look great on the expansive display, too.
Camera
The V60 is equipped with a triple-camera setup, including a 64MP main shooter, 13MP wide angle lens, and a depth-sensing ToF sensor, and it's more than enough to take great photos in most circumstances.
The main camera has a 1/1.7-inch sensor, a good size that's bigger than the ones found on the iPhone 11 Pro or the Pixel 4. At 64MP, the main shooter uses 4:1 pixel binning for higher-quality 16MP photos.
The camera app is in line with what we've seen from LG before, with a simple but effective layout and various modes lined up near the bottom. There's a dedicated button for Google Lens, and another for LG's AI Cam, which can easily be enabled or disabled from the viewfinder menu. There's also the neat ability to rearrange the layout of the various modes, like Portrait or Manual, to your liking.
Image quality
Overall, the camera takes pleasing photos, but don't let the 64MP figure fool you. Detail in photo is good but not exceptional, and sharpness can be excessive at times. Color reproduction is accurate, and the saturation is great for lifelike but vivid photographs.
HDR performance is good in most cases. It's not quite as good as the Pixel 4, but highlights and shadows are processed quite nicely for the most part, resulting in perfectly serviceable photos in all but the most challenging lighting.
Portrait mode

Portrait mode hasn't changed much since past LG phones, and it isn't quite enough to stand out amongst its peers. Subject separation is just okay, while overexposure tends to be an issue in bright situations as well. Still, with good lighting and less busy compositions, portrait pictures come out fine.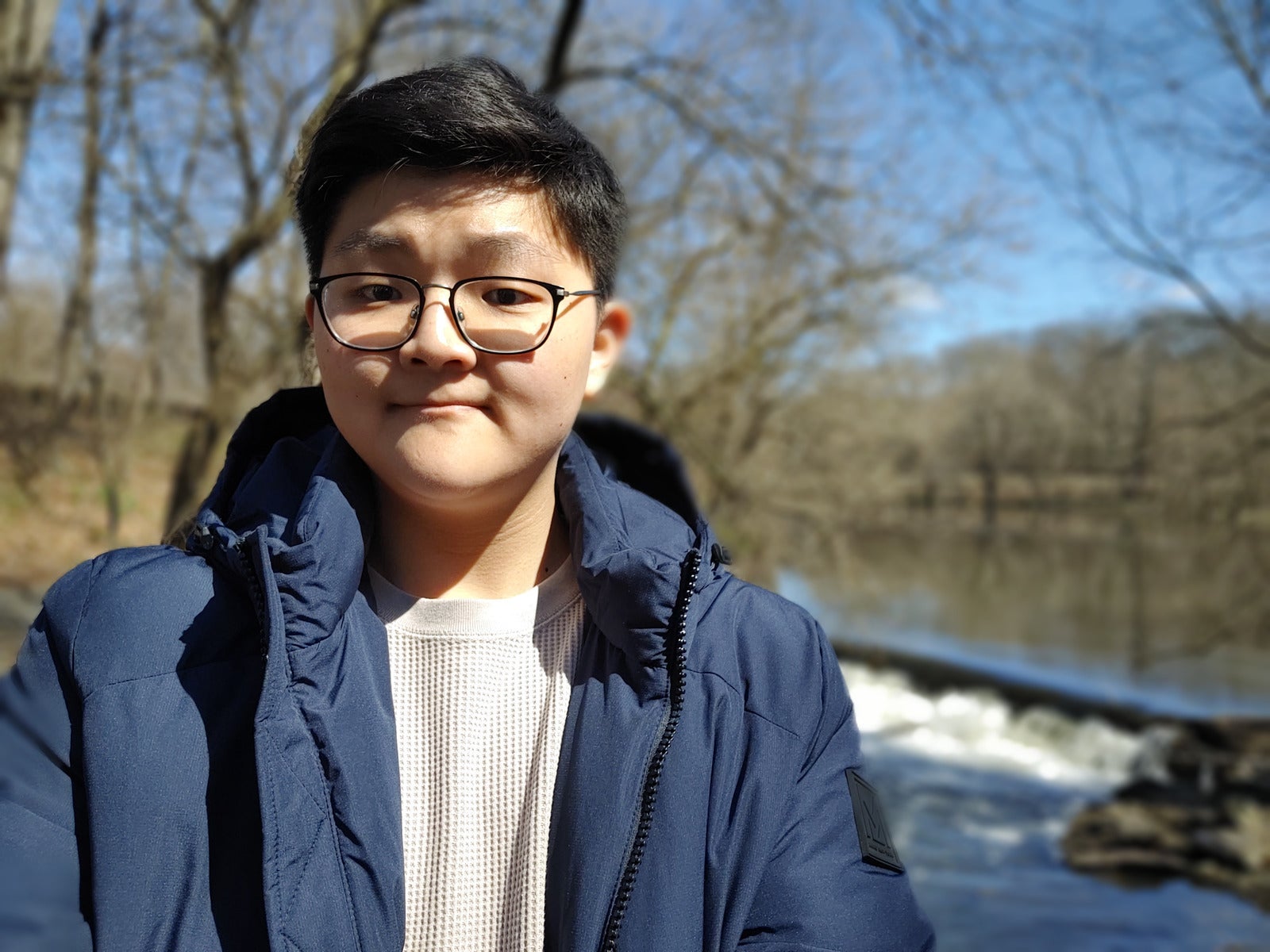 Low light
In low light, the V60 does fairly well with capturing a good amount of detail and choosing a proper exposure setting. In very dark situations, I find that the V60 tends to output darker images with less noise as opposed to brighter-looking but noisier shots.
The V60 actually has two night modes, the dedicated Night View mode and the dark AI preset. The AI preset is too aggressive with contrast, saturation, and oversharpening, so I'd steer clear of that, but the Night View is actually not bad.
Like Google's Night Sight and Apple's Night mode, LG's effort also requires a few seconds of holding the camera steady as it takes multiple shots for better exposure and detail. The difference is not exactly day and night (pardon the pun), but Night View manages to capture some more detail with good colors and not too much artificial sharpening.
Wide-angle and Zoom

As one of the pioneers of wide-angle photography on mobile, LG has included a wide-angle lens on the V60's camera setup, and it's quite good. There's no noticeable drop in quality compared to the main lens, and the wider perspective has its uses. Distortion around the edges is present, as is always the case for wide angle, but it's managed fairly well.

The lack of a telephoto lens feels like a stark absence compared to the cutting-edge, content-creation-driven philosophy of previous V-series phones, but the V60 manages without. The 10x digital zoom isn't groundbreaking but performs well. While there's certainly a drop in sharpness as the magnification goes up, it still maintains good image quality overall throughout the zoom range.







Selfies

The V60's front-facing camera is a 10MP snapper, and it's perfectly average. It does everything you'd expect about as well as you'd expect, but it's nothing to write home about. Again, we get good colors and detail, decent contrast and saturation, and generally good exposure, though shots with a wider dynamic range are prone to blown highlights. The selfie camera supports video and portrait mode too, of course.



Video
The V60's video capabilities have been upgraded with a number of features, starting with the ability to capture 8K video. Like on the Galaxy S20 Ultra, 8K video is impractical, with a lower maximum frame rate of 26 FPS, and enough choppy rolling shutter to give anyone motion sickness. Plus, it eats half a gigabyte of storage for each minute of footage, so that's that.
On the other hand, 4K@60FPS records beautifully smooth. Much like the photo camera, video records well, with good detail, color, and exposure in most situations. The image stabilization does a good job at keeping footage steady, though it disables the ability to zoom in the middle of shooting.
The V60 does let you switch between cameras in the middle of a video. You can switch from the main to the super wide-angle cam – and even to the selfie camera if you wish to. Unfortunately, you can't switch between cameras if you're shooting 4K or 60fps video.
The V60 also has two extra video modes, an ASMR mode that dials the microphone sensitivity to eleven and a Voice Bokeh mode that filters out background noise for things like interviews or narration. Both features work quite well, though the Voice Bokeh tends to sound a bit harsh.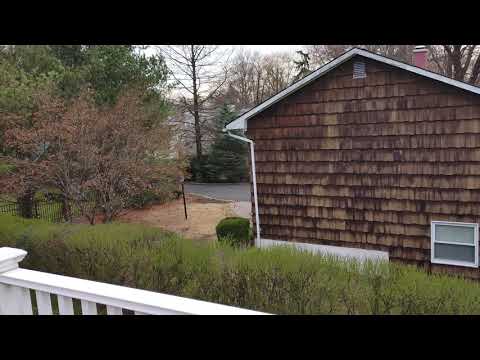 Call Quality and Media
The V60 skips out on the Crystal OLED tech LG introduced with the G8 last year, opting instead for a conventional speaker grille. Call quality is quite good, sounding crisp and clear under good network conditions, and I also didn't hear any complaints on the other end.
LG has always been a proponent of keeping the headphone jack alive, and the V60 is no different as one of the last flagships out there to include the 3.5mm port. The phone is also equipped with the signature Hi-Fi DAC, a dedicated chip for clearer audio playback on high-end wired headphones.
The V60 also has a decent set of stereo speakers, which use the bottom speaker and the call speaker to create left and right audio channels. You can crank up the volume pretty high, but distortions start to appear around 80%.
Otherwise, the sound quality on the V60 is great. Compared to the Pixel 4 XL, our top pick for the best smartphone speakers, the V60 definitely has a flatter sound profile. While both have great detail and clarity, the Pixel has a bassy oomph perfect for most modern music, though at times the V60 sounds cleaner in the treble range. In any case, the phone offers good audio performance that can easily be tweaked to your liking.
The V60 also has the neat feature of app-specific volume adjustments, so you can keep your games on a lower volume and music on high, for example. It's a useful addition that also provides more precise volume control as well.
Dual Screen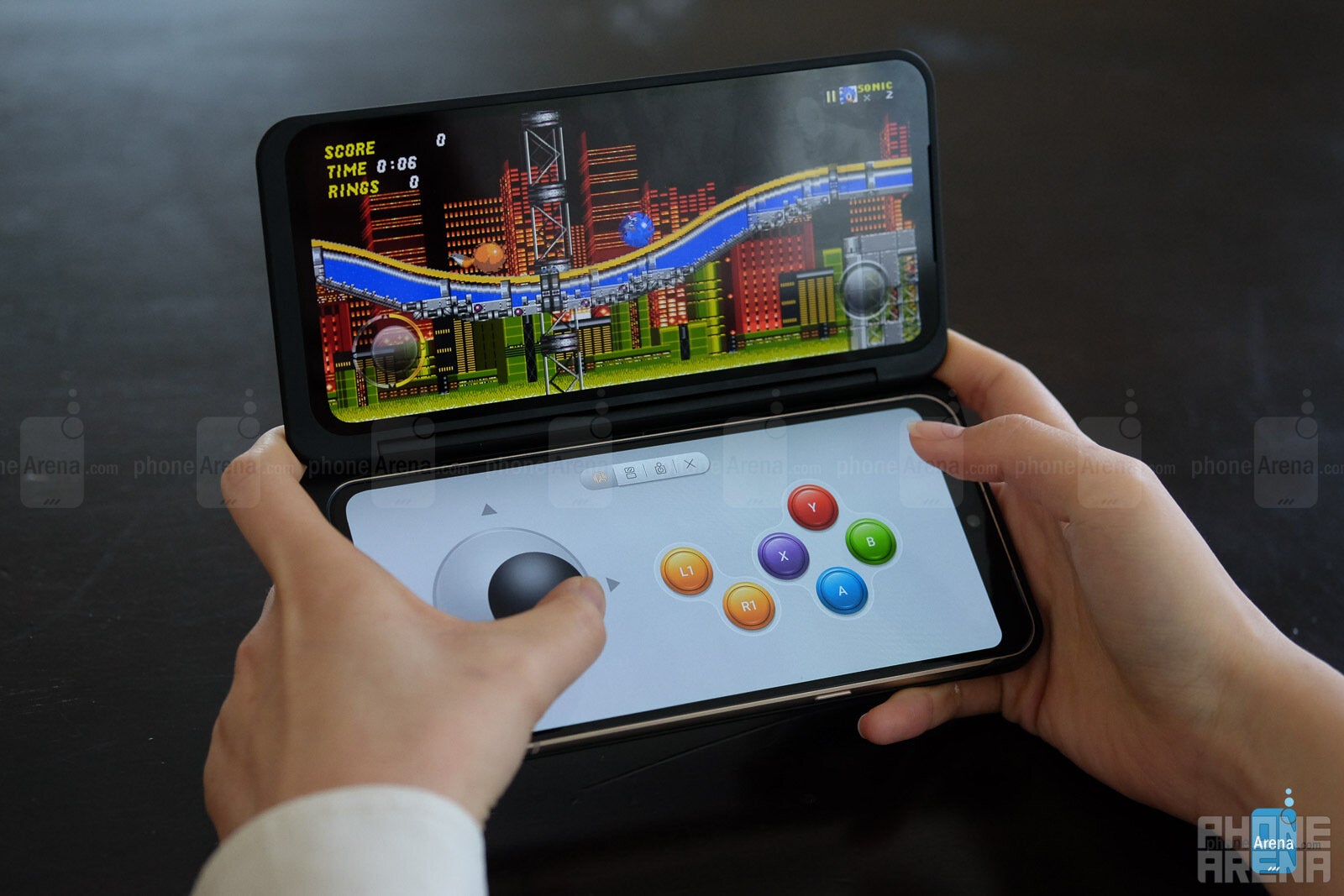 The LG V60 continues the company's fascination with pseudo-foldable second displays. Previous versions weren't so successful, and this year's is largely identical, but I found it to be more palatable for a few reasons. Firstly, the software seems better suited to supporting dual-screen functions, and LG has integrated easy access to controls over orientation and display modes.
The LG GamePad for enhanced virtual controls has made its comeback, and it's retained its robust feature set while still feeling a bit redundant. Games like Teslagrad, which requires minute movements and perfectly timed jumps, do benefit from the finer controls, but dedicated gamers may not be impressed.
Multitasking with the Dual Screen works as well as you might expect, and indeed there are cases where having two windows is genuinely useful—watching a walkthrough for the game you're playing on the other screen, checking your calendar as you create a to-do list or schedule, or using one display as a large keyboard while typing out that long email.
On the downside, the Dual Screen is clunky, battery intensive, and not quite useful enough (for most) to totally escape the cool gimmick realm. Ultimately, only a niche minority will find the Dual Screen useful enough to use daily, while the rest of us may want to skip. However, the greatest part of the Dual Screen may be that it's optional. Carriers will carry the phone with or without the case, making it more of a novelty accessory than a fundamental part of the experience.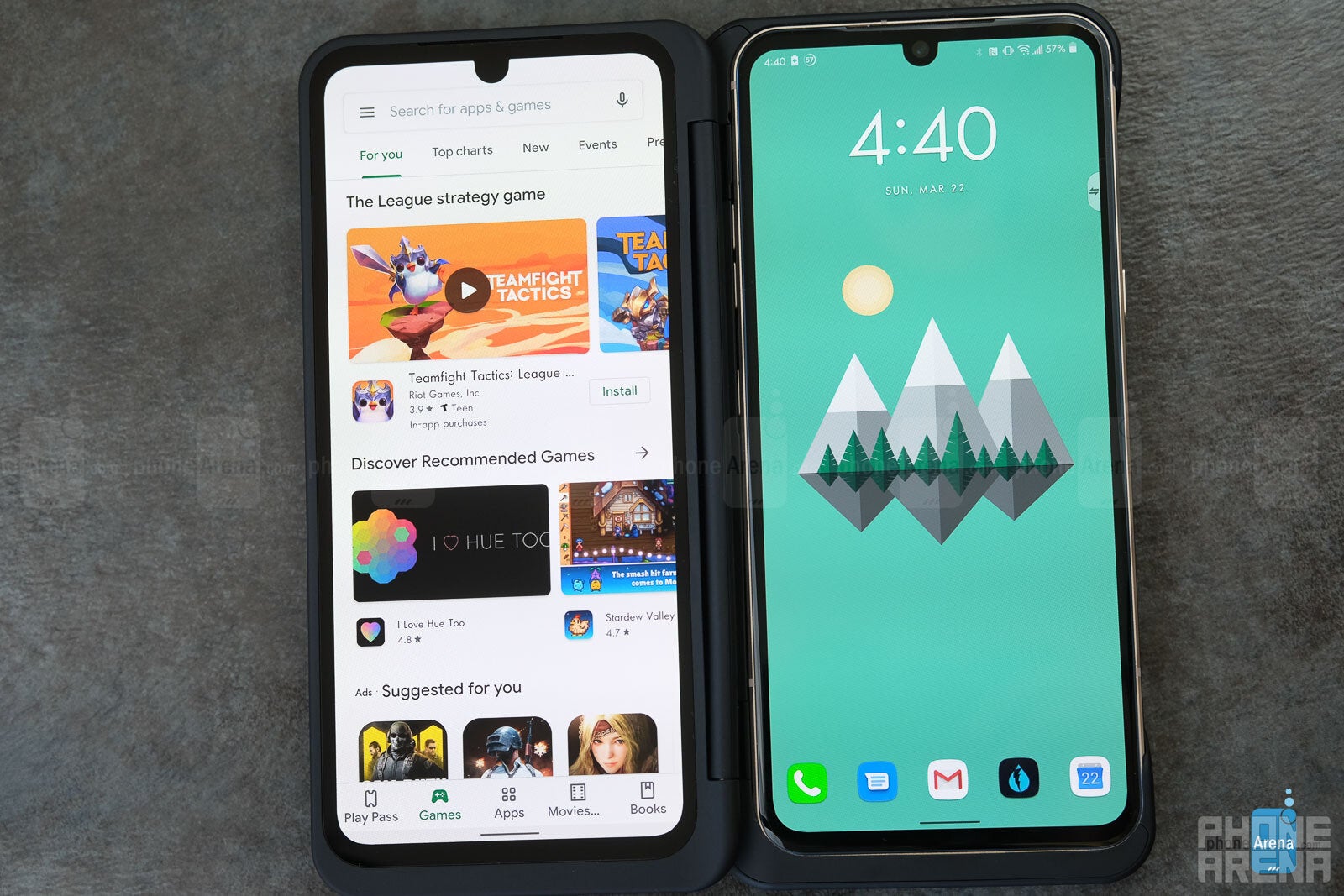 Battery Life & Charging
Battery life is where that 60Hz, 1080p display really pays off. With a ginormous 5,000mAh cell, the V60 is fully equipped to last all day long, and then some.
Based on my experience, the V60 provides upwards of 9-10 hours of screen-on time. While intensive gaming, videography, or Dual Screen usage can very much kill the phone in one longish day, the V60 is a two-day proposition for most mixed usage. In fact, you could probably skip the overnight charge and keep it going with just a quick lunchtime charging session.
The V60 supports Qualcomm QuickCharge 4.0 and ships with a 25W adapter that can charge from 0-50% in under half an hour. A full charge takes around 80-90 minutes, which is pretty fast for the big battery.
Recommended Stories