Two Xiaomi phones with Snapdragon 855 could be right around the corner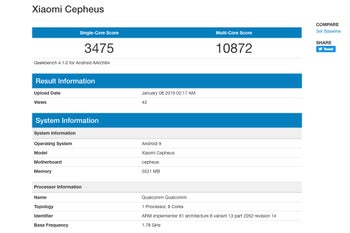 Somewhat surprisingly, Lenovo was the first company to formally
unveil a Snapdragon 855-powered smartphone last month
, but
the race might still be on
for who can actually release the world's first handset to use
Qualcomm's state-of-the-art new processor
.

Xiaomi looks like a pretty strong contender with at least two different devices, both of which have been recently benchmarked running Android 9.0 Pie on the software side of things. If that's not enough to tell you these bad boys are closing in on their commercial rollouts, it's worth highlighting that their Geekbench Browser test results are also fairly impressive.
Obviously, the aforementioned monikers are not the official names of these two phones. Those may seem impossible to predict right now, but the "Blackshark Skywalker" is naturally set to follow in the footsteps of the gaming-centric
Black Shark
and
Black Shark Helo
, with the Cepheus codename presumably designating either the special
5G-enabled edition of the Mi Mix 3
or an all-new Xiaomi
Mi 9
.

Cepheus, by the way, is a constellation in the northern sky, which feels like a fitting alias for Xiaomi's next star performer. Oddly enough, this powerhouse is listed as packing only 6GB RAM in the Geekbench database right now, with the mysterious new Black Shark model upgraded to a full 8 gigs of the good stuff.

Of course, both devices are likely to come in multiple memory and storage configurations. Who knows, perhaps one of them will also land in the US with a Snapdragon 855 chipset under the hood.