Verizon vs AT&T, T-Mobile and Sprint unlimited data plans price comparison
34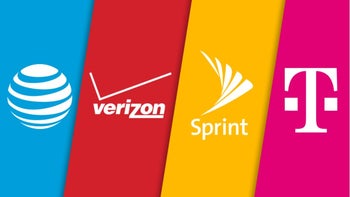 Both
AT&T
and
Verizon
introduced new data plans not long ago, and we are comparing their unlimited options - AT&T's Starter, Extra and Elite, against Verizon's Above, Go and Beyond Unlimited, T-Mobile's One and One Plus, as well as Sprint's Unlimited Freedom, which is the cheapest of the bunch.
There's been a lot of moving and shaking since US carriers went all unlimited.
T-Mobile increased its prices
,
Verizon limited its "unlimited" option
a bit, and AT&T enhanced the Plus and Choice plans to a level where Choice customers can be "deprioritized" at any time for paying a bit less, but don't have a blanket 3Mbps restriction anymore, plus the same goes for Verizon's cheaper option, too.
Verizon and AT&T's superior coverage runs a bit extra
One simple look at the quarterly profits of the big four US carriers, and
some recent network speed tests
would tell you why all of this is happening. After an initial period of amassing customers, switchers, and goodwill, T-Mobile bumped its unlimited One Plus data plan with ten bucks apiece, making it pretty close to AT&T and Verizon's offerings, but not quite, as taxes and fees are included in the price with T-Mobile. When it comes to Sprint, it has been posting comparisons to showcase the running promos that make it much cheaper than the rest of the gang since, well, since it's been much cheaper than the others.
Verizon - coverage comes at a price


America's largest carrier will grant you at least a bar or two from the cornfields of Illinois, to sweet home Alabama, but that superior network of towers will cost ya - Verizon's unlimited plans are costly, both for a single line ($90 w/AutoPay), and for the most popular 4-line family endeavor. You can, however, mix and match plan types on each line, even within the same family, which is pretty unique as far as carrier offers go.
AT&T strikes the balance


The second-largest US carrier also has very expansive coverage outside of big cities, casting a bit smaller net than Verizon, and has a bit cheaper unlimited prices to reflect on that, at $80 for a single line. It does over free HBO streaming, though, and its GSM network means a much wider range of compatible phones, so its "enhanced" plans can hit the nail on the head for you.
T-Mobile, everyone's favorite underdog


Underestimate the Un-carrier at your own peril. Flamboyant CEO aside, ever since T-Mobile started a plan price war with the big guys, the combination of aggressive marketing and great phone/plan discounts, propelled it to new heights in subscriber growth. That phase seems to be abating now, though, and its prices ($80 for a single line) reflect what's on offer - fastest average download speeds, largest data cap, and free Netflix, but a tad weaker coverage outside big metropolitan areas, compared to AT&T or Verizon.
Sprint - unlimited on the cheap


The fourth-largest US carrier has the most affordable unlimited plan prices currently on offer. Heck, you can get 4 lines for your family at just $100 with the running promo! Its legacy network has some way to grow, though, especially outside large cities, but if Sprint has good coverage in your area, and you don't travel all that much to the boondocks, you are golden.


AT&T More Premium/More
Verizon Get/Do/Play/Start
T-Mobile International/Plus/One
Sprint Premium/Plus/Basic
1 line
$80/$70
$90/$80/$80/$70
$95/$85/$70/$60 (Essentials)
$80/$70/$60
2 lines
$150/$125
$160/$140/$140/$120
$170/$140/$120/$90 (Essentials)
$140/$120/$100
3 lines
$170/$145
$195/$165/$165/$135
$215/$170/$120/$105(Essentials)
$180/$130/$120 (until 04/30/2020)
4 lines
$190/$160
$220/$180/$180/$140
$260/$200/$140/$120 (Essentials)
$200/$140/$120 (until 04/30/2020)
5 lines
$210/$190
$250/$200/$200/$150
$305/$230/$180/$135 (Essentials)
$220/$150/$120 (until 04/30/2020)
Perks
Free HBO, Showtime and others streaming of your choice on Premium, 35+ channels of live TV

Data plan usage in Mexico and Canada, as long as talk, text or data there doesn't surpass 50% of the total for two months in a row.
Mix&match plans on each line

Go90 streaming

500GB Verizon Cloud, as well as 5 free TravelPass days per month for Above Unlimited customers
All taxes&fees included (except on Essentials plan), mix&match

Free std. Netflix for 2+ lines at full price.

Up to 5GB of 4G LTE for Canada and Mexico (except Essentials).

International: Unlimited 4G LTE mobile hotspot data, calling to landlines in 70+ countries and mobiles in 30+ countries, and in-flight Wi-Fi
Free Hulu & Tidal streaming

Unlimited/10GB/5GB data in Canada&Mexico
Data caps and limitations
After 22 GB/Any time (More)

HD streaming for Plus with Stream Saver turned off, SD 480p for More plans
After 75GB/22 GB/Any time (Go)

HD streaming, SD 480p for Go plans

Just Kids plan is limited to 5GB of LTE data
After 50 GB

HD streaming for Plus, SD 480p for One plans
After 23 GB

Full HD/HD/SD streaming

Unlimited video in high-definition:
- Streaming video (up to 1080p)
- Streaming gaming (up to 8mbps)
- Streaming music (up to 1.5mbps)
Hotspots
15GB/none (More plan)
20GB/15GB/600kbps (Go plan)
Unlimited 4G LTE/10GB LTE/3G speeds (One)
50GB/15GB/0.5GB LTE hotspot
Mythbusters
More plan customers can experience speed deprioritization at any time.

Off-net (roaming) data may be at 2G.
The Go Unlimited customers can experience speed deprioritization at any time
Free international data (except Canada and Mexico up to 5GB) may be with restricted speeds.

Essentials plan can be de-prioritized at any time, no LTE data in Mexico&Canada


*All prices are after Auto Pay and w/ paperless billing, include unlimited talk&text in the US
So, which unlimited data plan is the best? We'll go out on a limb here, and say that the new AT&T offerings seem to be the best balance of coverage/monthly outlays. Its prices are now close to T-Mobile's, but it offers a wider LTE net, which is important if you venture outside big cities and
highways
.
For about $5 per line more, however, you can get Verizon's superior coverage that blankets 400,000 square miles
more territory than AT&T
. In addition, data guzzlers and frequent travelers will appreciate Verizon's Above Unlimited plan perks.
If you mostly chill in a large city, you may save a bunch of money with Sprint, or take advantage of the higher 50 GB "speed de-prioritization" threshold, and the other perks that T-Mobile offers. All in all, the moral of the story stays the same - whatever plan you chose, make sure its carrier has decent coverage in the areas you frequent the most!