Who's got the best highway coverage? Verizon, AT&T, T-Mobile and Sprint's networks put to the test
10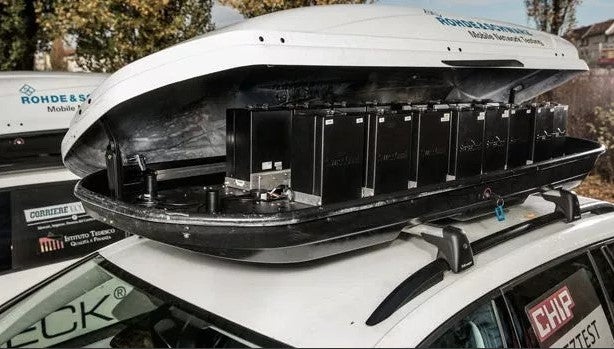 State-of-the-art network benchmarking equipment was used for the carriers' road coverage tests
Just in time for the Great Thanksgiving Exodus, a unique testing procedure was set out to measure the network coverage and performance of Verizon, AT&T, T-Mobile and Sprint over vast swaths of the nation's acclaimed highway system. How vast? Well, how about driving 52,000 miles in all states, and conducting 703,000 voice and data tests between March and July 2017? The tests were standardized by using state-of-the-art Rohde & Schwarz Diversity Benchmarker II gear with Samsung Galaxy phones, as these are
currently at the forefront
of modern network connectivity services.
That's all fine and dandy, but who won? Well, depending on what they were doing with the handsets, it was either AT&T or Verizon. AT&T got the highest average download speeds, if you can call 6.9 Mbps quick, but that was still a third faster than Verizon, and let's not forget that the kits were moving all the time. Sprint had the most finicky data connection of the big four, with just 85% availability, indicating that its network has some catching up to do in remote places.
Verizon, on the other hand, was the best in terms of consistent VoLTE network (97%) and phone call coverage, slightly edging AT&T, while T-Mobile was dead last with 11% of calls not going through at all, and another 10% being dropped mid-rant. When it came to providing extra LTE features like
4x4 MIMO
, 256 QAM and carrier aggregation that improve both coverage and download speeds, AT&T had those available to its subs 31% of the time, against Verizon's 30%, yet the testers noted that the load on Big Red's network was much higher most of the time. All in all, if you are traveling between cities, towns and villages, you'd be better off with the two larger US carriers, which only comes to confirm everyone's unscientific observations, too.
Recommended Stories