T-Mobile has a delicious Pizza Hut deal and other freebies and perks in the pipeline
2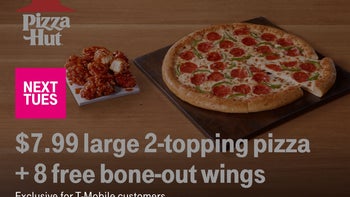 T-Mobile customers get weekly rewards, freebies, and discounts as a token of the "Un-carrier's" appreciation for their business and loyalty, and naturally, next Tuesday will be no exception, with a fresh batch of perks revealed
on the program's official website
that you'll be able to claim on August 20.
Next week's most delicious deal is undoubtedly a $7.99 Pizza Hut meal including a large 2-topping pizza and 8 bone-out wings. Basically, that means you'll be paying for the pizza and getting the wings as a free bonus, saving a cool 7 or 8 bucks in the process, depending on the local price of this medium portion of chicken wings in your area.
It's also interesting to point out that
Pizza Hut joined forces with Sprint
a while ago on one of the very few occasions when the "Now Network" managed to steal its rival's (and
possible future parent
's) spotlight with a customer appreciation gift. Of course, T-Mobile is looking to one-up Sprint with a slightly more valuable freebie, although technically, this promotion also has a major string attached in the obligatory large 2-topping pizza purchase.
Naturally, that's not all T-Mo is preparing to offer its subscribers next Tuesday, with a free mystery item from Thread Beast also in the pipeline. This is a service that delivers "carefully curated packages of street wear every month, based on your style and preferences", so it will be interesting to see how the mystery item fits in this unique pitch. Keep in mind, though, that you'll have to pay a $1.99 shipping fee.
The rest of the goodies are nothing new, although obviously, that doesn't make them any less compelling. You've got your recurrent one free item from Taco Bell (valid through September 9), reserved Live Nation tickets, $25 all-in concert tix, $0.10 off per gallon of gas at Shell, and another chance to win a hot new Samsung Galaxy Note 10 as part of an ongoing sweepstake.